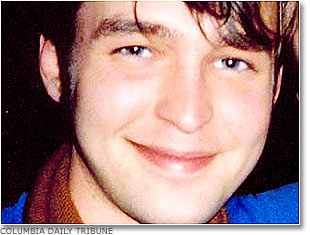 Smart, handsome and outgoing, Jesse Valencia had a thriving social life at the University of Missouri, where the gay 23-year-old was majoring in political science and history. "He was modelesque, and he thought of himself that way," one former lover testified at the trial of the man accused of slashing Valencia's throat last summer.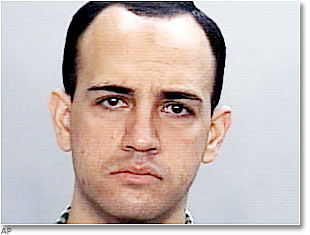 Columbia Police Department Patrolman Steven Rios, a married father, was arrested for Valencia's first-degree murder. Although the 27-year-old initially said his only contact with Valencia was issuing him a ticket at an out-of-control student party, the officer later admitted he was having a torrid affair with the younger man.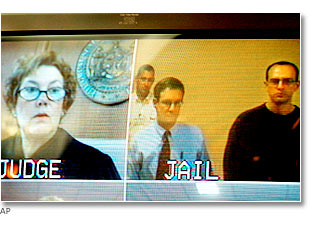 At his July 9, 2004, arraignment, Rios (seen here with Boone County Judge Christine Carpenter and attorney Rusty Antel) was confined to a mental hospital. He had threatened to kill himself with a shotgun soon after the media reported the affair with Valencia. Later, he escaped from the facility and stood on the ledge of a parking structure, saying he wanted to jump. Crisis negotiators talked him down, but Rios remained in the mental-health center until recently, when he was moved to jail.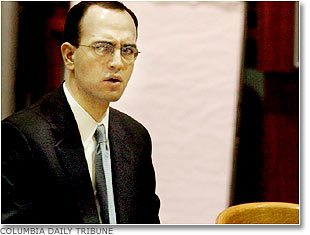 Rios, seen here May 17, 2005, as his trial got under way in Boone County Circuit Court, maintains that he is innocent, and his lawyers have suggested there are better suspects among Valencia's other lovers. "There will be evidence that Jesse Valencia had sexual contact with a lot of men he picked up over the Internet or that he picked up in a bar, including Steven Rios," his lawyer, Valerie Leftwich, told the jury during opening statements.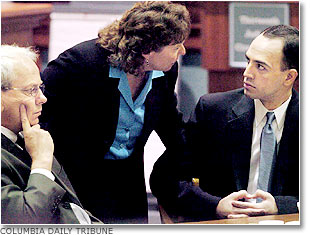 Rios, who frequently worked with prosecutors as a police officer, confers with his public defenders, Stephen Richey and Valerie Leftwich. At the time of his arrest, about 50 cases in Boone County rested at least in part on the testimony of patrolman Rios.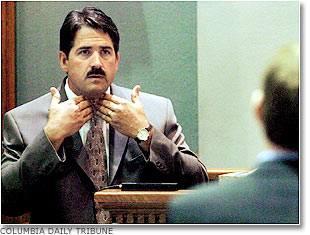 Police detective Jeff Nichols, one of the first investigators at the crime scene, testifies about the four-inch gash on Valencia's neck. The medical examiner said the fact no blood ran down Valencia's chest indicated he was already disabled perhaps by a choke hold and lying on the ground when his assailant cut his throat.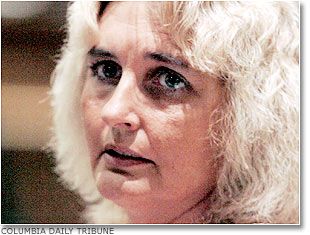 The victim's mother, Linda Valencia, traveled from her home in Kentucky to attend the trial. She told police that her son had talked to her about being scared of Rios, but special prosecutor Morley Swingle opted not to call her as a witness. Friends of Valencia have said he suspected Rios was married and planned to confront him.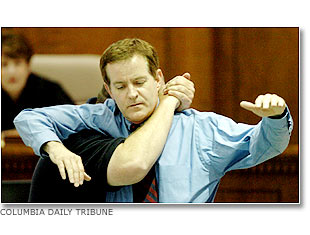 Todd Burke, a law enforcement academy instructor, uses prosecutor Morley Swingle to demonstrate the choke hold known as a unilateral vascular neck restraint he taught Rios and his classmates. According to the medical examiner, bruises on Valencia's neck, face and chest are consistent with the application of the hold, which can render a suspect unconscious in as little as three seconds.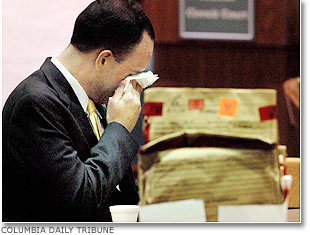 Rios broke down in tears after his friend and fellow officer, James Means, testified. "Steve was a good friend of mine," the officer testified before recalling Rios' cold, distant demeanor when he reported to the scene of Valencia's murder. "Something was wrong," he recalled.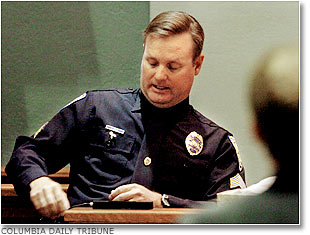 Columbia police Sgt. John White demonstrates where many officers carry their clip-on pocket knives. Rios told investigators he never carried such a knife, but several officers said they remembered Rios carrying one in his uniform pants. A search of his home, SUV and police locker came up empty. The prosecution has suggested he used a serrated blade to slash Valencia's throat and then disposed of the murder weapon.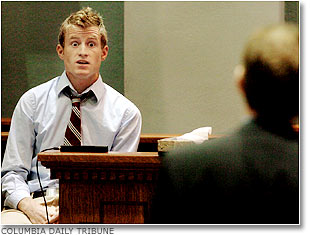 Jack Barry, an education major who dated Valencia on and off for two years before his death, testifies that the victim had a special electronic manicure kit to buff his nails. The attention Valencia paid to his nails is important because lab technicians recovered the DNA of Rios and another lover under his nails. The defense claims the DNA is left over from their last sexual encounter which Rios said was six days prior to the murder but the prosecution has suggested the material would have been washed away with regular cleaning, and the DNA indicates Rios was at the murder scene.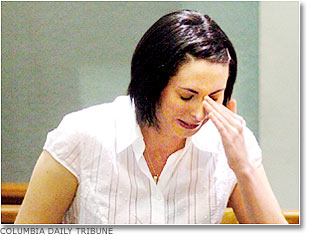 Jesse Valencia's best friend, Joan Sheridan, wept as she described his personality and appearance. "He looked way younger than he was," she said of the 23-year-old. She said the vivacious young man spoke to her just three days before the murder about his plans to confront Rios.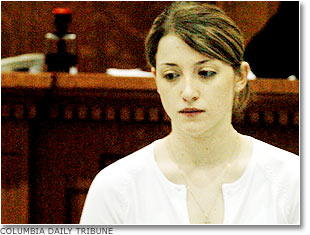 Rios' wife, Libby, seen here in court May 17, 2005, is expected to take the stand on his behalf. She saw him immediately after the time prosecutors allege he committed the murder.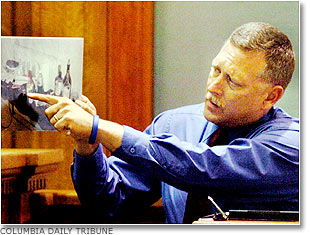 Columbia police officer Jim Harmon shows jurors photos of the interior of Valencia's home, a messy basement apartment about a block from campus. The cleanliness of the apartment, which was strewn with empty bottles, clothes and one used condom, has become a key point for the defense. Rios' lawyers have suggested that Valencia's lackadaisical approach to hygiene and housekeeping explains Rios' DNA under the victim's nails.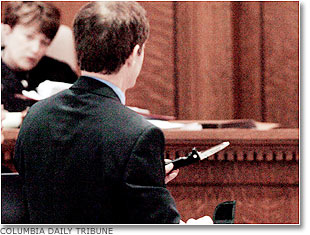 During closing arguments on May 20, 2005, prosecutor Morley Swingle displayed a Smith & Wesson knife found in Rios' police locker. The weapon was not used in the murder. Swingle alleged Rios disposed of the blade he used to slash Jesse Valencia's throat. "It's somewhere in the river, somewhere in the storm sewer. We don't know where it is because he got rid of it," Swingle told jurors.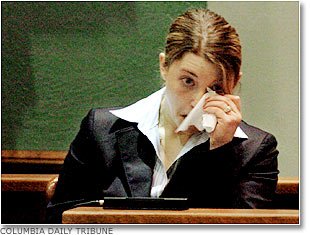 The defendant's wife, Libby Rios, burst into tears on the witness stand Friday as she recalled returning home the day after she learned of his affair to find that her husband was threatening suicide. "When we came home, my sister-in-law met us at the door and said Steven was on the phone and he had a gun," she said.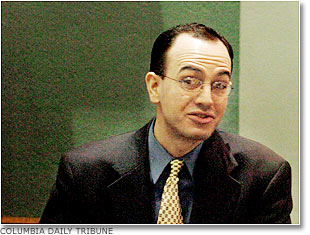 Steven Rios was the final witness for the defense. He maintained his innocence and revealed details of his affair with the 23-year-old college student, including Valencia's signal that he wanted to meet for sex. "I think the wording or what we agreed on was that if he had someone there, he would have the light off," Rios testified.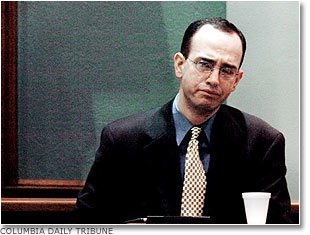 At several points in his testimony, Rios choked with emotion, including during his account of seeing his face in television reports. "The reporter had said there was a bombshell in the Jesse Valencia homicide and the chief had notified media outlets the night before that I had gone to Kansas City and purchased a shotgun and had threatened to commit suicide They had my official picture in uniform up there," he said.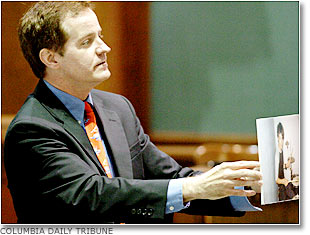 In his summation on May 20, 2005, prosecutor Morley Swingle called Jesse Valencia's murder "despicable" and said of Rios, "He used his badge for sex and then used his knife to forever close the mouth of his secret lover."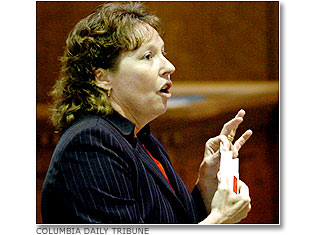 In her closing argument, defense attorney Valerie Leftwich said Rios's DNA on the victim's body proved only that they had once been in intimate contact. "You have got to have evidence that he killed Jesse Valencia, not just that he had sex with him," she told the jury.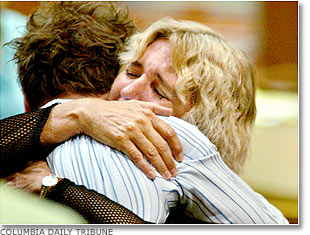 Jesse Valencia's mother, Linda, sobbed and hugged Andrew Schermerhorn, a friend of her son
and witness for the prosecution, after the verdict was announced.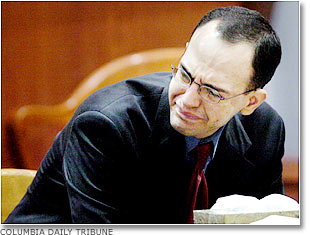 Rios cried and looked at his wife, Libby, after a jury convicted him of murdering Jesse Valencia.

CourtTV.com