WISEHART, MARK ALLEN # 21
ON DEATH ROW SINCE 09-26-83
DOB: 11-21-1962
DOC#: 22622 White Male
Madison County Superior Court
Judge Thomas Newman, Jr.
Prosecutor: William F. Lawler
Defense: Garry W. Miracle
Date of Murder: October 9, 1982
Victim(s): Marjorie Johnson W/F/61 (No relationship to Wisehart)
Method of Murder: stabbing with butter knife
Summary: Anderson Police received an anonymous call to go to a certain apartment where they would find a body.
Police did so and found the body of 61 year old Marjorie Johnson. Her clothing was torn and wrapped around her mid-section, her head was beaten and bloody, and there were 13 stab wounds in her chest area.
Johnson was a regular visitor to the Christian Center, where Wisehart resided. Another resident testified that Wisehart had sent a letter to Johnson before the murder, talking about going to old people's houses and robbing them.
Upon his arrest, Wisehart gave a confession, admitting that he had stabbed Johnson several times with several weapons, punching her with his fist, and striking her in the head with a whiskey bottle. He stated he took $14 and admitted he was the one who tipped off police.
Conviction: Murder, Burglary, Robbery, Theft
Sentencing: September 26, 1983 (Death Sentence)
Aggravating Circumstances: b (1) Burglary, Robbery
Mitigating Circumstances: None
ClarkProsecutor.org
---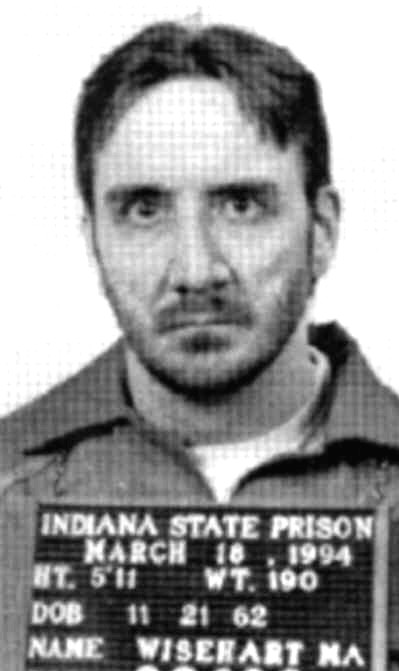 Mark Allen Wisehart