Woman sentenced in Sacramento for arranged murder of husband
By Andy Furillo - The Sacramento Bee
June 15, 2013
Shajia Ayobi apologized to her four teenage children Friday for the murder of their father, but she suggested she did what she did on their behalf, sort of as a pre-emptive strike.
"Through all these years, I never imagined we would see this kind of day," Ayobi said, just before she received her 26-years-to-life sentence in the Dec. 18, 2011, shooting death of her husband, Ghulam Ayobi.
"I always thought it would be the opposite," she said. "I thought we'd come home and my kids would be in a pool of blood. That was my nightmare for 24 hours a day."
There was evidence in Ayobi's trial that her husband had exhibited abusive behavior toward the children. But she based her trial defense on her own allegations that it was she who suffered a torrent of physical and psychological abuse at the hands of her husband, almost from the time of their 1993 arranged marriage.
She said it was she who suffered from post-traumatic stress disorder, first from a domineering father in her native Afghanistan, then from what she saw during the Soviet invasion of her homeland in the early 1980s. A first arranged marriage produced its share of domestic abuse, even before what she said she endured in her relationship with Ghulam Ayobi, another war emigre from Afghanistan. She said he flew into rages and would drag her by the hair and pour toilet water over her head.
The PTSD defense was the third offered by Ayobi, 47, in the killing of her husband. At first, she lied to police, telling them carjackers shot and killed Ghulam, 53, while they were driving on Interstate 80 near Northgate Boulevard, on their way home to Foothill Farms from a dinner party in North Natomas.
When police found some problems in her account, she made up another story – that the CIA put a hit out on her husband, who worked as a cultural sensitivity consultant for the U.S. military.
It turned out, jurors decided in their verdict, that she arranged the murder herself. Prosecutors have since charged a gas station attendant she knew from her criminal justice class at Kaplan College with participating in the killing. They say she hired him to hide in the family van and to shoot and kill Ghulam on the drive home from Natomas.
The alleged accomplice, Jake Clark, 20, has been arrested and charged with murder. He is set for his next Sacramento Superior Court date on Tuesday.
In her remarks Friday at her sentencing, Shajia Ayobi, who had gone back to Afghanistan in 2007 or 2008 to work for a brief while as a linguist, said she loved her husband "deeply." She said she showed it by never turning him in to the police for abusing her.
Mostly, she spoke about her children. The couple had three girls and a boy, ages 13 through 18, according to her probation report. She said, "They have always been my priority, no matter what."
She said, "I stayed on top of my kids and made sure they did well in school" and that they attended Muslim services.
"I was that kind of mother," Ayobi told the court. "When they came home, the food was ready. It was warm, their clothes clean. Everything. Their doctor, everything was up to date."
Ayobi said "I repent every day of my life" for the killing, but that "no matter where I am my kids will be my priority. I will check on them on an everyday basis. … I'm never going to leave their sight. If I'm not there physically, emotionally I'm going to be there with them."
All four of the children wrote letters to the court in support of their mother. One of them asked, "I'm just hoping you will send my mother to a good prison that will treat her with care." The youngest daughter said "she was depressed when Father died."
Another daughter wrote, "I still believe my parents were good people and that they had just been through a lot."
Ferishta Kulaly, a niece on Ghulam Ayobi's side of the family, read a statement that her uncle "loved life and shared his passion for life with others." Kulaly said, "If Shajia truly believed her life with her husband was so bad, she could have found another way to get out of this marriage. Divorce was an option."
Deputy District Attorney Kevin Greene argued at trial that Shajia killed Ghulam mainly to get out of the marriage without having to go through the cultural stigma of a second divorce. Greene also said she had a financial motive: She stood to collect $285,000 on an insurance policy.
Judge Helena R. Gweon called the case "tragic and unusual."
"Both Ghulam and Shajia were complex people," the judge said from the bench. "They were well educated, intelligent, hard-working and flawed – deeply flawed. They both had their demons and they both had experienced atrocities."
Gweon said Ghulam Ayobi "did many good things," and although "he was not a perfect man … he did not deserve to be killed.
---
Sacramento jury convicts wife of first-degree murder
By Andy Furillo - The Sacramento Bee
Thursday, May. 2, 2013
For nearly four days, Shajia Ayobi's jury struggled with the meaning of "imminence" and whether it applied to the danger she said she feared from her husband.
Wednesday afternoon, the panel decided that even if she had been battered and abused by Ghulam Rabani Ayobi, as she testified, he did not present an immediate threat to her the night she either killed him or had him killed.
As a result, they convicted Ayobi, 46, of first-degree murder in the Dec. 18, 2011, shooting death of her husband, who was 53.
"There was a lot of talk about definitions," juror Reg Orbeta told reporters afterward.
Twice, the jury sent notes to Sacramento Superior Court Judge Helena R. Gweon to ask for a further meaning to the word "imminent." Twice, the judge told them to apply their ordinary, everyday understanding.
Then, to the delight of Ghulam Ayobi's side of the family, the jury worked its way through the law and arrived at the conclusion that there was no clear and present danger to Shajia Ayobi when her husband was shot in their car while he laid his head back in rest.
"This is just one of the judgments," Ghulam Ayobi's niece, Ferishta Kulaly, said of the jury's verdict. "We believe that there is another judgment coming up, and hopefully it will be more severe than this one."
The next judgment, Kulaly said, will be rendered "when she exits this world, in her next life … She has to face (God), too, and explain to him what she did to herself, her family, the kids, the mom, the community – for selfish reasons."
Gweon scheduled for June 14 her application of the worldly consequences for the murder conviction. Ayobi is facing a term of 25 years to life in prison.
Although the jury found Ayobi guilty of murder, it did not have enough evidence to conclude that she pulled the trigger in her husband's killing.
Deputy District Attorney Kevin Greene argued that she was in fact the shooter. His office, however, also has charged a second defendant in the case, a criminal justice classmate of Ayobi's at Kaplan College identified as Jake Clark, 30.
In a jailhouse interview, Clark said Ayobi offered him $500 to kill her husband. He said he refused the offer and "flat-out" had nothing to do with the killing. Clark has yet to enter a plea. His next court date is scheduled for May 17.
On Tuesday, the jury declared itself at an impasse in its deliberations, but Gweon ordered the members of the panel to resume their discussions. The jurors reached their verdict about 2:30 p.m. Wednesday.
Orbeta said the panel had been split 10-2 in favor of conviction when the judge ordered jurors back into the deliberation room.
Jury foreman Matthew Smalley said it was "careful deliberation of the facts" that produced the eventual unanimous decision.
Asked what evidence was most decisive, Smalley said, "the testimony of the defendant."
Ayobi spent two days on the stand, and although the panel mostly found her lacking in credibility, Smalley said her admission that she contracted out the killing of her husband severely damaged her cause.
Smalley said "we felt there was compelling evidence" to corroborate Ayobi's testimony that she suffered from post-traumatic stress disorder. Ayobi testified it resulted from her early childhood experiences, from living in Afghanistan during the Soviet war of the early 1980s and from the domestic abuse she suffered at the hands of the husband she murdered.
"The PTSD was certainly a factor," Smalley said. "But we weren't able to conclude it was the overriding factor."
Greene, the prosecutor, said in his closing arguments that Ayobi stood to collect on a $285,000 life insurance policy if her husband died. The deputy DA also said she had other motives to murder, that she stood to gain her freedom from a bad marriage without having to endure the cultural stigma of divorce.
Shajia Ayobi first reported to police she and her husband were carjacked coming home from a dinner party in Natomas and that Ghulam Ayobi was shot and killed by the robber who had hidden in the back seat of their car.
She later changed her story to say the CIA had her husband killed, before she finally admitted that she did it – but under the duress of PTSD.
Greene declined to comment on the verdict.
Defense attorney Pete Kmeto argued for an acquittal on the basis of self-defense. Short of that, he said jurors also had the option of convicting her of voluntary manslaughter under a theory of imperfect self-defense.
"Obviously we're disappointed," Kmeto said in an interview after the verdict. "What this woman went through in her life, and the domestic violence that occurred – all your sympathies go to her."
Kmeto said jurors told him that the level of planning that went into the killing made it impossible for them to find that she acted out of a fear of imminent harm.
"They struggled mightily," Kmeto said of the jury. "It was a very emotional thing for them. They couldn't go to sleep. They stayed up all night. They became tearful in their deliberations. I'm convinced these people did the best they could given the facts and the law."
---
Trial opens for Foothill Farms woman accused of hiring husband's killer
By Kim Minugh - The Sacramento Bee
Tuesday, Apr. 16, 2013
Shajia Ayobi told Sacramento police that her husband was killed by two mysterious carjackers who hid in the couple's van as they dined at a friend's house and opened fire after the couple began their drive home.
When police didn't buy that story, she tried another: That it was a CIA operative who, unable to persuade Ayobi to kill her husband, hid in the van and did the job himself.
Neither of those explanations panned out as detectives investigated the Dec. 18, 2011, shooting of Ghulam Ayobi, and his 46-year-old wife now stands accused of first-degree murder.
In opening statements to Sacramento County jurors Monday morning, Deputy District Attorney Kevin Greene and veteran defense attorney Peter Kmeto appeared to agree that Shajia Ayobi, unhappy in her marriage, paid a classmate to end it for her.
But the attorneys differed dramatically on the woman's culpability. Greene argued that Shajia Ayobi's plot and elaborate cover-up point to premeditation and first-degree murder.
Ayobi "did not want to be married to Ghulam anymore, so she comes up with a plot to kill him," Greene said. "She comes up with a web of lies to cover up the plot."
As a result of her scheme, Ghulam Ayobi, an Afghan native who taught cultural norms to U.S. troops on their way to his native country, ended up with three bullets in his head at the age of 53, Greene said.
The shooting erupted as Shajia Ayobi drove the couple's Kia Sedona minivan from a Natomas home, where they had dined with friends, to their own Foothill Farms residence. After the shooting, Greene said, Shajia Ayobi first called her friend – "the crying, fake; the hysteria, fake" – and then 911 – "again, crying, fake; again, hysteria, fake."
She continued the act by sobbing and banging on the hood when police met her on Norwood Avenue after she steered the van off Interstate 80, he said. She then began to spin her "web of lies," Greene said, one of many times he repeated the phrase.
Kmeto instead attributed the killing to years of abuse and suggested it could be viewed as self-defense.
He acknowledged Shajia Ayobi's two "partially false" statements to police. But inject one character into the story – suspected gunman Jake Clark, whose name surfaced publicly for the first time Monday – and suddenly "a lot of it is true," Kmeto said.
Kmeto described the Ayobis as "broken" people, whose demise came as the result of suffering in their native Afghanistan.
As a soldier there, Ghulam Ayobi was taken hostage by Soviet forces and tortured. Kmeto said Ayobi "came out a different man," one who was paranoid, bipolar and violent.
Before her marriage to Ghulam was arranged, Shajia Ayobi and her family had been brutalized by soldiers. He said his client suffers from post-traumatic stress disorder as a result of the countless atrocities she suffered and witnessed.
Kmeto argued that as Ghulam's wife, Shajia Ayobi and the couple's three children endured violent outbursts and threats of death. She kept it secret, her attorney said, because of cultural pressures.
Her mounting fear drove her to pay Clark, a classmate in Shajia Ayobi's criminal justice program at Kaplan College, $5,000 to kill him, Kmeto argued.
"Was she making this stuff up or did she honestly … believe she and her children were in imminent danger?" Kmeto asked. "It's a tragic case. The real issue is not who did it but what was in Shajia Ayobi's mind when it happened."
Kmeto indicated that Clark, 21, will testify. Sacramento police arrested Clark in connection with the case last month; he has been charged with one count of murder in a separate criminal filing. He is scheduled to appear for a hearing in his case Friday.
---
Family 'distraught' over arrest of wife in I-80 shooting death of husband
By Kim Minugh and Bill Lindelof - The Sacramento Bee
January 20, 2012
In a dramatic turn of events, Sacramento police have arrested the wife of murdered Afghan war veteran Ghulam Ayobi ,who was found shot last month in his minivan on Interstate 80.
Shajia Ayobi, 45, was booked into Sacramento County Jail at 10:50 p.m. Thursday after questioning by detectives.
Police said her statements just didn't add up. They now suspect she played a role in the shooting; however, they are not sure whether she fabricated her previous story about a carjacking or whether there were other suspects involved, said police Sgt. Andrew Pettit.
The couple's nephew, Munir Safi, issued this statement today: "Our family is incredibly distraught by this awful turn of events. We are withholding judgment until all facts are known and the police complete their investigation."
Police were called at 12:04 a.m. Dec. 18 to a report of a man shot on eastbound I-80 at Norwood Avenue. When they arrived, police found Ghulam Ayobi suffering from a gunshot to his upper body.
He later died at the hospital. Without a motive, police said only that they believed that Ayobi and his wife, who was with him but not injured, were targeted at random.
The information at the time indicated that the couple had left the home of a family friend in the area of Torland Street and San Juan Road in Natomas' Gateway West neighborhood.
Safi previously told The Bee that his uncle sat down in the passenger seat in the couple's minivan, parked in the friends' driveway, and apparently became aware of two people hiding in the back seat.
Under duress, the nephew said, Ayobi ordered his wife to drive, not look back and not to ask questions.
Shajia Ayobi was said to have followed directions and never got a good look at any assailants. The nephew said that Shajia told relatives and police the unknown suspects wanted money.
An altercation broke out as the minivan traveled eastbound on I-80. A shot broke out, according to the nephew, killing his uncle.
The suspects ordered Shajia to pull over on eastbound Interstate 80, east of Northgate Boulevard, the nephew said. After they fled, she pulled out her cell phone and called police, who told her to meet them at the Norwood Avenue offramp.
On Thursday, detectives re-interviewed Shajia Ayobi. Police spokesman Sgt. Andrew Pettit said that detectives had wanted to speak with her for some time.
"She was one of the people we wanted to re-interview," said Pettit. "We were finally able to get a hold of her. "
Detectives brought her into the station Thursday afternoon, speaking with her into the evening. This morning a press release announced her arrest.
"Based on her interview and inconsistent statements, things just didn't match up," said Pettit. "In these types of investigations, our detectives are very keen on details. Some of those details were not lining up with the evidence we found."
Pettit said Shajia Ayobi made incriminating statements, but he was not able to elaborate.
No motive has been established for the killing of Ghulam Ayobi, a former Afghan soldier who had also served as a cultural adviser to U.S. troops headed for war in Afghanistan.
---
Wife Arrested In December Murder Of Sacramento Man
Sacramento.CBSlocal.com
January 20, 2008
SACRAMENTO (CBS13) – The wife of a man shot to death back in December has now been arrested in connection with his death, according to Sacramento Police.
Officers arrested 45-year-old Shajia Ayobi on Thursday for the murder of her husband, Ghulam Ayobi.
Ghulam died Dec. 18 in what was originally reported as a fatal carjacking along Interstate 80 at Norwood Avenue.
Shajia originally told police that she and her husband had just left a family gathering and were driving home in their minivan. She said when they got on Interstate 80, two people who had been hidden in their van appeared and demanded their money.
She said a scuffle broke out and Ghulam was shot dead.
However, police re-interviewed Shajia about the case and she was arrested based on incriminating statements.
"Our family is incredibly distraught by this awful turn of events," said family spokesman Munir Safi, the victim's newphew. "We are withholding judgment until all facts are known and the police complete their investigation."
shajia Ayobi is being held in the Sacramento County Main Jail on a murder charge and is ineligible for bail.
---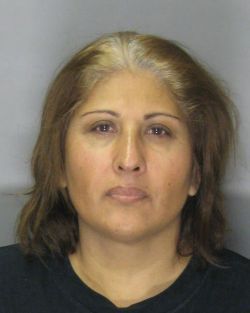 Shajia Ayobi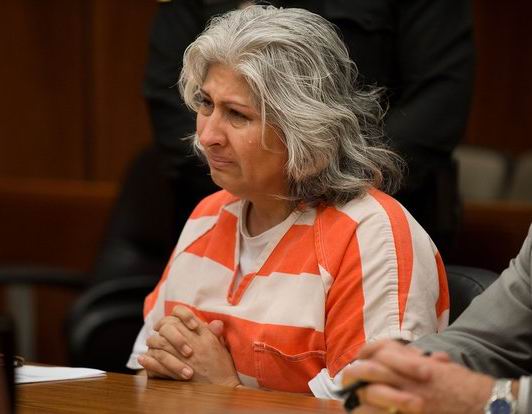 Shajia Ayobi weeps as she is sentenced in Sacramento Superior Court to 26 years to life in prison for the 2011 murder of her husband, Ghulam.
(Randall Benton - The Sacramento Bee)
The victim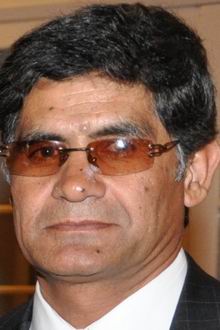 Ghulam Ayobi, 53.