Becker, Marie Alexander
Born in 1877, Marie Becker spent most of her adult life as a housewife in Liege, Belgium.
In 1932, when she was 55 years old, she entered into a tempestuous affair with Lambert Beyer, a local lothario several years her junior. Soon after their first meeting, in a local grocery market, Becker poisoned her husband with digitalis and began spending all her time with her lover. Romance paled as Beyer failed to keep up with her pace, and Marie soon dispatched him, as well.
Bent on recapturing lost youth, Becker became a fixture in the local nightclubs, performing wild dances with men half her age, bribing a series of young lovers to share her bed.
It all cost money she could ill afford, and soon Maria opened a modest dress shop in Liege, supplementing her income by robbing and poisoning elderly patrons.
Before her sideline was discovered, it is estimated that she murdered ten, at least, obtaining minor sums of cash from each.
A female friend was Becker's undoing, running to Maria with complaints about her husband, declaring that she wished the no-good rascal dead. Maria suggested digitalis, offering a sample from her own supply, and after several days of cooling off, her friend reported the discussion to the police. Maria was arrested in October 1936, with tests revealing poison in the bodies of her husband, Lambert Beyer, and a number of her female customers.
At trial, she gloated over details of the several deaths and drew a term of life imprisonment. She died in jail, while World War II was underway.
Michael Newton - An Encyclopedia of Modern Serial Killers - Hunting Humans
---
Marie Alexandrine Becker (1877-1938) was a Belgian serial poisoner responsible for the deaths of her husband, lover, and several elderly women who patronized the dressmaking shop that she had opened.
Becker had been married to a cabinetmaker and was seemingly bored and restrained in the marriage. A chance meeting with a man named Lambert Beyer, a known womanizer, opened up an insatiable sexual appetite in Mrs. Becker. Her new experiences apparently gave her impetus to dispatch with her staid, reliable husband. She implemented digitalis and used it to this end. After boring of Beyer, she dispatched him in the same manner. She took to dancing in clubs with her temporary lotharios and paying them for various sexual services. She coldly informed a friend who was looking to rid herself of her husband that "I can supply you with a powder that will leave no trace". This woman went to the police and Maria was arrested.
Marie Becker was known to attend the funerals of her victims and to gesticulate wildly her grief over their passing. She was convicted of murder and sentenced to life in prison.
Reference
Wikipedia.org
---
Marie Becker
Mass poisoner Marie Alexandrine Becker, born in 1877 and a native of Liege in Belgium, was fifty-three years old and married to a cabinetmaker when she began an affair with a man called Lambert Beyer - a notorious middle-aged womaniser. Though Marie was outwardly a virtuous and proper housewife, she was secretly bored with her husband. When Beyer propositioned her as she bought vegetables at a street stall, she accepted his advances immediately.
The affair with him unlocked dark passions which Marie had probably concealed for a long time. She hated the idea of growing old and felt that her dull and unexciting husband stood in the way of all the things she really wanted. The only way to recapture her lost youth, she decided, was to murder him and start afresh. She gave him a lethal dose of Digitalis, collected on his life insurance and used the cash to open a smart dress shop. Later on, in November 1934 - by which time he had presumably ceased to thrill her - she poisoned Bayer with the same lethal drug.
He apparently left her money in his will - perhaps he signed his own death warrant via this bequest because Marie's funds were getting rather low. Her new lifestyle was expensive; it also scandalised her neighbours. Becker's nights were spent in dance halls and nightclubs, wildly cavorting with men half her age. She paid young gigolos (toyboys) for sex. The dress shop was popular, but the income it generated couldn't keep pace with her expenses.
When an elderly friend, Marie Castadot, became ill in early July 1935 - she'd experienced dizziness and nausea - the kindly Widow Becker offered to take care of her. Unsurprisingly, Castadot's condition worsened. By the 23rd day of July she was dead. Marie Becker, who knew a thing or two about ruthless opportunism, eagerly befriended other old ladies...all of them followed Madame Castadot to the grave in the months that followed.
Becker had plainly decreed that nothing was more important (or more sacred?) than her chosen lifestyle - not even human life. Having run out of acquaintances, Marie turned to poisoning her female customers with digitalis, dropping it in cups of tea in the back of her shop as they discussed the latest fashions. When the drug began to work, she would steal whatever money the patrons had and then take the stricken women back to their own homes - where they'd die of "unknown causes." Becker is definitely known to have committed at least ten homicides, but it has been estimated that she actually killed twice as many people before she was arrested
When a female friend sarcastically remarked that her husband was aggravating her so much that she wished he would die, the poisoner told her: "If you really mean that, I can supply you with a powder that will leave no trace." The woman went to the police (who had suspected Becker for some time - they'd received anonymous letters which accused her of foul play). Marie was arrested; the bodies of her husband, Beyer, and some of her friends and customers were exhumed.
Traces of the poison were found. A search of her house revealed jewellery, clothes and personal possessions belonging to the victims. The police also found at least one bottle of digitalis. She was charged with murder.
Witnesses at Becker's trial related how the killer had attended the funerals of her victims and dramatically feigned grief. According to their accounts, she knelt at the gravesides and wept hysterically...only to be seen shortly afterwards performing erotic dances in Liege nightclubs and lavishly spending the stolen money. Becker made no pretence of innocence. She gloated over the murders and described, with arch disdain, the way her prey had died. One of her victims, she said, "looked like an angel choked with sauerkraut." Another she described as "dying beautifully, lying flat on her back." Convicted, Marie Becker was sent to prison for life, there being no death penalty in Belgium at that time. She died in prison sometime during World War II.
Usersites.horrorfind.com
---
Marie Alexandrine Becker
When she was 53 years old, Marie Becker, born and bred in Liege, Belgium, overviewed her life and she concluded that it was just an average one. She thought she had been playing the role of good housewife for too long, but she didn't have much time left to change this. So, she decided to get on with it and she started a passionate affair with a certain Lambert Bayer. For a while, she was happy with how things were going. They had to keep their relationship quiet, and that was something that changed Becker's boring life into an exciting one. After a while however, the affair also became common and Becker got tired of seeing Bayer secretly. She started to think of her husband as a burden. In the thirties it wasn't convenient to divorce, so Becker had to think of another way to get rid of him. She found the solution in an overdose of digitalis. After the standard process of mourning, she could openly see Bayer.
Something that's forbidden attracts. As soon as the forbidden becomes granted, it loses partly or fully its attraction. That was also the case with Becker's tempestuous affair with her dream lover. Just like a real dream, it quickly disappeared. But now, she knew how to arrange similar unpleasant situations. November 1934, Bayer died.
Because of the two inheritances, Marie Becker became a wealthy lady. She didn't intend to stash the fortune that fell to her share, so she spent it on her personal pleasures. Her friends and acquaintances were astonished to see her going out and being surrounded by young, attractive men who could have been her sons. Becker finally led the life she had always dreamed of.
But her fortune quickly shrunk. She had to find some income; otherwise, her future would be as gray as her past had been. She refused to go through such times again, even if human lives had to be sacrificed. After making that decision, Becker started to spend a lot of time on visiting friends. When Marie Castadot got sick in July 1935 - she experienced some dizziness - Marie Becker offered to take care of her. In spite of it, Castadot's physical condition gradually got worse. She died July 23rd. After that, most of her friends died, in a short period. Becker managed however to not once being suspected.
October 1936, the police of Liege received some anonymous letters, which accused Marie Becker of having poisoned two elderly women. An investigation started, and the police discovered some suspicious deaths. Becker's name showed up is most of the cases. Each time, she had been the one who had taken care of the women in their last hours. When Becker's house was searched, they found closets full of clothes that belonged to the victims, and a large amount of jewelry. Becker was taken in custody immediately. In her handbag, a little green bottle was found. It turned out to be digitalis, a drug used for heart diseases. Becker claimed the drug was for personal use, but large doses have the same effect as lethal poison, a fact the authorities were well aware of. Investigation of the bodies showed they were all killed with lethal doses of digitalis.
Becker maintained she was innocent, even during her trial, but the jury thought her guilt was well proven. She was sentenced to death, but conforming to the Belgian law, her death penalty was converted to a life sentence. She lived the rest of her life behind bars.
Crimelife.com
---
SEX: F RACE: W TYPE: T MOTIVE: PC/CE
VENUE: Liege, Belgium
MO: Poisoned husband, male lover, and female customers (who were also robbed).
DISPOSITION: Life sentence, 1936; died in prison during World War II.
---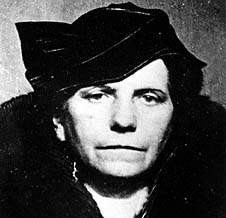 Marie Alexandrine Becker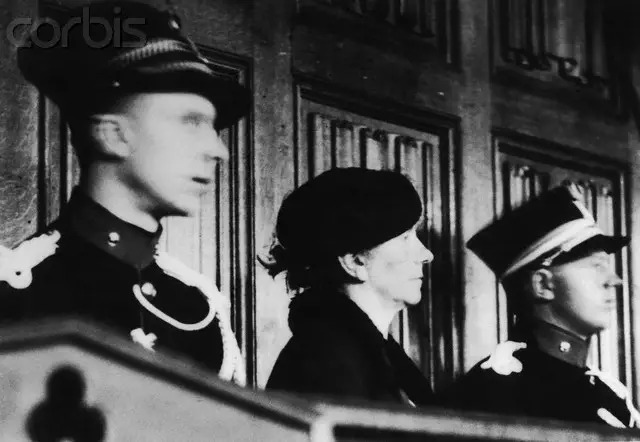 Marie Alexandrine Becker at trial.