Ann (Margaret) Beddingfield -1763.
Background
Margaret Beddingfield, who went by the name of Ann, was a Suffolk farmer's daughter who was born in 1742. She married 24-year-old John Beddingfield, also a farmer, on Tuesday, July the 3rd 1759 and his wealthy parents gave them a good farm near the village of Sternfield in Suffolk, some 18 miles from Ipswich. Initially they seemed to have a happy marriage and Ann bore him two children, however she soon got bored with the daily routines of life.
Things deteriorated further in 1761 when her husband took on a new farm hand, 19 year old Richard Ringe. Within three months he and Ann were having a passionate and very indiscreet affair and they started to devise a plot to kill John which came to fruition on the 27th of July 1762. Ann persuaded Richard to join her in the murder by the offer of marriage and half the estate.
The murder
The first plan to dispose of John was by poisoning him. Richard tried to persuade one of the maids to put poison in John's drink which she refused to do. Plan B was to strangle John in his bed while he slept and this was put into effect by Richard on the night of Tuesday the 27th of July.
Earlier that day John had taken Richard to help him move some cows he was selling and afterwards they went for a drink together. John returned home to find Ann in bed with one of the maids who's purpose, she claimed, was to act as a bed warmer! John did not seem over happy with this arrangement and asked Ann to come to the marital bed which apparently she refused to do. John then went to bed alone, with his wife and the servant in the next door bedroom.
Later that night Richard entered his master's bedroom and strangled him with a cord after a brief struggle during which they both fell from the bed. Having killed John, Richard went into Ann's room and told her (and the maid) that the deed was done. The maid went to John's room and found him lying dead on the floor.
The following conversation is reported to have taken place : Richard : "I have done for him". Ann : "Then I am easy". The maid cried out: "Master!" - supposing in the dark that John was alive. Ann told her to be quiet and Richard asked Ann if anyone else was aware of what had taken place besides her and the maid. At this the maid asked, "How came you here, Richard?" He replied, "I was forced to it".
He now returned to his own room while Ann swore the maid to secrecy. She then told her to go and call Richard and when he returned told him to go into John's bedroom because she feared he was ill. Richard feigned an inspection and came back to tell Ann and the maid that John was dead. The second maid had been woken by the commotion and also went to look at her master. She found him lying face down and noted that his shirt-collar was torn off, and that his neck was bruised and swollen.
An inquest was held the next day but none of the servants were called to give evidence. It amazingly, after a very short inquiry, bought in a verdict of accidental death - John had strangled himself with his bedclothes during a nightmare! So at this point there was no official record of a murder having been committed and both parties may have thought that they had got away with it.
However the events of the Tuesday night had begun to sour the relationship between Ann and Richard and the affair cooled rapidly. It is probable that the realisation had dawned on Richard of the danger he had been placed in by Ann. He is quoted as saying that he thought of himself as a dead man from that fateful Tuesday night.
Arrest and trial
The maid, no doubt troubled by what she had witnessed, but with a firm eye on her own situation, waited until she had been paid her quarter's wages and then reported the murder, initially to her parents, who then involved the constable. Ann tried to bribe the maid's mother but she wouldn't accept this, not a piece of evidence that played well later in court.
Ann was arrested two days later, having tried to escape while Richard was arrested at the Bedingfield house having made no effort to evade capture. The pair came to trial at the Ipswich Lent Assizes which opened on the 21st of March 1763. The original indictments for this Assize are not preserved but it is reasonable to assume that they were both charged with Petty Treason as Ann had murdered her husband and Richard his master.
The court heard evidence from the servants and also from the surgeon who had examined John's body, who told the jury that he had noticed the marks of strangulation on the body. When asked why he had reported a natural death to the coroner he, amazingly, replied that he "did not think much about it." (it is normally very obvious that a person has been strangled from the ligature marks on the neck, blueness of the lips and ears and petchiae on the face). Quite why he would have thought John's injuries were self inflicted during a nightmare is unclear.
Ann maintained her innocence during the trial while Richard, after hearing the servants' evidence, confessed his guilt. The jury found both guilty of Petty Treason. The mandatory sentences for this crime were that Ann be drawn to the place of execution and there burnt at the stake and that Richard be similarly drawn to the place of execution and there be hanged by the neck until dead and that afterwards his body be anatomised. The execution of both was set for Friday the 8th of April 1763. Ann reportedly made a confession in Ipswich prison on the Wednesday before her death.
Execution
On the Friday morning each prisoner was tied to a sledge in Ipswich prison and then drawn by a horse to Rushmore, then a village just to the north of Ipswich, where the gallows stood and a stake had been set up for Ann. Richard addressed the huge crowd who had come to watch, warning them to avoid the snares of wicked women and to consider chastity as a virtue. Ann was meanwhile tied to the stake with an iron chain and a rope halter placed around her neck, with the free rope passing through a hole bored in the stake. When all was ready Richard was turned off from gallows and she was strangled by the hangman. When Ann ceased to show signs of life, bundles of faggots were piled round her and lit, the fire reducing her body to ashes. Richard was dissected after death in accordance with the Murder Act of 1752.
Conclusion
Lust, greed and incredible stupidity characterise this crime. The love affair was hardly discreet, the murder even less so. One appreciates that in the 1760's it was far more difficult for Ann to simply run away with Richard and that financially she would have had lost everything by so doing. Only by John dying would she be able to keep the farm and the house. Clearly her thinking was that with John dead she could have it all with Richard as a bonus. As is often the case in this type of murder, the attraction to the partner in crime wanes very soon after its commission.
Ann had brought suspicion on herself by being so indiscreet. It was alleged in court that she as she was dressing herself one morning she said to her maid : "Help me to put on my ear-rings; but I shall not wear them much longer, for I shall have new black ones. It will not be long before somebody in the house dies, and I believe it will be your master." The actual murder could hardly have been less secret with the maid in bed with Ann while it was carried out in the next room. One might ask why Ann needed a "bed warmer" in late July. Not surprisingly the other servants were extremely suspicious when John was found dead.
Richard's behaviour was just as stupid. Everyone in the house, other than John, seemed to know what was going on between him and Ann and he did nothing to hide it. He is alleged to have told one of the maids that he would be her constant friend if she would mix the poison he had bought with some rum and milk that her master drank in the morning. She refused to do this but only reported the incident after the murder. Every aspect of their conduct before, during and after the killing increased the suspicion and evidence against them. Unless one believes the surgeons original conclusion that John killed himself, no conclusion other than wilful murder by Richard and Ann is open to one. There was no evidence of an intruder or pretence that there had been one and that John had been murdered in the course of a robbery that had gone wrong.
Tragically three young lives were ended by this affair - ironically all by strangulation. At the time of their deaths, Ann was 21 years old, John was 28 and Richard 20.
It is said in some accounts that Ann Beddingfield was the last woman to be burnt for the murder of her husband. However this is not the case - that distinction goes to Mary Bailey who was executed on the 8th of March 1784 at Winchester.
CapitalPunishmentUK.com
---
Beddingfield, Ann
John Beddingfield was a 24-year-old farmer when he married Ann. They moved to a large farm in Suffolk, which was a wedding present from his parents. It did not take Ann too long to become bored with her husband and she started an affair with a 19-year-old servant named Richard Ringe. It might not have been so bad if the pair had been a little more discreet but the servant would often visit his mistress in her room at night.
After the affair had been going for three months Ann decided that it would be better if her compliant husband was removed from the scene entirely. She persuaded Ringe, with the promise of half the estate, to join her in her plot. Even now the pair had no concept of discretion. Instead of them carrying out their plan themselves, Ann told a servant of the master's imminent demise and Ringe, who had bought some poison, tried to persuade a kitchen maid to add it to the master's drink.
When this failed they decided on a course of direct action. In March 1763 Ringe entered the mans bedroom and strangled Beddingfield while he slept. He burst into Ann's room and told her I have done for him. Then I am easy, replied Ann. This was certainly not the most sensible conversation to be had as Ann had a young servant girl in bed with her as a bedwarmer. On hearing this news the girl leapt from the bed and ran to her masters room to discover her master dead and displaying obvious signs of strangulation.
At the Coroners Court none of the servants gave evidence and a verdict of 'death by natural causes' was returned. The jury somehow felt that the man had somehow strangled himself with his own bedding while having a nightmare. Unbelievable though it sounds it looked as if the couple were going to get away with it.
Perhaps the murder had somehow soured their relationship or maybe it had simply run its natural course, anyway over the next few weeks the relationship between the murdering pair deteriorated. The servant girl who had been in bed with Ann on the fateful night waited until she had received her wages and then went to the authorities and recounted all she knew. The pair were charged and brought to trial in April 1763. Ann maintained her innocence while Ringe, after hearing testimony from the servants, confessed his part in the crime, perhaps he was hoping that if he confessed he would be shown mercy, he was very wrong.
They were both convicted and sentenced to death. On 8th April 1763 they were both drawn by sledge to Rushmore, near Ipswich, where Ringe was hanged and Ann was burnt alive at the stake.
---
ANN BEDDINGFIELD AND RICHARD RINGE
The Newgate Calendar
The Woman burned for the Murder of her Husband, and the Man hanged for being her Accomplice, near Ipswich, 8th of April, 1763
JOHN BEDDINGFIELD, the husband of the murderess, was the son of respectable parents, at Sternfield, in Suffolk, and having married when he was about twenty-four years of age, the young couple were placed in a good farm, which was carefully attended by Beddingfield, who bore the character of a man of industry and integrity. They had two children.
Richard Ringe, a youth of nineteen, was engaged in the service of Mr Beddingfield; nor had he been long in the house before his mistress became so enamoured of him that her husband was the object of her contempt. Her behaviour to Ringe was such that he could not long doubt of her favourable inclinations; nor had he virtue to resist the temptation.
At length Mrs Beddingfield, having formed the horrid design of destroying her husband, communicated her intention to Ringe, who hesitated on the dreadful proposal, nor did he consent till she had promised that he should share her fortune as the reward of the deed.
Mrs Beddingfield, blinded by her passion, was now so much off her guard as to say very indiscreet things to her servants, which led them to presume she had determined on the most deliberate wickedness; of which the following is given as one instance. As she was dressing herself one morning she said to her maid-servant: "Help me to put on my ear-rings; but I shall not wear them much longer, for I shall have new black ones. It will not be long before somebody in the house dies, and I believe it will be your master."
Extravagant as this declaration was, the behaviour of Ringe was not at all more prudent. He purchased some poison, and told one of the servant-maids that he would be her constant friend if she would mix it with some rum-and-milk that her master drank in the morning. But the girl declined having any concern in so horrid a transaction; nor did she take any notice of the proposal that had been made till after the commission of the murder.
Mr Beddingfield happening to be indisposed, it was recommended to him to take a vomit, and the water which the servant-maid brought him to drink proving to be too hot, Ringe was directed to bring some cold water to mix with it, and he took this opportunity of putting arsenic into the water; but Beddingfield, observing a white sediment in the basin, would not drink, though no suspicion of the liquor being poisoned had occurred to him.
Henceforward the intentional murderers resolved not to think of having recourse to poison, but devised another scheme of dispatching the unfortunate object of their vengeance. Mr Beddingfield having been selling some cattle to another farmer, they drank a sociable glass together, but not to such a degree as to occasion intoxication. When Mr Beddingfield came home he found that his wife was in bed with one of the maid-servants, on which he desired her to come to his chamber; but this she refused, and mutual recriminations passed between them. It had been determined by Ringe to commit the murder on that night, while his master was asleep; whereupon, when he knew he was in bed, he quitted his own room, passed through that in which his mistress slept, and went to the bedchamber of his master. Ringe, observing that Mr Beddingfield was asleep, threw a cord round his neck to strangle him; but, being hurt by the weight of Ringe lying across him, he struggled, so that they both fell off the bed together. However, the horrid deed of murder was soon perpetrated.
Mrs Beddingfield, being asleep in the next room, was awakened by the noise, and in her fright awakened the servant. At this instant Ringe entered the room and said: "I have done for him." To which the wife answered: "Then I am easy." The girl was greatly alarmed, and cried out: "Master!" -- supposing Mr Beddingfield was present, for there was no light in the room; but Mrs Beddingfield commanded her to be silent. Ringe asked the mistress if any one was acquainted with what had passed besides her and the maid; on which the girl asked, 'How came you here, Richard?' The villain, terrified by his guilt, replied, 'I was forced to it.' He now went to his own room, and laid down; and the mistress and maid getting up, the latter was charged not to utter a syllable of what had passed.
Mrs Beddingfield now directed the girl to call Ringe, who seemed offended at being disturbed; but, when he had struck a light, his mistress told him to go into his master's room, for she was afraid that he was indisposed. Ringe obeyed; but, on his return, said, with an air of surprize, that his master was dead.
By this time another maid-servant was got up, and the girls, going to their master's room, found the deceased lying on his face, and observed that part of his shirt-collar was torn off, and that his neck was black and swelled.
A messenger was instantly dispatched to Mr Beddingfield's parents, who proposed to send for a surgeon; but the wife insisted that it was unnecessary to send for a doctor, as her husband was already dead. On the following day the coroner's jury took an inquisition into the cause of his death; but so superficial was the inquiry that it lasted only a few minutes, and their determination was that he died a natural death.
The guilty commerce between the murderers now became still more evident than before; but so fickle was Mrs Beddingfield's disposition that in a few weeks she began to despise the man whom she had excited to the murder of her husband. The servant-maid now resolved to discover the fact, but postponed the doing so till she had received the wages for her quarter's service. When her mistress had paid her, she went to her parents and discovered all she knew of the matter; on which a warrant was issued for apprehending the murderers. They had an item of what was going forward, and therefore attempted to bribe the girl's mother to secrecy; but she rejected their offers; on which Mrs Beddingfield made her escape, but was apprehended at the end of two days. Ringe, however, seemed to disdain to consult his own safety, but remained in the house; and, after he was committed to prison, he confessed that he had deemed himself a dead man from the time of his perpetrating the murder.
At the Lent Assizes in 1763 the prisoners were brought to trial, when the surgeon and coroner were examined as to what fell within their knowledge. The former confessed that he saw marks of violence on the body; and being asked how he could depose before the coroner that Mr Beddingfield had died a natural death, he replied that he 'did not think much about it.' A strange, and almost unaccountable declaration!
The preceding part of this narrative will lead the reader to judge of the rest of the evidence that was given on the trial; and the prisoners, having nothing to allege in extenuation of their crime, were capitally convicted and sentenced to death.
After conviction, as well as before, Ringe freely confessed his guilt; but expressed the utmost anxiety at the thought of being dissected. Mrs Beddingfield refused to make any confession till the day before her death.
They were placed on one sledge on the morning of their execution, and conveyed to a place near Ipswich, called Rushmore, where Ringe made a pathetic address to the surrounding multitude, advising young people to be warned, by his fate, to avoid the delusions of wicked women, and to consider chastity as a virtue.
After the fervent exercise of devotion he was turned off, while the body of Mrs Beddingfield, who had been first strangled at a stake, was burning to ashes, agreeable to the practice respecting women who are convicted of the murder of their husbands.
These malefactors suffered at Rushmore on the 8th of April, 1763.
Exclassics.com
---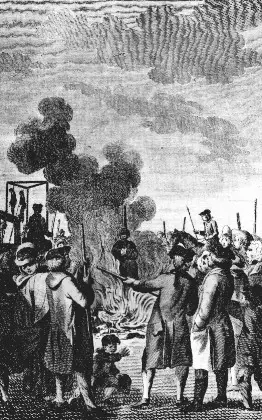 Ann Beddingfield burnt at the stake.