Penny Bjorkland was a normal teenager. Just like anyone you'd find in any small town in the United States. Blonde hair, blue eyes, freckles, and a pony-tail. She even considered herself a "normal, average girl." Her friends in school noticed she was really nervous, a nail biter, and a bit of a loner.
Once in school she was caught with a container of Vodka and orange juice in her locker. Although on February 2, 1959 police discovered the turnout of her minds workings.
On that day the body of August Norry was found in the Daly City hills, south of San Francisco. Norry was a twenty-eight year old landscaper, married, and about to become a father for his first time. He was known as a lady's man, but that wasn't much of a lead to figure out why someone had fired eighteen bullets into him.
Their best lead was a testimony of a boy who had seen a freckle-faced blonde driving Norrys car like mad away from the hills, and the .38 caliber bullets. After two months of investigating the police found the "freckle-faced blonde" by tracing the bullets. They were made by a real distinctive mold, the man that made them remembered selling them to Bjorkland.
The police picked her up at her parents' Daly City home. Her confession the next morning answered a lot of questions. She had stolen the .38 from a friends bedroom sometime in January.
On Sunday, February 1 she left home with the army-issue handgun tucked into the waistband of her pedal pushers, but didn't know what she was going to do. But soon she realized what she wanted to do when August Norry picked her up and offered her a ride.
When she got out of the car, she faced Norry and fired five shots into him. Going around the car, she took out fresh ammo and reloaded. When she got to the drivers side, she fired five more shots into Norry. Still unfinished she went back to the passengers side of the car and shot him more. Then took the body out of the car, and drove off.
When the police asked her about motive she replied "For about a year or a year and a half I've had the urge to kill someone," she said, a bit embarrased. "I'll admit that the motive sounds crazy, but I wanted to know if a person could commit a crime like this and not worry about the police looking for her or have it on her conscience." And in the end she stated "I've felt better since I killed him."
At her trial the reporters described her as having a "giggling disinterest." Up until the judge read her verdict: life imprisonment. She was stunned, and stated that "I am unhappy."
---
Rosemarie Diane "Penny" Bjorkland (1941-?) is a United States murderer who killed a gardener, August Norry.
Bjorkland awoke on February 1, 1959 and told herself, "today is the day I will kill someone." She took a .38 and wandered the hills of San Francisco. She came across Norry, who gave her a lift. She thanked him, took out her pistol, and shot him several times at point-blank range.
The police traced the bullets to a local gun shop because they were unusual, "wadcutters", used primarily for target practice. Bjorkland was found because the owner of the gun shop had said that he had sold the bullets to her.
She confessed and was given a life sentence.
Reference
---
Penny Bjorkland
Thirty-year old gardener August Norry had no idea what was in store for him when he was dumping yard waste in the San Bruno Mountains, just south of San Francisco, on a breezy and warm Sunday. Norry, a Korean War veteran who was wounded in action, had taken his G.I. Bill money and gone to school for landscape architecture. He worked full time as a landscaper at the Lake Merced Country Club and took care of the grounds at a chemical plant in San Leandro on Sundays.
Married only eighteen months and with a baby on the way, the handsome Norry was trying to make as much money as possible to support his family. Unfortunately for Norry, there isn't enough money in the world that will stop determined killers from carrying out their actions.
Norry's bullet-ridden and bloody car was found at the end of a lover's lane on Christmas Tree Hill about 10:00 p.m. that night. A young boy told police that he had seen a young blonde woman driving the car recklessly around 4:30 p.m. The police found Norry's bullet-ridden body in the San Bruno Hills the next day.
Forensic evidence showed that Norry was shot while sitting in the driver's seat of his car. Blood on the inside of the door proved that the car's door was open when he was shot. He was then shot some more through the passenger side window. The car was then driven fifty yards off the road, through a barbed wire fence where Norry was unceremoniously dumped, face up on the ground, where he was again shot multiple times. In all there were eighteen bullet holes in Norry, fourteen of them went completely through his body. He was shot three times in the head, three times in the neck, three times in the chest, twice in the stomach, and the rest were in his limbs.
Police were stunned by the overkill. They immediately believed that it was a crime of passion with the sighting of the blonde-haired woman driving Norry's car. They had made up their minds before the body was hauled away.
Norry's twenty year old wife Darlene was mercilessly questioned by Daly City and San Mateo County Police, and the home that she shared with August was crudely searched. Norry's co-workers at the Lake Merced Country Club told the police that they were pretty sure that he had another relationship with a person other than his wife. Norry was a charming and handsome man. Before he was in the Army, he had been a minor-league baseball player and a Arthur Murray dance instructor. Norry's family and his in-laws were at a loss as to why anyone would want to murder August. No matter how much the detectives probed, they could not find any proof of the Norry's having any marital problems.
Besides the boy who saw the car drive wildly by, the only other clues that the police had were a cheap blood-spattered rhinestone necklace and the unusual bullets used for the murder. They were .38 caliber blunt-nosed wad cutters mostly used for target practice, and popular with firearm enthusiasts who reload their own bullets.
The police were stumbling into dead ends with the investigation. A man reported that he had seen a young blonde woman with a bulldog walking toward Norry about 11:00 a.m. on the day of the murder. This and every other lead went nowhere. The police detectives hassled Norry's relatives, friends, and co-workers hoping to find a clue, but the only thing that they found out was that August Norry was an average, friendly, hard-working family man with few close friends. Norry's brother was even a San Francisco police officer.
Two and a half months went by as San Mateo Sheriffs Department detectives Milt Minehan and Willam Ridenour tracked down the manufacture of the bullet mold to a New Jersey company, of which 10,000 were sold, and narrowed it down to Bay Area purchasers. Then one by one, Minehan and Ridenour checked out each owner, often taking samples of the gun enthusiast's bullet lead to analyze and compare with the bullets taken from the crime scene.
Eventually Inspectors Minehan and Ridenour questioned twenty-three year old Daly City mechanic Lawrence Schultze about his reloading practices. After taking samples of Schultze's bullet lead and comparing it against the Norry bullets, they came up with a match.
On April 14, 1959, Minehan and Ridenour confronted Schultze with the evidence; he confessed that he had indeed made the bullets and loaded them into a live cartridge. Then Schultze went further. He told the detectives that he had sold a box of fifty wad-cutter bullets to his eighteen year old blonde-haired friend, Rosemarie "Penny" Bjorkland of Daly City.
Schultze also told the detectives that he personally went with Penny, along with his girlfriend, who was Penny's best friend, to San Bruno Mountain, near where Norry was murdered to test fire the rounds.
The next day the police were waiting at the Bjorkland home, just three south blocks from the San Francisco city limits, for Penny to come home from work. The police were surprised at the normal working-class family that the murderer lived with. Penny's parents and her three brothers had no idea what the police wanted with Penny.
Detectives Minehan and Ridenour were stunned when they greeted Penny as she arrived home from work. Penny was an attractive, full-figured, freckled-faced woman of eighteen. She wore her strawberry-blonde hair in the pony tail and wore ruby red lipstick that offset her blue eyes. She wasn't surprised that the police were at her home and she gave them permission to search her room, where the detectives found newspaper clippings of the Norry murder.
Bjorkland was taken to the San Mateo Sheriff's Department where for hours she remained tight-lipped while being questioned. Nobody knows, in those pre-Miranda Rights days, what the police did to coerce her, but Penny confessed at 5:40 in the morning. A few hours later Penny was driven to the scene of the crime.
The newspapers reported that Bjorkland had giggled while acting out her crime for the assembled police and journalists. It is more likely that the fashionably dressed, gum-chewing teenager was just being a nervous teenager, but the story was a newspaper goldmine and the media ran with it.
The story had everything. A sexually charged, gum-chewing, knife-carrying, pony-tailed, freckle-faced, blonde-haired teenager, who could have been your daughter, sister, or niece, and she shoots almost twenty bullets into a random person without remorse, as if she were an Albert Camus character. Parents suddenly took notice of their teenagers and a few probably slept with one eye opened.
Penny made a emotionless and detailed confession. In it she stated that she had had the overwhelming, almost sexual urge to kill someone for several years.
"I felt better mentally," said Bjorkland. "Like it was a great burden lifted off of me. I have no bad memories about it. I always wanted to see if I could do something like this and not have it bother me."
The police were so dumbfounded by Bjorkland. She was a polite, honest, and completely normal girl. Her existentialist attitude was something that they had never experienced in a person so young. Penny confessed so quickly that she wanted to plead guilty before she even had an attorney, but District Attorney Keith C. Sorenson wouldn't allow it.
Bjorkland, impassively and rationally told the police, courts, and the press that she had stolen the revolver from a boyfriend's parents home in December with plans on using it to murder someone. She explained to the police that she had met Norry once before on when she was on a walk on the Crocker Estate. Norry was emptying yard waste along the road and they had struck up a conversation. They went to a drive-in burger restaurant in nearby San Francisco for lunch. She didn't know that Norry was married until she read it in the newspapers, but that didn't matter because Bjorkland had no romantic interest in Norry and her only repentance about the crime was that she felt bad for Mrs. Norry.
Bjorkland had bumped into Norry by chance on the day that she killed him. According to her testimony, Bjorkland was walking on the mountain when Norry drove by and offered her a ride. While riding in Norry's car, she fired a wild shot out the window into the woods.
Once they stopped, they talked casually for a few minutes until Penny pulled out the gun and shot Norry several times. She got out of the car, opened the driver's door and shot Norry until the gun clicked on empty rounds. Bjorkland reloaded the gun, shoved Norry onto the passenger side and drove the car off the road, through a wire fence. Pulling Norry's lifeless body out of the car and onto the sun-baked scrub brush that dots the hills, she emptied the revolver into the unmoving father to be. Reloading the six-shot revolver, Bjorkland again fired six more bullets into the very dead body of August Norry.
"Suddenly," explained Bjorkland, "I had the overpowering urge to shoot him. I kept shooting, emptying my gun and reloading. That was the only reason. There was no other."
She drove away in Norry's car, ditched it, and went home to have dinner with her family. The next day, Bjorkland dumped the pistol and unused bullets down a storm drain at the corner of Camellia and Castle Manor in San Francisco.
Penny Bjorkland told her story and stuck to it.
Bjorkland described herself as a normal, average girl, but her co-workers described her as a knife-carrying lone wolf who ate her lunch by herself at her job at Periodical Publishers Service Bureau in San Francisco.
Bjorkland wouldn't talk to mental health specialists or a priest. She never cried or shown any emotion while incarcerated or in front of the judge. She told police matron Maxine Stooksbury that she hated her parents because they made her go to church.
Bjorkland's parents scrambled to find an attorney to represent their daughter. They were willing to mortgage their home to pay for legal fees. When Penny found out about her parent's anguish, she replied coldly. "They had nothing to do with it. I guess this does affect them, but that's not my concern."
Joseph Murray, the attorney that the heartbroken Bjorkland's hired was dumbfounded by Penny's detached demeanor and unwillingness to change her story to help herself. Murray tried the usual juristic tricks to save his client, but Penny would have nothing to do with them, or with him. A dozen psychologists, including experts in experimental fields of psychology from Bay Area universities, were called in by both sides and had generally agreed that there nothing psychologically wrong with Penny Bjorkland.
On July 20, 1959, Rosemarie "Penny" Bjorkland pled guilty to Second Degree Murder and threw herself on the mercy of the court. South San Francisco Municipal Judge Charles Becker sentenced Penny to life in prison, but made her eligible for parole in seven years.
Darlene Norry gave birth to daughter Cynthia on September 17, 1958. The widow was so upset with the intrusive visits from the police that she had gone to stay with an aunt in Santa Rosa to finish out her pregnancy. She didn't know about Bjorkman's arrest until she was informed by a relative and was stunned that she and her family were still being relentlessly and rudely interrogated by various law enforcement agencies when they were already onto Bjorkland.
"They were around to insult me just before the caught her," exclaimed a rightfully angry Darlene Norry. "That is the reason I had to get away for a while."
There is no record of when Penny Bjorkland was released from the California State Prison for Women at Corona, but it is believed that she was paroled in the mid 1960's. Cynthia Norry would have been in grade school by then and never knew her father
---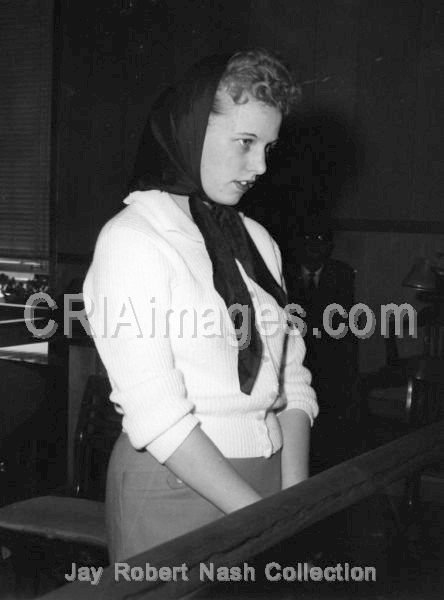 Rosemarie "Penny" Bjorkland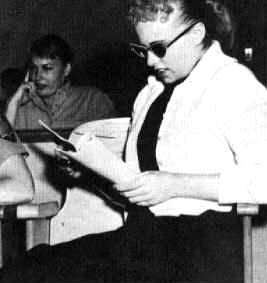 Rosemarie "Penny" Bjorkland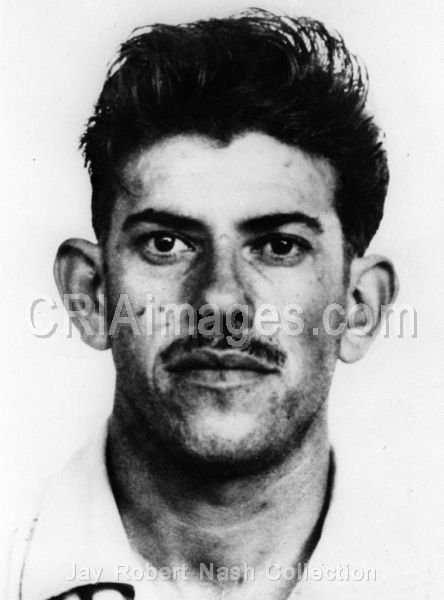 On February 2, 1959 the body of August Norry was found in the Daly City hills, south of San Francisco. Norry was a twenty-eight year old landscaper, married, and about to become a father for his first time.