Rebecca Jo Blackmore, North Carolina Teen, Sentenced In Killing Of Infant Daughter
By David Lohr - HuffingtonPost.com
August 21, 2013
A North Carolina teen was sentenced to 10 to 12 years in prison on a reduced murder charge after she pleaded guilty on Monday to the stabbing death of her infant daughter.
Authorities said Rebecca Jo Blackmore, who was 16 years old when her baby died in 2011, killed her newborn child by stabbing the baby girl to death with scissors.
According to Lindsay Voorhees, a spokeswoman for the Currituck County Sheriff's Office, the Knotts Island teen went to Chesapeake Regional Medical Center on June 17, 2011. There, she told employees she had just given birth and the baby was dead in her home.
When authorities went to Blackmore's residence, they found the baby's body hidden inside Blackmore's bedroom closet.
The medical examiner's office in Greenville, N.C., later determined the baby was alive at birth and survived only for a very short period of time, Currituck County Sheriff Susan Johnson previously told HuffPost.
The infant's death was caused by "multiple stab wounds," according to Johnson.
North Carolina has a safe haven law, which states "you can leave your baby, up to 7 days old, with an employee on duty at any hospital" and several other approved locations. The mother is not required to provide any identifying information. Children who are dropped off become a ward of the state, according to the law.
Blackmore -- previously a student at Currituck County High School -- was charged as an adult in the killing.
With the plea, prosecutors lowered the charge from first degree murder, which could have resulted in a sentence of life in prison without parole.


---


Autopsy: Baby was stabbed with scissors
Wavy.com
January 12, 2012
CURRITUCK COUNTY, N.C. (WAVY) - A Currituck County teenager is accused of using scissors to stab her infant daughter to death, according to the autopsy report.
The autopsy report was released Jan. 10 by the N.C. Office of the Chief Medical Examiner this week.
Rebecca Blackmore is charged with first degree murder for the death of her baby. She was released on a $250,000 secured bond.
According to court documents, Blackmore was brought to Princess Anne Hospital in Virginia Beach after her mother found her in the bathroom at home with blood in the bathroom on June 17, 2011.
In the course of the evaluation at the hospital, it was discovered that Blackmore had been pregnant and admitted to having delivered the infant at home.
According to information provided to the local medical examiner, the patient stated that the infant was born not breathing and blue between midnight and 1 a.m. She reported stabbing the infant with a scissors, wrapping the body in a blanket, and placing it in a closet.
The autopsy examination revealed a term infant who appeared otherwise healthy but had stab and cutting wounds on the chest and neck. External and internal injuries were consistent with the infant being alive at the time of the injuries, the autopsy report said.
Neighbors have mixed feelings about the case.
Larry Ashbrook said, "I think it's terrible if that's the way it went. I'd like to know both sides before I make any judgment. It's too many quick judgments in this world."
Neighbor Sherry Dudley countered, "I think she should be tried for murder and put away for whatever they want to put her away for. You don't kill a kid."
---
North Carolina Teen Accused of Stabbing Her Newborn Generates Facebook Support, Disgust
By Christina Ng - ABCNews.go.com
June 23, 2011
A North Carolina teenager has been charged with murder in the stabbing death of her newborn baby girl, prompting a flood of Facebook messages expressing everything from support to disgust.
"no matter what people say youre still the girl that used to stay up all night with me on the computer editing our myspace pages," one friend wrote. "im here and nobody is gonna change my mind about you."
Wrote another person: "how can you feel sorry for that girl and defend her?!?! ur crazy!"
Rebecca Blackmore, 16, of Knotts Island went to the emergency room of the Chesapeake General Hospital June 17 and said she had given birth to a baby girl, that the baby had died and that she left the body in her bedroom closet, according to a news release from the Currituck County Sheriff's Office.
When police arrived at Blackmore's home, they found the baby's body in the closet.
A medical examiner in Greenville determined Monday that "the baby was alive at birth and survived only for a very short period of time and the death was caused by multiple stab wounds," according to Sheriff Susan Johnson's news release.
When ABC News called Blackmore's home, her mother, Barbara Jo Blackmore, answered the phone but hung up without commenting.
A student at Currituck County High School, Blackmore recently completed her sophomore year. She lists Sonic Drive-Thru as her employer on her Facebook page and writes about loving her life, boyfriend, friends and family.
She keeps track month by month of how long she and boyfriend Michael Derosier have been together. In her "About Me" section, she writes about Derosier, "It's been more than a year, and I still find myself loving you more and more everyday."
Derosier has not been charged in connection with the crime.
North Carolina is one of the many states with a Safe Haven law that allows people to leave a baby up to a week old with an employee at "any hospital, health care center, local or district health department or at a nonprofit community health center."
A baby can also be left with social services, law enforcement, EMS or "any responsible adult in North Carolina."
Blackmore is being held on $500,000 bond, according to ABC affiliate WVEC, and is scheduled to appear in court on the first-degree murder charge Monday.


---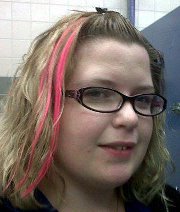 Rebecca Jo Blackmore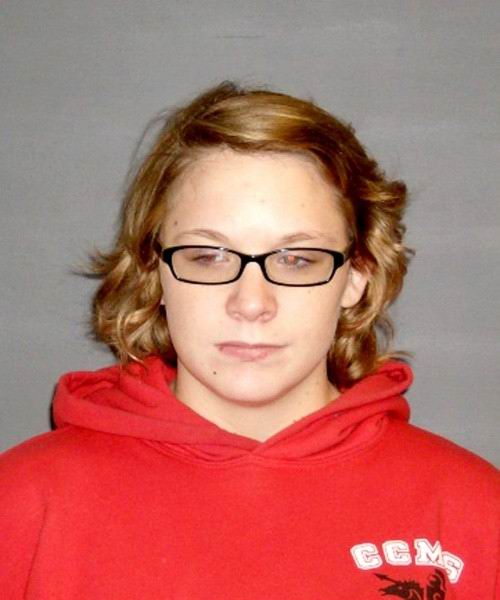 Rebecca Jo Blackmore