Botkin, Cordelia
Cordelia who was a stocky woman of 44 had left her own husband and started a relationship with another man, John Presley Dunning who was already married. She persuaded him to leave his wife but never felt really secure. She would write anonymous letters to Mrs Dunning warning her against any ideas she may have of rejoining her husband.
He was a journalist and when he was called away to cover the Spanish - American war she feared that on his return he may go back to his wife. She purchased some candy which she laced with arsenic and then sent this to Mrs Dunning with a note. Mrs Dunning and her sister in law ate the candy and died. Two children who also ate some managed to survive.
The police traced the handwriting on the note and charged Cordelia with murder. She was sentenced to life imprisonment on 31 December 1898. She remained in prison until her death at San Quentin in 1910, never once confessing to the crime.
---
Cordelia Botkin (1854-1910) was an American murderer who sent a poisoned box of candy to her lover's wife.
In 1892, Cordelia and John Presley Dunning met, while he was bicyling in Golden Gate Park. Even though Cordelia was more then ten years his senior, and he was already married, he was smitten.
Botkin was the mistress of John Presley Dunning, the AP Bureau Chief in San Francisco. Dunning's wife, Elizabeth, a daughter of a former Congressman from Delaware, had left him due to his numerous marital indiscretions. Botkin had taken their child and left her husband in Stockton, travelling to the Barbary Coast.
The affair lasted for six years, but was terminated when John decided to be a correspondent during the Spanish-American War in 1898.
She took it upon herself to send taunting letters to Elizabeth Dunning regarding her husband's affairs. On September 9, 1898, Elizabeth opened a box of candies that she mistook as coming from a friend of the family. Both she and another woman, Mrs Joshua P. Deane, who was staying with her, ate the candy and both died. The candy was traced to a shop in San Francisco, and from there, to Cordelia Botkin.
Botkin was also found to be the sender of the anonymous letters. She was tried and given a life sentence. She died in San Quentin in 1910.
---
Cordelia Botkin (1854–March 7, 1910) was an American murderer who sent a box of poisoned candy to her ex-lover's wife. Born in Missouri, she had moved to California with her family, where she married her husband, Welcome Botkin. They were the parents of one son.
Background to the murders
In 1895, Cordelia Botkin met John Preston Dunning while he was bicycling in San Francisco's Golden Gate Park. Although she was then 41, nine years his senior, and both of them were married, John Dunning was smitten with her. Dunning was a highly-regarded reporter for the Associated Press, having completed overseas assignments in Samoa and Chile. He had been promoted to superintendent of the Associated Press's Western Division bureau in San Francisco.
Dunning had been stationed in Samoa in 1889, when the island had been the scene of a naval confrontation between the United States, Great Britain, and the Imperial Germany over the reigning monarch in Samoa. There was a division of sentiment by the local chiefs between at least three possible successors. There was a strong possibility of a war breaking out, but typhoon hit the island, sinking most of the German and American warships. The sole British ship, H.M.S. Calliope, managed to get to sea and ride out the storm.
Dunning's account of the naval disaster and its consequences was considered first rate reporting at that time and was frequently reprinted.
In 1896, Dunning's religious wife, Mary Elizabeth (Penington) Dunning, obviously upset by her husband's marital indiscretions, left him and returned with their little daughter to Dover, Delaware, to the home of her father, former Congressman John B. Penington. By then Botkin had become Dunning's lover and constant companion. Botkin was estranged from her own husband, a grain broker in Stockton, California, but he supported her with regular remittances. Dunning, a heavy drinker, was fired by the Associated Press when it was discovered he had embezzled $4,000 in office funds to pay his gambling debts. He was next let go by newspapers in Salt Lake City and San Francisco because of his habitual drunkenness, and moved into Botkin's hotel.
The affair lasted almost three years, but ended when Dunning was re-hired in March 1898 as the agency's lead reporter for what would become the Spanish-American War. When he left San Francisco, he told the weeping Botkin that he would not return. He reconciled with his wife before leaving for Cuba, where he helped save survivors of the Spanish battleships that were sunk at the Battle of Santiago de Cuba on 2 July 1898. Unfortunately for him, his own work as a reporter was overshadowed by the more impressive reports sent from Cuba by Stephen Crane and Richard Harding Davis.
The murders
Cordelia Botkin sent anonymous letters to Mrs. Dunning detailing her husband's affairs. On August 9, 1898, Mrs. Dunning opened a box of candies addressed to her and her sister in Dover, Delaware. It was only "With love to yourself and baby." "Passionately fond of candy," according to her husband, Dunning took at least three pieces herself and shared the rest with others on the porch of her father's home. After two days of agony, the 35-year-old Mrs. Dunning and her older sister, 44-year-old Ida Harriet Deane, died from arsenic poisoning. Four others who had sampled the chocolates survived. Elizabeth Dunning's father noted familiar handwriting on both the note and saw that it matched the taunting letters he had kept in a drawer. Police traced the candy to a shop in San Francisco, and from there, to the bitter Mrs. Cordelia Botkin.
Trial
Cordelia Botkin was tried before Judge Carroll Cook, who ruled on the first case involving a crime committed in two different states, a decision which was never reviewed by the United States Supreme Court.
Cordelia Botkin denied her guilt, but she was convicted of murder in December 1898, and was convicted again at a retrial in 1904. She was sentenced to life imprisonment. She died in 1910 in San Quentin State Prison. John Dunning, his career destroyed by the revelations during the trial, had died two years previously in Philadelphia.
Wikipedia.org
---
Cordelia's Candy
31-year-old John P. Dunning had the kind lifestyle that many people dream of. He was a well-regarded war correspondent and had a devoted wife, Mary, who was the daughter of former congressman John B. Pennington of Dover Delaware.
In 1891 the couple moved to San Francisco where Dunning took a position as the Bureau Chief of Associated Press' Western Division. A year later the couple welcomed the birth of their daughter.
In the summer of 1895, Dunning was riding his bike to work through Golden Gate Park when it broke down near a bench where the woman who would tragically alter his future was sitting enjoying the morning sun. As he fixed his bike the two struck up a conversation and although she was 10 years his senior Dunning soon found himself captivated by her ill disguised, raw sensuality and they were soon embroiled in a torrid affair. She was Cordelia Botkin, wife of wealthy businessman, Welcome A. Botkin from Stockton California. Although they were separated, Cordelia's husband still supported her financially with a monthly stipend. Cordelia introduced Dunning to the seedy side of San Francisco and before long he was caught up in a sordid lifestyle of drinking, partying, and gambling.
Mary Elizabeth Dunning had suffered the ultimate humiliation. Her husband was openly cavorting with a woman of obviously loose morals. To add to this he had been fired from his position at Associated Press when it was suspected that he had embezzled company funds in order to pay his gambling debts. And due to his heavy drinking he was unable to maintain employment. Fed up, Mary Elizabeth packed up herself and her daughter and moved back to Delaware with her parents.
Still caught up in the clutches of Cordelia, Dunning moved into same hotel where she was staying and for the time being was content to let Cordelia support the both of them with her husband's money.
During one of their conversations the subject of Dunning's wife arose and he let it slip about her love of candy and that she had a close friend in San Francisco named Mrs Corbaley.
Eventually Dunning grew tired of his life of debauchery and jumped at the chance when Associated Press offered to rehire him as a war correspondent to cover the Spanish-American war in Cuba. He informed Cordelia of his plans and turned a deaf ear to her impassioned pleadings for him to stay with her. Dunning also informed her that he had no intentions of returning to San Francisco and upon completing his assignment he would be returning to Delaware in the hopes of reuniting with his wife and child.
Mary Elizabeth received letters signed "A Friend" postmarked San Francisco. They informed her that her husband was still constantly seen in the company of an attractive woman and warned Mary Elizabeth not to reconcile with her husband. She turned the letters over to her father for safe keeping.
On August 9, 1898, a small package arrived at the Dover, Delaware addressed to Mary Elizabeth Dunning. Inside the box was chocolate bonbons resting atop a lacy handkerchief with the price tag still attached. The note enclosed with the package read, "With love to yourself and baby. Mrs. C."
Later that evening after dining on trout and corn fritters, the family retired to the veranda in a effort to cool off from the summer heat. Thinking the chocolates were from her friend, Mrs. Corbaley, from San Francisco, Mary Elizabeth had no reservations about indulging in her love of chocolate or passing the box around for her family to share. Mary Elizabeth's parents passed but her older sister, her daughter, her niece and two young neighbors who had stopped by to visit.
Hours later all six of the unfortunate people who ate the candy experienced stomach pains and vomiting. The physician who came to examine them diagnosed their illness as cholera morbus, a common ailment due to lack of refrigeration. He claimed it was probably from the corn fritters they had eaten at dinner. The problem with that theory was the two neighbors had not eaten the fritters. Nonetheless everyone eventually recovered with the exception of Mary Elizabeth and her sister. Having eaten the bulk of the candy they progressed to severe stomach spasms and their father called in a specialist who's grim suspicion spelled doom for the two women. He feared that they had been poisoned and by then it was too late to save them. Mary Elizabeth and her sister died a day later.
Mr Pennington began to suspect that his daughters had been poisoned by the candy and he had the uneaten candy analyzed. The chemist reported that a few of the chocolates had indeed been tainted with arsenic.
Mary Elizabeth's father dispatched a telegram posthaste to John Dunning informing him of the death of his beloved wife. When he reached the home of Mr. Pennington, Mary's father, he was immediately shown the letters and handwritten note that accompanied the box of chocolate. It took only one brief glance for him to instantly recognise the handwriting. There was no doubt as to the identity of the writer in his mind. He broke down and told Mr. Pennington the details of the sordid affair with Cordelia Botkin.
The Dover Police were contacted who then referred the case to San Francisco since the candies were sent from there. The remaining candy, the paper it was wrapped in and the handkerchief were sent to San Francisco in the custody of Dover Police.
San Francisco Police Chief Isaiah W. Less spearheaded the case against Cordelia and immediately set to work building the evidence against her. The sensational story was soon front page news and the Examiner "assisted" the police with the investigation. The paper that was used to wrap the candy was traced back to the George Haas confectionery where the clerk recalled selling the chocolate bonbons to a woman fitting Cordelia's physical description. The price tag on the handkerchief led directly to the City of Paris department store. A clerk who remembered selling arsenic to a woman who resembled Cordelia was eventually located at the Owl Drug store. Finally Less had the note that accompanied the chocolates and the anonymous letters sent to Mary Elizabeth analyzed by a handwriting expert who conclusively matched them to samples of Cordelia's writings.
In October, 1898, Chief Less appeared before the grand jury, confident that he had a strong, albeit circumstantial case. The only potential problem was the fact that an autopsy had not been performed on the two women so there was no proof that they had died from arsenic poisoning. In response the grand jury returned with an indictment for two counts of first-degree murder against Mrs. Cordelia Botkin.
Her trial began in December, 1898 before Judge Carroll Cook. Given the strength of the prosecutions case, the defense had no choice but to put Cordelia on the stand. She admitted that she bought the arsenic in June but hers was powdered not the crystalline type that was found in the candy. Furthermore she claimed she had bought the arsenic to bleach a straw hat. She also produced alibis to prove that she did not purchase the candy or mail the package. However her alibis could not be substantiated.
After four hours of the deliberation the jury found Cordelia guilty and recommended life in prison. As recommended Cordelia was confined to the Branch County Prison to serve her life sentence. One Sunday a few months after being sent to prison Judge Cook spotted Cordelia shopping in downtown San Francisco. He immediately launched an investigation and uncovered evidence that Cordelia had exchanged sexual favors for lavish comforts in jail and the freedom to leave the prison grounds.
Meanwhile Cordelia's lawyer appealed her conviction and was able to have it overturned based on a procedural error. Her second trial commenced in 1904 and on August 2, 1904 she was again sentenced to life in prison.
Cordelia Botkin was transferred to San Quentin State Prison where she remained until her death on March 7, 1910. The official cause of death was "softening of the brain due to melancholy." She was 56 years old.
MurderRevisited.blogspot.com
---
A splendid little murder
Well.com
Cordelia Botkin. Mrs. Botkin. Hardly a household name for San Franciscans in December 1898. But her face stares, dark-eyed, round-cheeked, out of nearly every issue of the Chronicle and the Examiner published in December 1898. Residents of the city a hundred years ago eagerly absorbed every detail of this woman's private life just as their 20th-century counterparts voraciously devour news of Monica Lewinsky's comings and goings. Hers, too, was a titillating story of sexual indiscretion, augmented by the testosterone-charged excitement of a splendid little war. Perhaps the parallels stop there. But perhaps there are other lines that diverge, only to meet again, now, in an exquisite full circle.
The occasion for Mrs. Botkin's quickly sketched portraits, which adorned the pages of every local newspaper, was her trial for murder in Police Court, Judge Carroll Cook presiding. The facts were well known, for William Randolph Hearst's Examiner had made the case its own, in the same way that Hearst's newspaper empire had thrown itself into the events leading up to the Spanish-American War. To enflame passions against Spain's barbarism in the Caribbean among Americans unimaginatively content to tend their own gardens, Hearst sent artist Frederic Remington to Cuba in search of visual kindling. In a now-famous exchange, Remington requested permission to return home because "there will be no war"; Hearst replied, "You furnish the pictures. I'll furnish the war." And to heat up public interest in two Delaware murders with a San Francisco angle, the Examiner sent a reporter with the wonderfully Dickensian name of Lizzie Livernash to inveigle her way into the confidence of the prime suspect --- Cordelia Botkin.
But let me tell you the story. It began when a bicycle broke down in Golden Gate Park in September 1895. As the cyclist, a journalist named John P. Dunning, stopped to tend to his wheel, he noticed two women sitting on a bench nearby. One of them was Cordelia Botkin. Despite 19th-century taboos on associations between men and women who had not been formally introduced, the two fell into an easy conversation. One thing led to another, and they became intimate.
When the particulars of their relationship emerged later, the public expressed shock and disapproval. It turned out that the 41-year-old Mrs. Botkin lived in San Francisco, either alone or in the company of her son Beverly, apparently a plump dissolute fellow in his early 20s. She enjoyed a comfortable separate existence from her husband, Welcome A. Botkin, who resided officially in Stockton but paid frequent consoling visits to a San Francisco landlady named Clara Arbogast. (The names are not important, but they are far too delicious to omit.) Mr. Dunning, who was about 30, also had a family --- a wife named Mary Elizabeth and a little girl, named Mary for her mother. But alas, his menage was not a happy one, he confessed, because his wife, the daughter of a Delaware farmer-turned-Congressman, was "extremely religious and could not get accustomed to conditions in San Francisco."
Or maybe it was her husband who caused her discomfort. About the time that Dunning landed literally at Mrs. Botkin's feet, he also began betting heavily at the racetrack. He soon lost his position as day manager of the Associated Press San Francisco Bureau, amid whispers of embezzled office funds. Elizabeth Dunning hightailed it back to the security of her family home in Dover, and her errant husband, pockets empty, joined his new love, first at 927 Geary (in a two-story house that subsequently changed its number out of embarrassment) and then in the Victoria Hotel, at 1105 Hyde, on the corner of Hyde and California. Oh, the happy times --- or goings-on, depending on your point of view --- that took place in Room 26 of the Victoria! Visitors recalled seeing Jack Dunning sitting casually with a glass of whiskey in his hand as he bantered with a bathrobe-clad Cordelia. They also noticed, with raised eyebrows, the frequent presence of a 31-year-old widow, Louise Seeley, a close friend of son Beverly.
Then suddenly, just when Dunning's finances seemed at their lowest ebb, he received a posting to cover the war in Cuba and Puerto Rico. Cordelia traveled with him by ferry to the railroad station in Oakland and tearfully saw him off, convinced that he would meet a horrible death at the hands of the Spanish. In fact, as his letters describe, he rather enjoyed himself, even cutting off a piece of an enemy scalp, which he kept as a souvenir, until it went bad and smelled "anything but attar of roses."
But while he was overseas, trouble erupted in Dover. Elizabeth received a series of anonymous letters telling of her husband's involvement with an "interesting and pretty woman" in San Francisco. They were followed by a box of chocolates ---she had a well-known sweet tooth---accompanied by an inexpensive cambric handkerchief and a note reading, "With love to yourself and baby. Mrs. C."
On the evening of August 9, 1898, after a dinner of trout and corn fritters, Elizabeth and her family went out to the porch to enjoy the summer evening. She passed around the candy, at the same time wondering who had sent it. The following day, the members of the party who had eaten filled bonbons became dreadfully ill; abstainers like the paterfamilias John Pennington, who preferred his tobacco chaw to candy, and those who had eaten only hard chocolates remained healthy. Most of the stricken quickly recovered, but Elizabeth and her older sister, Leila Deane, died painfully a few days later. Until the end was near, their doctor believed they suffered from cholera morbus, a blanket term for the stomach ailments that were exceedingly common during the summers before refrigerators. At the last moment, too late to save them, he realized they were the victims of arsenic poisoning.
Poison. The classic weapon of a woman. Elizabeth's grieving family sent for Dunning, who arrived in great distress ten days later. He took one look at the anonymous letters and said, "Cordelia."
*****
Local newspapers in San Francisco quickly caught wind of the case, and from then on it was difficult to tell whether the Examiner or the Police Department was directing the investigation. The box of bonbons was traced to Haas & Sons Confectionery, in the flatiron-shaped Phelan Building at 810 Market, where an army of reporters soon drove the staff into hiding. The handkerchief was found to bear a price stamp from the City of Paris (a department store on Union Square which subsequently traded its Gallic elegance for Texas chic, in the form of Nieman Marcus). A clerk was discovered at Owl Drug Store (at 1002 Market) who remembered he had sold some arsenic to a woman resembling Cordelia Botkin. And best of all, "Mrs. Botkin," as the headlines styled her, was located at her sister's house in Healdsburg. Hotshot reporter Lizzie Livernash sped to her side, representing herself as a kindred spirit and persuading the semi-hysterical fugitive to tell all. Or at least a lot, all of which duly appeared in the pages of the Examiner.
The unrelenting coverage of the case by the press meant that the public knew what to expect when the trial finally began on December 6. Like the members of a TV audience well-primed before the official statement of a president, the people of San Francisco turned their attention toward the courthouse, eager for a look at the new media-created celebrities they had been reading about. Foreknowledge only whet their appetite. Every day they packed into the courtroom, men stolid in bulky topcoats, women knocking ornate hats askew as they vied for front-row seats. One day it rained ---California was unusually cold and dry that year--- and the intense body heat in the crowded room forced clouds of steam from water-soaked clothing. On the final days of the trial, when the attorneys were scheduled to give their closing speeches, a line of more than 500 people stretched away from the courthouse, the overflow that had been unable to squeeze inside. For their benefit, and to make the rest of the city a part of the ghoulish festivities, the Examiner erected a public bulletin board, where it posted up-to-the-minute reports of the trial's progress.
A delegation of lawyers, doctors, and bereaved family members arrived by train from Delaware just as the trial began, looking bewildered by what they obviously regarded as the Wild West. (There had been a brief jurisdictional dispute over which state should host the trial, which California won on the grounds that a person couldn't be extradited to a place where she had never been.) In turn, cosmopolitan San Franciscans saw the eastern visitors as provincial and slightly addle-brained.
Piece by piece, the prosecution laid out its evidence, including lengthy chemical and handwriting analyses. Fingerprint analysis, which might have provided proof otherwise lacking in the circumstantial case, was still a science in its infancy, inadmissible in court. Throughout the testimony, all eyes were on the defendant, who sat stoically still, always in black, always with a white lace handkerchief in her hand. A brief distraction occurred when John Dunning took the stand and the members of the audience had an opportunity to look over the man who had inspired such passion. He turned out to be the whiny sort, with a good cleft chin but narrow shoulders and a head of thinning hair. He inserted a moment of drama into the proceedings when he acknowledged that he had been intimate with many women during his stay in San Francisco, but no, he couldn't recall all of their names. Were there any whose names he could recall? Yes, there were three, besides Mrs. Botkin. But no, he would not reveal them. Dunning spent a couple of nights in the county jail before the defense withdrew its question.
Mrs. Botkin took the stand, speaking first in a spirited tone that gave her listeners a hint that she might indeed be an intelligent, independent woman and then --- on the advice of counsel--- in a more docile manner. She carefully refuted the prosecution's assertions, offering a series of alibis to demonstrate that she could neither have purchased the chocolate nor mailed it. Furthermore, the arsenic, which she bought in June ---long before the crime was committed--- was powdered, not crystalline like the pieces found in the candy.
No matter. The jury convicted her after four hours' deliberation, including time out for dinner. The verdict was a compromise: guilty of first degree murder, to be punished by life imprisonment. When the news flashed on the Examiner bulletin board, the crowd cheered. And despite several appeals, Cordelia Botkin spent the rest of her life in San Quentin, dying of "softening of the brain, due to melancholy" on March 7, 1910.
Once again, as in the splendid little war, a newspaper had orchestrated events, building a readership by molding popular opinion, creating consensus by sensation. William Randolph Hearst's dream was to establish a national voice for the press as a partner in the political process. For many decades, that goal was thwarted by a succession of strong presidents. Until recently.
Copyright Betsey Culp 1998
---
The Botkin Case1
By Jim Fisher
"With love to yourself and baby."
-Cordelia Botkin in a note to the woman she would murder.
Thirty-year-old John P. Dunning, in the year 1895, had a good life. He was married to a woman who was devoted to him, had a healthy young daughter named Mary, and a good job as day manager of the Associated Press bureau in San Francisco. His wife, Elizabeth Mary, the daughter of ex-congressman John Pennington of Dover, Delaware, was not only beautiful, but from a prominent family. In September of 1895, John Dunning's life would take a dramatic turn when, while taking a leisurely bicycle ride not far from his San Francisco home, he spotted an attractive woman sitting on a bench. A few days later, Dunning and his new acquaintance, Cordelia Botkin, a married woman estranged from her Stockton, California husband, became more than friends. During the next two years, Dunning was seen by neighbors as a frequent guest at the Botkin house on Geary Street. Besides cheating on his wife, and on occasion Cordelia Botkin, Dunning began to drink and lose money at the racetrack. In early 1898, Dunning's employer, suspecting embezzlement of company funds, fired him. Because he could no longer support his family, his wife and daughter they returned to Dover to live with the Penningtons while Dunning looked for another job in San Francisco. With his family back in Delaware, Dunning was free to move in with Cordelia Botkin who now resided at the Victoria Hotel on Hyde Street,
Cordelia was thrilled to be living under the same roof with her lover, but her joy was short-lived. Two months after he had moved into the Victoria Hotel, Dunning received a reporting assignment to cover the Spanish-American War from Cuba and Puerto Rico. Before leaving San Francisco, Dunning had more bad news for Cordelia: he missed his wife and daughter. When he completed his assignment overseas, he would be joining his family in Delaware. The affair was over. Cordelia did not take the news very well. In her mind, and she was quite strong-minded, the affair was not over, not by a long shot.
Back in Dover, Mrs. Dunning, in the summer of 1898, began receiving anonymous letters mailed from San Franciso, letters referring to her husband's affair with an "interesting and pretty woman." The letters were signed, "A Friend." In August, Mrs. Dunning received an anonymous note signed, "With love to yourself and baby. Mrs. C." The latter communication was accompanied by a Cambric handkerchief and a box of chocolates.
On August 9, 1898, after dinner at the Pennington house, Elizabeth passed the mystery box of bonbons to family and friends gathered that evening on the front porch. The group of four adults and three children, included Mrs. Dunning's sister, Leila Deane and Mrs. Dunning's daughter, Mary. A few of those gathered on the porch that evening passed up the chocolate while Mrs. Dunning and her sister helped themselves to several pieces. That night, everyone who ate the candy became sick. Mrs. Dunning and her sister, having eaten so much of the chocolate, became violently ill.
On August 20, eleven days after the candy arrived in the mail, Leila Deane died. The next day Mrs. Dunning passed away. Both women had suffered extremely painful and agonizing deaths. The presumed cause of their deaths: cholera morbus, a common ailment in the era before refrigeration. John Dunning, still overseas when he received the news, arrived back in Dover ten days later. When John Pennington showed him the anonymous letters, including the note that had come with the chocolates, Dunning simply said, "Cordelia."
Mr. Pennington, suspecting that his daughters had been poisoned by the candy, had the uneaten chocolates analyzed by a chemist who worked for the state. The chemist reported that some of the remaining chocolates had been spiked with arsenic. Autopsies were not performed on the bodies because the physician in charge believed that the victims' prolonged vomiting had cleansed their bodies of the poison. Had toxicology, as a forensic science, existed in 1898, a toxicologist would have known that although arsenic, a heavy metal poison, is excreted from the damaged cells, traces are sequestered in the victim's bone, fingernails and head hair.
The discovery of the poison in the candy prompted a coroner's inquest. When presented with the basic facts of the case, the coroner's jury ruled that the two women had been poisoned to death by the arsenic-laced candy which had been mailed from San Francisco.
Although the deaths had occurred in Dover, the authorities in Delaware requested that the case be investigated by the San Francisco Police Department. A pair of Dover police officers, bearing the key evidence—the candy, the paper it had been wrapped in, and the anonymous writings—boarded a train for San Francisco. The man who would be leading the investigation, I.W. Lees, had been appointed chief of the San Francisco Police Department the previous year. He had been, as captain of the detective bureau, a high-profile investigator who had solved several big cases. He was also an innovator, in 1854 Lees became the first American police administrator to regularly photograph arrestees. As a result, the San Francisco Police Department had a large rogues gallery. Lees had used daguerreotype photography until 1859, then had switched to the colloidin wet process, allowing the permanent mounting of the photographs in record books.2
Chief Lees, convinced that his prime suspect, Cordelia Botkin, would break down and confess if arrested, found her at her sister's house in Heraldsburg and placed her under arrest for the murders of Elizabeth Dunning and Leila Deane. Because the suspect vehemently proclaimed her innocence, Lees was forced to solve the case the hard way, by conducting a detailed, painstaking investigation. He began by tracing the arsenic to the Owl Drug Store on Market Street where a clerk had sold arsenic, in June of 1898, to a woman meeting the description of Cordelia Botkin. Lees also questioned an acquaintance of the suspect who told him that Mrs. Botkin had expressed concern about having to sign her name when purchasing arsenic. Botkin also told this woman she was worried about having to sign her name at the post office when sending registered mail. The acquaintance had assured Cordelia that she would not have to sign her name on either occasion. Lees also spoke to a physician who had been asked by Cordelia to describe the effects of various poisons on the human body.
When Lees searched Mrs. Botkin's room at the Victoria Hotel, he found the wrapping paper, bearing a gold seal and a company trademark, that had enclosed the chocolates in the candy box. From this he learned that the bonbons had been purchased from the Haas Candy store in San Francisco. A sales clerk at the store remembered the customer who had purchased the candy because the woman had wanted half a box because she planned to add in her own, homemade chocolate. The clerk's physical description of this customer fit the description of Cordelia Botkin.
To identify the person who had addressed the mailed package, and penned the anonymous letters as well as the note that accompanied the candy, Chief Lees, in questioned document examiner Daniel T. Ames, didn't have far to look. The San Francisco based expert was considered the preeminent handwriting man in the country.3 When Ames analyzed and compared samples of Mrs. Botkin's conceded, course-of-business handwriting with the writings in the questioned documents brought to San Francisco from Dover, he confidently announced that Cordelia Botkin, to the exclusion of all others, had written the questioned material. Two other document examiners brought into the case, Carl Eisenschimel and Theodore Kytka, agreed with Ames that Cordelia Botkin had written the letters as well as the address on the package of chocolates.
Chief Lees believed he had a strong, albeit circumstantial, case. There was one problem, however, one hole in his proof. Not all of the candy in the box had been spiked with arsenic, and since autopsies had not been performed on the dead sisters, there was no direct proof that they had died from arsenic poisoning. Still, to draw any other conclusion from these facts would not have been reasonable. In October, 1898, Lees presented his case to the grand jury which returned an indictment charging Cordelia Botkin with two counts of murder in the first-degree.
Amid intense media coverage, the Botkin trial began in early December. On the first day of the proceedings, five hundred spectators were lined-up outside the courthouse door. Having pled not guilty, Cordelia Botkin, sat stiffly at the defense table dressed in black , holding a white lace handkerchief. She showed no emotion when the prosecution put John Dunning, a narrow-shouldered man with thinning hair, on the stand. Dunning admitted having an affair with the defendant as well as three other women in San Francisco. When, on cross examination, he was asked to identify the other three women, he refused. When Dunning refused the judge's order to reveal their names, he was held in contempt and hauled off to jail. A few hours later, when the defense attorney withdrew the question, Dunning was back in the courtroom.
In the wake of the impressive testimony of Daniel Ames and the other two document examiners, the burden of guilt shifted to the defense, that is, unless Cordelia Botkin could prove she wasn't the writer of the questioned documents, she would be convicted. Ames and the other two handwriting experts had used impressive courtroom exhibits in the form of word charts highlighting the similarities in the questioned and known sets of writing. At the close of the questioned document phase of the case, the prosecution rested.
Given the persuasiveness of the prosecution's evidence, the defense had no choice but to put Cordelia Botkin on the stand, a move that thrilled the press and the millions of people following the case. Cordelia did not deny that she had purchased arsenic in June, 1898, explaining that she had used the poison to clean a straw hat. Moreover, the arsenic she had purchased was powdered, and the arsenic in the candy was crystalline. On the dates the candy was purchased, and the package mailed, the defendant produced alibi evidence that was not substantiated with back-up testimony. Following Botkin's stint on the stand, the defense rested its case. The jury would have to choose whether they believed the defendant, or the prosecution's three expert handwriting witnesses.
After four hours of deliberation, the jury returned its verdict: guilty, on two counts of first-degree murder. The jurors, impressed by the prosecution's handwriting evidence, had spent most of their time in the jury room arguing over whether to recommend the death sentence, or life in prison. In the end, the jury decided to recommend life. Perhaps, because she was an attractive woman, and the case against her was circumstantial, the jury chose to spare the defendant's life. In 1898, had a man confessed to killing two people this way, he would have surely been hanged.
Cordelia could have been sent to San Quentin Prison to serve her sentence, but the judge, worried what would happen to her there, sent her to the county jail in San Francisco where, in exchanged for sexual favors, Cordelia would come and go as she pleased. A few months after sentencing her, the judge saw Cordelia shopping in downtown San Francisco.
While Cordelia shopped downtown, her lawyer appealed her conviction on a procedural issue. The appellate court's overturning of her murder convictions, led, in 1904, to a second, less sensational, trial. Once again, on the strength of the handwriting testimony, Cordelia was convicted and sentenced to life. Two years later, after the great earthquake destroyed the county jail where she was serving her sentence, Cordelia was transfered to San Quentin. In 1908, she applied for parole on the basis of bad health, a motion that was denied. On March 7, 1910, at the age of fifty-six, she died. The official cause of death: "Softening of the brain, due to melancholy."
The Botkin case caught the attention of the press because of the lurid behavior of the principals, and the unusual way the murder was carried out. However, historically, it was a forensic science landmark. The case helped launch the fledgling science of questioned document examination at a time when most courts did not recognize handwriting specialists as forensic experts. The case also propelled the career of Daniel T. Ames who, in 1900, published his text, Ames on Forgery: Its Detection and Illustrations, America's first authoritative work on the subject. (Ames, in his book, left out some of his identification techniques to protect himself from competitors in the field.) Two years after the publication of his book, Ames would testify in the famous Patrick-Rice case, a murder involving a lot of money, and a forged will.
*****
1. Sources for this account of the Botkin case include: Jackson, Joseph Henry (Ed.), San Francisco Murders. New York: Duell, Sloan and Pearce, 1947. ("The Gifts of Cordelia," p. 121); Smith, Edmond S., Famous Poison Mysteries. New York: The Dial Press, 1927. ("Cordelia Botkin's Candy," p. 15); Barton, George, Famous Detective Mysteries. London: Stanley Paul & Co., 1927. ("The Mystery of the Gold Seal," p. 88); Kobler, John, Some Like it Gory. New York: Dodd, Mead & Co., 1940. ("The Unconquerable Mrs. Botkin," p. 35; Ames, Daniel T., Ames on Forgery: Its Detection and Illustrations. San Francisco: Ames-Rollison Co., 1900 (reprinted by Patterson Smith, Montclair, New Jersey); Duke, Thomas S., Celebrated Criminal Cases of America. San Francisco: The James H. Barry Co., 1910. ("Mrs. Cordelia Botkin, Murderess," p. 133); "A Splendid Little Murder," 1998.
2. Dillon, D., "History of Criminalistics in the United States 1850-1930," doctoral dissertation, University of California at Berkeley, 1977, p. 30.
3. In 1900, Daniel T. Ames would publish Ames on Forgery: Its Detection and Illustrations (San Francisco: Ames-Rollinson Co.), the world's first authoritative questioned document text. In this book he would include photographs showing the similarities between Mrs. Botkin's known handwriting and the writings in the questioned documents.
JimFisher.edinboro.edu

---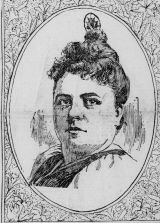 Cordelia Botkin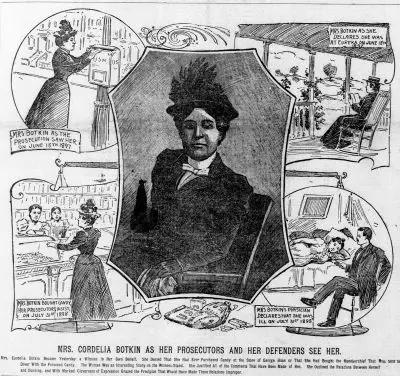 Cordelia Botkin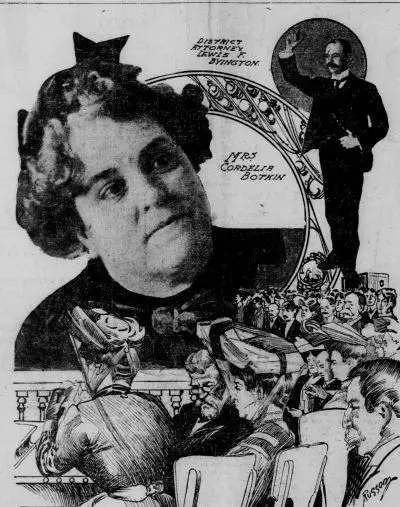 Cordelia Botkin