Bradford case - Melbourne, Florida - 1980
It was a feminist murder – committed in the heyday of post-1960s women's lib and involving four adult women and one 13-year-old girl, in a plot led by the wife of targeted optometrist John Bradford. The motive, as expressed by one of the killers, 18-year-old optometry assistant Joyce Cummings: "All we wanted was an all-female lab."
The pre-planned defense was to be a concocted self-defense by a battered wife. The climax of the crime was when Priscilla Bradford ordered her daughter (from a previous marriage) to beat her bloodied, but still-alive step-father with the iron skillet, the iconic feminist weapon, on the head.
---
Priscilla Bradford (1944-) was an American murderer who, along with two friends, plotted and carried out the bludgeoning death of her husband.
After several other attempts too kill her husband, John Young Bradford, Pricilla and her accomplices, Joyce Lee Cummings and Janice Irene Gould, finally decided to lay in wait for the man to return from work.
Previously, Mr. Bradford had been poisoned with an exceedingly large dose of methamphetamine placed in his morning orange juice that his wife had prepared for him. He had also recently been attacked in his office by an unknown assailant.
Bradford became convinced that his wife was trying to murder him but continued to live with her. On or around the day of his death he filed divorce papers.
On March 28, 1980, upon coming home from his lucrative optical lab, Bradford was ambushed by the three woman who attacked him with whatever was handy: a cast-iron frying pan, apothecary jars, and a cast-iron bottle capper.
Bradford's daughter Eden, who was given immunity as a witness for the state, was ordered to finish him off and took what was left of the fying pan and hit her father several more times.
Three brief trials were ordered and each of the women was sentenced to life in prison.
Reference
by Jay Robert Nash M. Evans and Company, Inc. 1981 ISBN 0871313367.


---
A Feminist Killing in Florida by Priscilla Bradford, Murder-Coaching Mom - 1980
Melbourne, Fla. – Authorities have filed first-degree murder charges against the widow, mother-in-law and two female employees of an optometrist who was beaten to death in his home with a skillet and another kitchen utensil [a bottle-capper].
But police were reluctant to discuss a motive or exactly what role they believed the four women, who were arrested Thursday, played in the March 28 death of Dr. John Young Bradford.
Priscilla Bradford, his 36-year-old widow, claimed she had been a battered wife. On March 27, the day before his death, she showed up at the police station with her face black and blue to file a complaint against him. "She had been beaten all to hell," the officer said.
But police reports also showed that the 53-year-old doctor told friends and acquaintances that he was a battered husband and that "they" were trying to kill him.
At a hearing Friday, Mrs. Bradford, Joyce Cummings, 18, of Palm Bay, and Janice Gould, 34, Melbourne, were ordered held without bond. Cummings and Gould were lab technicians at United Optical Laboratories, owned by the Bradfords. Mrs. Bradford's mother, Mildred Hadley, 69, of Melbourne Beach, was released on $20,000 bond.
Jake Miller, acting Melbourne police chief, refused to detail what authorities believe led to the slaying and charges or what they believe happened at the Bradford home the night of his death.
"It would appear that it was a combination of things, one of which a domestic situation that deteriorated over the years," miller said.
Initially, police had said only Mrs. Bradford and her 14-year-old daughter, Eden, were home at the time of the killing. Eden reportedly was taking a shower.
But later said the two employees also were in the house. He said the mother-in-law was not present during the slaying.
Mrs. Bradford claimed her husband repeatedly beat her during their 3 1/2-year marriage. Neighbor Ruth Means said police were called to the house several times during domestic squabbles over the past few months.
"I was fighting for my life. That's all I can say," Mrs. Bradford told the newspaper TODAY in Cocoa the day after her husband was killed.
Officials at Holmes Regional Medical Center in Melbourne said Mrs. Bradford was treated for injuries that appeared to be from a beating the night her husband was killed.
Miller said her claim of being beaten was "still being explored."
An autopsy report showed Bradford was beaten over the head with a skillet and a heavy metal kitchen device used to recap bottles. Police refused to say whether one or both weapons dealt the fatal blows.
According to reports given to police, Bradford talked to friends about being beaten by his wife and changed his will twice in the past few years, most recently at a car rental agency in Orlando.
["4 Florida Women Charged in Killing of Optometrist," The News and Courier (Charleston, S.C.), Apr. 12, 1980, p. 9-A)
*****
March 28, 1980: For fifteen minutes Priscilla Bradford, Joyce Cummings, Janice Gould beat their victim with a variety of instruments including a cart iron skillet and a heavy metal bottle capping gadget, but he was still alive. Then Priscilla's daughter was summoned to assist.
"I saw him lying there. He was trying to breathe. It was a mess … it sounded like he was trying to say something. He was probably just gurgling. He was drowning in his blood and he started to move his hand and, well, my mother had the frying pan, which had the bottom broken out .. She was hitting him with that." He mother handed her the bottle capper and ordered her: "Keep hitting him – anywhere!"
Priscilla, in her confession related that "I, really, you know, thought, okay, it wouldn't faze me or anything, so I took the bottle capper and hit him a couple of times, just to keep him down."
Bradford, Gould and Cummings were sentence to prison for life in August 1980. The 18-year-old Joyce Cummings stated their motive simply: "All we wanted was an all female lab."
A superb account of the case is included in Jay Robert Nash, Look for the Woman: A Narrative Encyclopedia of Female Poisoners, Kidnappers, Thieves, Extortionists, Terrorists, Swindlers and Spies From Elizabethan Times to the Present (1981, M. Evans & Co., N. Y.)
UnknownMisandry.blogspot.com
---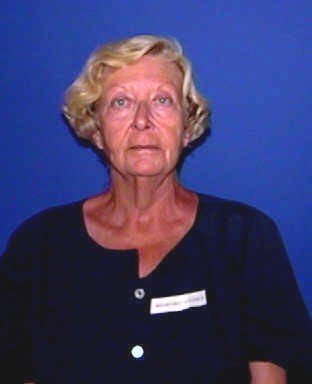 Priscilla Bradford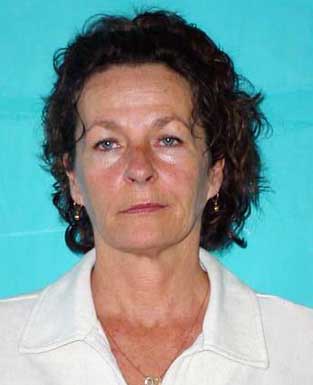 Joyce Cummins