Elizabeth Branch (1673–1740) and her daughter Mary (1716–1740) were English murderers convicted of the beating death of a servant-girl, Jane Buttersworth.
Elizabeth was born in Phillips Norton, Somersetshire, England. She married a wealthy farmer and began mistreating the family's servants. She tortured them and would force them to sleep outside when they particularly irritated her. Her daughter, Mary, manifested the same behavior toward the servants and was soon following in her mother's footsteps in her maltreatment toward the help.
Jane Buttersworth was singled out for a variety of cruelties as she was considered to be too slow in completing her chores. On the day of her death, the Branches beat her with broomsticks, stripped her naked, and poured salt into her wounds. Eventually, their assaults on the girl proved fatal.
A milkmaid, Ann Somers, happened upon the scene of the crime and was ordered to sleep with the dead girl's body. She panicked and ran to the police at the earliest opportunity. Her employers were arrested immediately.
Both women were taken to Ovelchester where they were hanged.
References
---
Elizabeth Branch
Mary Branch
This vicious mother and daughter pair were hanged in 1740 for the murder of a servant. Elizabeth Branch was born in Phillips-Norton, in Somerset, and was cruel, even as a child. She married a wealthy farmer and she soon began to beat their servants on any pretext and making them sleep outside when it took her fancy. It was little wonder that their daughter, Mary, grew up like her mother.
Mr Branch eventually died leaving Elizabeth and Mary quite a fortune. Once he was out of the way they started abusing and torturing their servants with a vengeance. Jane Butterworth was a rather slow-minded orphan and she became the focus of the pair's manic cruelty, being beaten senseless at every opportunity.
One day Jane had been too slow to buy some yeast and the pair stripped the girl and beat her with broomsticks and then poured salt into her wounds. Ann Somers, a milkmaid, entered the farmhouse and found Jane lying in a pool of blood while Elizabeth sat in front of the fire.
That night they ordered Ann to sleep with the body of the dead girl. In the middle of the night the pair decided that they ought to dispose of the body. They dragged the body into a field where they buried it.
As can be imagined, Ann Somers did not feel particularly secure with the couple and raced off to the police the first time she got the chance. Mary and Elizabeth were arrested.
They came up for trial in Taunton in March 1740. The pair were condemned to death after the jury heard Ann Somers' testimony. Word got to the local authorities that local residents intended to "tear them apart while alive" so they were taken to Ilchester to be executed.
On 31st March they were taken to Gallows Field for their execution. Mrs Branch confessed her crime while her 24-year-old daughter wept openly at her side. Both women were left to hang for over an hour while a stream of clergymen lectured the audience on the evils of beating servants. Apparently, the crowd was not particularly interested in the sermons and was only concerned with ensuring the pair were properly despatched.
Murder-uk.com
---
ELIZABETH AND MARY BRANCH
Mother and Daughter, executed on the 3rd of May, 1740, for murdering a Girl
THESE cruel women were born at Philips Norton, in Somersetshire. The mother was distinguished from her childhood by the cruelty of her disposition. She married a farmer, named Branch, but the husband soon found what an unfortunate choice he had made; for his wife no sooner came into possession of her matrimonial power than she began to exercise her tyranny on her servants, whom she treated with undeserved and unaccountable cruelty, frequently denying them the common necessaries of life, and sometimes turning them out of doors at night in the midst of winter; but their wages in these cases were sent them by Mr Branch, who was as remarkable for his humanity and justice as his wife for the opposite qualities. Mary Branch, the daughter, was an exact resemblance of her mother in every part of her diabolical temper.
Mr Branch dying, and leaving an estate of about three hundred pounds a year, he was no sooner buried than all the servants quitted the family, determined not to live with so tyrannical a mistress; and her character became so notorious that she could obtain no servants but poor creatures who were put out by the parish, or casual vagrants who strolled the country.
It is needless to mention the particulars of the cruelties of this inhuman mother and daughter to their other servants, at whom they used to throw plates, knives and forks on any offence, real or supposed; we shall therefore proceed to an account of their trial and execution for the murder of Jane Buttersworth, a poor girl, who had been placed with them by the parish officers.
At the assizes held at Taunton, in Somersetshire, in March, 1740, Elizabeth Branch and Mary, her daughter, were indicted for the wilful murder of Jane Buttersworth; when the principal evidence against them was in substance as follows: Ann Somers, the dairymaid, deposed that the deceased, having been sent for some yeast, and staying longer than was necessary, excused herself to her old mistress on her return by telling a lie; on which the daughter struck her violently on the head with her fist, and pinched her ears. Then both of them threw her on the ground, and the daughter knelt on her neck, while the mother whipped her with twigs till the blood ran on the ground, and the daughter, taking off one of the girl's shoes, beat her with it in a cruel manner.
The deceased cried for mercy, and after some struggle ran into the parlour, where they followed her and beat her with broomsticks till she fell down senseless; after which the daughter threw a pail of water on her, and used her with other circumstances of cruelty too gross to mention. Somers now went out to milk her cows, and on her return, at the expiration of half-an-hour, found her mistress sitting by the fire and the girl lying dead on the floor; but she observed that a clean cap had been put on her head since she went out, and that the blood had run through it. At night the body was privately buried.
This transaction, added to the character of the mistress, having raised a suspicion in the neighbourhood, a warrant was issued by the coroner to take up the body, and an inquest being made into the cause of the girl's death, Mr Salmon, a surgeon, declared that she had received several wounds, almost any one of which would have proved mortal.
The jury found both prisoners guilty, and they were sentenced to die. As the country people were violently enraged against them, they were conducted to the place of execution between three and four in the morning, attended only by the jailer and about half-a-dozen people, lest they should have been torn in pieces.
When they came to the spot, it was found that the gibbet had been cut down; on which a carpenter was sent for, who immediately put up another, and mother and daughter were executed before six o'clock, to the disappointment of the country to witness the death of two such unworthy wretches.
The Newgate Calendar - Exclassics.com
---
BRANCH, Elizabeth and Mary (England)
Elizabeth, aged 67, and her daughter Mary, 24, were both charged with the cruel murder of their maid, Jane Butterworth. A transcript of their trial, which took place at Taunton, Somerset, in March 1740, reported that:
"It was obvious, judging by the suspicions of their neighbours, that both the accused had also committed other murders in the past. Mrs Branch's husband died under circumstances that led others who lived nearby to believe she had poisoned him and they were convinced that she had hanged her mother, after murdering her, to avoid an investigation into the cause of the death. Human bones were also discovered in a well near her [Elizabeth's] farm, which were believed to be those of one of her servant girls who disappeared and was never heard from again.
With such a reputation Mrs Branch found it difficult to get female staff in the locality and when she was in need of one she went further afield and brought Jane Butterfield from Bristol.
The young girl was hardly in the house before the two women subjected her to a brutal regime, and eventually beat her so Elizabeth Branch and her Daughter Beating their Victim savagely that she died. The older woman had Jane's corpse buried secretly in the graveyard and might have escaped blame, in spite of the complaint of her other maid, who had witnessed the murder and had been forced to lie next to her in bed, if a strange light had not been seen over the girl's grave, by several persons. This unearthly manifestation confirmed the neighbours' suspicions, and when the body was secretly removed at night, it was found by Mr Salmon, a surgeon, to be covered with wounds and other marks of violence."
When the case was first called, it was discovered that Mrs Branch had bribed some of the jurors, and there was some delay before they could be replaced. The trial lasted over six hours, and after a short consultation the jury brought in a verdict of guilty. It was noticed that Mrs Branch's expression remained unchanged at their findings, but several times kicked Mary Vigor, one of the prosecution witnesses, as she stood by her at the bar while she was giving evidence. When sentence was passed the next day, the condemned elder woman complained bitterly to the court about the illegality of changing the jury, exclaiming that if she and her daughter had been tried by the first jury, they would not have been convicted.
Some time after they had both been removed from the court, Mary Branch, realising what was to happen to her, fainted, and when she was revived by a wardress her mother cried, 'Zounds, what are you going to do? Hadn't she better die like this than be hanged?'
During their imprisonment Mrs Branch behaved sullenly and seemed more concerned by the conditions under which they were confined rather than the welfare of her soul, but her daughter told the gaoler, with whom, before the trial, she had been allowed to take a walk past Ilchester churchyard, that she would like to be buried there.
The women were sentenced to die on 3 May 1740, Mrs Branch expressing a wish to be hanged early in the morning before the expectedly large crowd of spectators could assemble.
She got up early, called her daughter and told her to get ready, 'because if they didn't make haste, the mob would be in on them and they should not be hanged in peace'. On being escorted from the gaol, Mrs Branch called out to a passer-by: 'I have forgotten my cloak and clogs; pray fetch them, lest I should catch cold.'
When they reached the execution site at about 6 a.m. it was found that one of the gallows' uprights and the crosspiece had been cut down, probably by vandals rather than by anyone who might have been in sympathy with the two women. In order to get the ordeal over, Mrs Branch said she would be prepared to be hanged from a nearby tree instead (as befitted her name!) but a carpenter was sent for and a new gallows quickly constructed and erected.
Giving her cloak and purse to a friend, Elizabeth then helped the hangman to position the noose around her daughter's neck, afterwards asking him for a dram of strong drink, but he refused, saying that she had already had a couple of drinks earlier in the prison. After brief speeches, in which Mrs Branch swore that she had never intended to kill the deceased and begged for forgiveness, and her daughter Mary beseeched the crowd to pray for her, the halters around their necks tightened as the drop was operated. The bodies were allowed to hang for three-quarters of an hour before being cut down and taken away to be interred in Ilchester churchyard.
Horace Walpole, the renowned eighteenth-century author, reported an appalling breach of the law committed by those whose job was to uphold it! In 1742 he wrote:
"There has lately been the most shocking scene of murder imaginable; a arcel of drunken constables took it into their heads to put the law into execution against disorderly persons and so took up every woman they met, till they had collected five- or six-and-twenty, all of whom they thrust into St Martin's lock-up [a small, temporary gaol] where they kept them all night, with doors and windows closed. The poor creatures, who could not stir or breathe, screamed as long as they had any breath left, begging at least for water; one poor wretch said she had eighteen pence on her and would gladly give it for a draught of water, but in vain!
So well did they keep them there, that in the morning four were found stifled to death, two died soon after, and a dozen more are in a shocking way. Several of them were beggars who, from having no lodging, were necessarily found in the street, and others were honest labouring women.
One of the dead was a poor washerwoman, big with child, who was returning home late from washing.
One of the constables has been arrested and others absconded, but I question if any of them will suffer death; there is no tyranny the police do not exercise, no villainy they do not partake. These same men broke into a bagnio [a house of ill-repute] in Covent Garden and arrested a number of men, among them Lord George Graham, and would have also thrust them into the lock-up with the poor women, if they had not had more than eighteen pence on them!"
Amazing True Stories of Female Executions by Geoffrey Abbott
---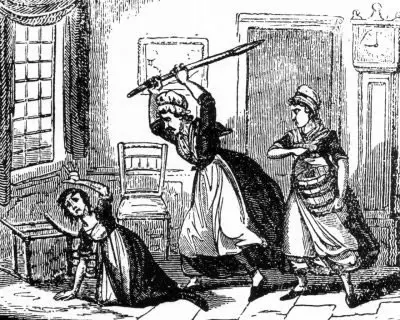 Jane Butterworth is beaten by Elizabeth and Mary Branch.