Except for pastor, few saw depression in Kenner woman who killed children, self
By The Times-Picayune
July 14, 2011
No one saw it coming.
Not the neighbors, who said Nadia Braxton mostly stayed home caring for her three daughters. Not her mother, who talked with Braxton almost daily. And not her longtime companion and the father of their children, Ronald Peters, who told relatives she didn't seem depressed.
But in the days before she killed all three children and herself in their Kenner home, Braxton reached out to one person, the former pastor she had hardly seen in almost six years.
Braxton, 29, was raising an infant, a toddler and an adolescent -- and was on the verge of losing the family house to foreclosure -- when she emailed Kenneth Taylor of Elysian Fields Avenue Baptist Church in New Orleans last week. "She felt hopeless, full of anxiety," Kenner Police Chief Steve Caraway said. "She didn't know what to do. She needed God to tell her whether she belongs here."
The pastor responded by email with prayers for Braxton, recommendations of comforting Scripture readings and an invitation to call him, Caraway said.
Tuesday morning, she did just that. But Taylor was busy with more than 60 children in the church's day camp.
"I tried back Tuesday about 4 o'clock," Taylor said. "There was no answer."
By then, police suspect, Braxton had already shot 12-year-old Kayla Peters twice in the back of the head and Nayah Peters, 23 months, and Nyla, 6 months, once each in the forehead. All three were laid out on Kayla's bed in the family home at 3821 E. Louisiana State University Drive. Braxton, a gunshot wound to her own forehead, fell on Kayla's body.
At the foot of the bed was a gun that police said Braxton bought years ago.
It was left to Peters, arriving home that evening from work at a plumbing company, to discover the bodies.
The Police Department on Thursday concluding its investigation, satisfied that Braxton took her children's lives and then her own because of growing depression.
Caraway said police don't know what led to Braxton's state of mind. But 24th Judicial District Court records show the Jefferson Parish Sheriff's Office twice seized the couple's home at the request of their mortgage company, and they seem to indicate the property was sold at auction. On the same day as the killings, an attorney for the mortgage company sought a court order to have the Sheriff's Office evict everyone from the house.
"This was internal demons or battles she was fighting that she just couldn't overcome," Caraway said.
Braxton's mother, Nadine Sandifer, said she didn't know her daughter felt so hopeless.
"I wish I could have helped her," she said. "She was hurting so bad. I didn't know the extent of all she was going through."
Ronald Peters' grandmother, Edora Myles, said he told her that he, too, didn't realize Braxton was distraught.
"He said she didn't seem depressed to him," Myles said. "He didn't understand how he didn't see it."
Taylor, the clergyman, had known Braxton for years. He said she grew up in Elysian Fields Avenue Baptist and that he baptized her when she was a teen-ager. She regularly attended Sunday school and worship services, and after Kayla's birth she faithfully took the girl with her to church, he said.
"She was just a very nice, quiet person and was a joy, even as a child, just a joy to have at church. Her family was a lovely family," Taylor said.
Braxton stopped attending after Hurricane Katrina struck in 2005, destroying the church's property and forcing it to relocate. Though she might have visited once since, Taylor said he had no real contact with her after the storm.
Sometime last week, however, came an e-mail indicating she was distressed and in need of someone to talk. Taylor said it didn't seem urgent, however, certainly nothing to indicate she was on the verge of taking her own life.
"I invited her to call me," Taylor said.
---
Nadia Braxton Kills Her 3 Children in Murder-Suicide at Louisiana Home
By Pete Kotz - TrueCrimeReport.com
July 14, 2011
This story just gets sadder. It seems Nadia Braxton may have killed herself and her three kids because they were about to lose their house to foreclosure. The bank had already begun proceedings to sell the house at auction.
Ronald Peters is a hard-working man. He worked construction, and left for the job at 6 a.m. yesterday morning. Neighbors in Kenner, Louisiana say he also worked a second job to earn for his family, which included his wife Nadia and three children, ages 12 to six months.
So when he arrived home at 5 p.m. last night, he was anxious to see his little ones. He called for them as he walked through the door, but didn't get an answer. He began looking around the house.
He went to an upstairs bedroom. That where he found his family slaughtered, their bodies resting on the same bed.
One-year-old Nayah Peters and 6-month-old Nyla Peters had both been shot in the forehead. 12-year-old Kayla was also dead, though police aren't saying how she perished. Also found shot in the forehead was Ronald's wife, 29-year-old Nadia.
Police are operating on the theory that Nadia murdered all three of her children, then turned the gun on herself. The gun was found at her side.
As seems customary, neighbors describe the family as quiet, saying they largely kept to themselves. No one had heard arguing in the home, and police say they'd never received a domestic call from the family.
Nadia Braxton may have slaughtered her family over despair from losing their home.
Despite the fact that Ronald worked two jobs -- as a plumber and in construction -- the family was about to lose their home. They'd moved to Kenner after Hurricane Katrina, but records show the house had twice been seized by the sheriff. The bank had already filed papers to evict the family, and the home was likely to be sold at auction.
It's especially tragic because the family seemed to be trying to do something with their lives. Nadia took classes at the University of New Orleans in hopes of someday working at a pharmacy.
Police believe it's pretty clear that this was a murder-suicide, and not an outside slaughter. Everyone except 12-year-old Nyla was shot in the forehead. She was killed with two bullets to the back of the head.
But police say that due to where the gun was found, and the gunpowder residue on the Nadia's hands, they're almost certain she was the killer. They think it happened just an hour or two before Ronald arrived home from work around suppertime.
---
Police suspect Kenner woman killed 3 children, herself in their house
By The Times-Picayune
July 12, 2011
A woman and three children were found shot dead Tuesday evening in their Kenner home, a pistol lying nearby. The house had been seized for delinquent payments on the mortgage, and police said it appeared the woman killed the children then took her own life.
Kenner police were called about 5:30 p.m. to 3821 East Louisiana State Drive. The woman's companion, Ronald Peters, had arrived home from work after being away since 6 a.m., police said.
He called out to his family and, receiving no response, went upstairs where he found all four bodies in a bed, the woman's body lying across those of the children, Chief Steve Caraway said.
A semiautomatic pistol was lying at the foot of the bed, and Caraway said investigators will check the woman's hands for powder burns.
The motive for the shootings was not known, but police said preliminary indications are that the woman killed the children, then herself.
"What causes that? What leads somebody to do that?" Caraway said.
He identified the dead as Nadia Braxton, 29, Kayla Peters, 12, Nayah Peters, 1 1/2 and Nyla Peters, 6 months. Braxton and the two younger children were shot in the forehead, Caraway said. Because the bodies had not yet been moved, the location of Kayla's wounds was not immediately known.
A neighbor, George Windstein, said he was shocked.
"They were good kids," he said of the family. "You never heard nothing from them. There was never any riff raff around there, nothing disruptive."
Braxton bought the house for $110,000 on July 22, 2005, barely a month before Hurricane Katrina struck, according to real estate records. She and Peters obtained a Road Home grant in 2007 and mortgaged the property for $119,500, according to the records.
On Jan. 12, 2010, Nationstar Mortgage LLC sued the couple in 24th Judicial District Court in Gretna, saying they hadn't paid the note since September 2009. They owed $117,419, the company asserted. The Jefferson Parish Sheriff's Office seized the property in preparation for a public auction.
But on March 10, 2010, the mortgage company moved to dismiss the case, saying the loan payments had been brought up to date, according to court records.
Yet eight months later on Nov. 3, Nationstar again sued, saying the couple owed $126,639 and hadn't paid anything since April. The Sheriff's Office seized the property again on Dec. 15.
Neighbors Ernest and Doris Stewart said the man who found the bodies lived in the same house with his mother before she died. Since living there with his wife and children, Doris Stewart said, there has "never been a disturbance."
The man was outside most every weekend washing his sport utility vehicle, Ernest Stewart said. He recalled regularly seeing the woman take the older child to school.
This story was reported by Michelle Hunter and Leslie Williams.
---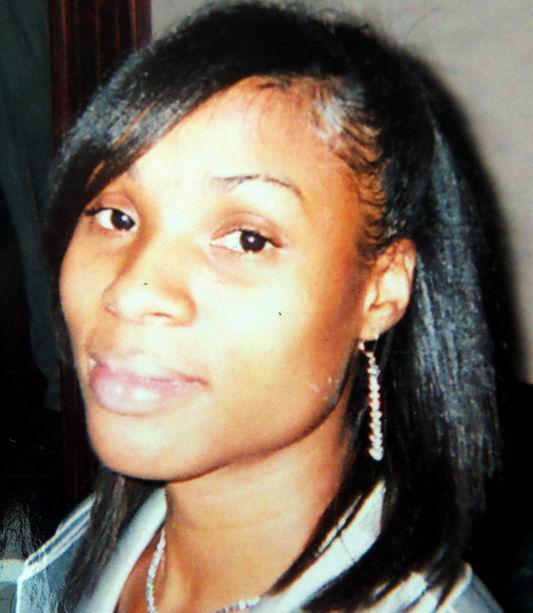 Nadia Braxton, 29.
The victims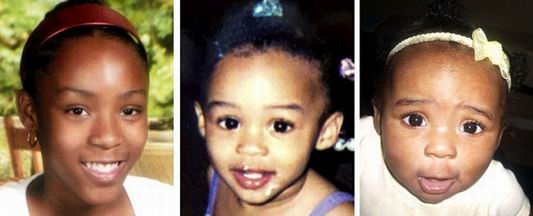 Kayla Peters, 12, left, and her siblings Nayah, 1, and Nyla, 6 months.