The Murdering Widow
Fidelity was never one of Gladys Lincoln Broadhurst's better qualities. She was still married to her fifth husband Lester Merle Lincoln when she hatched a plan to snag Dr. Willis D. Broadburst, a well-healed Caldwell, Idaho, physician and rancher, in the summer of 1945.
She had known Broadburst most of her life and was fully aware that he had accumulated considerable wealth. The attractive, red-headed woman came up with what she thought would be the ideal plan to snag the good doctor. She concocted two stories -- one that her aunt had died in Hawaii and left her some $3 million; the other that she was a widow, being pursued by the identical twin brother of her late husband, Lester, who had been killed overseas.
The doctor, obviously captivated by her beauty and apparent sincerity, fell for both stories. Early in 1946, he proposed marriage to Broadburst and the two were wed in a simple ceremony in Reno, Nev., in May, 1946.
But the new Gladys Broadhurst was not through yet. She had fallen for a young cowpoke, 23-year-old Alvin Lee Williams, who occasionally worked on the Broadhurst ranch in Jordan Valley and who had become a regular visitor at the ranch house during Dr. Broadhurst's frequent absences from the ranch.
Less than four months after she and the doctor were married, Gladys Broadhurst and her young cowboy were back in Reno, tying yet another knot. Knot No. 7, to be precise.
The two returned to the ranch a few days later where they concocted another plan. This time, they would kill Dr. Broadhurst on a lonely country road and make it look as if the evil deed was committed by an unknown assailant. There was the doctor's $200,000 estate at stake. The pair followed Dr. Broadhurst's car along a lonely country road into Malheur County on Oct. 14, 1946, where Williams stopped the vehicle, slugged the physician over the head with a heavy wrench and shot him with a shotgun.
Those were the key elements presented by prosecutors to a jury of nine men and three women during Gladys Lincoln Broadhurst's murder trial in Malheur County Circuit Court in February, 1947. During the 16-day trial which was widely covered by newspapers from Vale to Portland, special prosecutor Blaine Hallock portrayed Gladys Broadhurst as a greedy, self-indulgent, scheming woman who had mined the lives of two of her husbands and plotted the murder of a third.
Good investigative police work by Malheur County Sheriff Charles W. Glenn and his Deputies turned up some damning evidence against Gladys Broadhurst, including a note supposedly written by the fictitious twin brother of her "deceased" fifth husband, Lester Lincoln. The note, which prosecutor Hallock claimed was composed by the defendant, said in part, "Your cowboy strongarm didn't do it (kill Dr. Broadhurst), but don't start anything or I will get you, same as I did DOCTOR. I warn you. I need cash."
The note was signed "Sweet Pea" - purportedly the sinister twin brother of Lester Lincoln. But Hallock introduced evidence during the trial that the supposedly deceased Lester Lincoln was still very much alive, that he had no twin brother, and in fact had no brothers at all.
Gladys Broadhurst's defense went out the courtroom window when Alvin Lee Williams took the witness stand and confessed to the murder after telling the jury he and the defendant planned the whole thing at the Broadhurst ranch near Jordan Valley.
The jury took only three hours and 23 minutes to return a unanimous verdict against Gladys Broadhurst on March 13, 1947: Guilty of first-degree murder. But they asked the judge to be lenient. Judge M.A. Biggs sentenced the 40-year-old defendant to life in prison. Alvin Lee Williams also was sentenced to life imprisonment for the murder of Willis Broadhurst.
The Oregon Supreme Court in July, 1948, upheld Gladys Broadhurst's conviction and life sentence.
In 1956, after serving nine years of her life sentence, Gladys Broadhurst was paroled from the Oregon State Penitentiary. She was 50 at the time of her release.
Gesswhoto.com
---
The Black Widow
James M. Cain, author of the classic novellas The Postman Always Rings Twice and Double Indemnity, would have loved the story of Gladys Lincoln Broadhurst, a black widow who lured gullible men to their doom in the post-war Northwest.
Shortly after the end of the Second World War, Doc Broadhurst was living near Caldwell, Idaho, about 15 miles from the Oregon line. Things were going well for the 51-year-old bachelor. He owned two large parcels of fine northwest territory, had a net worth of about $200,000 and had just renewed an old acquaintance with a woman from Burley, Idaho whom he had known in the 1920s.
What their lives had been like in the intervening years is unknown, but in 1942 Gladys married a young Army lieutenant named Leslie Lincoln. The war had ended and she was living in Taft, California when Gladys tracked down her old friend W.D. Broadhurst from Burley.
The records don't reveal what Gladys asked Doc, but in August 1945, his sister recalled, Doc replied in writing to one of Gladys's letters, "In answer to your question, I am not married; therefore I have no heirs and dependents."
Gladys apparently liked that answer, and baited her trap. The two continued to correspond and apparently met once in New Mexico. She set the trap on May 19, 1946, in Reno, when Gladys and Doc were married.
On the marriage license Gladys admitted that she was married previously, but also stated that Lt. Leslie Lincoln had died in England during the war.
She told her new husband that she was in the process of inheriting $3 million from her Aunt Mary from Hawaii, and that Leslie Lincoln's evil twin, Lester, a brutal psychopath, had taken his brother's place and was trying to get his hands on her inheritance.
Explaining that she had to take care of the estate of her deceased aunt, Gladys sent Doc back to the ranch in Idaho.
Shortly after he returned to the ranch he wrote her a letter expressing his fear for her safety.
"I bet you had another mix-up with that brute. I want you to get out of that town," Doc wrote to his "wife."
"Please honey, get away from there . . . get away from all that fear . . . I want you to get away as soon as possible, change address at postoffice… I wonder if I could get Sacramento to deputize me this fall and I'll get that dirty brute."
In fact, there was no "Lester Lincoln." Lt. Leslie Lincoln was alive and well and in the process of obtaining a divorce from Gladys on the grounds of extreme cruelty. A week after Gladys married Doc Broadhurst in Reno, Lt. Lincoln learned of the ceremony and amended his complaint to include bigamy.
The report of Lt. Lincoln's death wasn't the only news that Gladys was greatly exaggerating: Mary Johnson of Honolulu, Hawaii — Gladys's aunt — was also quite hale and hearty, and (unfortunately for her) had nothing resembling an estate of $3 million.
During the late spring of 1946, Gladys became ill due to her addiction to nembutal, a prescription sleeping pill. Doc Broadhurst brought her to the Idaho ranch where she recovered. During her rehabilitation, Gladys became acquainted with 23-year-old Alvin Williams, a gullible ranch hand on Doc Broadhurst's ranch who would play the final and most important role in the black widow's plan.
Williams and Doc were close and each considered the other to be a friend. Over time, however, Williams fell under the spell of the apparently attractive Gladys Lincoln Broadhurst.
In early August, the sheriff of Canyon County, Idaho attempted — without Doc's knowledge — to serve Gladys with the amended divorce complaint from Leslie Lincoln. Worried that this would unravel her carefuly woven web, Gladys announced that she had to return to California to attend to the administration of her aunt's estate. She was unable to drive and Doc was otherwise occupied, so he agreed, apparently somewhat reluctantly the facts would later show, to her suggestion that Williams serve as her chauffeur.
Gladys headed back to California to take care of her obligations with Lincoln, taking Williams with her, and over the course of the summer she effectively sprang her trap.
Gladys and Williams left Idaho on August 5, 1946 and spent the night of August 6 at the Big Chief Auto Camp near Truckee, California. Up in the rarified air of the High Sierras, Gladys asked Williams if she could kiss him. He agreed. Much later, Williams testified about that kiss:
Q. What effect did that have upon you, Mr. Williams?
A. That didn't have much effect, but the next one did.
At the Big Chief Auto Camp, Gladys and her chauffeur were assigned to different cabins, but in the middle of the night, Gladys came to Al Williams and said she was afraid to sleep alone. Williams agreed to sleep in her bed.
From that point on they were lovers and Williams was doomed. After they watched the Lana Turner-John Garfield version of The Postman Always Rings Twice, Gladys reeled him in.
"It's too bad that something like that can't happen to the doctor," Gladys said. She pressed him on whether he had any ideas about how they might accomplish the task.
"I said no I hadn't," he later testified. "I said, however, he might get lost while he was hunting for cattle, and, well, she said if he did get lost he would have to not never be found."
Passing through Reno, Gladys and Al Williams stopped long enough to get married, during which time she used the alias "Elaine Hamilton."
Gladys had hoped to wrap up the divorce proceedings in a week or so, but things stretched out over the summer. Doc Broadhurst visited his wife at the Big Chief Auto Camp for three days in early September, returning to Idaho without his wife.
She reassured her husband that everything was above-board a few weeks later in letter:
"Darling Daddy Dearest," Gladys's saccharine missive began. She reported that things were going well and that Al was being a true gentleman.
"He has been very nice to me," she wrote. "I'm glad you chose him as he is honest and decent."
To Williams, she portrayed Doc as "more animal than man and that he was cruel to her," and she continually fed him a diet of lies and half-truths.
Williams was smitten by Gladys and later admitted that he "would do pretty near anything to get her."
She convinced the young cowboy that he was the love of her life and that when she won her freedom from Doc they would have a public marriage and be together.
At one point during the early fall of 1946, Williams suggested that they simply run off together, and later said he considered simply disappearing himself. But Gladys kept him primed with promises of sex and money and images of Doc's abuses.
The conspirators returned to Caldwell, Idaho on September 22 and Gladys once again became Mrs. Broadhurst. There was only one more item to be taken care of — the will.
Doc helped out a little in that regard. He was planning a hunting trip in a few days and Gladys expressed concern that if something should happen to him in the field, she would be left without any means to "discharge the burial expenses."
Three days after Gladys and Al Williams returned, Doc Broadhurst executed a new will, giving his entire estate to his "beloved wife, Gladys Elaine Broadhurst."
Although the doctor was on very good terms with all of his other relatives, and was allowing his nephew (another doctor) and his wife to live at the ranch, Doc curiously included this paragraph in his final will and testament:
I do not intend to give anything from my said estate to any of my brothers or sisters or to any of my other relatives. It is my desire that they shall receive nothing from my estate.
Interestingly, one of the men who witnessed Doc's new will was the attorney who would eventually represent Gladys in her criminal trial for Broadhurst's murder.
While Doc was hunting, Williams managed to come down with a cold and Gladys insisted that he recover in the Broadhursts' bed and that she nurse him back to health. Doc's nephew and his wife considered that rather odd.
The lovers finalized their plot during Doc's absence and waited until the time was right to put it into action.
The opportunity arose in mid-October, when Dr. Broadhurst decided to travel from his Caldwell property to his lands in the Jordan Valley. That trip would require him to travel on the Oregon-Idaho-Nevada highway.
Williams decided to lie in wait at a remote part of the highway, feign car trouble and then flag down Doc Broadhurst as he drove by. Then he would kill him and hide his body in one of the many arroyos that made up the Jordan Valley.
"She asked me if I couldn't wait along the road between Caldwell ranch and the Jordan Valley ranch and have him stop and I was to hit him, knock him unconscious and then destroy the body, move him away some place where he would never be found, and after I had moved him, I was to shoot him or plug him or anyway to make sure that he would never be, that he would never come back," he later told police.
The doctor's disappearance was to be explained by using the Lester Lincoln/evil twin story Gladys had cooked up.
Williams purchased a green Ford Model A coupe for $200 borrowed from Gladys to get him from Caldwell to the Jordan Valley.
As the day for the murder drew closer, Al Williams, however, was losing his nerve. Gladys provided liquid courage.
"Well, I had told her that I didn't know whether I could go through with that or not, that I couldn't stand the sight of human blood and she asked me if whisky would help me," Williams told police. "I said yes, that whisky would help settle my nerves and … so she went and …she got me some whisky."
October 13, 1946 was a Sunday and Doc Broadhurst announced that he was planning to leave early the next morning to go from Caldwell to the Jordan Valley.
Gladys stole away to warn Williams that he had no time to lose.
"'Get up there, be there when he gets there,'" Williams swears Gladys told him. "'For God's sake don't miss."
The reticent killer left the Caldwell ranch that night about 11 p.m. and stopped at the Succor Creek Junction and waited with a bedroll, shotgun, wrench and quart of whisky.
At 6 a.m. he awoke and lifted the hood of the Model A. He figured it would take Doc about two hours to make the drive from Caldwell to Succor Creek Junction. Unfortunately, Doc didn't get the early start he wanted and didn't leave Caldwell until after lunch.
Meanwhile, another rancher whose place was about 2 miles north of the junction happened by about 8 a.m. and saw the green Model A and Williams. When he passed by at 11, the scene had not changed. Finally, at 1 p.m. one of the ranch hands stopped and asked if Williams needed assistance. He declined their help.
Doc showed up about 3:30 p.m. and spotted Al Williams holding a large wrench by the side of the road. As expected, he stopped and offered assistance.
Williams explained that the fuel line had become clogged and as Doc peered over the engine, Al said he heard Gladys's voice urging him on.
"I tried to quit then, and I seemed to hear a voice saying, 'Don't fail me! Don't fail me! If you do, for God sakes don't come back,' and I hit him," Williams confessed.
The blow stunned Doc Broadhurst who reeled around and felt a large gash on his head.
Half-conscious, he looked at Al and asked, "What hit me, Al?"
The forensic evidence and Williams's statement do not agree about what happened next. Probably in the cold light of day Williams suffered remorse for his evil deed and tried to mitigate what he had done, because he later told police that he handed Doc his shirt to stop the bleeding and had abandoned the plan to kill him. However, Doc Broadhurst, realizing that Al had hit him with the wrench, came at the younger man with a knife to defend himself and Al was forced to use the shotgun to finish him off.
The wounds on Doc Broadhurst's corpse, however, indicate that he was hit three times with the wrench and then slain by a shot to the chest with the shotgun.
Regardless of whether Al Williams had second thoughts after landing the first blow with the wrench, by 4 p.m., Monday, October 14, Dr. W.D. Broadhurst was dead.
Williams loaded Doc's body into the trunk of his car and dumped it "in a lonely gulch" after nightfall.
He drove Doc's pick up with a horse trailer attached to a side road two or three miles away and then rode the horse back to the Model A.
Then he released the horse and went back to the Caldwell ranch. After a brief conversation with Gladys, he left again, headed into the wilderness to dispose of the shotgun and burned his bloody clothes.
Then Al Williams returned to Caldwell and went to bed.
Meanwhile, back at the ranch (always wanted to write that), Gladys had been laying the groundwork to explain Doc's disappearance. Abandoning the evil twin plan, she told Dr. Adams and his wife (Broadhurst's nephew) that Doc had been arguing with a man in Caldwell named (you can't make this stuff up) Red Wells. She told them that she was afraid Red would follow Doc and "do him some injury."
Monday evening, Doc's horse turned up near the Succor Creek junction. The man who found it called Gladys to report it. Gladys thanked him, expressed her concern as well and hung up. She mentioned nothing to the Adams until they asked.
The man who found the horse, however, was not content to sit around. Early Tuesday morning, he found the pick up and trailer and once again phoned Gladys.
Rather than participate in the search, Gladys took an overdose of nembutal. The doctor who treated her addiction earlier returned to examine her.
He found her "nervous and seemed to be somewhat anxious or worried, and she was lamenting, trying to tell me a story of Dr. Broadhurst being lost, a story which was incoherent."
By later Tuesday, Gladys had apparently recovered somewhat but failed to join in the massive search operation that had been launched. Curiously, neither did Al Williams, who spent most of Tuesday repainting his Model A from green to black and replacing its tires.
By Wednesday, Gladys and Al realized that they had better participate in the search to allay suspicion. Also by Wednesday, the sheriffs of the two counties that constituted the Jordan Valley had been advised about the strange green Model A Ford loitering at Succor Creek Junction.
Gladys told Mrs. Adams that "she knew Al couldn't have done it, because she knew where he was every minute on Monday and she said anyway he isn't strong enough."
It was too little too late. The conspirators' actions before and after Doc's disappearance made them the prime suspects and by Wednesday afternoon, Al Williams was in custody in Malheur County, Oregon. In his first interview with authorities, Al told the story of Lt. Lincoln's evil twin stalking the Broadhursts.
While Al was cooling his heels in the Malheur County jail, Gladys was still trying to do damage control in Idaho. She told a neighbor that the Oregon officials had arrested the wrong man and portrayed Al Williams as Doc Broadhurst's best friend. She blamed the killing on Lester Lincoln and showed a photo of Leslie Lincoln, claiming he was Lester.
"I've have just been living in hell for fear," the neighbor recalled her saying. He took her to the Canyon County sheriff in Idaho where she repeated the tale, embellishing it with the imaginary threats "Lester" had made against Doc Broadhurst.
Thursday morning, a note appeared at the Caldwell ranch.
"Your cowboy strongarm didn't do it, but don't start anything or I'll get you same as I did Doctor. I warned you and I need some cash. Sweet Pea."
Gladys took the note to the sheriff in Idaho. She then arranged for an attorney, Cleve Groome (who witnessed Doc's "will" earlier), to show up at the Caldwell place about 4 p.m. The two of them left together and did not return until 11:30 p.m.
During that time, they picked up a young man named Rufus Lanphear and took him to the Malheur County jail to meet with the sheriff. Rufus told the sheriff that Williams had been with him all day on Monday.
Gladys didn't know it, but her attempt to find an alibi for Williams was futile. While she and Groome were looking for Lanphear (who later recanted his claim), Al Williams broke down and told the authorities the whole sordid tale. He then led Sheriff Glenn and the Oregon district attorney to the location of Doc's body and to the location of the murder weapon, which he had dropped into a gopher hole.
Gladys and Groome had been forced to wait for the sheriff's return from recovering the body before she could present the fake alibi and her version of the evil twin story.
When she was advised that Williams had confessed, the record shows that Gladys "looked sad, and had quite a stare in her eyes."
Gladys Lincoln Broadhurst joined her lover in jail on Saturday, October 19.
The two of them were subsequently convicted of first degree murder and sentenced to life in prison.
---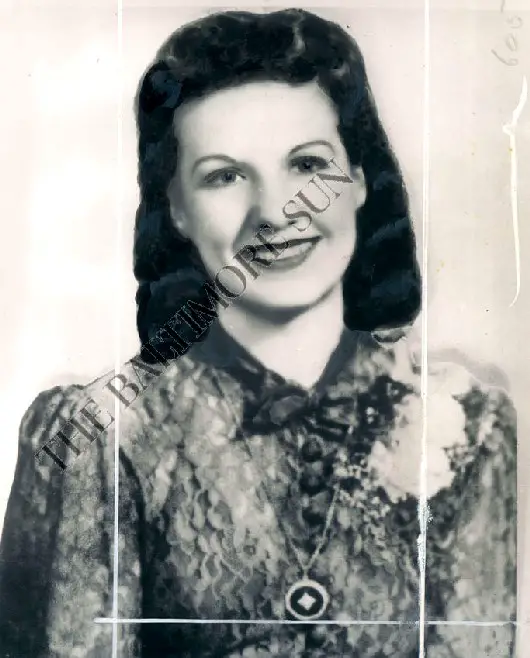 Gladys Lincoln Broadhurst