What is believed to have been also took place in Queensland, at Brisbane's Boggo Road jail.
Severe overcrowding saw violence erupt on January 7, 1990, when armed robber Storm Brooke grabbed a sharpened barbecue fork and repeatedly stabbed fellow prisoner Debbie Dick in the back.
Dick's friend Deb Kilroy managed to fend off Brooke with a chair that she smashed over her.
rooke spent more than a year in isolation following the murder.
Brooke was given life for Dick's murder, but in 1993 broke out of jail using a rope made of knotted sheets.
She scaled a 5m high wall and a fence and spent two months on the run before being recaptured in a raid on a Gold Coast house.
HeraldSun.com.au
---
Murderer Storm Brooke gets chop for breaching parole
Brooke Baskin - The Courier-Mail
February 24, 2012
NOTORIOUS Queensland killer Storm Brooke, who murdered another inmate with a fork during a jailhouse brawl, has gone back to prison after being caught at a Mark "Chopper" Read show on the Gold Coast.
Brooke, 44, was living on the Gold Coast after being paroled in July. She served 21 years for stabbing fellow inmate Debbie Dick.
But Brooke was locked up again at the Brisbane Women's Correctional Centre at Wacol, in Brisbane's west, on February 1 for breaching the conditions of her parole release order, which included not attending a licensed premises or drinking alcohol.
She'd been invited to attend a "Chopper and Hammer Show" at the Runaway Bay Tavern on Friday, January 27, by the notorious ex-criminal Mark "Chopper" Read and his bodyguard and best friend, Mark "Hammer" Dixon.
Read told The Courier-Mail he'd invited Brooke in the hope she might consider sharing her own story and wrote to the Queensland parole board vouching for her behaviour.
"She sat near the stage. She didn't go near the bar," Read said. "We thought she had a story to tell and if she could get her message out it could be a help and a positive thing for young people or kids in trouble."
Read said Brooke's return to jail was "sad" and "unfair".
Brooke was serving time for assault and armed robbery when she was jailed for life for stabbing fellow inmate Dick 14 times with a fork in 1990, the only murder in a female prison in Queensland.
The parole board will meet before February 28 to decide Brooke's fate and whether her order will stay suspended, be upheld or cancelled.
---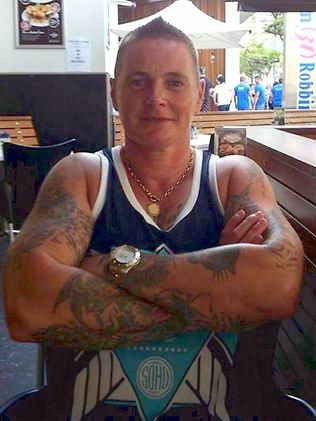 Storm Brooke