Knightdale woman pleads guilty to ex-husband's 2006 shooting death
By Amanda Lamb - Wral.com
February 14, 2013
Raleigh, N.C. — A Knightdale woman charged with shooting and killing her ex-husband at a Raleigh park in front of their two children nearly seven years ago was sentenced Thursday to 16 to 20 years in prison after pleading guilty to second-degree murder.
Camellia Boyd Norton Brown was arrested March 24, 2006, after she shot Earl Thierry Brown, 42, at Pullen Park off of Ashe Avenue.
Wake County Deputy District Attorney Howard Cummings said during a hearing Thursday that the two were meeting to exchange custody of their 6-year-old son and 8-year-old daughter.
The children were in Earl Brown's car eating pizza, Cummings said, and Camellia Brown and her former husband were outside the car when she shot him once with a .22-caliber revolver.
Earl Brown was taken to a local hospital, where he died a short time later.
"I didn't mean for him to die that day," Camellia Brown told Superior Court Judge Donald Stephens. "I'm sorry that it came to that, but I believed he was, in fact, destroying my children."
Up until that night, she told Stephens, she had neither seen her husband nor the children for more than a year and felt like that she wasn't going to get to see them again.
Brown said that she meant to shoot her husband in the spleen, because it could have been removed, and purposely made sure to avoid his kidney because he had undergone a transplant.
"He was a fine son and a fine brother," Cummings told reporters after the plea. "It's always been the position of the family that she planned this. Otherwise, why would you take a gun to visit with your ex-husband who had custody of your children?"
Stephens gave Brown credit for time served, meaning she will have to serve at least nine more years in prison before she can be released.
Brown's first-degree murder trial was delayed for years after another judge ruled that she was incompetent to stand trial and ordered that she undergo treatment at a state mental hospital.
Earl Brown's mother, Suzanne Brown, said Thursday that she agreed to the plea deal only to keep the children from having to testify – a move Cummings said would have been necessary for the state to prove its case.
"If they were to see her now, I don't think it would be very good for them," she said. "It's still fresh in their minds what she did."
"It's for that reason and only that reason that the family agreed to this second-degree murder plea," Cummings said.
The first time Brown would be up for a possibility of parole would be when the children, now 13 and 15, are adults.
"Hopefully, at that time, they will have matured and be able to make their own decisions about whether or not they have any desire to see their mother," Cummings said.


---


911 call implicates ex-wife in attack
Dispatchers hear woman's admission. Man dies hours after Pullen Park incident
By Sarah Ovaska - NewsObserver.com
March 30, 2006
The man fatally shot in a city park Friday night used a cell phone to tell emergency dispatchers that his ex-wife had attacked him before she took the phone and echoed his statement, according to a copy of the 911 call released Wednesday by police.
Earl Thierry Brown, 42, of Knightdale, died at WakeMed Raleigh Campus five hours after after being shot in the torso at 7 p.m. in Raleigh's Pullen Park. His ex-wife, Camellia Boyd Norton Brown, 47, of Fuquay-Varina, is charged with murder by the Raleigh Police Department and is being held without bail in the Wake County jail.
Camellia Brown had been told by a Wake County judge not to come near Earl Brown or the couple's two children after a five-year custody battle in which she stalked and falsely accused her ex-husband of sexually abusing the couple's 8-year-old daughter and physically abusing their 6-year-old son.
Both children were at the park at the time of the shooting.
"Just go away, please," Earl Brown said to his ex-wife before speaking to an emergency dispatcher. "I'm at Pullen Park, I've been shot."
A few moments later, as Earl Brown's condition worsened, a hysterical Camellia Brown is heard saying, "I killed you, I killed you."
She then spoke with the emergency dispatcher between screams and sobs. After the dispatcher asked whether she shot Earl Brown, Camellia Brown responded that she had.
The couple's two children can be heard in the background of the call. Camellia Brown tells them to pray.
The Browns married in 1996 and divorced five years later. Earl Brown, a state Department of Revenue employee who went by Thierry, was awarded sole custody of both children after a judge questioned Camellia Brown's mental stability and said her conduct traumatized the two children.
On several occasions, Camellia Brown donned a wig and tried to see the children in their school. She was arrested in June by Knightdale police for breaking into Earl Brown's home and demanding to see their children.
The couple once worked at a Jackson-Hewitt tax service office in Raleigh, according to Thomas Dimmock, a lawyer who represented Earl Brown in custody proceedings. Camellia Brown had an unsuccessful bid for mayor of Garner in 1993 when she ran as Camellia B. Norton.
At the end of the emergency call, a Raleigh police officer arrived and began consoling the distraught children.
"It's all right, it's all right," the officer is heard saying. "Things are OK."
A funeral service for Brown will be held at 11 a.m. Saturday at Mid-Way Baptist Church, 6910 Fayetteville Road in Raleigh.


---


Mother had history of trouble
Police say Camellia Brown repeatedly violated court orders to stay away from her ex-husband and children
Sarah Ovaska and Jennifer Brevorka - NewsObserver.com
March 28, 2006
Authorities think Camellia Brown -- fixated for years over unfounded allegations that her ex-husband abused their two children -- repeatedly violated protective orders and once broke into his Knightdale home and, several times, wore a wig to pass undetected at the children's school.
The 47-year-old woman was in court Monday, where she was ordered held without bond after being charged with murder in connection with the Friday shooting death of Earl Thierry Brown, 42.
Raleigh police detectives believe that, more than two months after an appeal for custody of her children was turned down, Camellia Brown shot and killed her ex-husband in Raleigh's Pullen Park at around 7 p.m. Friday, with the couple's 8-year-old daughter and 6-year-old son nearby.
"She so firmly believed [that abuse occurred] that it just ate her up," said Thomas Dimmock, the attorney who represented Earl Brown in custody proceedings. "She has some serious delusions about reality and facts."
Bruce James, a friend who allowed Camellia Brown to move into his Fuquay-Varina home in August, said she was piecing her life back together and cared for elderly neighbors. He said when Brown left Fuquay-Varina on Friday afternoon, she said she was going to the Wake County Courthouse in downtown Raleigh. She made no mention of plans to see her children or ex-husband, James said.
Police did not say on Monday why they think the divorced couple, who married in 1996 and divorced five years later, and their two children were together at Pullen Park.
Concerns about Camellia Brown's mental stability emerged in the years after the couple's 2001 divorce. A 16-page October court order that gave sole custody to Earl Brown and prohibited Camellia Brown from having any contact with her children details a five-year battle where Camellia Brown took dramatic steps to try to win custody of her children by:
* Lying in court documents. Camellia Brown attempted to obtain protective orders against her husband by falsely claiming Earl Brown had physically abused their son and sexually molested their daughter.
* Threatening to kill her ex-husband.
* Claiming that her husband was having personal contact with social workers who were involved in the couple's custody dispute.
* Peppering her daughter with false allegations that the girl's father sexually molested her. Camellia Brown's mental state had "created an environment where [the daughter] believed things occurred whether or not they did, in fact happen... ." a judge wrote.
Eventually, a Wake County judge found that Camellia Brown's mental instability had traumatized the children and "as such, constituted child abuse."
As the custody case for the Brown's two children dragged on, Camellia Brown became more agitated and appeared, at times, mentally unstable, according to court documents. Court documents allege that Camellia Brown violated court instructions by doing things such as:
* Showing up at the home of a social worker who worked with the family.
* Violating a 2003 protective order that prohibited her from being within 500 feet of Earl Brown, her children or the children's schools. In November 2004, Camellia Brown moved into an apartment that overlooked her ex-husband's back yard. Brown would, at times, don a spiral curled wig and go to her children's schools.
In February 2005, a Wake County judge found that Camellia Brown violated the 2003 protective order. The judge ruled that Camellia Brown must live 2,000 feet away from her children and have no contact with her ex-husband or children.
In June, Knightdale police arrested her when she broke into Earl Brown's home, demanding to see her son and daughter.
Earl Brown's next-door neighbor and landlord, Betty Schmiedel, said before the June break-in, she would often see Camellia Brown lurking around the home. Earl Brown didn't talk about the problems very much, but that day brought his children over Schmiedel's house so they wouldn't see police arrest their mother.
"He was always concerned about his children," Schmiedel said. "He was a good daddy."


---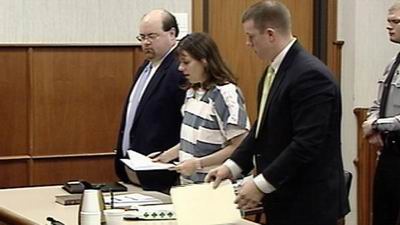 Camellia Brown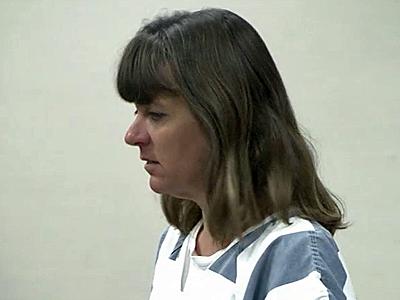 Camellia Brown
(Photo by Chad Flowers/Wral.com)