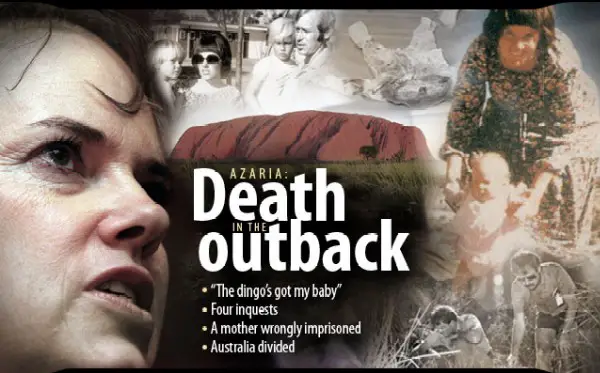 The infamous case of baby Azaria Chamberlain who vanished in the Australian desert some 30 years ago
could be near closure, her mother said, as a new inquest heard a dingo likely took the infant. Azaria
disappeared from a tent in the desert near Uluru, or Ayers Rock, in 1980, in a case which gripped the
world and sparked decades of debate in Australia over whether her mother Lindy was responsible
for the baby's death.
The case has been the subject of three previous inquests and a trial which saw Lindy Chamberlain jailed,
but evidence to the fourth inquest suggests that attacks by dingoes on humans are frequent and
sometimes fatal.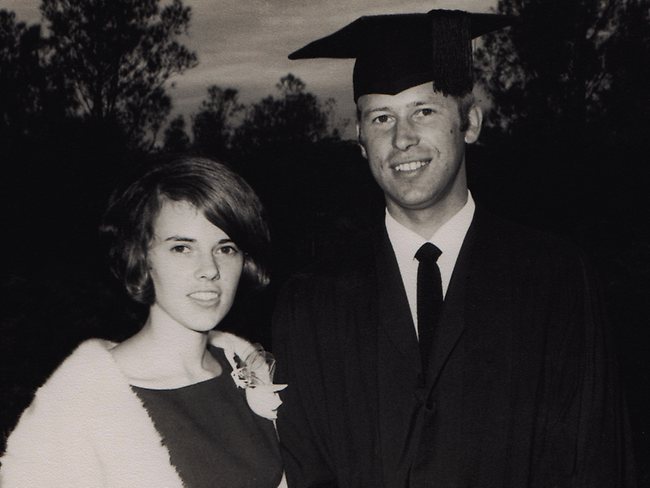 Michael and Lindy Chamberlain on graduation day in 1969. They married two days later.
(Picture courtesy of Sunday night, Channel 7)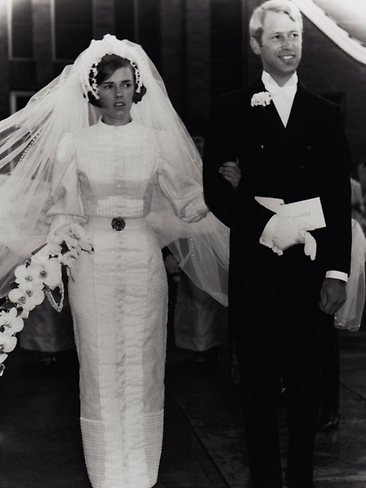 Lindy and Michael Chamberlain on their wedding day in 1969.
(Picture courtesy of Sunday night, Channel 7)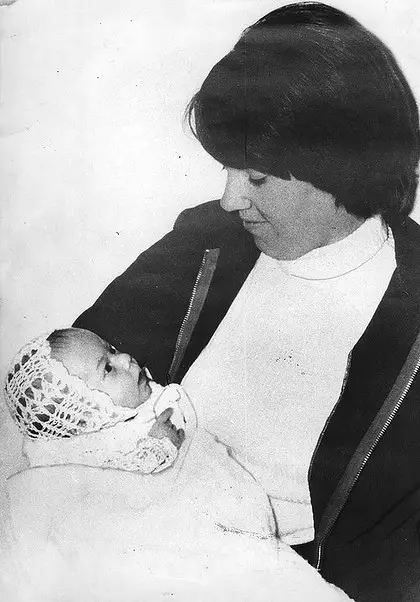 Lindy Chamberlain with baby Azaria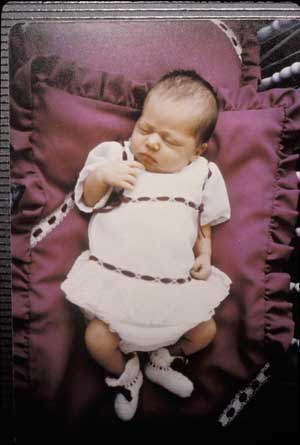 Nine-week-old Azaria was on a camping holiday near Uluru in central Australia in August 1980
when she went missing. Her body was never found. Her mother insisted a dingo had
snatched the baby, but her version of events was widely doubted by the Australian public.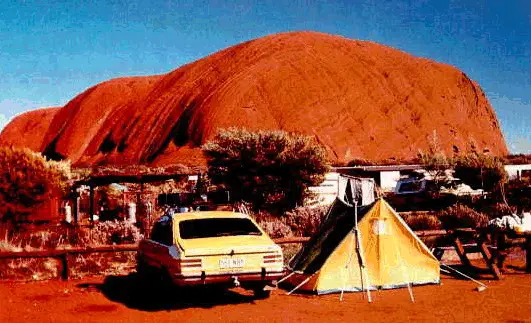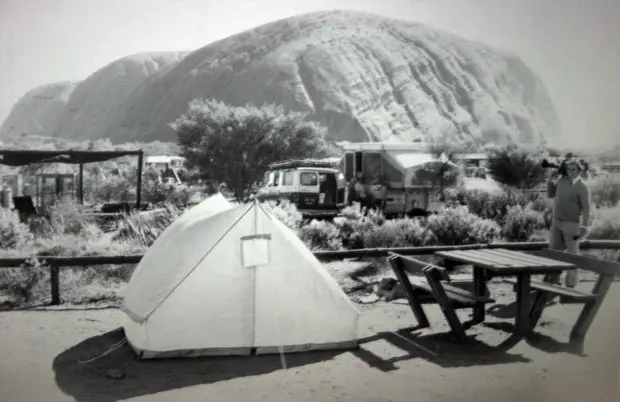 This is the campsite as it looked on that day. The Chamberlain's car sits to the left of the tent. The entry
of the tent is facing the barbecue area, which can be seen as a dark roofline to the left of the centre
tree. There is a timber rail between the car / tent area, and the barbecue.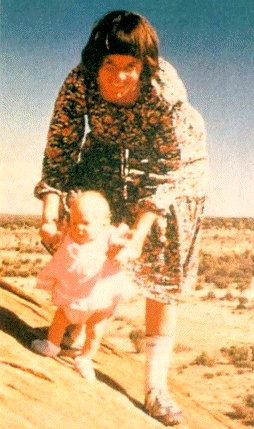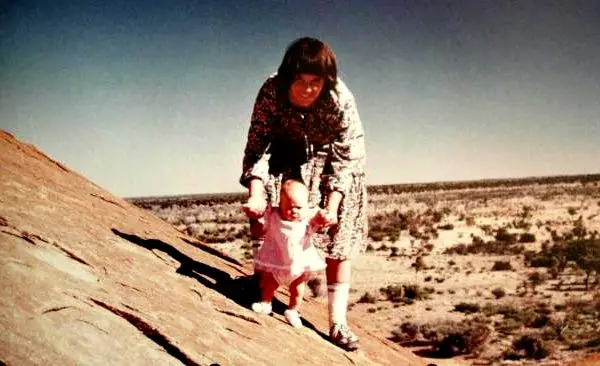 Lindy Chamberlain with baby Azaria. Lindy said she saw a dingo run from the tent and disappear
into the darkness. There were dingo prints outside the tent, and spots of blood on the bedding.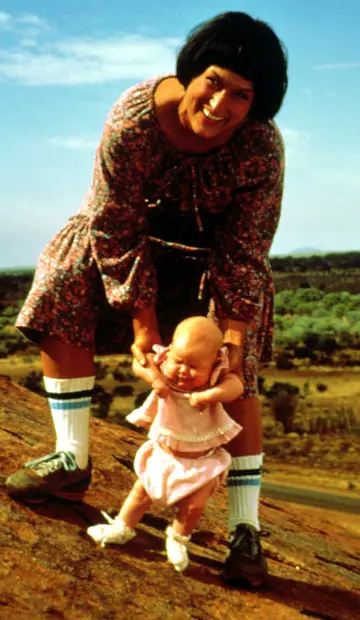 Upon seeing Azaria's empty cot, Lindy screamed, "The dingo's got my baby!" - a line made
famous by the Meryl Streep movie, "A Cry in the Dark," based on the case.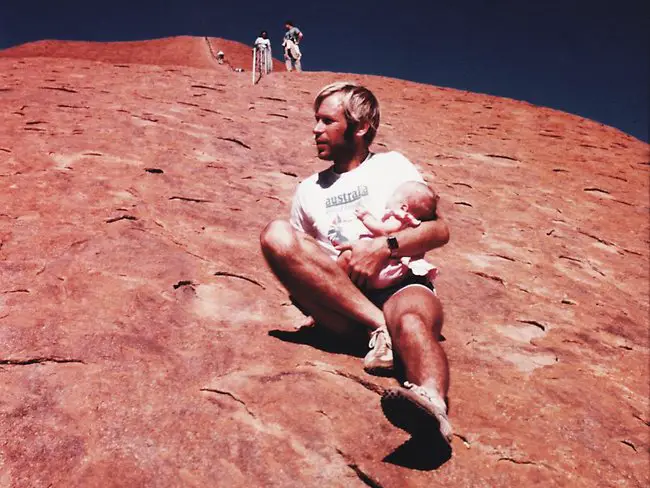 Michael Chamberlain holds baby Azaria on Uluru, Augst 17, 1980. It was the last photo
taken of Azaria, hours before she was taken by a dingo.
(Picture courtesy of Sunday night, Channel 7)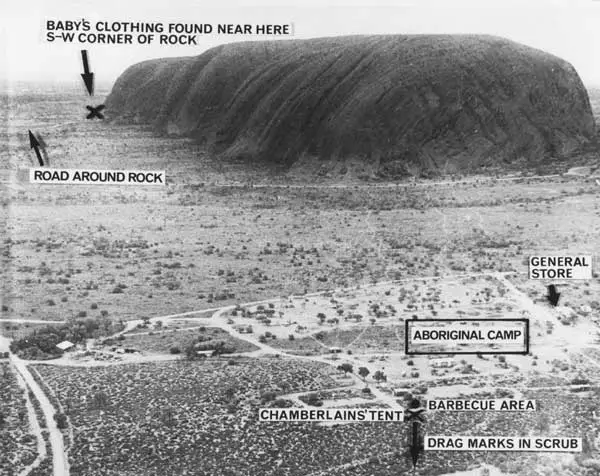 An aerial photograph of the settlement, including campground, Aboriginal camp, Rangers' homes,
clinic, and motel. It is about 4km (2.5 miles) from the campsite to the place where the clothing
and dingo's den was found.
(Photo Barry O'Brien)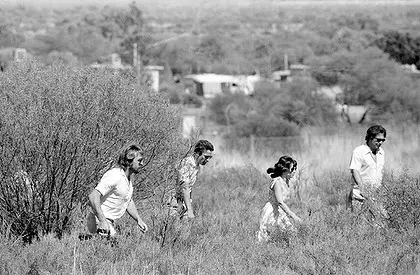 Lindy Chamberlain and Michael Chamberlain walk through the scrub at Ayers Rock as the inquest
into their daughter, Azaria, continues at the site of her disappearance, December 1981.
(Photo: Michael Rayner)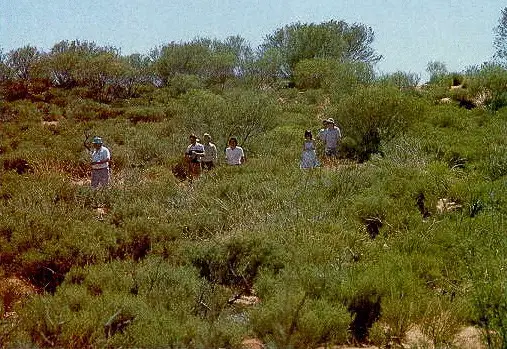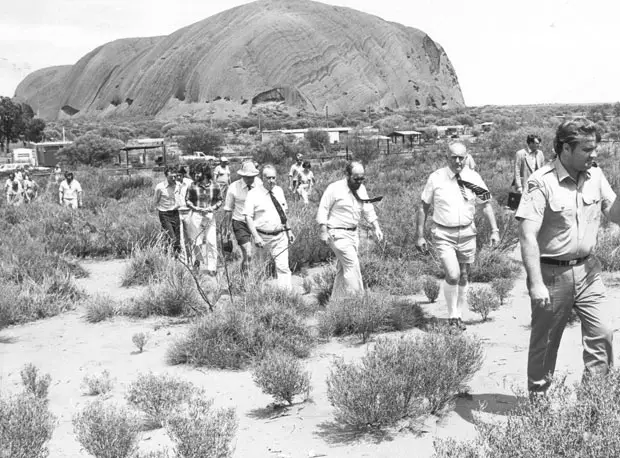 The search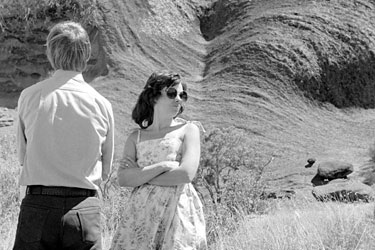 Lindy Chamberlain and her husband Michael Chamberlain.