A romantic murder mystery weekend turns deadly when a surgical technician murders her husband for his life insurance by poisoning him and then setting his body on fire.
---
Kimberly Hricko: A bright and bubbly surgical technician, Kim Hricko led a comfortable middle-class existence with her husband, Steven. But the Hricko's sunny, suburban image vanished in smoke and flame on Valentine's weekend of 1998 when Steve and Kim went on a romantic getaway at a golf resort on Maryland's Eastern Shore.
As part of the special Valentine's package, the resort staged a murder mystery play where guests watched the staged whodunit and then attempted to solve the puzzle. But after the play, the plot thickened when the couple's room caught fire and Stephen's charred body was discovered on the hotel room floor.
Though Kim claimed her husband had gotten drunk and died from smoke inhalation, the resulting autopsy showed no signs of either alcohol or carbon monoxide anywhere in his body.
At Kim's trial, the prosecution argued that she had knocked Stephen out with Succinylcholine - a nearly untraceable muscle paralyzer used in surgery - in order to collect on his $400,000 life insurance policy. Found guilty on both charges, she's currently serving life plus 30 years for arson and murder.
---
Woman Sentenced in Valentine Murder
By Greg Toppo - Associated Press
March 19, 1999
EASTON, Md. (AP) - A judge today sentenced a woman to life in prison for killing her husband after the couple watched a murder mystery play on Valentine's Day.
Judge William Horne also sentenced Kimberly Hricko to 30 years on a related arson conviction for setting fire to the room where her husband's body lay. The two sentences are to be served concurrently.
In Maryland, first-degree murder carries an automatic life sentence, but judges have the authority to suspend all or part of it.
Mrs. Hricko, 33, has never admitted guilt in the death of Stephen Hricko, her husband of nine years.
Hricko's mother told the judge that Hricko's death had been devastating and asked him not to show leniency in sentencing Mrs. Hricko.
"Nothing has been the same," said Mary Hricko, 71. "My husband can't talk about him without crying."
Moments before the judge imposed the sentence, Mrs. Hricko told him she prays every day that her husband's family can find peace.
"I feel so sorry for all the sorrow and loss they've endured," Mrs. Hricko said in a trembling voice.
Mrs. Hricko's attorneys immediately filed an appeal of the conviction and sentencing.
During her January trial, friends and co-workers said she had confided to them that she was bitterly unhappy in her marriage and wanted to get rid of her husband.
A co-worker testified that Mrs. Hricko offered him $50,000 to have her husband killed. Prosecutor Robert Dean said she stood to collect $400,000 from life insurance policies taken out on her husband.
Hricko's badly burned body was found in the suite the couple had rented over the Valentine's Day weekend last year at a resort where the two had watched a murder mystery play earlier in the evening.
---
Woman convicted of killing husband during Valentine's weekend
CNN.com
January 16, 1999
EASTON, Maryland (CNN) -- A jury on Friday convicted a nurse of killing her husband by poisoning him during a Valentine's weekend murder-mystery retreat.
She then set their hotel room on fire to cover up the crime.
Prosecutors alleged that Hricko, a 33-year-old surgical technician, confided to friends and co-workers before the death that she was bitterly unhappy in her nine-year marriage and longed to get rid of her husband.
The jurors deliberated only a few hours before finding Kimberly Hricko guilty of first-degree murder and first-degree arson. She faces life in prison for the death of Stephen Hricko.
Witnesses told the court Hricko stood to collect $400,000 from life insurance policies taken out on her husband.
Prosecutor Robert Dean detailed Hricko's "coldblooded and sinister" plot to kill her husband by injecting him with the powerful drug succinylcholine chloride to stop his breathing.
Died after watching whodunit
Then, he said, she set fire to the hotel suite they shared at an Eastern Shore resort hours after the couple watched a Valentine's Day murder-mystery play on February 14.
The whodunit onstage portrayed a groom sipping poisoned champagne then dropping dead during a toast. The audience tries to solve the mystery of who killed him.
A state medical examiner concluded Hricko was probably poisoned with succinylcholine chloride, commonly used in surgery to help doctors administer breathing tubes and relax patients' muscles. It paralyzes the diaphragm and stops the subject's breathing, producing fatal brain damage within four minutes if the subject doesn't receive help to breathe.
Deputy Chief Medical Examiner Dr. David Fowler told the jury that Hricko, a 35-year-old golf course superintendent, was probably injected with a fatal dose of the drug, but acknowledged that it wasn't found in his system.
Fowler said the drug is processed rapidly by the body and can be undetectable in a matter of minutes.
Fowler said his autopsy ruled out every other cause of death, including heart attack, drug or alcohol overdose, a lethal buildup of pesticides or carbon monoxide that he might have inhaled from the fire.
Defense attorneys, who said they would appeal the verdict, argued that Hricko drank heavily the night he died and may have accidentally set his bedspread on fire. They also theorized that Hricko committed suicide, though they never said how he might have killed himself.
During three days of prosecution testimony, several friends and former co-workers of Mrs. Hricko said she complained in late 1997 and early 1998 that she was unhappy in her marriage, had begun an affair with a younger man and wanted her husband killed.
Jennifer Hricko, 42, the victim's sister, said the verdict won't do much to assuage the family's pain.
"It will help a little bit, but ... Steve's not back," she said.
---
Woman on trial for husband's death
January 13, 1999

EASTON, Md. - A man was found dead in his smoke-filled hotel room last year after he and his wife attended a murder mystery play staged for the guests.

Yesterday, a prosecutor told a jury the case is no whodunit. Kimberly Hricko went on trial on charges of murdering her husband, Stephen, during what was supposed to be a romantic Valentine's weekend getaway.

She stood to collect on a $200,000 life insurance policy and had talked about killing her husband to end their dull marriage, prosecutor Robert Dean said in opening statements.

"There is nothing more that Kimberly Hricko wanted than to get rid of her husband," Dean said.

The defense says the evidence is inconclusive, and Hricko was depressed and a suicide risk.

The young couple had been having marital troubles and went on a Valentine's Day weekend getaway featuring a campy "Mafia Wedding" whodunit on-stage in which the groom sips poisoned champagne and drops dead during a toast and the audience tries to solve the mystery.

Hours later, in the early morning of Feb. 15, Stephen Hricko, a 35-year-old golf course superintendent, was found dead.

Kimberly Hricko, 33, told police that after they returned to their room, her husband began drinking heavily and tried to pressure her into having sex. She said she left to drive to a friend's home in Easton but got lost. When she returned, around 1 a.m., she saw smoke and went to the front desk for help. A hotel guest and a worker broke into the cottage and dragged out Hricko's body.

The fire, which appeared to have started on or near the bed, had burned out, but Hricko was dead.

One cigar was missing from a new pack. Kimberly Hricko told investigators that her husband smoked when he drank. However, family and friends told police that Hricko did not drink or smoke.

An autopsy found that Hricko had no carbon monoxide in his blood and no soot or burns in his trachea or lungs, suggesting he had stopped breathing before the fire started.

The report said Hricko probably died of poisoning, but didn't say what poison or how it got into his body.

Prosecutors said the Hrickos' marriage was in trouble. The couple, who were raising a daughter, now 9, had been attending counseling sessions. According to court documents, Kimberly Hricko had asked her husband for a divorce, but he refused.

Kimberly Hricko, a surgical technician, had offered a co-worker $50,000 to arrange his murder in early 1998 and weeks later confided to a friend that she had been planning to give her husband a drug that would paralyze him, Dean said. She was "progressively digging herself into a hole of violence," he said.

Defense attorney Harry Trainor suggested Hricko was seriously depressed and could have been at risk of suicide. He also said Hricko worked with toxic pesticides, which may have contributed to his death.

"No medical doctor, pathologist or toxicologist can reliably tell us the cause of Stephen Hricko's death," Trainor said.

The trial is expected to last a week.
---
How to Mess up the Perfect Crime, concluded
When Steve and Kim Hricko's marriage began to fail, she decided that rather than suing for divorce, her life would be better off if Steve was out of the picture — permanently.
As a technician in a hospital operating room, Kim had access to an almost untraceable and very powerful muscle relaxant, succinylcholine. After a coworker rebuffed her requests to help her kill her husband, she decided to take matters into her own hands.
For a month before she acted, Kim, who was having an affair with a Marine stationed at the Pentagon, went along with Steve's efforts to rebuild their marriage. She accepted Steve's invitation to rekindle the romance at a Valentine's Day getaway at an exclusive resort that featured a dinner theater murder mystery.
Little did Steve know that life was going to imitate art and that he was going to be the star.
After the couple had dinner and watched the show, they returned to their cabin, where Kim claims that they fought and that she left to go visit friends. Instead, she told police, she got lost for more than two hours and when she returned, found her hotel room in flames.
Her story quickly unraveled.
"It is a forensic fact of life that an exculpatory effort that is disbelieved thereby becomes highly inculpatory," Judge Moylan wrote. "In prosecutorial jargon, it is called the 'false exculpatory.' In the algebra of production burdens, it goes to prove consciousness of guilt. Kimberly's attempted explanation fell into that category in several regards. Indeed, it began to unravel even as it began."
There was first the improbability of getting lost. Easton is about 15 minutes from St. Michael's, the location of the Harbourtowne resort. Why was Kim lost for two hours?
If lost, why not call the friends for directions? Kim had her cell phone with her, she used it to call 911 to report the fire. She demonstrated to the troopers questioning her that she knew the friends' telephone number. Kim gave the unbelievable answer of not wanting to wake the friends.
"I asked her why she didn't call me, the friend testified. "She says well it was too late. I didn't want to wake you up."
Judge Moylan expressed his own incredulity at this response:
"The incongruity of the response was not even subtle," he said. "Why, at a given hour, would one be unwilling to wake up with a phone call the very people one was fully intending to wake up by ringing the door bell?"
Kim claimed that Steve was heavily intoxicated the night he died, but the investigator who questioned her about his death, testified the facts didn't back up her story.
"I asked her would you please tell me the amount of alcohol that your husband consumed that night," he said. "She advised me that he was drinking heavily that night. At that time I confronted her with the Medical Examiner toxicologist's report information indicating 0.00 blood alcohol contents in her husband's body. At that time she just stared for a second and said, I don't understand that. And I don't understand that. I said well could you please explain to me if your husband was drinking this amount of alcohol why didn't it register? Again she just said, I don't understand why. I don't understand."
The couple's bar tab that night at the dinner theater was $5.50, and one of the other guests at their table during the dinner theater happened to be an assistant district attorney who testified that he saw Steve consume one or two beers.
As the investigation progressed, Kim demonstrated an unusual curiosity about the status of the medical examiner's report.
To the prosecution, her curiosity about what was at the time thought of as a tragic, but routine, accident was curious. It looked like Steve had died of smoke inhalation in a fire. What did she expect to learn from an autopsy report? Could it be whether or not any needle marks were found on the body or if succinylcholine was detected?
Kim also raised concerns with her adamant insistence that Steve's body be cremated. It's one thing to honor a loved one's last wishes, but her strong determination to see him cremated clashed with her indifference about every other aspect of his final arrangements.
As Steve's sister testified: "She let it be known that it was fine with her if we took care of it all except that the cremation was decided on and that any other aspects she didn't have a strong opinion on but that it was up to us."
Even as the embers of the fire still smoldered, the police were suspicious of Kim's behavior. When the medical examiner delayed releasing Steve's body in favor of some extra tests, her friends noted that Kim was quite uneasy. Knowing that the police had been asking questions, Kim became desperate for information. She asked a close friend to find out what others had been saying to the police.
"To seek to learn what friends have been saying to the police is not normal behavior for one who has recently but innocently been widowed," Judge Moylan wrote.
The police soon confronted Kim with the proof that Steve was dead before the fire started. There was no soot or carbon monoxide found in Steve's body, the autopsy revealed. The trooper who broke the news to Kim describes how she reacted.
She stared and didn't say nothing and then she stared some more and she said I don't understand why. I don't understand. At that time, she hesitated and never said nothing and then she kind of bowed her face down towards her hands and started crying. She continued crying. I said to her, Kimberly, please tell me what happened that night. And she continued crying. She gets up out of her chair, walks over and sat in another chair where she continued crying.
Again I said please tell me what happened that night. Kimberly said to me, if I tell you what happened, can I go home tonight and see my daughter. I stated to her, Kimberly, please just tell me the truth and what happened the night your husband died. Kimberly looked up and stated to me I want to tell you but I want to see my daughter first. I told Kimberly, I said, Kimberly, I will make arrangements for you to see your daughter. She hesitated, sat there, looked up again and Kimberly stated to me, I really want to tell you the truth, but can I still go home?
Kim was not allowed to go home and was instead arrested for murder.
She never confessed to the killing, but in a conversation with one of her friends while she was in jail, she all but admitted murdering her husband.
Talking about Steve's insurance policies, the friend recalled that "Kim said that I don't care what anyone says, it wasn't for the money."
That begs the question: What wasn't for the money?
In the end, the jury answered that question, convicting Kim of murder and arson.
MarkGribben.com
---
Arsonist and Murderer? Or Innocent Wife?
By John McLemore, Justice Denied Guest Writer
Editor, Kira Caywood
Kim Hricko admits that her marriage was not perfect, but says she would never kill her husband -- not even for $200,000 in insurance money.
Kim Hricko admits that hers was not the perfect marriage, but says she would never kill her husband, not even for $200,000 in insurance money. A Maryland jury thought otherwise. After finding her guilty of both murder and arson, jurors sentenced Hricko to life in prison, plus thirty years concurrent. Now, Kim and her family are hoping to prove the jury wrong and help Kim see justice.
The jury found that on the night of February 15, 1998, Kim poisoned her husband Stephen, then set his body on fire. Kim and Stephen Hricko were at a resort, hoping to recapture the romance they once shared. It was Valentine's weekend, and the resort was putting on a murder mystery play with audience participation. Kim told police that, back in their room after the play, she and her husband had an argument, and she left. She said she went to visit a friend, but became lost. She drove around for a while, then headed back to the resort. Upon returning to their room, Kim claims she entered through a back door, then noticed the room was filled with thick smoke. Witnesses said Kim ran into the hotel lobby, cell phone in hand, frantically calling the fire department. When firefighters arrived, the fire was already out, but Stephen was dead. He was found lying on the floor between the two beds, flat on his back, with his pants around his knees. A Playboy magazine was nearby.
Kim told police that her husband often looked at pornography. In her statement to police, she said that Stephen was "sloppy drunk" when she left during the argument. Even though witnesses saw him drinking during the murder mystery play, the autopsy showed no sign of alcohol in his body. However, the autopsy did show a normal level of carbon monoxide in his lungs, indicating that he was dead before the fire started.
The prosecution alleged that Kim injected her husband with a lethal dose of Succinylcholine, a muscle paralyzer used during surgery, before setting fire to his body. Prosecutors alleged that Kim, who worked at a local hospital, had access to the drug. But the autopsy did not detect any Succinylcholine in Stephen's body, and no needle tracks were observed. A medical examiner testified that at least 10 cc's of the drug would be required to stop Stephen's breathing. Also, the State's own witness testified that it would take at least three minutes to inject that much Succinylcholine. An FBI lab conducted eight different tests on Stephen's urine, and Mark Lebeau of the FBI testified that no trace of Succinylcholine was detected in the urine.
The prosecution claimed that Kim set the room on fire after giving her husband the lethal injection. Maryland State Police Officer John Tobin investigated the scene for accelerants. He testified that he found no trace of ignitable liquid. Even with no evidence of arson and no proof that any drug had been injected into Stephen's body, the State stuck to its theory.
So what caused the fire? Why wasn't Stephen able to escape? Kim's supporters think her husband mixed the wrong drugs with alcohol and passed out. They also think that a faulty wood stove or Stephen's carelessness might have caused the fire. Recent prescriptions indicated that Stephen was taking antidepressants and muscle relaxers, which the autopsy detected. The muscle relaxant Stephen was taking, Cyclobenzaprine, warns against taking the drug with antidepressants or alcohol. He apparently did both.
At the time of the fire, the room's wood stove was using commercial fire logs. Most fire log labels clearly warn against using the product in wood stoves. Also, it was alleged that the furnace in the Hrickos' room was replaced after the fire because it was malfunctioning.
The local press sensationalized the trial, dubbing it "The Murder Mystery Weekend Killing." Cathy Rosenberger, a local realtor who recently had sold a house to the Hrickos, sat through the entire trial. She was amazed that Kim's attorney did not ask for a change of venue. "There were at least 50 stories on Kim's case in the local paper, with approximately 35 of them on the front page," said Rosenberger. She was also amazed that a mistrial was not called.
"By midweek, Judge Horne had dismissed two jury members, who were not only sleeping, but snoring," she claims.
The trial was long and tedious, and too stressful on the jury, some say.
Court began at 8:30 a.m. sharp, and continued until 7:30 p.m. Rosenberger says the long days took a toll on the jury and attorneys. "The judge made it very clear from the beginning that he wanted the trial and verdict wrapped up within a week's time," says Rosenberger.
Without any clear evidence that Kim had drugged and killed her husband or set the fire, the prosecution went full speed ahead. They called Ken Burgess, Kim's co-worker. Burgess testified that Kim had offered him money to kill her husband. When asked how much she offered, he could not remember whether it was $5,000 or $50,000. He also admitted to being caught and punished for welfare fraud in Virginia. According to police records, Burgess placed three controlled calls to Kim, in which he tried unsuccessfully to get Kim to discuss what happened to Stephen.
Several other key witnesses took the stand -- girlfriends who testified they had actually heard Kim talking about killing Stephen, and a man with whom Kim once had an affair. Although none actually linked her in any way to the crime, they were very damaging to Kim's character, and may have played a large part in the jury's decision.
The Kim Hricko case is very much like the Darlie Routier case in Texas. Both young women are in prison for allegedly killing family members. In both cases, the prosecution had no physical evidence linking the women to the crime. There were no eyewitnesses to the crimes, and no confessions. Also in both cases, the lead detectives mysteriously lost their notes before testifying. Still, through pure conjecture and character assassination, prosecuting attorneys were able to convince juries that both defendants were guilty. This is a sad commentary about either the American justice system or the intelligence of American juries -- or perhaps both.
Kim Hricko is not granting media interviews, on the advice of her appellate attorney. In written correspondence, she says that she "can't help but cry" as she composes the letter. "I am so frustrated," she writes. "Here I sit in my cell with a sentence of life plus thirty concurrent, and I am innocent."
Kim's conviction might not be the only injustice in this case. What kind of life is in store for ten year-old Anna Hricko, who lost one of her parents in a tragic fire, and has nearly lost the other at the hands of the state where she lives.
---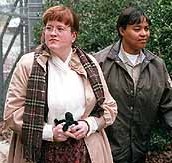 Kimberly Hricko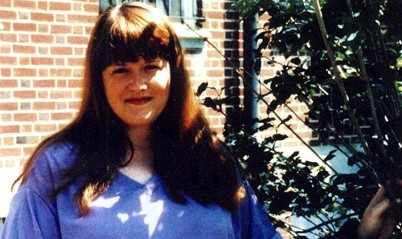 Kimberly Hricko