Death sentence upheld for Texas mom who killed daughter
Associated Press
September 16, 2011
HOUSTON - The Texas Court of Criminal appeals has upheld the conviction and death sentence of a Rio Grande Valley woman condemned for the death of her 2-year-old daughter, one of her nine children.
Forty-three-year-old Melissa Elizabeth Lucio was convicted of killing her daughter, Mariah, in 2007.
The woman told authorities the child had fallen down some stairs but emergency room physicians found she had bruises covering her body, bite marks on her back, an arm that had been broken weeks earlier and was missing hair that had been pulled by the roots from her head. An autopsy showed the girl had been beaten on her head and the injuries were not caused by a fall down some stairs.
Lucio is one of 10 women on Texas death row.
---
Lucio formally sentenced to death by lethal injection
Valley Morning Star
July 22, 2008
BROWNSVILLE - Melissa Elizabeth Lucio was formally sentenced to death by lethal injection in the 13th Judicial District Court, according to a Cameron county District Attorney's Office release.
Lucio, 40, of Harlingen was found guilty of capital murder for the death of her 21/2-year-old daughter, Mariah Alvarez.
"A jury of 12 good and true citizens of Cameron County has decided the fate of a convicted capital murderer," said Chief 1st Assistant Charles E. Mattingly Jr. "Justice was sought in this case and justice has been delivered."
District Attorney Armando Villalobos and Assistant District Attorneys Alfredo Padilla, Maria De Ford and Joseph Krippel secured a conviction on July 8 after a week-long jury trial.
Lucio is the first female in Cameron County history to be sentenced to death by lethal injection. She will be confined at Carrizales-Rucker Detention Center in Olmito until she is transferred in two to four weeks to the Mountain View Unit of the Texas Department of Criminal Justice - Institutional Division in Gatesville.
The last time the District Attorney's Office pursued the death penalty was the John Allen Rubio and Angela Camacho case in 2003.
On February 17, 2007, Harlingen Police found Mariah Alvarez unresponsive at the family's apartment off of Lee Street. Alvarez was later transported to the emergency room at Valley Baptist Medical Center in Harlingen, where she was pronounced dead by medical personnel.
Lucio was arrested on February 18, 2007, by the Harlingen Police Department, indicted on May 16, 2007 and arraigned on May 31, 2007.
---
Jury finds Lucio guilty of daughter's death
Valley Morning Star
July 9, 2008
Melissa Elizabeth Lucio burst into tears Tuesday as a jury in 138th state District Court found her guilty of the beating death of her 2-year-old daughter.
Lucio, 38, continued to sob as all 12 jurors were polled and individually told Judge Arturo Cisneros Nelson that they had voted to find the Harlingen mother guilty of capital murder for killing Mariah Alvarez on Feb. 17, 2007.
Cameron County District Attorney Armando Villalobos said he will seek the death penalty today when the punishment phase of the trial begins at 9 a.m.
It was always the plan of his office to seek the death penalty against the mother of 14 for battering her little girl to death, the district attorney said.
"When we started the case, that's why we had to go through three weeks of (individual interviews of potential jurors)," Villalobos said, declining to comment further.
During his final argument, lead defense attorney Peter Gilman said it is not true that his client had confessed to a Texas Ranger that she had beaten her daughter to death.
"They think they got a confession," Gilman said. "Nowhere in that statement does it say, I killed my child.' … Three doctors testified that she could have died from blunt force head trauma by falling down the stairs."
His client was grilled by police from about 10 p.m. to 3 a.m. after likely rising at 6 a.m. the day before to take care of a house full of children, Gilman said. She was not accompanied by a lawyer, he said.
"My client is not up for Mother of the Year. She's guilty of child abuse," Gilman said. "But they haven't proved she intentionally murdered her child."
His client told police she was told Mariah had fallen down a flight of stairs about 24 hours before her death and described the exact symptoms she would have suffered from hitting her head in a fall, Gilman said.
Lucio said she wasn't present when her daughter fell because the family was moving from an apartment on Madison Avenue in Harlingen to another apartment on Lee Street, Gilman said.
His client agreed to take a polygraph examination and police took samples of her hair, fingernail clippings and a DNA mouth swab, Gilman said. But none of those samples were tested, he said.
Lead prosecutor Alfredo Padilla urged the jury to ignore claims that Mariah's death was caused by a fall down some stairs.
He asked the jury to review photos that showed her battered and bruised body and to remember testimony by experienced doctors who called it the worst case of child abuse they had ever seen.
Assistant DA Maria De Ford asked jurors to use their common sense and review the long list of bruises, lacerations and even a broken arm that Mariah suffered during the 88 days that she lived with her mother after living for 2 years in foster care.
"It was no accident," she said of Mariah's death. "She beat her; she stomped her; she threw her. … She pinched her little vagina. What kind of mother does this?"
After the court session ended Tuesday, Sonia Chavez, Lucio's younger sister, told a reporter that she found it was curious that the courtroom was filled with Child Protective Service workers during the entire trial.
"When we were conducting the funeral (for Mariah), there were lots of CPS people there," Chavez said. "Why were they all here and at the funeral when there are so many children who need protection and families that need help?"
Chavez also said that a Harlingen police detective was lying when he testified that he had heard Lucio say during a cellular phone call that it was she, not her husband, who killed Mariah.
"She was making that call to me," Chavez said. "(Lucio) never said those things he said she did."
Lucio's husband, Robert Antonio Alvarez, 37, will stand trial separately for injury to a child by omission, prosecutors said.
---
Detective: Lucio admitted to beating daughter
Brownsvile Herald
July 2, 2008
A Harlingen detective on Tuesday testified that he overheard Melissa Elizabeth Lucio admit that she was responsible for the beating death of her 2 1/2-year-old daughter.
Lucio is charged with capital murder in the Feb. 17, 2007, death of Mariah Alvarez.
Officer Robert Muoz testified that he and another officer were driving Lucio and her husband to a Brownsville dentist and that Lucio was allowed to make a call on a cell phone at that time.
He said he heard Lucio say, "Don't blame Robert. This was me. I did it."
Lucio and her husband Roberto Antonio Alvarez were to have casts made of their teeth, to compare to bite marks found on Mariah's back, the officer said.
Numerous photos of the child's body, covered with new and old bruises and other injuries, were presented to the jury.
Prosecutors attacked Lucio's statement to police that the little girl fell down a flight of outside stairs at the family's former apartment on Madison Avenue.
Lawyers on both sides of the case said Lucio has had 14 children, the oldest of which are now adults and the youngest were Mariah and a set of twins born in jail after she was arrested on the capital murder charge.
If convicted, Lucio, 38, could face the death penalty or from 5 to 99 years in prison.
Defense attorney Peter Gilman hammered detectives and a Child Protective Service worker during their turns on the witness stand.
Harlingen Police Detective Rebecca Cruz, who was in charge of all the evidence in the case, was asked by Gilman whether any tests were made on soft drink cans, a spoon with alleged cocaine residue and baking soda found together in an apartment on Madison Avenue in Harlingen.
Lucio and her family had vacated the apartment. Police searched it and the apartment on West Lee Street where Mariah was found dead by police and paramedics, but no laboratory tests were ordered of the alleged drug residue visible in police photos. Neither Lucio nor her husband was tested for drugs, Gilman said.
Cruz also admitted hair and fingernail clippings taken from Lucio were never sent to a laboratory for testing.
No dental impressions were taken from any of the older children in the family, Gilman was told.
Texas Ranger Victor Escalon Jr. testified that when he helped interview Lucio at the Harlingen police station the evening after the toddler died, Lucio changed her story until she admitted beating the girl to death.
Under questioning by Cameron County District Attorney Armando Villalobos, Escalon testified that Lucio was given a child's baby doll to demonstrate what she had done and showed how she beat the child on the back of the head and shook her violently from side to side.
"You're adding things other than what the video shows," Gilman said loudly to the ranger. "You're just making that up. That's a bunch of baloney. She didn't say she shook (Mariah) from side to side. You don't have any evidence of Melissa shaking Mariah or throwing her."
Escalon admitted the only proof he had was from Lucio's admissions during questioning at the police station from 10 p.m. to about 3:30 a.m.
CPS caseworker Jo Ann Estrada testified that she was not completely familiar with the background of the case but had worked extensively with the family after the 2007 death of Mariah.
She refuted Gilman's claims that some of Lucio's older children were unruly and hard to handle by foster parents.
Gilman questioned why the CPS was trying to permanently revoke Lucio's parental rights but at the same time arranged parental visits with her children, including weekly visits with her newborn twins.
Estrada said CPS was complying with a court order. State District Judge Arturo Cisneros Nelson told jurors it was not his order.
Nelson told the jury that they will have today off because of scheduling problems for witnesses.
A pathologist will testify Thursday and then defense attorneys will being questioning their witnesses and presenting evidence on Monday, the judge said.


---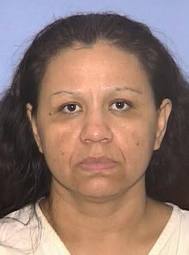 Melissa Lucio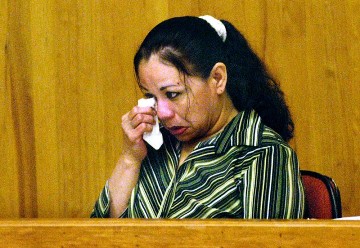 Melissa Lucio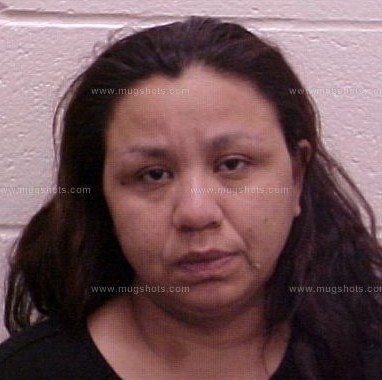 Melissa Lucio