On July 28, 1843, Thomas Kinnear, a wealthy Ontario farmer, and his housekeeper, Nancy Montgomery, were murdered. Kinnear's stable hand, James McDermott, and 16-year-old maid, Grace Marks, were tried and convicted for the act. McDermott was hanged, but Marks's sentence was commuted to life because of her youth and sex, and she entered the Provincial Penitentiary in Kingston, Ont., on Nov. 19, 1843.
---
Grace Marks (c. 1828 – after c. 1873) was a Canadian maid who was convicted in 1843 of murder in the death of her employer Thomas Kinnear and his housekeeper, Nancy Montgomery. Her conviction was controversial, and sparked much debate about whether Marks was actually instrumental in the murder, or merely an unwitting accessory.
Marks was born and raised in Northern Ireland, had 8 siblings, with another 3 who were stillborn. Marks's father was a stone mason, an alcoholic and abusive person. The family immigrated to Canada in 1840 when she was 12. Her mother died on the ship en route to Canada, and was buried at sea.
In her murder trial, Marks was tried alongside James McDermott. They were tried for the murder of Kinnear, and the trial for Montgomery's murder was to follow but was seen as unnecessary, as both were sentenced to death. Marks was initially committed to an asylum but was later transferred to Kingston Penitentiary, while McDermott was hanged. After almost thirty years of incarceration, Marks was pardoned and moved to Northern New York. After that, all trace of her was lost.
A number of theories were offered as to Marks' mental state: that she was simply pretending to have psychological problems to get into the asylum, that she had multiple personality disorder, or that she was possessed by the consciousness of her deceased friend Mary Whitney. Another theory, controversial but supported by some evidence, was that Marks had died, not Whitney, and Whitney had adopted Marks' name and identity.
What is known of Marks on the historical record comes primarily from Susanna Moodie's book Life in the Clearings Versus the Bush.
In 1996, author Margaret Atwood published a novel about Marks, Alias Grace. In that novel's reviews, several critics pointed out eerie similarities between Marks and a more recently controversial Canadian murder convict, Karla Homolka.
Bibliography
---
Murderess or pawn?
By Susanna McLeod - Kingston Whig-Standard
July 3, 2012
"They glare upon me night and day, and when I close my eyes in despair, I see them looking into my soul ... And when I sleep, that face just hovers above my own, its eyes just opposite to mine."
As recounted to author Susanna Moodie by a visiting lawyer, Grace Marks could not obliterate the searing eyes of the murdered woman from her tormented mind.
Confessing to participation in the deaths of Capt. Thomas Kinnear and his housekeeper, Nancy Montgomery, at his farm near Toronto, Grace Marks placed the heaviest blame on James McDermott, another servant of the Kinnear home.
McDermott admitted to murder in the summer of 1843, but told a story of being under Marks' spell.
"Grace Marks is wrong in stating she had no hand in the murder; she was the means from beginning to end," McDermott stated in his signed confession to Mr. George Walton in The Trials of James McDermott and Grace Marks at Toronto, Upper Canada, November 3rd and 4th, 1843.
Hired as a maid in the Kinnear home for a monthly pay of $3, Marks was to provide assistance to the housekeeper, Nancy Montgomery. Twenty-year-old James McDermott had been hired only days earlier, and the new workers took a liking to each other.
Arriving in Canada in 1837, the young man had served with the Glengarry Light Infantry until it was disbanded and he was discharged. Marks had emigrated from Northern Ireland to Canada when she was about 13 with her parents, four brothers, and four sisters. Her father was a stonemason.
Almost immediately, 16-year-old Marks became bitter with resentment over the other woman. Although there was no open discussion of their relationship with the hired help, Montgomery was much more than a servant to Kinnear, spending time with him, sleeping in his bed when he was home, and issuing orders to the other servants.
Marks "and the housekeeper used often to quarrel, and she told me she was determined if I would assist her, she would poison both the Housekeeper and Mr. Kinnear by mixing poison with porridge," stated McDermott in his confession. "I told her I would not consent to anything of the kind."
But the idea had been planted. It didn't help that Montgomery told McDermott that when the Captain returned, his employment would be terminated. Goaded by Marks calling him a coward, McDermott acquiesced to her demands. While Kinnear left on July 27 on an overnight trip to pick up funds, murder was planned.
Shoring up his courage, McDermott decided to follow Marks' idea to kill Montgomery first. He tried several times during the night, common decency stopping him each last minute. In the morning, Marks "whispered with a sneer, 'Aren't you a coward,'" said McDermott, quoted by Susanna Moodie in Life in the Clearings Versus the Bush (R. Bentley Publisher, London 1853).
While Marks went out the door to milk the cows, McDermott whacked Nancy Montgomery on the back of her head with his axe. He heaved her limp body into the cellar and closed the hatch.
Montgomery was not dead. Creeping down the ladder into the cellar, Marks and McDermott were horrified to find her dazed but conscious. McDermott lunged onto the housekeeper, and both he and Marks strangled her with a scarf. Dismembering the body, McDermott hid Montgomery under a large tub.
Around midday, Capt. Kinnear returned home. Puzzled over Montgomery's whereabouts, he waited for her to return. After 7 p.m., McDermott lured his employer into the kitchen with a story of a damaged saddle. On hearing a gun blast, Marks said in her confession, "I ran into the kitchen and saw Mr. Kinnear lying dead on the floor, and McDermott standing over him; the double-barrelled gun was on the floor." She stated McDermott then shot at her as she fled the house; her account was later proved true by the round found in the door jamb by police.
Each accused claimed the other wanted to steal the large bundle of cash Kinnear was bringing home, "While I harnessed the riding horse into his new buggy, Grace collected all the valuables in the house," McDermott told McKenzie. "You know, Sir, that we got safe on board the steamer at Toronto but owing to an unfortunate delay, we were apprehended..." Their grand plan of escape to New York was over.
Found guilty at the trial on Nov. 3, 1843, McDermott was sentenced to hang on the 21st for the death of Kinnear. At her trial the next day, Marks too was issued a decree of hanging. She fainted briefly on hearing the sentence. The judge recommended mercy to the jury, and short time later Marks' sentence was commuted to a prison term.
The Crown did not proceed with a trial for the murder of Nancy Montgomery for either McDermott or Marks.
"Approximately eight-and-one-half years into her sentence, Grace began to exhibit signs of insanity," noted Kathleen Kendall in Beyond Grace: Criminal Lunatic Women (Canadian Woman Studies, Vol. 19, No. 2). Vaulting from peaceful to rowdy, from overly happy to mired in depression, Marks also endured "daily illusions imagining she sees strange figures invading her. She sleeps badly and wanders about her room for most part of the night in search often of the subject of her false illusions (Kingston Penitentiary Medical Registry 290)," Kendall writes.
Sent to the Toronto Lunatic Asylum, Marks was treated in the Toronto facility for close to a year and a half. She was labelled a "criminal lunatic." Returned to Kingston Penitentiary, Marks served nearly 20 more years before she was pardoned and released in 1873. Moving to New York, Grace Marks, alias Mary Whitney, disappeared from recorded history.
Grace Marks was described by lawyer Kenneth McKenzie as having "a slight graceful figure," with eyes "a bright blue, her hair auburn, and her face would be rather handsome were it not for the long curved chin, which gives, as it always does to most persons who have this facial defect, a cunning cruel expression."
James McDermott found Marks moody but charming, wrote Moodie, the young Irish man attracted to the "pretty, soft-looking woman."
Classification of criminal women, especially those deemed lunatic, was troublesome for prison authorities. Mistreated, regarded with hostility and contempt, "convict women were perceived as either more morally corrupt than criminal men because they violated natural law," writes Kendall, "or as innocent victims of circumstance."
As with convicted men, the women laboured silently during the day, their tasks centred on stitching and mending clothing and bedding. For prison infractions, the same punishments were imposed on women as men – floggings, bread-and-water rations and solitary confinement. And possibly "the hole."
Although Marks was one of the first women at Kingston Penitentiary and one of the few diagnosed, she was among a growing number of inmates classed as lunatic. Several women were sent to the institution in the mid-1800s and judged insane.
Charlotte Reveille, Rose Bradley, Bridget Cain and Bridget Maloney received three- to four-year sentences for stealing money. Due to outrageous and disturbing behaviour, they were sent to the Toronto Lunatic Asylum. Another woman, Ann Little, was found guilty of murdering her lover and was as well designated criminally lunatic for her actions.
Margaret Atwood's fictional novel, Alias Grace, (McClelland and Stewart, Toronto 1996) is based on the true story of Grace Marks' experiences. During research for the book, Atwood found discrepancies in the historical accounts and a certain amount of embellishment. In an interview with Deborah Rozin of Random House, Inc., the author also mentioned the indignities suffered by the convicts.
"In those days you could visit prisons and insane asylums as a tourist attraction." If a visitor requested to see Grace Marks, "she would be trotted out for them to look at."
Whether she played the scandalous role described by McDermott or was duped into helping him, Marks was tormented by years of anguish over the brutal murders, enough to give her the dubious honour of one of Canada's first criminally lunatic women.
Susanna McLeod is a writer living in Kingston's north end.
---
Subverting from Within: Margaret Atwood's Alias Grace
Qub.ac.uk
June 21, 1999
Alias Grace is the most recent novel by Margaret Atwood, Canada's most prominent modern novelist. The novel is, as Atwood writes in her afterword, 'a work of fiction, although it is based on reality'(538) centred on the case of Victorian Canada's most celebrated murderess, Grace Marks, an immigrant Irish servant girl.
The manner in which Atwood imaginatively reconfigures historical fact in order to create a subversive text which 'writes back' to both the journals of a Canadian literary ancestor, and to Canada's nineteenth century self -image, illustrates what critic Linda Hutcheon has called 'the use of irony as a powerful subversive rule in the rethinking and redressing of history by both the post-modern and post-colonial artist '(131).
Atwood's interest in the Mark's case was first raised by her work on the journals of Susanna Moodie, a 19th-century emigrant to Canada. In a disparaging memoir entitled Roughing it in the Bush , published in London and addressed to an English audience, Moodie concentrated on the 'otherness' and 'foreigness' of Canada to refined European sensibilities, thus emphasising the privilege of 'home' over 'native' and 'metropolitan' over 'provincial'. (Litvack 120). Life in the Clearings, Moodie's sequel, intended to show the 'more civilised' side of Canada west, contained an account of her visit to the notorious Grace Marks in a Toronto Asylum. Moodie portrayed Grace as a shrieking, capering madwoman, and concluded her account with the pious hope that this 'raving maniac' would find some 'peace at the feet of Jesus' in the next world.
In the seventies, Atwood wrote a play for television which was based closely on Moodie's recounting of the case, but in returning to the story twenty years later in Alias Grace, recounts a much more ambiguous, open - ended tale than the cut and dry 'femme-fatale urges dim farmhand to murder' account rehashed in Life in the Clearings.
Alias Grace can therefore be read both as a fictionalised account of a notorious true life case and also as a genuine instance of post-colonial 'writing back', as Canada's most prominent present day (female) novelist, a leading exponent of modern Canadian literature, significantly revises a tale recounted by a female literary antecedent who spent most of her time unfavourably comparing the Canadian colony to 'Home'.
In 1843, at the tender age of 16, (the real life) Grace Marks was sentenced to life imprisonment for her role in the brutal murders of her employer, Thomas Kinnear, and his housekeeper/lover Nancy Montgomery at Kinnear's rural homestead outside Toronto. James Mac Dermott , Kinnear's farmhand, was hanged for the crime; Grace's youth and sex meant that her death sentence was commuted.
As Atwood makes clear in the novel, no one except Grace really knew what happened on the day of the murders. The co-accused gave several differing accounts of the event in question, and contemporary newspaper reports were riddled with contradiction and speculation, some of which probably influenced the manner in which the accused themselves framed their accounts. The case, with its potent mixture of sex scandal, class tension and extreme violence became a cause celebre in nineteenth century Canada
Atwood's novel is set mainly in 1859, when Grace, having spent some time in an asylum, is now a thirty something, long serving inmate of a Toronto Penitentiary, so trusted that she is permitted to works as a seamstress and servant in the adjoining home of the governor. Enter (fictional) American Doctor Simon Jordan, a young psychiatrist who is determined to probe the depths of Grace's psyche through a series of detailed interviews, intended to help him decide if she was sane or insane at the time of the killings. The bulk of the novel is taken up by Grace's 'recollections' of past events
Grace is one of Canada's white settlers, a Protestant immigrant from the North of Ireland. Forced from Ireland by poverty and the shiftlessness of their good for nothing father, the Mark's family were transported to Canada on a ship that was like 'a slum in motion' (130) , which 'brought logs eastwards from the Canada's, and emigrants westwards the other way, and both were viewed in much the same light, as cargo to be ferried' (130). In Grace's account of her passage from Ireland we can see an illustration of the colonial process at work, as the natural resources of the colonised nation are ferried out for imperialist profit, whilst the white settlers, traditional agents of colonial rule, are ferried in in order to cement the Mother Country's claim on the land (Loomba, 7)
The Toronto of the 1840s in which Grace and her family arrive is a melting pot of diverse cultures. The city's port seems to Grace like a modern day Babel, filled with Europeans of every nationality. The poor quarters of the city teem with disease, poverty, and exploitation - ironically, the very circumstances which many of the new arrivals had sought to escape from in the first place. Grace manages to find work as a paid servant in a series of domestic positions, which, for a woman of her background and class was probably the most palatable form of employment.
The Upper Canada rebellion of 1837 has created a scarcity of dependable servants, and Grace, under the capable tutelage of her Canadian born friend, Mary Whitney, soon becomes privy to the many tricks of the trade, the most important being that a servant should be able to 'have the work done without it being seen to be done'. There are few secrets a master can keep from his servants, who have the run of the house, and access to the most private of affairs - a servants job is simultaneously both a marginalised and yet privileged position in society.
It is in this tension between master and servant, and the lower and upper classes that the dark seeds of violence are sown, for , despite Mary Whitney's confident claim of class mobility in this new country, that 'on this side of the ocean folks rose in the world by hard work, and not by who their Grandfather was'(182), Canada was still a nation divided by class, driven to replicate the distinctions between classes that emanated from Britain, the imperial centre of power.
As Aritha Van Herk pointed out in her review of the novel, this is very much a story about listening, and about reading between the lines in order to get a truer idea of the real story. Grace's version of events up to and including the murders is 'pragmatic and perceptive, aware of politics and the duplicities of manners, subtle and fascinating in its focus on tangible detail, but exercising also a silent doubleness, and intricate awareness of what she [Grace] should not and cannot say' (Van Herk 111).
The trope of doubleness is echoed in the structure of the text. Each new section is prefaced by extracts from Victorian Literature of the time, from Moodie's recollections of her encounter with Grace to a poem by Christina Rossetti, and, the most ironically of all, the extract from Coventry Patmore's paean to feminine goodness and domesticity, The Angel in the House, which appears directly after Grace's disjointed account of the murders. The ironic contrast between Victorian ideals of womanhood encapsulated in the extracts and the sordid series of events recounted by Grace, a real life Victorian female, creates a purposely subversive contrast between cosy stereotype and brutal actuality.
In her interviews with Jordan, Grace uses her knowledge of popular literature to shape an affecting tale for her one-man audience (LeClair 2) Grace combines the specificity of local colour and the ideality of romance, heart rending tales of poverty with the genteel stereotype of helpless womanhood. Just as Canada the nation must come to terms with the 'trope of doubleness' - the dual history that Hutcheon characterises as the mark of the colony- Grace, the white settler, weaves into her initially believable tale (believable I must add, because the average reader is predisposed to trust Grace's beguiling tale, just like Jordan) a 'possibly fictitious inner narrative that deconstructs the outer, happier, fiction of Alias Grace'(LeClair 2).
Grace is thus using the pervasive ideology of the day to fashion a 'revolt within the power field of the dominant culture', characterised by Hutcheon as a hallmark of both postmodernism and postcoloniality (Hutcheon 134).
In her after word to the novel, Atwood writes that 'the true character of the historical Grace Marks remains an enigma'. The same can ultimately be said of her fictional counterpart, about whom we really know nothing, save for what she has told us herself. Indeed, all but the most perceptive first-time readers will end Alias Grace with the initially disconcerting sense that they have just fallen victim to a literary sleight -of- hand as smoothly executed as Grace's (all too possible) deception of Jordan.
Perhaps the most pervasive evidence for this suspicion arises from the many references to Grace's most common activity, sewing. It therefore seems appropriate to end this paper with the following exchange between Simon Jordan and Grace's ally, the Reverend Verringer, for it not only emphasises the manner in which Atwood's novel is in some ways a 'writing back' to Moodie, but also casts a significant light on Grace's entire narrative, by suggesting that patchwork quilts are not the only things she constructs from virtual scratch .The exchange between Verringer and Simon whilst discussing Susanna Moodie's account of the Mark's case is highly relevant :
'Mrs Moodie is a literary lady, and like all such, and indeed the sex in general, She is inclined to- '

'Embroider', says Simon.

'Precisely', says Reverend Verringer. (p223)
---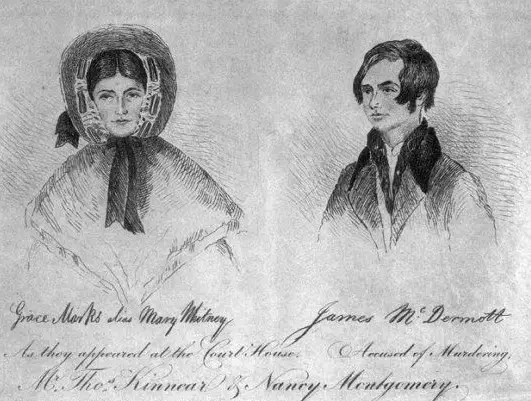 Sketches of Grace Marks and James McDermott from their trial in 1843. Whether or not she was guilty of murder, Grace Marks was haunted by visions while in Kingston Penitentiary, and became one of the first women in Canada to be deemed criminally insane.
Collection of the Toronto Public Library