Murder Trial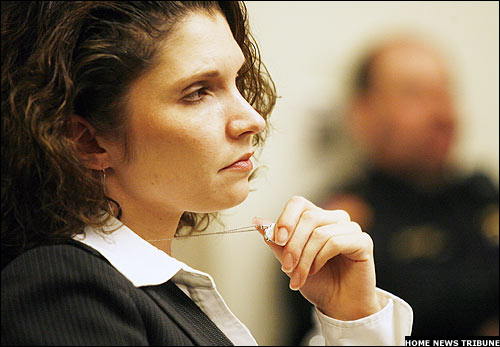 New Jersey fertility clinic nurse Melanie McGuire stands accused of murdering her husband,
William, in 2004. Prosecutors allege that McGuire, 34, shot him to death, sliced his body
into four pieces with a power saw and then dumped his remains in the Chesapeake Bay.
McGuire maintains her innocence, and her defense attorneys have suggested the victim's
slaying was related to gambling debts.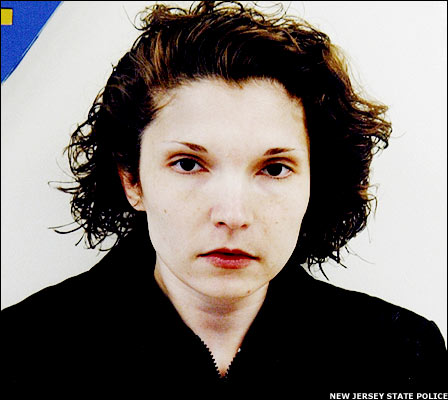 McGuire, shown here at the time of her 2005 arrest on first-degree murder charges,
was well-liked by patients at Reproductive Medical Associates, the Morristown fertility
clinic where she worked. Few, if any, knew that McGuire, a mother of two young sons,
was having an affair with her physician boss, Dr. Bradley Miller.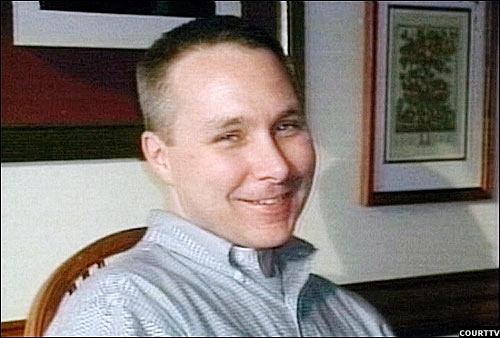 William McGuire was 39 when he died. His business partner described him as a good
father and "the best friend a person could have."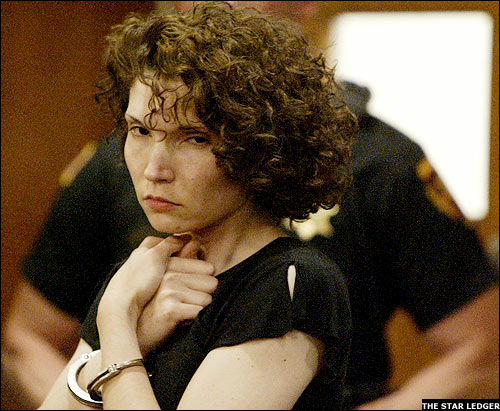 Prosecutors have said they believe McGuire likely had an accomplice, but no one else
has been charged. Her lover, Dr. Bradley Miller, cooperated with authorities in recording
their phone calls and is expected to testify for the prosecution. Investigators also
searched the Ocean County home of her mother and stepfather.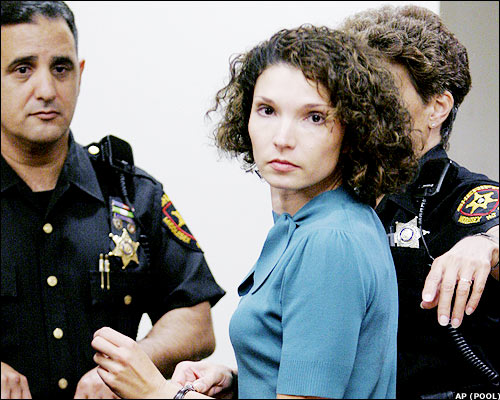 McGuire maintains that her husband left her after a violent argument in their apartment
April 28, 2004. She later sought a restraining order and filed divorce papers. Prosecutors
say she concocted the incident and note that, earlier that day, the couple had closed
on their "dream home" in rural Warren County.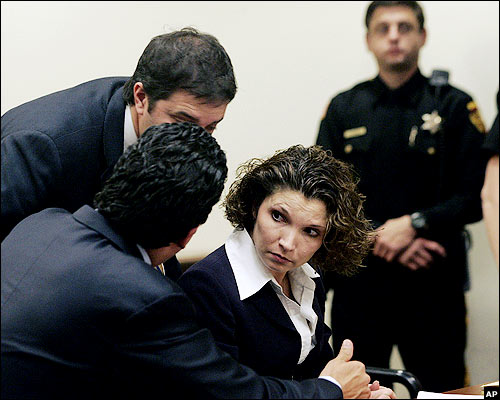 McGuire, shown here with attorneys Joe Tacopina and Stephen Turano, is free on $2.1 million
bail. She faces additional charges of hindering prosecution and tampering with evidence
for allegedly sending letters to the media and law enforcement. One letter purported
to be from a mobster who claimed he was present when someone else killed William
McGuire. Another suggested the victim's sister was behind the killing.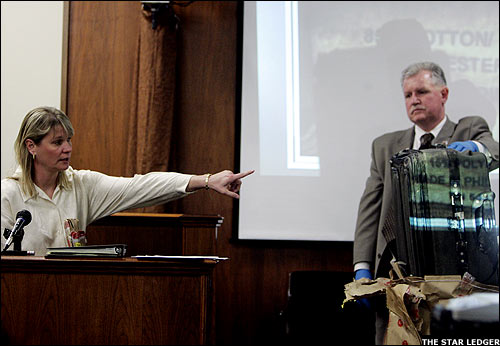 Elizabeth Dunton, a supervisor with the Virginia Beach police department forensics unit,
testifies March 5, 2007, about the recovery of three matching suitcases containing
William McGuire's remains from Chesapeake Bay.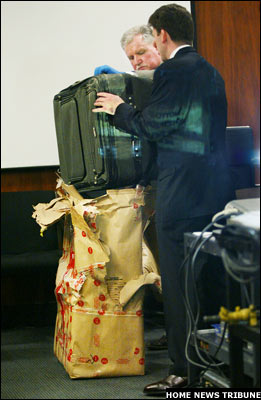 Deputy Attorney General Christopher Romanyshyn (back to camera) lifts one of the Kenneth
Cole Reaction suitcases from an evidence bag on March 5, 2007. The victim's lower legs
were found in the first suitcase. The second contained his head and upper torso,
and the third contained his lower torso.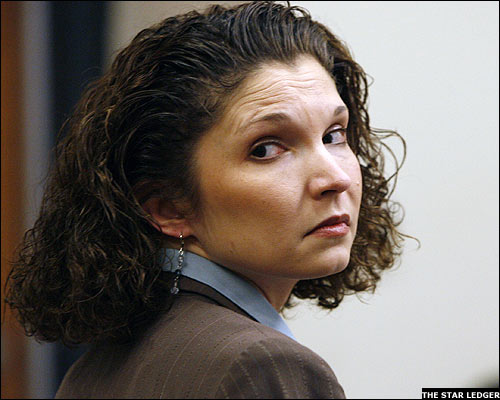 McGuire, shown here at the defense table March 6, 2007, looks up after closing her eyes
as Dunton described the state of her husband's remains.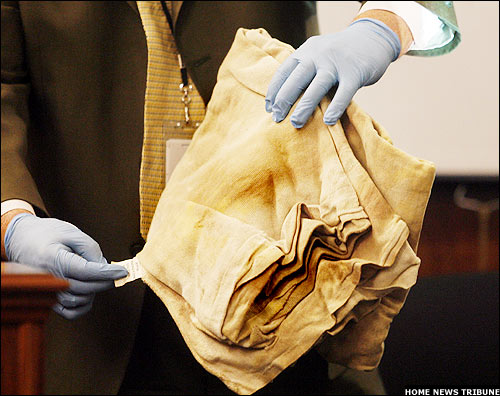 An employee from a Pennsylvania medical supply company testified March 7, 2007,
that the blanket wrapped around the victim's head was the same type of linen
used at McGuire's fertility clinic.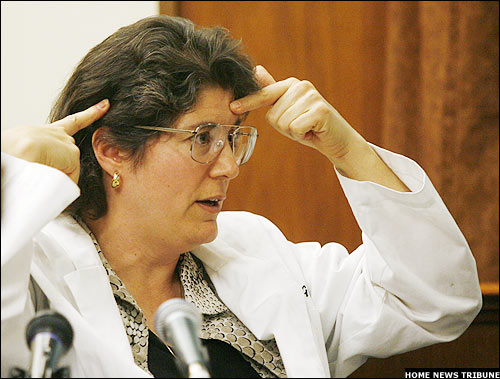 Dr. Wendy Gunther, the Virginia medical examiner who performed autopsies on William
McGuire's remains, demonstrates the path of one of two bullets that caused McGuire's
fatal injuries. The pathologist said the victim suffered at least one and possibly
two additional gunshot wounds.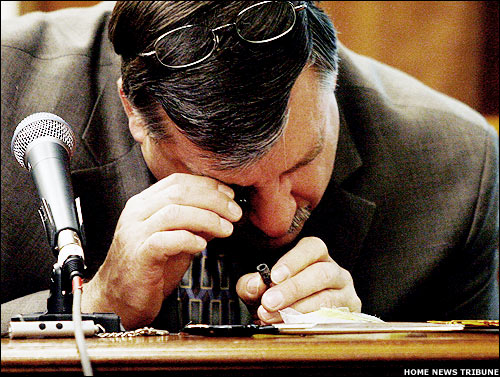 James Ryan, a detective with the state police ballistics unit, inspects one of two bullets
removed from the victim's torso. Ryan said the bullets were consistent with being fired
from the same .38-caliber gun. Melanie McGuire purchased a .38-caliber handgun two
days before her husband went missing. That gun has never been found.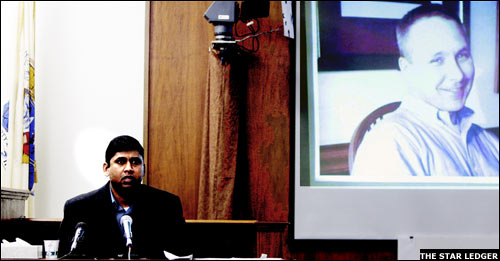 The victim's business partner, Jay Tandava, told jurors that William McGuire was "the best
friend a person could ever have." He acknowledged that McGuire gambled often in Atlantic
City, going sometimes three or four times a week, but said he never knew it to
cause financial problems.