Martha Rendell murdered three of her defacto's children by swabbing their throats with hydrochloric acid. She beat them severely and insisted they call her "Mother". The medicos thought the children had died of diptheria and it was only when an older boy ran away that the truth began to emerge. Rendell was the last woman hanged in Western Australia.
---
Martha Rendell
(c. 1871 – 6 October 1909) was the last woman to be hanged in Western Australia. She was found guilty of the willful murder of her defacto husbands son, Arthur Morris in 1908.
She was also suspected of the killing of his two daughters Annie and Olive. It was alleged that she killed the children by swabbing hydrochloric acid on the back of their throats.
Martha however always protested her innocence, maintaining that she was treating the children for diphtheria. There was considerable public outrage at the time, the press portraying her as a "Scarlet Woman" and "Wicked Stepmother".
There was some debate on the appropriateness of execution for a woman but on 6 October 1909 she was hanged at Fremantle Prison. She is buried at Fremantle cemetery in the same grave as Eric Edgar Cooke.
---
Martha Rendell (10 August 1871 – 6 October 1909) was the only woman to be hanged (legally) in Western Australia. She was convicted of murdering her de facto husband's son, Arthur Morris, in 1908. She was also suspected of killing his two daughters, Annie and Olive, by swabbing their throats with hydrochloric acid. Although the children died slow and agonising deaths, they had been treated by a number of doctors during their illness, only one of whom expressed any doubts about their deaths.
Martha Rendell moved in with Thomas Nicholls Morris after he had separated from his wife, who had moved out and lived elsewhere. Morris had custody of his five children at the time. Rendell, who had known Morris whilst in Adelaide and had followed him west, moved into the house and posed as his wife. The children were told to call her "mother".
Rendell brutally abused Morris' children, once beating Annie so brutally that she could not walk. Arresting officer Inspector Harry Mann said "she delighted in seeing her victims writhe in agony, and from it derived sexual satisfaction".
Crimes
Rendell killed 7-year-old Annie first. Her method was to put something in the child's food that would result in a sore throat. It was alleged that she killed the children by swabbing hydrochloric acid on the backs of their throats, claiming it was medicine. This would inflame the throat until the child could no longer eat, and thus would starve to death. Annie died on 28 July 1907. Dr. Cuthbert issued a certificate stating the cause of death was diphtheria.
After killing Annie, she turned her attention on Olive, aged 5. Olive died on 6 October 1907, and again Cuthbert issued a certificate stating the cause of death was diphtheria.
In the winter of 1908 Rendell tried the same method on Arthur, the third son and youngest child still alive. Arthur, who was 14, took longer to succumb to the treatment, finally dying on 6 October 1908. Cuthbert asked permission for an autopsy. Rendell said she wanted to be present during the investigation. She stood by as the autopsy was performed, and the doctors found nothing to incriminate her.
In April 1909, she turned her attention on the second son, George. It didn't take long for the second son to complain of a sore throat after drinking a cup of tea. Rendell coated his tonsils with the syrup, frightening the boy, who ran to his mother's place some streets away. Neighbours would enquire as to the boy's whereabouts; however, his father Thomas Morris would state that he did not know.
Investigation, trial and execution
Neighbours went to the police, and inspector Harry Mann conducted inquiries. Mann heard repeated references to the children's having their throats painted, and that Rendell's apparent indifference to their pain. One neighbour claimed he often peeked in the windows to see Rendell standing in front of the screaming victim, rocking back and forth as if in ecstasy. Mann located George Morris, who had claimed to have run away because his stepmother had killed his siblings and was trying to poison him with spirits of salts (i.e. hydrochloric acid).
The inquiry was hampered by the period of time that had elapsed since the deaths, and because doctors could not say what effect swabbing with spirits of salts would have. Suspicions were further aroused when it was shown that Rendell had purchased large quantities of spirits of salts during the period of the children's illnesses, but none since the last death. Armed with this information the detectives obtained permission to exhume the bodies and this was done on 3 July 1909. Police exhumed the bodies of the three children; and diluted hydrochloric acid was found on the throat tissue.
Rendell and Thomas Morris were both charged with murder. Rendell protested her innocence, maintaining that she was treating the children for diphtheria. Although Thomas Morris was also charged with the murders, he was acquitted; it was believed that, although he had purchased spirits of salts, he had not been aware of the crimes until after the children's deaths. The jury wanted to find him guilty of being an accessory after the fact, but this was not allowed.
Rendell was sentenced to death.
Rendell's crimes aroused considerable public outrage at the time; the press portrayed her as a "scarlet woman" and "wicked stepmother". She was hanged at Fremantle Prison on 6 October 1909. She is buried at Fremantle Cemetery, in the same grave where serial killer Eric Edgar Cooke was interred more than half a century afterwards. Martha Rendell was the last woman executed in the state of Western Australia.
An illusion appears on one of the prison windows which can only be seen on the outside of the window; when inside the church looking out the glass is smooth and even, with no unusual shape or texture. An urban legend has it that this illusion is the portrait of Rendell, who watches over the prison.
In popular culture
The crimes of Martha Rendell were featured in an episode of the true crime TV series Deadly Women entitled "Pleasures For Pain".
Wikipedia.org
---
Martha Rendell child murders - 1909
By Peter Skehan - PoliceWAHistory.org.au
In 1909, Martha Rendell was tried, convicted, and hanged for one of the most extraordinary and horrific crimes seen by WA Police.
Rendell was the common-law wife of Thomas Morris, and she cold-bloodedly murdered three of his children by swabbing their throats with spirits of salts. Although the children died slow and agonising deaths, they had been treated by a number of Doctors during their illness; only one of whom had expressed any doubts on their deaths.
The crimes only came to light in early April 1909 when a brother, George Morris, was reported missing, and neighbours expressed concern as his two sisters and a brother had died in suspicious circumstances. Detective Sergeant Mann and Constable Lamond took over inquiries and found George at his Mother's home. He claimed to have run away because his step-mother had killed his siblings and was trying to poison him with spirits of salts.
The inquiry was hampered by the period of time that had elapsed since the deaths and because doctors could not say what effect swabbing with spirits of salts would have. Suspicions were further aroused when it was shown that Rendell had purchased large quantities of spirits of salts during the period of the children's illnesses, but none since the last death. Armed with this information the Detectives obtained permission to exhume the bodies and this was done on July 3, 1909.
Autopsies showed that a poison had been administered, and this had caused inflammation and haemorrhage of the bowel. However, it was not until dozens of witnesses had been questioned that a neighbour gave evidence that through a window, she had seen Rendell swabbing Arthur Morris's throat and had heard his agonised screams and cries for help. On a visit to Rendell she had smelt the bottle and experienced strong fumes and burning, but Rendell claimed that a doctor had prescribed the medication.
As there was no scientific evidence of the effect of swabbing with spirits of salts, Mann prevailed upon the Department of Health to experiment on rabbits and guinea pigs. This proved that such swabbing would bring about the effects seen by the autopsies.
No motive could be found apart from Rendell's infatuation with Morris and her anger at the children's disobedience.
Although Thomas Morris was also charged with the murders, he was acquitted as it was believed that, although he had purchased spirits of salts, he had not been aware of the crimes until after the children's deaths. However he had lied to police and to the Coroner, and the Jury wanted to find him guilty of being an accessory after the fact, but this was not allowed.
Rendell was hanged in Fremantle Prison at 0800 hrs on October 6, 1909. At no stage did she show any remorse for her despicable crimes.
---
Revisiting the Trial of Martha Rendell
By Hanna Haebich
There are several valid reasons for revisiting the trial of Martha Rendell in Perth over 100 years ago. There is the fascination of a sensational crime involving multiple child murders by a stepmother whose alleged evil deeds inflamed Perth's citizens and drove the inevitable guilty verdict and hanging that followed. There are the tantalising stories of hidden private lives and intimacies in Perth of a by-gone era exposed by this jolting, disjuncture in the social fabric of the city. Then there are the niggling doubts that have trickled down the century concerning the justice of the trial. Viewed in the context of recent exposes of innocent men wrongly imprisoned for murder by Perth courts these doubts merge into an insistent demand for a thorough review of the facts of the Rendell case.
In 1900 Martha Rendell and the people of Perth were propelled into a new century and an uncertain future. Rendell had just moved to Perth, following her lover Thomas Morris and his family escaping the scandal of their affair back home in Adelaide and seeking a new life in the anonymity of Perth. Rendell had broken early in life from the womanly ideals of her day: leaving home at the age of sixteen, taking lovers and bearing three illegitimate children before striking up a passionate relationship with Morris in the mid-1890s and abandoning her children and family to join him in Perth.[1] For her there was no going back. Working in a well-to-do Perth residence as a domestic servant and with the right to vote (granted to women in Western Australia in 1899) she may have seemed independent but with her emotions and future security dependent on a married man with a wife and nine children she could easily slide into the abyss of aging single women condemned to charity, the poor house or worse. Such was the cruel fate hanging over women who broke society's strict moral contract.
There was no going back for the people of Perth either. Their newly modern city built on the riches of wealth and people brought by the gold rushes was no longer a distant backwater but a proud capital city in the new federation of Australia. Its citizens were swept up in international social movements of the times, albeit in more conservative iterations, that divided and brought them together in allegiances that would coalesce around the Rendell trial and execution. There was the old elite drawn from Perth's founding settler families: loyal to Britain and Empire, conservative, parochial and patriarchal the leaders were denizens of the all-male Weld Club who were determined to keep their hands on the tiller of money and government and to uphold the order and stability of domestic life and the honour of their wives and daughters. Making up the legal contingent of the Rendell coronial inquiry and trial, they endorsed capital punishment and their representatives were in government when Rendell was sentenced to death.
The thorn in the side of this comfortable class was the contingent of Labor socialists who had arrived from the eastern colonies during the gold rushes. Radical reformers with an agenda to transform the state's antiquated labour laws they posed a real threat to the status quo, winning government briefly in 1904 when Henry Daglish became Australia's first elected Labor Premier and openly attacking their opponents' treatment of Aboriginal people in the national press and in Britain. They were a brotherhood of men who espoused equality for women, mainly in the breach, and who opposed capital punishment as being barbarous and out of date. From their ranks Frederick Vosper set up the Sunday Times as a newspaper for the people and, although its editorials became increasingly conservative after his death in 1901, the paper provided a voice of opposition in the lead up to Rendell's hanging.
Then were was the loose grouping of medical doctors and men of science, most of them new to Perth, influenced by the Progressivist movements in the United States and Britain whose members were applying scientific knowledge and skills to forge the modern, efficient and healthy nations of the future. Alarmed by evidence of population decline, poor health, racial degeneration and moral deviance and contagion that they attributed to the rapid social change and urbanisation of the fin de siecle period and inspired by the promises of modernity in the new century, Progressivists adopted an interventionist stance through government programs of urban planning, public health, housing, education and care of children in the home. In Perth a leading exponent was Doctor John Cumpston, appointed from Melbourne in 1907 as a medical officer with the Central Board of Health in Western Australia. In this role he addressed 'schoolchildren's health, pulmonary disease among miners, historico-epidemiological studies of tuberculosis and diphtheria, quarantine, diet, housing, eugenics'.[2] He was directly involved in the Rendell case as a visiting doctor in the home and participated in a partial autopsy of one of the children. He also presented a lecture to his colleagues canvassing medical opinion on the children's condition and was a key prosecution witness at the trial.
Local women's organisations, influenced by the first wave of international feminism, were campaigning for citizenship rights for women and their better treatment under the law and protection in the home, yet rather than challenging the accepted gender order of the day they upheld ideals of female domesticity, respectability, morality and advocated women's special capacities for family life and care of children. In Perth members of the United States based Woman's Christian Temperance Union of Western Australia (WCTU) advocated prohibition of alcohol, women's suffrage and 'home protection' for women and children. In Perth in 1910 visiting WCTU leader Jessie Ackerman spoke out passionately against capital punishment. Arguing that it was not a deterrent she recounted how she had spoken with condemned men in the United States and how all but had one killed in an unpremeditated frenzy of madness. She concluded that they were 'victims of environment and influences of birth. Society had no right to take the life of another... it was morally wrong' and demanded 'not punishment but reform'.[3] By contrast, Perth women's organisations convinced of Rendell's guilt and shocked by the alleged breaches of her womanly role of nurturing and caring for children remained resolutely silent over the controversial issue of hanging a woman.
Uniting these disparate networks of Perth citizens was a fervent allegiance to the family as the powerhouse of the new Australian nation, with mothers forging its future citizenry and Christian marriage as the binding glue, all guided by values of respectability and hard work. There was also growing public endorsement of greater government intervention in family life to achieve these benefits. Any serious challenges to the cherished ideals of marriage and women's familial role provoked defensive debates and reiterations of the status quo. This was evident in the outraged public condemnation of Rendell, which provided a potent instructive example for Perth women of the consequences of deviant female behaviour. In hindsight it almost seems that she was conjured up by authorities determined to enforce women's adherence to society's norms. Already in 1903 there was a warning shot across the bows when three French women of ill repute were sentenced to death with three men for their part in a fight that led to a murder shooting in the Perth hills. Public condemnation of immorality and suspicious newcomers was on full alert: a letter to the editor in the West Australian newspaper demanded 'hang them all they are all foreigners' but the jury recommended mercy for all but the man who pulled the trigger and the women were eventually set free, one to mourn the hanging of her lover.[4]
In April 1906 after nearly ten years of waiting Rendell finally achieved her long-awaited dream when the Morris marriage broke down irrevocably and the couple separated. Morris was granted custody of his five youngest children and the lovers set up home in a rundown cottage in East Perth. Divorce was out of the question, being expensive, scandalous and controversial. At a public meeting Perth in 1901 speakers opposing a proposed federal divorce bill staunchly reasserted Christian marriage as the foundation of the state and of the welfare of its citizens and their happiness and prosperity. They claimed that making divorce easier would 'open the floodgates' to adultery and orphaned children and that the 'state must protect the family, punish severely all transgressions, and assist the injured'.[5]
The only realistic alternative to divorce was de facto living but in secret since the arrangement was universally condemned as immoral. Private family memories suggest that this practice behind closed doors was not so unusual at the time since the upheavals and separations of the gold rushes had undermined many marriages. In Perth de facto couples were able to play out the semblance of respectability safe from prying friends and family back home and cloaked in the anonymity of city life. Rendell's new home of East Perth was an ideal place being peopled with transients and battlers who took little interest in their neighbours' doings. Outwardly Morris and Rendell were a respectable husband and wife and she the children's mother, a charade that demanded the absence of the children's mother and indeed three years passed before the surviving children were reunited with her in 1909. Rendell's devotion to living this lie bespoke her belated acknowledgement of the respect and acceptability brought by marriage, however, once exposed, her deceit and immorality proved ruinous for her, being taken as incontrovertible proof of her sexual depravity and capacity for duplicity to the point of murder. Reflecting gendered judgements of the time Morris was far less harshly judged for his part in the arrangement.
Rendell's rosy dreams of life with Morris must certainly have soured. Living in a rundown cottage with the drudgery of poverty and the daily grind of housework, Morris away working leaving her in sole charge of five resentful children, the girls too little for chores and the big boys with outside jobs and going to school, Rendell spent long lonely days without family or friends for comfort and support and only the snooping 'next doors' who might find out her secrets. Who could she turn to for help? Certainly not to the prying charity of the Children's Protection Society formed in 1906 by well-intentioned middle-class women to help families in crisis and to protect children from cruelty, often by interviewing parents, inspecting their homes and then removing young ones to the care of foster mothers. They succeeded in exposing parental abuse and arousing public sympathy but were also prying into very sensitive areas of family life. For Rendell a call for help to these women would have meant certain exposure.
Many women new to Perth were struggling to re-establish their families, often in the face of financial problems and difficult marriages. In contrast to the other states Western Australia was experiencing a baby boom yet mothers were exhorted to bear even more children to build up the nation. It also had the highest levels of infant mortality but Doctor James Hope, Principal Medical Officer at Perth Hospital, encouraged anxious mothers to be optimistic since 'as many deaths occur in the first year of life as in the next 30'.[6] Pope was also involved in the Rendell case having been called in to inspect conditions at the East Perth cottage for possible environmental contaminants affecting the children's health and he was a prosecution witness at the trial. Mothers also faced growing interference in their maternal role in the home as Progressivist doctors insisted that they be trained in scientific standards of child rearing, hygiene and efficiency. For the sake of their children's health Perth newspapers admonished mothers to embrace the 'propriety of governmental interference on their behalf' like their counterparts in Britain, although the same alarming levels of poor child health and physical deformities found there had not been identified in Western Australia. State schools also had an important new role to play and in 1905 the Science Congress in Adelaide passed a resolution that all state Education and Public Health Departments should introduce compulsory school medical inspections and hygiene instruction in line with developments in Great Britain and the United States.[7] New theories of child development demanded greater discipline and control of children, with the home and school working in tandem. How could overworked mothers be expected to achieve these rigid standards? The official answer lay in the nature of instinctual maternal love that sacrificed all for this noblest of callings; by contrast women like Rendell who abandoned their children for their own lustful ends were contemptible aberrations of nature.
As a secretive stepmother Rendell was in an unenviable position. In a society that idealised motherhood the drive to become the loving mother she had displaced and to recreate a loving family and home must have been irresistible. This goal was also unattainable and heart breaking. Harsh prejudices about stepmothers had survived for centuries regardless of their vital role in caring for motherless children after family breakdown through death of the wife or separation. The inherent tension in their role was played out in popular culture in the figure of the wicked stepmother who was aging, ugly, vain and haughty and murderous of little children left in her care and in sayings like 'providence is a cruel stepmother' and frequent press reports of violence and murder in stepfamilies. In 1903 Perth newspapers reported the sensational case in Queensland of Florence MacDonald who was found guilty along with her husband of the wilful murder of her young stepdaughter. Evidence showed that they had worked, beaten and starved the poor girl to death, yet despite a public outcry their death sentences were commuted to life, apparently through the graces of the husband's contacts in high places.[8] In the Rendell trial stereotypes of stepmothers provoked extremes of public hatred against the woman and provided a convenient excuse for doctors who blamed her deceit in claiming to be the children's mother for their failure to suspect foul play.
In the little East Perth cottage relative calm reigned for twelve months but then in April 1907 the four youngest children Olive, Annie, George and Arthur aged between five and fourteen were struck down with diphtheria during a city epidemic. The demands on Rendell of nursing four children were exacerbated by the terrible rasping sounds as her patients struggled to breathe but the life threatening danger was the poison that could spread fatal toxicity from the diphtheria throat membrane throughout the body. The family doctor James Cuthbert who gave damning evidence against Rendell at her trial visited regularly and commended Rendell for her devotion in nursing the children to recovery at the expense of her own health. Sickness seemed to have taken a hold on the family and soon nine-year-old Annie was back in bed with convulsions, vomiting and diarrhoea for which the doctor administered the diphtheria anti-toxin and prescribed tinctures of laudanum to ease her pain. She died in a delirium in July, the cause of death given by Cuthbert as epilepsy and cardiac weakness. Then in August just when life seemed to be returning to normal Olive, George and Arthur were diagnosed with typhoid. This time Olive did not recover and suffering from vomiting, diarrhoea and an undiagnosed membranous condition of the throat she died in October according to her death certificate from haemorrhage and typhoid. Once again the local Methodist church members joined in mourning the family's loss. What was happening in this household? Hadn't mothers been promised an end to the anguish of childhood deaths?
These tragic events were played out against the backdrop of shocking disclosures of infant deaths in the Mitchell baby farming case that galvanised Perth in early 1907 and shone a glaring spotlight on issues of surrogate child care and immorality.[9] Baby farming provided a service for working single mothers and deserted wives forced to leave babies and small children in care while they earned money to survive. Stories were rife of neglectful conditions, cruelty and abuse in these premises. Reports alleged that 37 children had died at the Perth home run by Mrs Alice Mitchell, despite the requirement for inspections by the Board of Health and the fact of regular visits by local doctors who regularly signed death certificates but raised no concerns with the Board. Presiding Justice Macmillan exonerated of any blame a doctor who recklessly signed numerous death certificates, a portent for the judge's favourable treatment of medical witnesses at the Rendell trial. Charged with the wilful murder of one infant, Mrs Mitchell was saved from the noose by contradictory evidence, most of it circumstantial, and the court's inability to rule that she had deliberately caused the infant's wasting condition. The jury returned a verdict of wilful neglect causing death of an infant and Mrs Mitchell was sentenced to five years hard labour in the Women's Division of Fremantle Prison and she was still there when Rendell arrived in 1909 to wait out her final days.
Mention of illegitimate children in the Mitchell case inevitably drew attention to issues of immorality in Perth. Women bore the brunt of the blame. Condemnation and surveillance of reproductive controls through contraception and abortion escalated. Even women's reading choices were attacked. In 1907 the West Australian newspaper alleged that popular romantic novels were corrupting women's morals: once represented as 'most fragrant influences in life' women were now represented as 'the very opposite'.[10] Calls by women's organisations like the WCTU for men to curb their lusts and act more responsibly did have some influence. In 1907 a Christian men's meeting at His Majesty's Theatre exhorted all men to sexual purity to serve the nation's great destiny; its gravest peril was immorality. It was beholden on men to 'keep the nation pure with their prayers, work and common sense' and by censuring 'filthy literature', dominating public opinion by voting virtuous men into government and keeping themselves pure through male friendship and company in men's religious groups. The church was 'calling her sons to stand by and fight the battle now'. [11]
What were women to do? With few alternatives some were pushed to the brink to commit infanticide or even suicide. Perth newspapers refer to several infanticide cases in the early 1900s, although the hysteria that the Rendell case provoked was absent from their reports. Jean Mappin was sentenced in 1904 to nine months imprisonment, with hard labour, for having concealed the birth of her daughter's baby and the judge considered imposing the maximum sentence of two years because she was not a distraught suffering young mother but a woman who 'knew very well what she was doing, and acted with deliberation'.[12] Courts were often harsh in their treatment of older women in such cases. In Victoria in 1885 Emma Williams was sentenced to death after she drowned her two-year-old child and in sentencing her the judge referred explicitly to her maturity and immoral life: 'the accused is a woman of mature years; it was not the case of a girl who had taken her first steps on the wrong path and was anxious to lead a better life'.[13] Rather than considering the difficult circumstances that could assail older women the courts judged and condemned them because they should have known better. Similar judgements would be made against Rendell. Such judicial pronouncements individualised women's precarious situation and the unhappy victims were submitted to severe punishment, even death, for failures that stemmed from prevailing social ideologies and politicians' lack of nerve to implement necessary structural change.
Events in Perth forged several important advances in furthering the vast and special work of the proper management of the nation's children. The State Children's Act of 1907 provided for the care of those who were neglected, underprivileged, criminals or orphans, set up a Children's Court and initiated new placement services such as fostering and greater controls over state institutions. In 1909 the state's first Children's Hospital was opened for the relief of poor and suffering children and there was soon a heavy demand on its services. In the schools medical inspections and hygiene instruction were introduced and doctors lobbied the government for compulsory vaccinations and treatment regimes for children as well.
Meanwhile further tragedy was brewing for the Morris children. In June 1908 Arthur was suffering from the same symptoms of vomiting, diarrhoea and the mysterious throat membrane as Olive and he died in October just twelve months after her. On this occasion suspicious doctors conducted a partial autopsy under Rendell's watchful eye seeking evidence of irritant poisons but Rendell stopped the procedure. She later claimed that she did so because she thought they had seen enough. Her actions went badly for her in the trial being interpreted as a deliberate act to prevent discovery of Arthur's murder, but at the time, the doctors agreed to take no further action and listed ulceration of the bowels, haemorrhage and cardiac failure as the cause of death. They made no report concerning the unusual situation where three grown children had died within the space of fifteen months.
Seven months of quiet followed but in May 1909 Rendell's life began to slide horribly out of control. The trigger was the reunion of the two surviving boys with their mother. The younger son George ran away to live with her and Morris, not knowing the boy's whereabouts, called in the police. From George the police heard the horrific allegation that his stepmother had murdered his brother Arthur and that Arthur had told him she was painting his throat with spirits of salt (hydrochloric acid). George complained that she had also served him bitter cups of tea that sent him fleeing to his mother's home in fear of his life. He claimed that his father was her accomplice and informed the police of the couple's immoral relationship and web of lies. With her secrets exposed to the world Rendell retreated into a shocked silence that she broke only once at the Coronial Inquiry and in statements from her prison cell proclaiming her innocence. Meanwhile a shocked public grappled with the news of murders that must have seemed unimaginable outside of a wicked stepmother fairytale, yet everyone eagerly believed that the boy's claims were true.
How can we explain the public's rush to condemn this woman? In hindsight George's story seems highly implausible, the feverish imagining of a vengeful mother and stepson newly reunited. The horrific caustic action of hydrochloric acid was not the sort of stealthy killer chosen by poisoners nor did it fit with the gradual wasting noted by the children's doctor. And how could the woman have forced a youth of fifteen to submit to such cruelty? If Rendell had used diluted solutions of the acid (and it came to light after the trial that this was a home remedy used as a mild antiseptic and sometimes applied to the throat to treat diphtheria) then how had this uneducated woman calibrated the children's dosages to create symptoms to fool Perth's most respected doctors?
The strength of feeling bordering on mass hysteria that lay at the heart of public frenzy about this woman was exhibited in the shrill crowds of Perth women demanding her hanging and worse. Some women even invaded the Morris cottage when it was opened up to auction the contents and souvenired every household item, even the auctioneer's hat so that only ten pounds were raised for the couple's legal defence. Public reaction to child murder is always extreme provoking universal abhorrence and condemnation. Women child murderers are the most hated of all and here were alleged multiple killings. Forensic psychologist Geoffrey McKee[14] explains that such killings provoke the irrational, being a shocking attack on the most fundamental of human relationships and arousing memories and fears from childhood or even guilty feelings of frustrated parenting as adults. Murderesses also have a particular allure and cache; they compel and repel in ways that male felons rarely do. This is due to their statistical rarity and their exceptional behaviour in transgressing ideals of feminine conduct to the point of murder. This woman transgressed by bringing murder into the very heart of the home, a feminine space associated with nurturing and comfort and that contrasted with the usual scenarios reported in the Perth press of violent male murders in the outback like the brutal killing by Harry Smith and his two accomplices at their miners' camp at Day Dawn near Cue in 1908. Her behaviour breached all of the cherished ideals of family, wifely conduct and motherhood that Perth society demanded of its women. What was held up as the ideal of home, husband, children, respectability and security she not only destroyed for herself but also mocked in her deceitful charade of respectability to hide her immoral behaviour. There was also public conjecture about the likely reasons she failed to bear any children to Morris. Rendell was a bad woman who was beyond the pale.
Vital issues of trust in the home were also involved. Noel Sanders[15] in discussing the outbreak of thallium poisonings in Sydney homes in the mid-twentieth century highlights the significance of women and fundamental understandings of trust that underpin the domestic division of labour and activities of everyday life. Women prepare and serve food and nurse the sick, all duties that could be easily transformed into acts of malice through poisonous attempts on a life. Mothers give trusting children medicines that taste nasty and even hurt and tell them the concoctions are doing them good and the doctors back them up. How could a child know the difference?
Clair Scrine[16] argues in her study of the Sydney thallium poisonings that it is the 'instability' in women's deference to domestic ideals and the potential to invert assigned roles and deceive that account for 'feminine coding' of crimes of poisoning and the long history of associated misogynist myths and beliefs. Rendell fitted all the stereotypes of a woman poisoner and criminal. The tell-tale appearance and behaviours, Rendell being plain, middle aged and stony faced was the very embodiment of the deceitful, cold-blooded woman who poisoned her loved ones, poisoning being considered the most fiendish method of murder imaginable. Popular stereotypes of murdering stepmothers further amplified the potent mix. Even the silence that Rendell maintained for the duration of her ordeal, normally deemed to be the legal right of the accused, served to confirm her guilt, fitting as it did with popular ideas of wicked women as witches and deceitful poisoners.
An imagined crime profiler of the day could have readily pulled out all the popular 'scientific' explanations about women criminals to confirm Rendells' guilt. Nineteenth century criminologist Cesare Lombroso[17] had painstakingly photographed and classified the facial and physical characteristics of female 'criminal types' who were driven by primitive impulses normally subdued by the innate 'piety, maternity, want of passion, sexual coldness, weakness and undeveloped intelligence' of their sex. Described as 'masculine, unsexed, ugly and abnormal' by Lombroso's contemporary Antonio Marro,[18] these women were capable of criminal behaviour of extraordinary wickedness but he noted that mercifully their distasteful appearance and natures meant they would 'find no mates, thus bear no children and their wickedness would die with them'.
Clair Scrine[19] demonstrates how in the case of sensational murder trials involving women the courts and media can create from misogynist stereotypes, gossip and the stated facts of the case a logically consistent system of meaning that glosses over inconsistencies and details of what actually happened. In the Rendell case police and press representations that masked political and other forces at work and powerful prejudices of the times helped to send a woman to the gallows on the flimsiest of evidence. Perth's several newspapers covered the events with great interest, but none so ardently as the Truth where Rendell and her paramour were regular headline stories. Mud-raking and sensationalist, the Sydney owned tabloid claimed a special role in exposing the murders and proudly proclaimed to have been the first to realise the significance of the terrible facts of the case and to reveal them to the world. The Truth's sensational headlines and photographs created a space where readers could inscribe their own fictions and fearful imaginings of what might have happened in that East Perth cottage. In the competitive Perth market this sold newspapers.
Scant surviving records of the police investigations bring to mind examples from popular culture of those policemen exposed by Arthur Conan Doyle's fictional character Sherlock Holmes who jump to conclusions, become fixated on particular individuals as prime suspects, and latch onto one theory and fail to eliminate all others. Recently Perth criminologist Richard Harding provided a similar list of factors that he argued contributed to more recent miscarriages of justice in Western Australia.[20] There was also was the misogyny and prejudice of the justice system in Australia that Jocelynne Scutt[21] traces from witch trials to Jean Lee executed in Melbourne in 1951 and the Lindy Chamberlain case in the 1980s. Several alternative theories could have provided plausible explanations of the children's deaths: that Rendell was innocent and the children had died from the causes listed on their official death certificates; that they had suffered a fatal illness unknown to medical science of the day; that the doctors had been criminally negligent; that Rendell was insane, tipped over the edge by her difficult situation, and perhaps an early undiagnosed case of the Munchausen by Proxy symdrome; or that she had treated the children with her own regimes of home remedies believing she was doing them good. Had this indeed been the case then Rendell could have expected a far more merciful sentence. In Tasmania in 1847 a quack doctor who applied sulphuric acid to a patient to cure a particular cancerous condition (an accepted treatment at the time) who subsequently died was convicted of manslaughter and jailed for eighteen months for rashly administering a medicine that caused death.[22]
It is true that this was a difficult and unusual investigation with no crime scene, fresh bodies or eye witnesses, only a fourteen-year-old boy reporting words his deceased brother had allegedly spoken and neighbourhood gossip reported retrospectively, no incriminating physical evidence collected from the cottage and no incontrovertible forensic evidence either. This was despite the exhumation of the children's bodies and the most extensive forensic analyses and laboratory experiments in a criminal trial in Western Australia to that date. Forensic science may have been in its infancy in Perth but still the expert evidence presented at the Rendell trial in no way matched the rigorous standards of proof demanded by British toxicology experts notably Professor Alfred Swaine Taylor who pioneered the field during the nineteenth century. Yet armed with nothing more concrete than a young boy's testimony and medical and scientific conjecture about what happened to the children, the police forged ahead. They were vindicated in their gamble when in August 1909 the coronial inquiry into the children's deaths found there was sufficient evidence to charge Rendell and Morris with the wilful murder of Arthur Morris.
The trial began in mid-September 1909 and rolled like a juggernaut to its inevitable conclusion, setting out a prosecution murder theory that was alarmingly reminiscent of a wicked stepmother fairytale and so bound to capture the fevered public imagination. The standing of doctors in Perth, evidenced by their preferential treatment in the Mitchell case, placed them above suspicion and they faced only a few accusatory questions from the defence despite their failure to diagnose and treat the boy's condition and to report their suspicions and the results of the partial autopsy. Their flimsy expert evidence couched in the aura of science mesmerised the court rather than raising alarms. The fact was that their forensic analyses did not produce any evidence of poisoning with hydrochloric acid, nor did they know of its use in any other murder cases. To explain their inability to replicate the children's symptoms in experiments where they swabbed the throats of rabbits and guinea pigs with the acid, they resorted to preposterous explanations of Rendell's superhuman criminal capacities to deceive.
The single day devoted to the couple's defence with no witnesses to speak on their behalf was shameful given the criminal charge of wilful murder, which carried a mandatory death sentence. Morris was saved from the noose by the court's incredulity that his sons would lie about their own father knowing the consequences and the court's gendered assumptions that Rendell was the dominating perpetrator of the murders. His frequent absences working away from home also pointed the finger at her as the sole culprit. Rendell bore the full brunt of public prejudices and stereotypes. Justice Macmillan pronounced her a 'moral deformity' to the all male jury before a hostile largely female audience and then followed the inevitable outcomes – a verdict of not guilty and freedom for Morris and a verdict of guilty and the death sentence for Rendell. The jury made no recommendation for mercy as in 1903 for the three condemned French women nor was a plea of insanity raised by the defence as in the case of Harry Smith in 1908. Rendell's only hope was to raise new facts sufficient to commute her sentence or arouse public sentiment against the hanging. Even should she achieve these impossible outcomes the final decision still rested with the Executive Council whether to advise the Governor to extend the prerogative of mercy. Her case seemed hopeless. Given the passionate public support for Rendell's execution and the government's support for capital punishment there was little hope of a positive outcome.
It had been 38 years since the last woman was hanged in Western Australia and understandably there was some heated debate on the issue of capital punishment in the lead up to her hanging, although few people challenged the verdict of guilty. The public was split along the social divisions outlined at the beginning of this paper: the conservative elite and their representatives in government who endorsed capital punishment; Labor members who opposed hanging, especially of a woman; the Progressivist doctors asserting her guilt and punishment while they protected their own reputations; and the silence of the women's organisations that contrasted markedly with the strong protests in Victoria and New South Wales in the 1890s to save two women from the noose on the grounds that hanging of a women by a body of men was a barbarous act.[23]
A small but vigorous group of men took up the fight to save Rendell. Made up of Labor politicians, Rendell's lawyers, press reporters and her spiritual adviser Reverend Thomas Allan who was unique in loudly protesting her innocence, they presented petitions and led deputations to the Premier and the Governor but to no avail. The Executive Council refused to reverse the court's decision. On the eve of the execution the Labor member for Kanowna Thomas Walker gave a rousing speech in Parliament in which he proclaimed that 'execution goes with savagery not civilisation. If this woman is guilty then let her suffer life.'[24] Walker had weathered his own scandals. As a youth in Canada he caused the death of a man who was seriously burned during a séance and he hurriedly left the country to avoid being taken to trial and in Sydney in 1892 he accidentally shot a clergyman in a drunken row.[25]
Rendell was hanged with unseemly haste on the 6th of October 1909, just twenty days after the guilty verdict was handed down and only seven weeks from when the coronial inquiry had that deemed she should stand trial. She was the third woman to be hanged in Western Australia, the only one to be executed for child murder and the only woman ever to be hanged in Fremantle Prison. Rendell has continued to be condemned in history and public memory down the years. In the process she has been reinvented to reflect images of bad women in popular culture as a glamorous femme fatale, serial killer, sexual pervert and, most recently, iconic murderess at the Fremantle Prison heritage precinct. Today researchers are constructing a further image of this sorry woman as the wrongly condemned victim of prejudices and public hysteria in Perth of bygone days. Hopefully, this more enlightened interpretation of the trial will gather public momentum for Martha Rendell to be granted a retrospective pardon for a crime for which she should never have been found guilty, let alone hanged.
*****
[1] All references in this paper relating to Martha Rendell and Thomas Morris and their lives together, the deaths of the children and the details of the murder investigation, the trial and the execution come from the following sources: Supreme Court file WAA 44 WAS 122 3473 4154/1909 (WA State Records Office); Supreme Court Criminal Sittings 7/9/1909 Case 75/09, Depositions, and Trial Notes 9/9/1909 (Office of the Director of Public Prosecutions); editions of the Truth, West Australian and Sunday Times andDaily News, covering the dates of the coronial inquiry (10-16/8/1909), trial (8-15/9/1909) lead up to the execution (16/9-5/10/1909) and aftermath (6-9/10/1909)(State Library of WA).
[2] Michael Roe, 'Cumpston, John Howard Lidgett (1880 - 1954)', Australian Dictionary of Biography, Volume 8, Melbourne University Press, 1981, p. 174.
[3] West Australian, 19/9/1910, p. 3.
[4] West Australian, 18/4/1903, p. 2.
[5] West Australian, 4/11/1901, p. 3.
[6] Annette Davis, 'Infant Mortality and Child-saving: the Campaign of Women's Organizations in Western Australia, 1900-1922', Charlie Fox (ed.), Childhood and Society in Western Australia, Studies in WA History , Vol.25, p. 164.
[7] West Australian, 18/11/1905, pp. 6-7.
[8] The Boggo Road Gaol Historical Society, '(In)famous Inmates', Boggo Road Prison History.
[9] West Australian, 16/4/1907, p.4; Penelope Hetherington, 'Baby farming in Western Australia" the Case Against Alice Mitchell, 1907'. Charlie Fox (ed.), Social Policy in Western Australia, Studies in WA History, Vol.25, 2007, pp. 75-97.
[10] West Australian, 5/11/1908, p. 10.
[11] West Australian
[12] West Australian, 3/8/1904, p. 3.
[13] Kathy Laster and Kerry Alexander, 'Chivalry or Death Women on the Gallows in Victoria 1856-1975', Criminology Australia, Vol. 4, No. 2, 1992, p. 9.
[14] Geoffrey McKee, Why Mothers Kill A Forensic Psychologist's Casebook, Oxford University Press, New York, 2006.
[15] Noel Sanders, Thallium Enthusiasm and other Australian Otrrages, Local Consumption Publications, Newtown, 1995, pp.8, 12, 54.
[16] Clair Scrine, ''More deadly than the Male' The Sexual Politics of Female Poisoning: Trials of the Thallium Women', Limina, Vol. 8, 2002, p. 127-128.
[17] Cesare Lombroso cited in Cynthea Eagle Russet, Sexual Science The Victorian Construction of Womanhood, Harvard University Press, Cambridge, Massachusetts, 1989, p. 73.
[18] Antonio Marro cited in Cynthea Eagle Russet, Sexual Science, p. 7.
[19] Scrine, ''More deadly than the Male', pp. 127-143.
[20] Richard Harding, 'Prime Suspect The Limits of Justice in Western Australia', Australian Book Review, July-August, No. 323, 2010, p. 19.
[21] Jocelynne A. Scutt, 'Schemers, Dragons, and Witches: Criminal "Justice" and the Fair Sex' in Barbara Garlick, Suzanne Dixon and Pauline Allen, (eds.), Stereotypes of Women in Power — Historical Perspectives and Revisionist Views, Greenwood Press, Mass., USA, 1992, p. 181–208.
[22] Richard Davis, 'John Gibbons: from Tipperary Pig Stealer to Van Diemen's Land Quack Doctor: the rewards and Punishments of 19th Century Medical Entrepreneurs', electronic Journal of ANZ History, 26/8/2001.
[23]Laster and Alexander, 'Chivalry or Death', p.7; Australians 1838 Vol. 3, Australians, a Historical Library, Fairfax, Syme & Weldon, Broadway, N.S.W., 1987, pp. 376-377.
[24]Western Australia, Parliamentary Debates, 5/10/1909.
[25] F. B. Smith, 'Walker, Thomas (1858 - 1932)', Australian Dictionary of Biography, Vol. 6, Melbourne University Press, 1976, pp 342-344
---
The Evil Stepmother - Martha Rendell
By Vic Dillinger
Criminals are not born that way. There is no genetic component to criminality. Sadistic serial killer Ted Bundy (b: 1946 in a home for unwed mothers; executed: 1989), for example, was raised by grandparents (not criminals). His biological mother later married and took care of him; her new husband, John Bundy, formally adopted the boy. Neither of his parents were criminals.
Environment alone does not always lead to criminality, either. It may, in certain people, create a laissez-faire attitude but it will not make a criminal of someone not already predisposed, for whatever reasons, to be criminal. The Menendez Brothers (parricides) were born into privilege. Their environment (regardless of their defense pleas in court) was not classically "bad" or harmful. They enjoyed wealth and comfort. Likewise, America's earliest youthful killer, Jesse Pomeroy, came from a solid background. His parents were married and in a stable relationship, and both were gainfully employed (Pomeroy's mother ran a dressmaker's shop where Pomeroy would later lure and kill a young girl, burying her in the ash heap of the basement). These two minor examples show how environment had no hand in creating the criminal.
A criminal's behavior can be informed by his early environment, however. Cult leader Charles Manson and serial killer Henry Lee Lucas are two stellar examples of environmental factors shaping the young psyche. Manson (who actually never killed anyone personally) and Lucas were both born of prostitutes. Manson's mother was a hapless train wreck; Lucas' mother was an outright monster (and is a perfect example of how environment can create a killer). In any event these two were raised in a milieu where criminality was accepted, acceptable, and even condoned.
Finally, one has the criminal "victim". Prisons are full of innocent people – just ask any inmate. He or she will generally claim innocence, or a frame-up, or accident, or bad legal representation. Almost any excuse is acceptable but the truth: he or she may actually be guilty of a crime. There are others who, of course, blame their lack of education or their upbringing, or blame the current state of human morals and norms for their problems. The statement, "I'm a victim of society," has been heard more than once from a defendant. However, what happens if one truly is a victim of society? For Martha Rendell, Australia's turn-of-the-20th Century Evil Stepmother, it meant execution by hanging.
The Merry Old Land of Oz
Australia was born of a strange dichotomy in its group think. The settlers of Botany Bay were not "settlers" in the traditional sense but transported British criminals. Australia's founding as another country's dust bin is perhaps not the most glorious of beginnings, but it is the truth. The law-and-order element of the British Crown enforced Australian rule, while its growing populace carried the memory of a criminal culture with them.
Australia has a richly colorful history of extraordinary characters. Their myth-making is a fascinating reminder of the culture's embrace of both the eccentric and the truly criminal on a romantic level. One of Australia's more notorious outlaws was a bushranger named Ned Kelly who thwarted police capture and repeated shootings by devising a rough suit of armor from scrap material. Illustrations of him in this makeshift gear are amusing – he looks like a cross between the Black Knight (of Monty Python and the Holy Grail) and a man wearing a Franklin stove. Merriment aside, this man was a killer and a thug (finally captured and executed in late 1880, aged 25). The press and public, however, loved him, and he was an "outlaw" imbued with all the romance and intrigue of a Strine version of Robin Hood.
Not all criminals in Australia rose to Ned Kelly's level of public adoration. One woman was so loathsome (in her homeliness, rough-hewn ways, and lifestyle) that she was accused, convicted, and executed for killing three of her "stepchildren".
The Wicked Witch of the West
Adelaide, Southern Australia, incorporated in 1840, was a rustic backwater not yet fifty years old when Martha Rendell was born on August 10, 1871. Australian conventions followed the Crown's behavior, and the remoteness of the land meant it was not only slow to adapt to newer conventions it was also slow to shed old ones. Victorian priggishness was in full swing.
Martha was not the typical Aussie woman of her day, and she was far from the ideal espoused by Aussie convention. She left home when she was sixteen. Her early promiscuity led to the birth in quick succession of three illegitimate children. She struggled along as a social outsider, and then became involved with a married man in the mid 1890s.
Thomas Nicholls Morris(Martha's love interest) and his wife lived with their nine children. In 1900 Morris and his family decamped for Perth where Thomas had work waiting for him. Thomas and his wife were also motivated to leave Adelaide simply because, in the small gossipy town, Martha's affair with Thomas was not tolerated and was considered scandalous.
Martha, against all common sense and social expectations, abandoned her three children in Adelaide, and followed the Morris family to Perth [Although it is not known what mode of travel was used, to give an idea of just how great an undertaking this was, Perth is almost 1400 miles west by coastal shipping lanes from Adelaide. It was not a trip one would make recklessly in 1900, either overland or by ship].
Perth (the capital of the state of Western Australia) lay about nine miles north-northeast of the busy Indian Ocean port of Fremantle. The site where the city stands was first visited by the Dutch in 1696; however, no settlement was established until the British set up shop in 1829. The town was incorporated in 1865 and included the port of Fremantle in its metropolitan area.
A gold rush brought wealth and opportunity for many and by the time of Martha's and Thomas Morris' arrival it was a city on the cusp of urbanizing and becoming acculturated to the finer things. International social movements took hold, although with a slightly more conservative bent. The city was likewise divided along class lines just like Britain. There was the old guard, fiercely loyal to the British Crown and British Victorian sensibilities. Then there were the hoi polloi, just trying to get along as best they could. It was from the moneyed and powerful class that Perth's legal contingent was made, and they vigorously supported capital punishment.
Perth gave both Thomas and Martha a fresh start. Neither was known there; the anonymity relieved the stress of their continuing affair. Martha found a job straightway as a domestic in a well-heeled household. Martha, because of a wildly effective Women's Suffrage movement, had the right to vote in Perth (the right was granted in 1899, 21 years before the United States would allow women the right to vote). The suffrage movement, however, came with a few caveats: although suffragettes lobbied for better treatment under the law and protection in the home, they upheld the popular ideals of female domesticity, respectability, and morality. Despite the opportunities available to her, however, she was still attached to Thomas Morris, and her future actually was heavily dependent upon his whims. If something went awry in her affair with him she could not go back to Adelaide as she was a pariah there.
Social pressure about populating the country for its betterment was so great that women were encouraged to have as many children as possible. Social Darwinism was at work behind the scenes, too. A loose group of doctors and scientists, most of them new to Perth, were alarmed by evidence of population decline, poor health, "racial degeneration", and moral "deviance and contagion". This was attributed to the rapid social changes inspired by the social movements embraced by the community (suffrage, labor, etc.). Perth's citizens believed the family was the social powerhouse of the new Australian nation. Motherhood was held up as a shining beacon of virtue, as was Christian marriage. Another critical element of this Progressive program was to insure the health of children through government intervention. A medical officer in 1907 reported critical issues involved "schoolchildren's health, pulmonary disease among miners, historico-epidemiological studies of tuberculosis and diphtheria, quarantine, diet, housing, eugenics".
The last social issue affecting Thomas and Martha was the divorce debate. However much "in love" Thomas Morris and Martha Rendell were they could never marry, not in Perth society in that era. Divorce was out of the question. It was expensive, scandalous, and controversial. In a public forum in 1901 speakers opposed a federal divorce bill, reasserting that "Christian marriage" was the "foundation of the state and of the welfare of its citizens and their happiness and prosperity". Opponents alleged making divorce easier would "open the floodgates" to adultery and orphaned children, and it was the state's duty to "protect the family, punish severely all transgressions, and assist the injured".
Public opinion had spoken. Thomas Morris and Martha Rendell maintained their surreptitious relationship for a few more years. In April 1906 (after almost ten years of sneaking around with Martha), Thomas Morris abandoned his wife. He could not divorce her, but he did leave her. He also took his five youngest children with him [it is curious to note the children did not stay with their mother. This begs the question of just what kind of woman the Mrs. Morris was if, in 1906, it was deemed more fitting for the children to live with a single father].
Martha and Thomas set up housekeeping with the children in a run-down shack in East Perth. Martha had to pretend to be Thomas' wife or else face social ostracizing – many couples who wanted to cohabit were forced to live in this fashion. Their new residence was ideal to keep up the sham marriage image – the area was filled with transients who took little interest in their neighbors. To support the charade, the children's real mother was kept away from the home (and none of the children would see her for three years after Martha and Thomas took up living together).
Martha's life with Thomas Morris was not the idyll she probably imagined. They lived in poverty. Her days were spent in housework. Thomas was away much of the time working, and he left her as the sole warden of his five very resentful children. The girls were too little to help with the household chore, and the older boys had school and outside jobs to keep them occupied. Martha spent her days mostly alone. She had no friends or family and she was not close to her neighbors.
The most common version of what happened to Morris' children after Martha moved in is well-known to the Perth community. Martha Rendell holds a place in Perth lore equal to Belle Gunness (America's lonely hearts killer and murderer of her own children during the early 1900s).
The basic story is simple. Between July 1907 and October 1908 it is alleged that Martha Rendell systematically killed the three youngest children of Thomas Morris, and made an attempt on the life of the next to oldest (George). In a very contrived and subtle killing method Martha Rendell allegedly coated the backs of the children's throats with a solution of hydrochloric acid (which was called "spirits of salts" then) after somehow making the child victim sick first (so "treatment" could be administered without suspicion). The inflammation from the swabbing closed the child's throat, while also mimicking the symptoms of diphtheria, and the child died of starvation, a long, drawn out process.
The first child to succumb was Annie, aged 7. Using the method of coating the throat with hydrochloric acid Martha killed the girl. She died on July 28, 1907. Dr. James Cuthbert, the Morris family physician issued a death certificate, listing the cause of death as diphtheria.
Olive, age 5, died next. She exhibited similar symptoms as Annie before her death on October 6, 1907. Dr. Cuthbert issued a certificate, also giving the cause of death in the case as diphtheria.
The 14-year-old Arthur was targeted. He was the middle child and the youngest one still living in the cottage. After malingering he died on October 6, 1908. Given that this was the third child to die in the household under similar circumstances, Dr. Cuthbert asked Martha if he could do an autopsy on Arthur. She gave her permission, and was also present during the procedure. Nothing incriminating was found at the time of the autopsy.
In April 1909 the second oldest boy, George (age 15), complained of a sore throat "after drinking a cup of tea" Martha had made for him. According to the boy's allegations, Martha coated his tonsils with "her medicine". George decided he "didn't want to go the same way" as his two younger sisters and his younger brother had, so he ran away from home to his biological mother a few streets away.
That day when Thomas came home from work he noted George's absence. When questioned by a neighbor as to George's whereabouts Thomas replied he did not know. Suspicious, considering three children had already died over the last two years and now one was missing, neighbors went to the police.
Inquiries started by an inspector named Harry Mann. He was given lurid details from the people in the area about the children having their "throats painted" and their mother's (Martha's) apparent indifference to their pain and screaming. Those who knew her a bit claimed she had a vicious nature and was not liked. It was alleged she mistreated the two young girls, once beating the girl Annie so badly that she could not walk.
One resident claimed he often peered in the windows of the Morris home. At those times, this neighbor claimed he saw Martha standing before whatever child was screaming, "rocking back and forth as if in ecstasy". Inspector Mann found the runaway boy George Morris at his biological mother's home. At the time of his return, George made the serious allegation that Martha had killed his brother and two sisters, and she was trying to poison him, too.
Rendell and Thomas Morris were both charged with murder, Thomas as an accomplice. Martha protested her innocence, saying she had been treating the children for diphtheria and they simply died of the disease. The arresting officer, Harry Mann, said Martha "delighted in seeing her victims writhe in agony, and from it derived sexual satisfaction". The press gleefully repeated it.
The Wicked Witch Is Dead
The coroner's inquiry was confounded by the time lag since the deaths and the discovery of a possible criminal act. Doctors could not say what effect swabbing with hydrochloric acid would actually have on a child's throat. The inquest panel found suspicion in Martha's purchases of large quantities of spirits of salts during the time of the children's illnesses (coupled with her buying none since the latest child, Arthur, died). A court order was obtained to exhume the children's bodies, and this was done in July 3, 1909 (almost two years after Annie died, 21 months after Olive died, and eight months after Arthur died). Diluted hydrochloric acid was claimed to have been found on the throat tissue of each child.
The public's outrage was fantastic over these allegations, not so much about the children's deaths but about Martha's amorality. The press painted her as a "scarlet woman" and called her a "wicked stepmother". At trial, Thomas Morris, the father, was acquitted, and Martha was handily found guilty by an all-male jury. She was convicted only of killing Arthur as not enough evidence could be produced to convict her of killing Annie and Olive. She was sentenced to death, and was hanged on October 6, 1909 (coincidentally the first anniversary of the boy Arthur's death). She was the last woman executed in the state of Western Australia. Martha Rendell is buried in the famous Fremantle Cemetery (in the same grave where, for unknown reasons, serial killer Eric Edgar Cooke was buried more than fifty years later).
"If I Only Had A Brain"
Martha Rendell was an unattractive, aging, home-wrecking trollop who abandoned her own three children to follow a man across country. She was all of these things, contemptible to Perth society of the early 1900s, but she was not a killer.
The criminal case against Martha shreds easily. This is a clear instance of societal prejudices putting a woman to death simply because she was not liked, and she did not live by the "right" rules.
Martha Rendell was irascible. She did not get on well with others. When her sham marriage to Thomas Morris was uncovered, upon her criminal arrest the public outrage was very real and very vocal. Martha did not live by the rules of the day. She had "stolen" another woman's husband (never mind that her relationship with Thomas lasted from 1896 until her arrest in 1909 and that Thomas had abandoned his wife).
Martha knew she would be in trouble if anyone found out the illicit nature of her living with Thomas. Hence, she used the name "Mrs. Morris" and required the children to call her "mother". This only makes sense. Additionally, the claim she had beaten the girl Annie to the point where she could not walk may be true. However, Martha would not have been the first or last person in that era to abuse a child in the name of "discipline". That does not excuse the behavior, but much was made of it – had the police bothered to dig into that neighborhood's other denizens they would have found child abuse and neglect elsewhere as well.
The state of affairs for children in Perth was not good, particularly the children of the impoverished. Women could find jobs, and they were welcomed in the workforce, but with child care expectations generally thrust upon them they could only hope to work. "Baby farming" came into vogue to help the working poor woman. Baby farms provided a service for working single mothers and deserted wives (with no divorce option, there were many) who were forced to leave babies and small children in care while they earned a living (forerunners of day care).
Unfortunately for Martha, a case was still ripe in the public mind when she came to trial. In early 1907 there were reports that 37 children had died at a Perth baby farm run by a woman named Alice Mitchell. These farms were routinely inspected and surprise visits were not uncommon by authorities, either. Mitchell's business had been receiving favorable inspection reports, but doctors who regularly signed death certificates did not think anything untoward was happening at her farm. The doctors in this negligence case were absolved of responsibility by the court (a precedent that would adversely affect Martha later). Alice Mitchell was ultimately charged with only one count of murder. She did not hang, however; confusion at her trial combined with contradictory circumstantial evidence led to her only receiving a five-year sentence at hard labor [Alice Mitchell was in the Women's Division of Fremantle Prison when Martha Rendell arrived in 1909 to await execution].
Martha alleged the children had diphtheria and she was only treating them for that illness. This bears the clear ring of truth. Diphtheria and typhoid were major problems, and killers of many, in the world at that time. In the US, people actually moved away from New Orleans, Washington, DC, and other larger cities for the summer months (if they could afford it) to wait out the "fever season" in cleaner climates.
In the cramped poverty rows, like where the Morris family lived, disease was not uncommon and it certainly flourished. These are people who used home remedies and could not afford to avail themselves of consistent physician's care. The government would send health inspectors around if a complaint about unsanitary conditions in a particular home was lodged (as part of the Progressive child-care agenda) and Martha Rendell was paid one of those visits unannounced. She passed her inspection. So, the children were not being neglected.
For the first year of living together Martha and the five children had to acclimate to each other. Their own mother was purposely not in the picture. Thomas reported his children did not care for Martha, and she was probably not the most pleasant candidate for a stepmother – she was lonely, aging, and bitter, without a true sense of stability that marriage could bring (in a society that valued it highly). Furthermore, she lived in constant fear of being discovered in her sham circumstances and facing the same public humiliations she endured in Adelaide.
In April 1907 all four of the youngest children caught diphtheria. This was actually part of a city-wide epidemic that raged through Perth at the time. The health care workers and doctors of the day were stressed immensely with health care demands they had neither the resources nor the staff to address. Many people had to fend for themselves of necessity.
Diphtheria is a horrible disease, highly transmissible, and it kills by spreading bacterial toxins through the blood. Martha would have had to nurse four feverish, whining, sick children at once. Their breathing was harsh and raspy – any breaking of the swollen tissues in their diphtheria infected throats meant fatal toxicity to the body. Dr. James Cuthbert (who gave damning evidence against Martha at her trial) was the Morris family physician, and during this critical period he visited the Morris home on many occasions (he actually later commended Martha on her devotion to her nursing of the children, risking her own health in the process).
This presents the first and largest hole in the prosecution's case against Martha. The alleged method of death, the subtle poisoning to constrict the throat causing breathing difficulties and an inability to eat, is absurd on its face. In the first place, just what strength solution of hydrochloric acid was needed to carry out this artful murder? Too much and the victim would die instantly. Too little and nothing would happen except a throat irritation. Martha was no chemist – this uneducated woman would have had to experiment tirelessly on some living thing before getting the mixture right. The "hit-or-miss" uncertainty of such a method leaves it outside the realm of not only probability but of possibility as well. Although there are many cases of murder with poisons (heavy metals such as arsenic, antimony, thallium, etc.) and some cases of people killed with acids (sulfuric, specifically) none had ever been recorded meeting the finesse requirements of Martha's alleged method. It is a contrived modus operandi and a bad one.
Rather, if Martha wanted these children dead, she had the perfect opportunity to be shed of four out of the five living under her roof, all at one time. All she had to do was nothing. Martha could have simply stood by and watched them die of the diphtheria. Diphtheria does cause the tissues of the throat to swell, obstructing breathing. If Martha wanted to put up a pretense of doing something prophylactic she could have mixed up a batch of sugar-water, swabbed their throats, and told them it would help. They'd die anyway.
Instead, she nursed them. The swabbing with hydrochloric acid was not unusual or unique. It was a commonly prescribed home remedy of the day, used as an anti-septic and as a treatment for diphtheria's swollen throat problems. Martha's or Thomas' purchase of any measure of the substance (as the whole city was under siege) makes perfect sense, as does the fact she made no more purchases after Arthur died. The coroner's inquiry made much of this but it was academic. Why would she keep buying something she no longer needed? If she was poisoning the children, and they died, then she was done and no longer needed the solution. If she was using it as an anti-septic, and the children died, she would likewise no longer need to buy more spirits. [Uses of volatile acids in medicine in the past are not that unusual. Germane to Martha's case was a criminal complaint levied against a Tasmanian doctor in 1847. He applied sulfuric acid to a patient to cure a cancer (an accepted treatment) who later died. The doctor, however, was convicted of manslaughter and jailed for eighteen months. Martha was not given the benefit of a negligence doubt].
The Morris children had a terrible time with the diphtheria. Annie relapsed quickly enough and was back in bed with convulsions, vomiting, and diarrhea. Dr. Cuthbert came and saw her. He administered an anti-toxin and left Martha instructions to give small doses of laudanum (a liquid preparation containing alcohol and opium) to ease Annie's pain. When Annie died in July 1907 Cuthbert wrote out her cause of death as "epilepsy and cardiac weakness". These conditions (not the generic "diphtheria" cause of death) are symptomatic of diphtheria. One is the high fever which can cause convulsions ("epilepsy"), and the other is the bacterial toxins that, when released into the body, damage the heart and lead to heart failure ("cardiac weakness"). Cuthbert's cause of death listings are medically sound and based on good observations. This is not murder.
In August 1907 the other three younger children (all having recovered from, but weakened by, their bout with diphtheria) came down with typhoid. This time Olive did not recover. Her vomiting, diarrhea, and an undiagnosed membranous condition in her throat were present in October 1907 when she died, and her cause of death is recorded on her death certificate as "hemorrhage and typhoid" [also not diphtheria as popularly believed].
In June 1908 Arthur developed the same typhoid symptoms Olive displayed before she died (vomiting, diarrhea and the throat infection) and he died in October 6, 1908. It was on this occasion the doctor thought something might be just a bit too coincidental in the children's deaths, and the autopsy was requested on Arthur.
As noted, Martha gave permission and attended the operation. However, at a particular point in the autopsy she called a halt to the procedure. This would not stand up well in court later. The prosecution felt she stopped the autopsy so her murderous poisoning wouldn't be uncovered (the team had not gotten to the throat yet). According to Martha, she stopped the autopsy because she thought the team had done enough carving to get what they needed. Results based on the partial autopsy, however, showed an ulceration of the bowels, hemorrhage, and cardiac failure as the cause of death (all conditions caused by typhoid and a weakened heart from Arthur's earlier diphtheria). The autopsy team made no special notes about the fact that three grown children had died within the space of fifteen months in the same household; apparently, it wasn't considered relevant.
The testimony that doctors found "traces" of hydrochloric acid in the dead children's throats is patently false. It has to be a fabrication that went unchallenged by the defense. Hydrochloric acid is a water soluble solution. The concentrations Martha would have been swabbing the children's throats with would have been very mild. It is not known from available records if the children were embalmed before burial (unlikely that the Morris clan could have afforded the cost at the time). Even if embalmed, there would be no trace of the acid itself. If the tissues had not decomposed to the point of uselessness (and after two years' decomposition Annie's certainly were) no doctor or scientist could detect the presence of hydrochloric acid in the throats of any of those children in 1909. At best they might be able to see evidence of slight acid-burn scarring, and that would be expected if Martha was using the spirits of salts on their throats as she claimed she was. So the exhumation of the bodies produced nothing but more sensationalism.
The doctors who were called to testify were found blameless in the matter. The defense called into question their own clear negligence in treating the children, but in the wake of the Alice Mitchell "baby farm" murder trial doctors were seemingly untouchable as negligent contributors to anything. They were above consideration as parties to the Morris children's deaths. Martha's defense tried, however, and did ask a few relevant and probative questions on cross about the diagnoses of the children when they had diphtheria and typhoid. He also called into the question the lack of concern, enough to report to higher authorities, anyway, when the boy Arthur died and was autopsied. Certainly, someone was suspicious enough for that, yet no further action was taken.
On the subject of medical ability and forensics in this case both leave a lot to be desired. At the inquest much was made of the inability to determine just how, exactly, a person's throat constricted with repeated applications of hydrochloric acid would seem. To help resolve this issue at trial a series of tests were done on guinea pigs and rabbits. They suffered horribly, and their throats were indeed scarred. But that only proves someone is capable of using an acid solution on a lab animal. Rabbits are not humans. Nor did anyone have any idea what concentration of the solution was allegedly used on the children.
Forensic analyses produced no evidence of poisoning with hydrochloric acid. Nor did any forensics witnesses know of any other cases where hydrochloric acid was used as a murder weapon. When the defense raised questions about the swabbing of the rabbits and guinea pigs with acid not producing real, practical results, there was basically a stammering of sorts: the conclusion was Martha was so conniving as a criminal mastermind that her technique could not be properly duplicated.
Martha's defense was allowed one day in court to put on its case. As Thomas was charged alongside her it is odd that no witnesses for character could be produced for either. Thomas Morris was saved from the noose by the court's paradoxical belief that his son could lie about his own father, knowing the consequences [It was his son George who accused him of being Martha's accomplice and got him arrested in the first place.] This meant they did not believe the boy's testimony. Thus, it could be said by extrapolation that what he said should also have been disbelieved when it came to Martha's "involvement" as well.
Unfortunately, women were both weaker and stronger in this jury's mind. Thomas Morris was acquitted because they couldn't believe his son and because they felt Martha was dominant in their relationship. He couldn't have done it; he was too weak-willed. Thomas' frequent working away from home had an advantage of presenting him with a quick alibi, however; the jury just didn't think he had enough time to orchestrate the elaborations needed to kill the children as the prosecution described.
That left only Martha in the hot seat. She took much abuse publicly, and in front of her all-male jury and a gallery filled with hostile females the presiding justice called Martha a "moral deformity" (in today's courts this would call for an immediate mistrial and sanctions). The jury found Thomas Morris not guilty, and he was free. Martha, as expected, was quickly found guilty of the willful murder of Arthur Morris (which carried an automatic death sentence). The jury made no recommendation for mercy. Nor had her attorney raised the question of insanity as a possible defense. Martha's only hope for survival was for new facts to be raised for a new trial. Failing that, she could only pray for a commutation of her death sentence.
Thirty-eight years had passed since the last woman was hanged in Western Australia. There was much public debate about Martha's fate. Hardly anyone thought she was innocent of the crime, but many felt hanging was too extreme for the circumstances. Public opinion in some cases tried to give her the benefit of the doubt: maybe she had killed the children accidentally, etc.
The death sentence debate over Martha split neatly along class lines in Perth. The upper class conservatives who ran the government (and whose lifestyle the likes of Martha Rendell flouted with her "easy living" in sin) continued to support capital punishment. Others opposed hanging, especially of women. The medical profession whose reputation was called into question and whose negligence was neatly quashed in court (in both this case and in the "baby farm" murder in 1907) stood on the side of capital punishment for Martha. Women's groups were quiet on the subject in Western Australia (although they had protested strongly in Victoria and New South Wales in the 1890s to save two women from hanging, claiming that hanging of women by a body of men was "a barbarous act").
"There's No Place Like Home"
Popular belief is that Martha tried to poison George with a cup of tea in 1909 and she was immediately arrested. This is not true. In May 1909 the two older boys, George and the unnamed son, were reunited with their real mother (several months before Martha was accused of murder). George (having not seen his real mother in three years) in the wake of this reunion ran away to live with her. Thomas Morris did not know where the boy was, and he raised the alarm thinking something happened to him. It was he who called in the police.
Once George (it is unclear just how long he was "missing") was found he gave police an earful about horrible Martha. He said she had murdered his brother Arthur. He also said Arthur had told him she was painting his throat with spirits of salt [She was. This is an indisputable fact. It was part of the boy's treatment protocol]. George whined she had served him cups of bitter tea that caused him to run away for fear of his life. He also implicated his own father as Martha's murder accomplice. Finally, George spilled the beans about Martha's and Thomas' "immoral" relationship. Martha responded, unfortunately, with stupefying silence on all issues. She only spoke of anything about her life with Thomas publicly at the later coroner's inquest and from prison (proclaiming her innocence).
Pre-trial publicity bordered on hysteria. The crimes of which Martha Rendell was accused were horrific. Incensed crowds of Perth women, their moral outrage unconstrained at this hussy in their midst, demanded her hanging (and worse). The Morris home was opened up to auction off what little Thomas and Martha had to help pay for a defense. Groups of people looted the place for souvenirs and left the accused with only enough material goods to earn £10 of auction proceeds.
There was Martha in the middle of this circus, accused of multiple killings. Women child murderers are the most hated, yet female killers in general have a certain allure. They fascinate at the same time they are found repugnant. And they make for great press. The inspector Harry Mann's alleged statement about Martha's deriving sexual satisfaction from watching her stepchildren suffer (one that, if he made it, he was in absolutely no position to make, since he could have no way of knowing what gave Martha Rendell "sexual satisfaction") is probably a paraphrase of what the Peeping Tom neighbor said (and voyeurism was just as frowned upon then as now; why that neighbor was not called out for his own ill-mannered behavior is beyond reckoning. He mentioned he looked in the Morris' windows "often"). Regardless, the press relished Mann's sordid little detail.
Male felons hardly ever arouse the sort of lurid obsession in the populace that women do. Because Martha was a "false wife" the outrage was even greater. There were also discussions publicly about why she, in the roughly 14 years of being with Thomas Morris, did not have any children by him. They were both obviously fertile (she had three children of her own, and Morris proved himself capable of spawning at least nine times). The insinuations, of course were: 1) they were practicing birth control (very bad morally), or 2) Martha had aborted (even worse).
A harbinger case would have echoes in Martha's trial outcome. In 1903 Florence MacDonald (of Queensland) was found guilty (along with her husband) of the murder of her young stepdaughter. The couple had worked, beaten, and starved the girl to death. There was public sentiment heavily in favor of execution for the pair. Their sentences, however, were commuted to life (the husband had well-placed friends). The Perth news reported on this case heavily as it was sensational.
Martha, in the public's mind, was not sympathetic. She was plain, middling in years, stone-faced. She epitomized the popular stereotype of a murdering stepmother like Florence MacDonald. Martha had the misfortune of being a stepmother and not a "real" mother to the Morris children (and, technically, she wasn't even their "stepmother" as she and Thomas were not married). In popular culture there was the figure of the wicked stepmother, aging, ugly, vain and haughty, and murderous of little children left in her care. The Aussies also had a saying, "Providence is a cruel stepmother." Stepmothers were bad. The press reported frequently upon murders in step-families. Being the evil stepmother, combined with her stubborn silence (which she resolutely maintained for most of her time under scrutiny, though it was her legal right as a defendant in Australia) only confirmed her guilt to the jury.
Martha was punished for being "immoral". As a prime example of Perth's condemnation of "immorality", in 1903 three French prostitutes, in the company of three johns, were sentenced to death for their part in a fight that led to a murderous shooting in Perth. The townspeople of Perth were also suspicious of new arrivals. A letter to the editor in the West Australian newspaper, opining on what should happen to the prostitutes, suggested "hang them all, they are all foreigners". The jury in this case recommended mercy for these prostitutes and they were eventually freed. Martha got no such consideration, and she was not even a prostitute. [Only the shooter in the 1903 case was convicted].
The wheels of justice and retribution spun quickly in Western Australia. Martha was hanged only twenty days after her verdict was handed down (this was also only a mere seven weeks after the coroner's inquiry, in August 1909, determined she should go to trial; her trial started in mid-September 1909). She holds the dubious distinctions of being the third woman hanged in Western Australia, the only one executed for child murder, and the only woman ever hanged in Fremantle Prison.
Sadly, as echoed in our own times, the jury then could not tell bad "science" from the real thing and were actually enthralled by the parade of "science" that was presented to them. It is easy to overlook them since it was, after all, 1909; the science of criminal forensics was in its infancy. However, the British Crown had already established very good guidelines for use of such evidence in cases like this one, and the lab work and medical work in this case came nowhere near that standard.
In the end, Martha was executed for being Martha. Her case was based on conjecture, supposition, and the word of a disgruntled 15 year-old-boy who wanted his mommy. The real one.
Miscellany
Not many photographs of Martha Rendell exist. In fact, the most popular image of her is a newspaper rendering (much more flattering than reality) of her intake photo. Another black and white photograph of what purports to be Martha Rendell in 1909 was located, however, but despite its inclusion on an "authoritative" Web-site it is almost certain this picture is not of Martha Rendell. It is probably some other woman of the era who was similarly in Fremantle Prison around the same time (maybe even Alice Mitchell, it isn't certain). Casual inspection of the questionable picture against the one known as Martha yields much contradictory information immediately: the questionable woman has a cleft chin, dark eyes, dark hair, and her right ear is bat-like. Martha's hair is lighter as are her eyes, she is more robust than this other woman, and she has no cleft in her chin. Furthermore, the center line of Martha's nose in profile is hooked; the unknown's is straight and upturned at the tip. The chins are different. Unless Martha underwent a rather quick physiological change (hair, eyes, cleft chin, major weight loss, ear cosmetic surgery to make it look worse) this isn't Martha Rendell. But, as always, the decision about what is true and is not needs be borne by the viewer.
A final "viewer participation" activity concerns the reported "sightings" of an image in one of the Fremantle Prison windows resembling Martha Rendell. The legend tells the image watches over the prison. The saccharine sentiment behind this is absurd – Martha would no more care about watching over that prison than any other prisoner would. She'd probably just as soon see it burned to the ground. The "illusion" (a very vague one, requiring much in the way of stretching the imagination) can actually only be seen from the outside of the glass – looking through it from within produces no image. This phenomenon (morphing the amorphous into recognizable shapes in the mind's eye) is called "pareidolia", and in over a dozen photos examined of this alleged phenomenon for this article none are any better or clearer than the one shown here, and this, frankly, leaves a lot to the imagination about "The Face in the Window".
*****
Author's Note: A "thank you" is extended to fellow InfoBarrel writer, JudyE. Without her two excellent (entertaining and informative) articles on the Fremantle Cemetery in Western Australia, I would never have known of Martha Rendell. Both are well worth the read (they profile some other notorious Strine criminals, Aussie oddballs, and genuine celebrities):
The Famous and Infamous of Fremantle Cemetery - Part 1
The Famous and Infamous of Fremantle Cemetery - Part 2
---
SEX: F RACE: W TYPE: S MOTIVE: Sad.
MO: Killed three stepchildren by feeding them hydrochloric acid.
---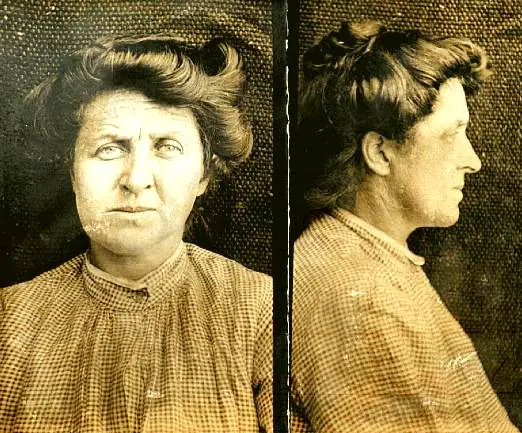 Martha Rendell