Laura Rogers was trapped in an unhappy marriage. Her husband, Walter, was controlling and abusive and had used his contracting work to move the family often and isolate them from friends and relatives.
Then, in April of 2004, Walter was killed by a single shotgun blast. Laura claimed it was suicide, but police saw through her story.
When her pregnant 16-year-old daughter tried to take the rap for Walter's murder, Laura confessed. She had killed Walter and she had a reason. Laura's daughter had told her a shocking story. Walter had been raping the 16-year-old and was the father of her baby. Even worse, there was a video tape to prove it.
After watching the graphic images of her husband raping her own daughter, Laura was devastated. That night, she walked into the bedroom and shot Walter as he slept.
Under a deal with the state's attorney, Laura pled guilty, facing up to 10 years in prison. The judge sentenced her to the maximum, and then reduced the sentence to time served, saying Laura had rid the world of a horrible human being. Laura Rogers was free to return home to her children and move on with her life.
---
'He Was Never Going to Harm My Daughter Again'
Md. Woman Freed in Husband's Killing Describes Life of Abuse
By Eric Rich - The Washington Post
November 12, 2004
Laura Rogers remembers reaching under the bed where her husband slept, groping for the shotgun. She had been awake all night.
She remembers carrying the 20-gauge into the living room, where she had been ignoring the television for hours. She snapped it open, slipped a shell into its chamber. Back in the bedroom, she saw her 43-year-old husband, Walter Rogers, asleep on his right side.
The sun was not yet up.
Laura Rogers does not remember holding the shotgun less than a foot from her husband's face, aiming it toward his left eye. She does not remember pulling the trigger.
"I remember hearing the gun go off, and running, and saying, 'What the hell have I done?' " she recalled in an interview this week.
Six months after she killed her husband, Laura Rogers, 36, was released Tuesday from the Anne Arundel County Detention Center.
She had been charged with first-degree murder, an offense punishable by life in prison, but she had pleaded guilty to manslaughter. Circuit Court Judge Paul A. Hackner sentenced her to 10 years in prison, the maximum term for that offense, but suspended all but the 198 days she already had spent in jail since her arrest. Hackner said he was convinced by a diagnosis that she suffered from battered spouse syndrome. And he called her husband, the victim, "a horrible human being."
The state did not oppose the outcome. This was a murder case that prosecutors never wanted to put in front of a jury.
It's an old story: a self-described battered wife killing the man she says tormented her. Laura Rogers was by no means the first woman to end years of alleged abuse by squeezing a trigger in the night. But seldom does the justice system agree that the husband probably had it coming. Seldom does the system effectively excuse a homicide and send the wife home.
This was no ordinary case, though.
For one thing, there was the psychological well-being of a 17-year-old girl to think about.
And there was the videotape.
The horrible videotape.
A Death in the Family
Laura Rogers described the slaying and the circumstances surrounding it in an interview Wednesday, the day after she got out of jail. As she spoke, she sat at a long conference table in the office of her attorney, Clarke F. Ahlers, her hands clasped in front of her.
With her straight brown hair freshly styled after her jail stay, she wore blue sweat pants and a blue sweat shirt with a red heart on the chest. On her right wrist is a tattoo of a purple rose. She spoke mostly in even tones, though at one point she fell into tears, as she recounted her life and her relationship with Walter Rogers before she picked up the shotgun.
"As soon as it went off, I laid it on the floor," she said of the shotgun she fired early in the morning on the last Saturday in April.
The blast awoke her daughter, then 16, and her young son, children from a previous marriage. Rogers said she quickly ushered them back into their beds, telling them she did not know what had happened.
She then summoned police to their secluded apartment, in the back of an office building on a dead-end road in an industrial park in Laurel, in western Anne Arundel County.
The first patrol officers to arrive thought it was a suicide, Rogers and Ahlers said, a belief she did not discourage. But detectives were skeptical almost immediately.
Two days later, in an apparent effort to protect her mother, Laura Rogers's 16-year-old daughter confessed to the slaying. Detectives, however, realized that the girl could not have been responsible: She did not know how to load the shotgun. They told Laura Rogers what the girl had said, and Rogers quickly admitted that she had pulled the trigger.
She said Wednesday that "taking a human being's life is something I will have to live with for the rest of my life." But she said she felt she could "breathe again" for the first time in years. She said that to understand her situation -- the "terror and fear" that she and her family endured -- was to understand that she had no other choice.
Good Times Gone Bad
She met Walter Rogers 12 years ago, at a Clint Black concert at Merriweather Post Pavilion in Columbia. Both had been married before. She considered him attractive, charming, a family man who accepted that she had two children.
"He always liked to say it was love at first sight," Laura Rogers said. "I never believed in it. I'd been through one bad marriage, so I was very skeptical. But he knew how to charm me."
They moved in together, into her parents' home, seven months later. Soon, he proposed, kneeling in a Pizza Hut. They were married less than two years after they met.
"In the beginning, it was wonderful," she said. "We got along wonderful. He treated me wonderful until three years into the marriage.
"The last six years, I lived in terror and fear."
She said he became emotionally abusive and controlling. The family moved a half-dozen times in a decade, limiting her ability to meet people. She was not permitted to have friends or, most of the time, to work.
"I went through a lot of emotional changes, being with him," she said. "I mean, physically, yes, [abuse] did happen. It didn't happen numerous times, but, yes, there was some physical abuse. A lot of times, the emotional [abuse] leaves a deeper scar."
She said she felt she could not leave. "I knew he would never let me, and if I got away, he would find me," she said. "I lived fearful of harm to me and my children every day."
In 2000, her daughter complained that Walter Rogers had run his hand across her chest. The police in Mississippi, where they were living, investigated. Walter Rogers was charged with a crime. But the case was dismissed.
Then, in May 2003, her daughter told officials at her Anne Arundel school that her stepfather was abusing her sexually. Investigators went to the Rogers home that day. Despite the abuse that Laura Rogers now says she was enduring, she could not imagine at the time that her husband would abuse her daughter.
"Walter was very convincing," she said. "He convinced me, he convinced social services, the police. He convinced everyone that he had done nothing and that basically he was a saint."
So persuasive was he that the girl was prosecuted for filing a false police report. She was convicted in Anne Arundel County juvenile court.
In an interview with the authorities, Walter Rogers wept and said his stepdaughter was accusing him falsely. He said she had lied about the same thing before, in Mississippi, and said his "world is caving in. Health problems, just getting by. . . . I didn't do this."
The teenage girl's conviction was finally vacated Wednesday afternoon. By then, the evidence in support of her claims was irrefutable.
A Weapon and a Motive
On April 23, while her clothes spun in a dryer at a laundromat, Laura Rogers walked into a Wal-Mart not far from her home and bought the shotgun. She said her husband had instructed her to buy it, saying he was concerned about thefts in their isolated neighborhood.
Her 16-year-old daughter was seven months pregnant at the time. Laura Rogers said she believed that the father was a boy from the girl's school.
About 9 that evening, the girl told her mother where to find the evidence that her claims of sexual abuse were true. There was a videotape, she said, in Walter Rogers's armoire. She told her mother to look behind his collection of Playboy magazines.
The family was planning a trip to North Carolina. That night, as Walter Rogers, a laborer, was securing his tools in the yard and preparing for their trip, Laura Rogers retrieved the tape. In the bedroom, she slipped it into a video camera and watched as much of it as she could bear on the camcorder's tiny screen.
The images were of Walter Rogers engaged in a variety of sex acts with the girl.
As she watched, Laura Rogers said, she went numb. "I'm not sure what happened," she recalled. "I kind of went into a little shell."
But she said she knew this: "When I saw that videotape, he was never going to harm my daughter again. At that point, I knew that he was doing it, and there was no way for him to convince me otherwise."
Her daughter, she knew then, had been telling the truth. And her husband had raped her daughter repeatedly, lied about it, had the girl prosecuted and continued to abuse her. After she turned off the tape, she recalled, Walter Rogers came back inside. He told her to be sure to pack enough for a week's trip.
Laura Rogers said she felt disgust but did not confront him.
"Okay," she told him.
Hours later, before the sun came up, she stepped toward the bedroom door. She opened it and, in the light that crept in from the living room, reached under the bed for the shotgun.
Case Closed
On Tuesday, Judge Hackner said in court that a diagnosis of battered spouse syndrome warranted Laura Rogers's release. But he made that decision only after viewing the videotape in his chambers, and after hearing defense attorney Ahlers describe Walter Rogers as "a person who took a sick and sadistic pleasure in killing the spirit of other people."
Prosecutors said they agreed to the plea deal partly to spare Laura Rogers's daughter, now 17, the emotional ordeal of having to testify about the abuse she suffered. Her baby, a boy, was born over the summer and put up for adoption. DNA tests proved that Walter Rogers was the father.
The jailhouse door opened about 6 p.m. Tuesday, and Laura Rogers stepped free. Reflecting later on what she had seen on the tiny camcorder screen, she said she did what she had to do.
"When I saw this man horribly violating my daughter, I couldn't let it continue," she said. "I couldn't change the past. But, damn, I could change the future."
---
Arundel Judge Frees Woman In Death of 'Horrible' Man
By Eric Rich - The Washington Post
November 10, 2004
Laura Rogers killed her husband in April, shooting him as he slept and claiming it was a suicide. But when she pleaded guilty to manslaughter yesterday, 198 days after her arrest, an Anne Arundel County Circuit Court judge set her free.
Her husband, Walter Rogers, 43, had raped and impregnated her teenage daughter, a child from a previous marriage, both sides said in court. And the day before Laura Rogers leveled a shotgun at her husband's head, she watched a videotape he had made of the sex acts.
Judge Paul A. Hackner, who watched the tape in his chambers yesterday, called the slain man "a horrible human being" and effectively ordered that Laura Rogers, 36, be freed from jail. Although the abuse of her daughter was discussed at length during the proceeding, Hackner said a psychiatrist's diagnosis that Laura Rogers suffered from battered spouse syndrome was the more significant factor in his decision.
He sentenced her to 10 years in prison, then suspended all but the time she had served, telling her, "You'll be released sometime this afternoon."
Countless women have been abused by their spouses, and more than a few of them have resorted to homicide. Among those, however, a much smaller number later walked free -- and that is precisely what happened in Anne Arundel yesterday.
"It was the right thing to do," prosecutor Laura Kiessling said outside court. Kiessling did not object to the defense request for leniency for Laura Rogers, who had no criminal record.
"This man Walter Rogers was a sociopath who had it coming, and he got what he deserved," said Laura Rogers's attorney, Clarke F. Ahlers.
Walter and Laura Rogers, both divorced, had been married for 11 years. They lived in an apartment attached to an office building in a Laurel industrial park. He was a laborer, and she worked as a secretary when her husband permitted it, Ahlers said.
A deputy sheriff escorted her into court yesterday and removed her handcuffs. She turned to tearful family members and waved.
Later, in a brief statement, she declared her dedication to her three children. "I ask the court to see that I'm able to go home and give these children the love they not only need but that they deserve," she said.
Kiessling described the events that led to the slaying. She said Laura Rogers and her teenage daughter spent part of April 23 at a laundromat. At one point, Rogers went to a Wal-Mart to buy a shotgun. Her attorney said later that she did so at the direction of her husband, a convicted felon who could not purchase the gun himself.
Kiessling said that the girl, then seven months pregnant, told her mother she was being abused. The girl had previously made such claims but recanted and was, in fact, convicted of making false accusations. This time, she said, there was a videotape that would prove her allegations. She told her mother where to find the tape.
Rogers watched it. And DNA tests later confirmed what the tape suggested: that her husband was the father of her daughter's baby, Kiessling said. Rogers stayed up most of the night. Then, in the morning, she called police to their residence, saying her husband had shot himself.
An autopsy later found that the death was a homicide, and Laura Rogers admitted that she had pulled the trigger.
"To me it appeared that she was a person who had been pushed to the brink," Kiessling said outside court. She said Walter Rogers had abused his wife "psychologically and physically" and terrorized her by, for example, swinging a baseball bat so that it narrowly missed her head.
In addition, she said, a trial probably would have required that the girl testify against her mother. Kiessling said the girl, who has since given birth to her stepfather's baby, "has been victimized enough."
"It's time for it to be over for her," Kiessling said, adding later that Walter Rogers had abused the girl for nearly a decade.
Kiessling declined to discuss Walter Rogers's family or their thoughts about the plea arrangement except to say that "many of them were victims of his abuse as well."
Laura Rogers's attorney, Ahlers, called Walter Rogers "a person who took a sick and sadistic pleasure in killing the spirit of other people" and said that he "continued to rape the child even in pregnancy." Ahlers said the shooting was a homicide without a victim. "This man Walter Rogers abused people probably from adolescence to the time of his death."
Laura Rogers was released from the Anne Arundel Detention Center about 6 p.m. yesterday. In a scrum of reporters, she thanked her family and the judge and said that she was looking forward to hugging her children for the first time in seven months.
---
Arundel woman held in killing of her husband
Shooting of man at home was reported to police as a suicide
The Baltimore Sun
April 27, 2004
Anne Arundel County police have charged a Laurel woman with first-degree murder in the shooting death of her husband over the weekend.
Laura Ann Rogers, 35, was charged Monday with first-degree murder after detectives looked further into the circumstances surrounding the death of her husband, Walter Gray Rogers, 43. The death initially was reported to police as a suicide.
Rogers was denied bail Tuesday, a spokeswoman for the Anne Arundel County state's attorney said.
Police responded to a 911 call placed from the Rogers' home in the 8200 block of Main Street in Laurel at 7 AM Saturday. They found the victim suffering from a gunshot wound to the upper body. He was pronounced dead at the scene.
His wife was home at the time of the 911 call, but it was not clear who called, police said. Family members in the home at the time told police that they believed Walter Rogers had shot himself with the shotgun.
But the officers were skeptical, said Anne Arundel police Lt. Joseph Jordan. "Some things didn't add up for them," Jordan said. "The original officers thought some thing was amiss, so they contacted our homicide unit."
The homicide unit took over the investigation and conducted more interviews with the victim's wife. After Laura Ann Rogers gave police a statement, Jordan said, the detectives decided to file the homicide charges against her.
Laura Ann Rogers told police she had recently learned her husband had been sexually abusing a juvenile female, police said. Jordan said that information appeared to be connected to the shooting.
Detectives said they also determined that Laura Ann Rogers had purchased the firearm used in the shooting April 23 — the day before her husband was shot.
"We never classified it as a suicide," Jordan said. "We were suspicious from the time we arrived."
---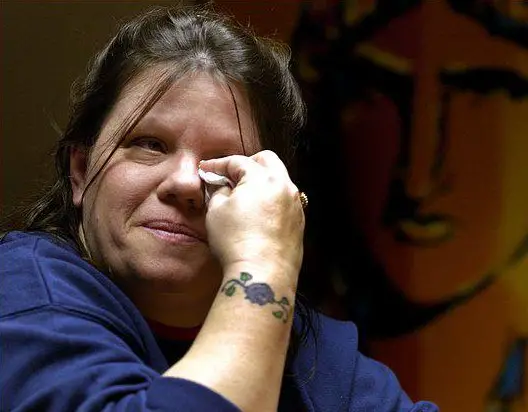 Laura Rogers says her marriage became a life of "terror and fear" that left her
with no choice but to kill her husband.
(Katherine Frey - The Washington Post)