Arrest Made In Szucs Killing
By Michael K. Golay - National Jeweler
April 10, 1996
Houston -- Two men who police say robbed and killed Janos "Johnny" Szucs, 44, a diamond dealer with J.S. Precious Stones, were arrested Feb. 24 on charges of capital murder.
The fatal shooting occurred Jan. 24 during a robbery at Szucs'office. Police say Jose Albert Dennes, 42, and Reinaldo Dennes, 40, brothers who were jewelers in the same building as Szucs, planned and committed the robbery and shooting. Jewels valuedat a total of $3 million were stolen.
"We all thought it was an inside job," one tenant at 6222 Richmond, the building where Szucs and the Dennes brothers did business, told The Houston Chronicle. "That is, we believed Johnny must have known his killer. But we didn't think it was one of us, here in these offices."
Police said Estrella De Jesus Martinez, a cleaning woman at the building, was paid $5,000 to help plan and cooperate in the robbery. Martinez was arrested and charged with aggravated robbery.
Szucs had traveled to Tel Aviv to purchase diamonds that were stolen in Houston, according to Bob Frank of the Jewelers' Security Alliance, New York. The robbery occurred the day after Szucs had the stones shipped to his place of business.
Szucs had apparently stayed late after work to meet with aclient. According to Officer Todd Miller of the Houston police department, it was Martinez's job to leave Szucs' door open for the robbers and then to distract a security guard while they stole the video.
But when one of the men tried to get the video out of the system, he was observed by a security guard. One of the men shot the guard twice in the chest with a silenced gun. The guard survived the shooting.
When police checked Szucs' computer files they found that Reinaldo Dennes owed him a large sum of money and marked the Dennes brothers as suspects. Police sources said the break inthe case came when an informant called and provided information about the silencer used in the robbery, which was traced back to the Dennes brothers.
---
Personnel Profile by Reynaldo Dennes
ChalesDonFlores.com
I was born on the beautiful island named Cuba on 2.9.56. My mom expected a girl to be called Lourdes, but when I showed up, I was a big surprise and she did not have a name for me. A nurse that what with her, suggested "Why not Reinaldo ? Today is Saint Reinaldo's day." Thus I was named.
I could never spell Reinaldo as a kid, so I went by Ray. Ray was a shy boy, especially with girls. They were always out to give me a kiss (they said, I was cute). So instead of studying my ABC's , I was playing spin the bottle with the girls. My father was a jewler and I became a jewler at the age of 10 years old. At that age I was already making rings and things for my little girlfriends.
When I grew up and became a professionel jewler, I worked in the Diamond District in NY City for about 15 yrs.....then I came to Houston, TX and opened a jewlery store.
Around that time I began practising martial arts. I enjoyed martial arts, not because I liked to fight, but because of the discipline my soul was crying out for. Unfortunately, I did not listen to this cry to go within and seek guidance, and as the time passed, I fell into drugs and alcohol which darkened my mind more than it already was.
One thing led to another , and before you know it, I was arrested, tried, convicted and sent to death row under the law of parties (I killed no one) and here I am.
Prison is a new experience for me, I've never been in jail in my life. And over these years I have made the most of things and have educated myself and found many un-opened gifts and talents that were within me. I'm an artist, I paint everyday. I read everyday (I love adventure and historical fiction) and I exercise and meditate everyday.
I still practise tae-kwon-do, but never to hurt anyone. In 13 years of being in prison I've never had a fight. I practise it for my mind and my body and also to teach others how beautiful and wonderful we are made.
All acts of perfection inspire reflexion upon thy Divine Self. I think, if I could start all over, I would have preferred to learn and practise Tai-Chi and Yoga. These both are spiritual and physical exercises that would have helped me develope my mind, body and spirit to the state of oneness that I seek. At age 53, I'm still young, not as cute, but true beauty lied within.
I want to live, so I can complete the discobery of my self and look upon the correction of all the gifts given to me. By living and becoming a vessel for my perfect soul to love and create, I can serve and love others and share my inspirations of peace, bringing others to search and find within. This love force that unites like-minded souls togather, together we can overcome the world of hate and war. We can come together and do much.
If you'd like to hear more, please write me; I am waiting to write everyone ! If you can send a few photos of yourself, so I can see you when I reply. Hope to hear from you soon. When you write, call me Reinaldo, such a beautiful name, my mom gave me. I sign all my paintings with this Saint's name.
Peace and Love
*****
Interview Reinaldo Dennes by Charles Flores
"Reinaldo is a good friend of mine. I have known him since 2003. In that time we have gotten to know each other quite well and enjoy many of the same interests, including spiritual awakening and awareness and a love for daily meditation. I would like to encourage everyone who reads this interview and personal profile by Reinaldo to contact him. He's a special individual and those who befriend him will gain much." Charles
Charles : Tell me the basics of yourself, birthdate, where you were born, where you were raised, parents' names, siblings, a bit about what your home life was like. (These questions help the reader understand where you come from and what kind of person you are today).
Reinaldo : Basics.....I'm 5 f. 7 in. Tall, was born in Havanna, Cuba 2. 9. 56. My family came to the USA in 1960. My mother is Mithra Dennes, who I still have, and my Dad passed away on 5.31.08. I have three children , Ray the oldest who is 34, Desiray who is 24, and Christian who is 12. Legally, I am still married, unfortuately, my wife abandoned me 10 years ago.
Ch. : Name three people that you call friends. Why do you consider them as friends ?
R. : My Mom is my true friend. She has never judged me or condemned me, never abandoned me. She truly loves me and is the only person in my life that continues to support me. Her love for me is inconditional, a true friend indeed.
Ch. : Name someone who has inspired you to be a better human being.
R. : I am inspired by all, when love is the motivator of their actions. Selfless acts that encourage and build others inspire me. When I see this in people, observe noble deeds that come from love, I become a better person and learned from them.
Ch. : Who would you like to meet that is living or dead ?
R. : I think that, instead of wishing to meet a certain person, I would allow providence to choose, then, whoever is sent, I would receive and learn and share. I believe, all history is repeated in each person, also every personality is in each one of us at certain times.
Ch. : Looking back upon your life ; what is one thing that you would change, if you could ? (Does not include being convicted and sentenced to death).
R. : The one thing that I would change is, that I would have chosen at an earlier time in my life to experience awareness and spiritual enlightenment. But in the greater plan, all is perfect and our acts and experiences are not just about ourselves; the greater plan includes us all.
Ch. : What are your views on religion ? Do you consider yourself as a spiritual being ? One might think that, because of your current situation, you would believe in "God". If this is true in your case, was your belief in God something that came to you while being on death row ? Or do you come from a spiritual/religious background ?
R. : I have evolved to become Aware. In this life I have obtained a greater Awareness of my Divine Self and relationship with our Father Ceator. Religion is the beginning of an experience and it's up to you to then persue it within. In answer n°4 , I wanted an earlier call to Awareness, but I am reminded that I received that call when I was about 8 years old. I asked my grandfather about God, and grandfather told me , he couldn't see or feel God, so he took me to a catholic priest and his answer did not persuade me to search further. Looking back now, I feel I was given that call.
Ch. : If you were in a life and dead situation, i.e. on a sinking ship and could save yourself or someone that you did not know, yet, while in this situation, you knew this person HAD to be saved, and you still have the choice –them or you- what would you do ?
R. : For me, this question has different answers. When I was unaware of my true self, I would have only cared for myself. Now, I realize that there is no greater act of love than to give yourself in order to save another. Now, I would freely give myself for anyone; for death is a change of life; to live is to die – and to die is to live.
Ch. : Give me your thoughts on the death penality.
R. : A highly evolved society will not have the death penality, as it would understand the need for a person to evolve. We all evolve at different times to different levels and there is a time for everything under the sun, and there is nothing any of us has not done to each other in his lifetime or in another lifetime.
Ch. : Name a book that you have read, that has changed your life.
R. : Most books I read change my life, as I develope a broader range of choices. Most books reveal to me in one way or another a new perspective to sometimes difficult passages in spiritual texts. I cannot name just one book, as many have influenced my life.
Ch. : Since coming to death row, who has given you something to believe in and why ? Who has given you hope, the ability to carry on, to cope with the reality that you are on Texas Death row ?
R. : My soul. When I understand that it's a journey of many incarnations in order that I may be perfected and return to oneness. When I think about the Love and patience and hope in it's expections in my spirit, I have nothing but awe and deep respectful love. My soul is my hero and inspires me not to fail her.
Ch. : Best advice you can give a young person ?
R. : Seek and know thyself.
Ch. : Best quality ? (In your opinion, of course)
R. : In my humble opinion, I seek to encourage others to seek within themselves the Teacher, Lover and God.
Ch. : Worst habit ?
R. : Self doubt. Allowing my lower self to sometimes take control and to think that no one cares about me, to feel insecure.
Ch. : Name 5 guests you'd invite to your fantasy Dinner party.
R. : I would love to invite those who I deeply love and who have passed on, and be able to completely express my love and respect by serving them with the love I have for them, but did not show it when I could have.
Ch. : What makes you happy ?
R. : Giving thanks and praise and realizing that God loves me and I love her. Knowing that my Soul is my soulmate, my happiness and love. Understanding that I'm deeply content and happily married to her.
Ch. : If you could change one thing about yourself, what would it be ?
R. : If I could, I would increase my spiritual awareness, powers and state of oneness. I would strengthen my mind and increase my brain/mind power that I may be able to walk in the spirit while out of the body.
Ch. : Any last words you would like to share ?
R. : Yes. The first 40 years of my life I lived in ignorance of my divine self. Nor was I educated academically. I was a jewler professionally and began that when I was 10 years old. When I was free, I did not realize that I was also an artist, musician and a mystic of the spiritual world. Nevertheless, I have begun to fullfill the plans that my Soul destined for me in realizing these gifts and using them now to obtain awareness that reveals love.
To me, love is supreme, not as I once perceived it, but in a clean pure light that is the greatest force of the universe. This is the kind of love that I try to fill my soul with through meditation practise and life. Death Row has provided the release (so needed from the busy and loud world of illusion) , so , in this state of oppression and denial I have found myself. I believe this was predestined as a final hope in case I did not choose my earlier chances to become aware.
I did not have to come here to find Awareness, but this was my last choice and regardless of which choice, the outcome was secure.
---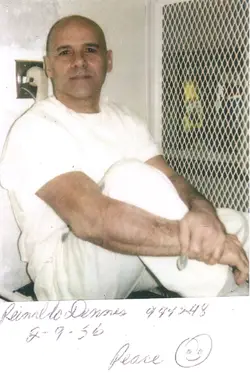 Reinaldo A. Dennes