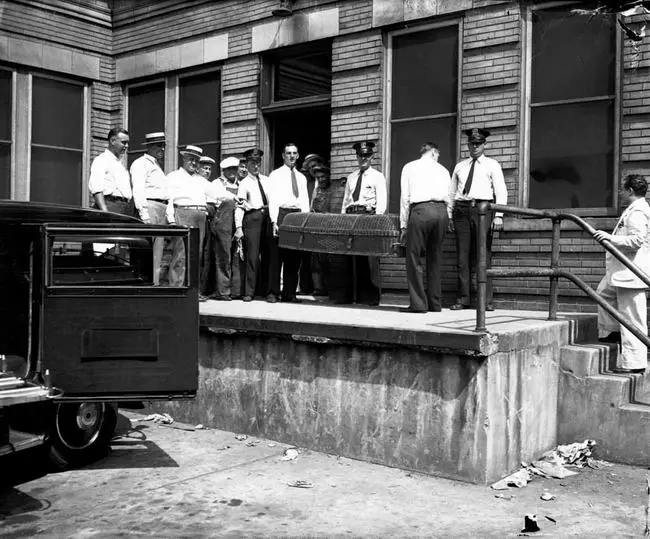 John Dillinger's body leaves the Cook County Morgue at Polk and Wood Streets to be taken to McCready Funeral
home at 4506 Sheridan Road on July 24, 1934. Dillinger's father, John Dillinger Sr., 70, traveled from Mooresville,
Ind. to claim his son's body. Dillinger was embalmed and then taken back to Indiana for burial.
(Chicago Tribune historical photo)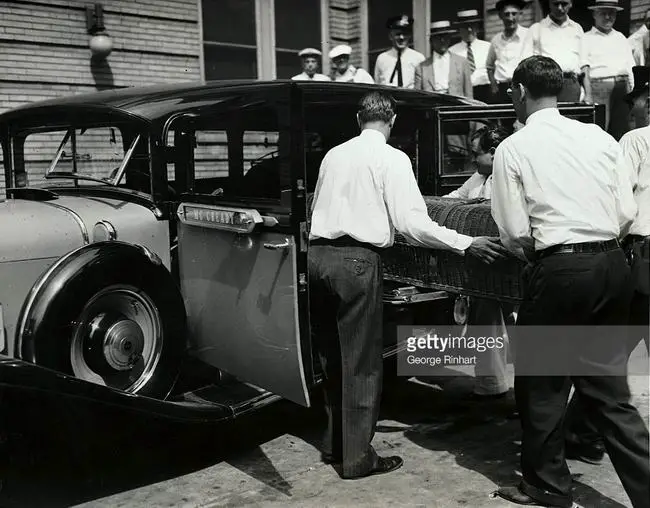 Body of John Dillinger, slain outlaw, being removed from the mortuary at 4506 Sheraton Road, and placed
in a shabby home town hearse for his last ride, back to Mooresville, Indiana, where he will be buried in the
family plot. The inevitable swarm of curious spectators clustered around the hearse, even loading the
bumpers and running boards.
(Photo by George Rinhart/Corbis via Getty Images)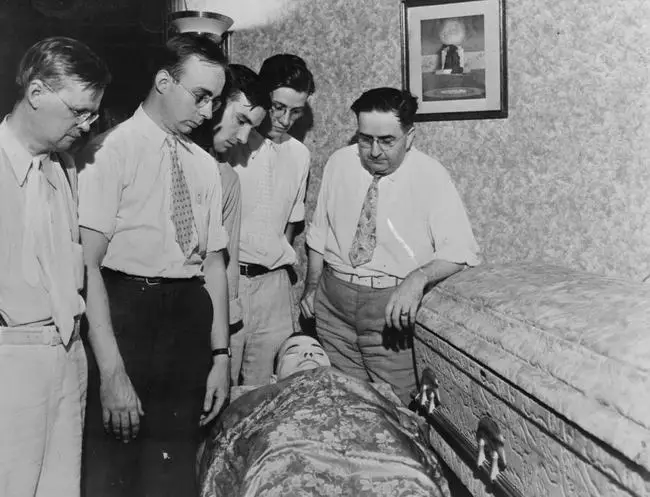 John Dillinger lying in state at home town of Mooresville, Indiana.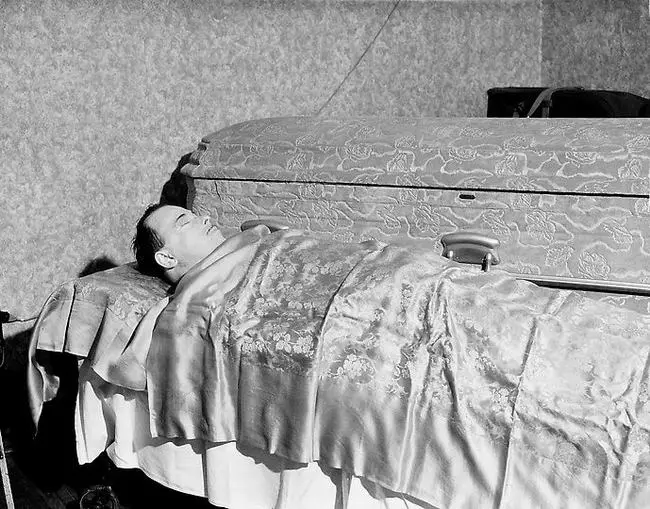 Outlaw John Dillinger Postmortem - Harvey Funeral Home - Mooresville, Indiana.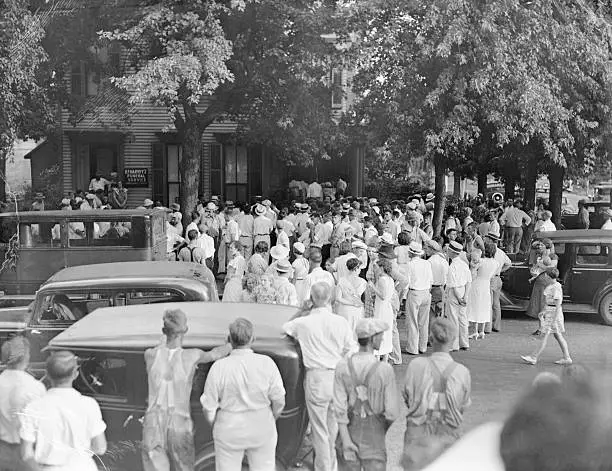 Mooresville, Indiana: Crowd gather outside a funeral home where John Dillinger's body was taken
after he was gunned down by FBI agents on a Chicago street.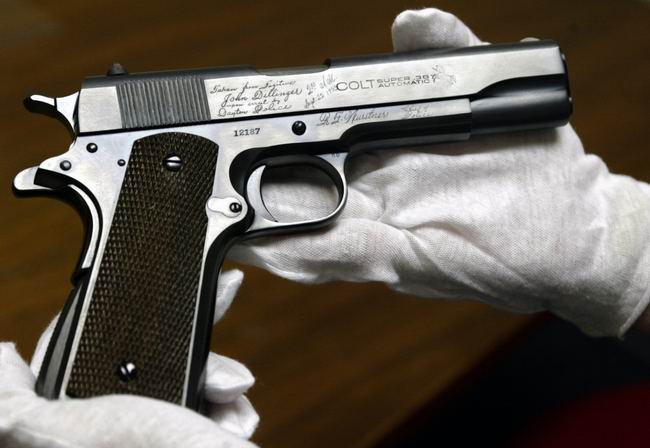 Mary Oliver of Dayton History, holds Public Enemy #1, John Dillinger's .38 automatic that the Dayton Police
took when they arrested him in 1933 in a rooming house on W. First Street.
(Archive staff photo by Bill Reinke)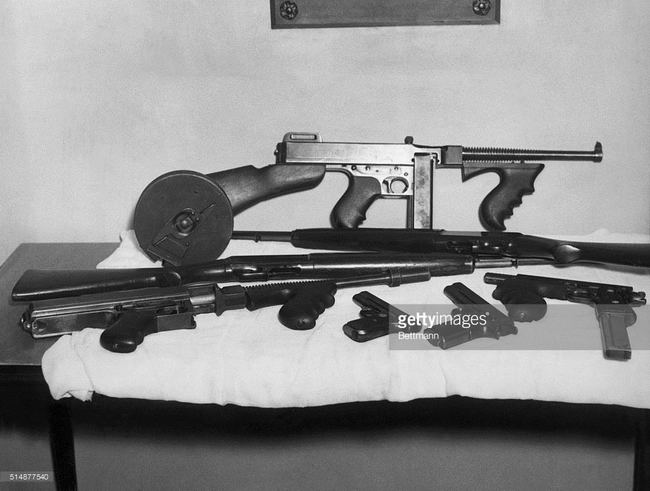 A collection of the weapons used at various times by John Dillinger. Undated photograph.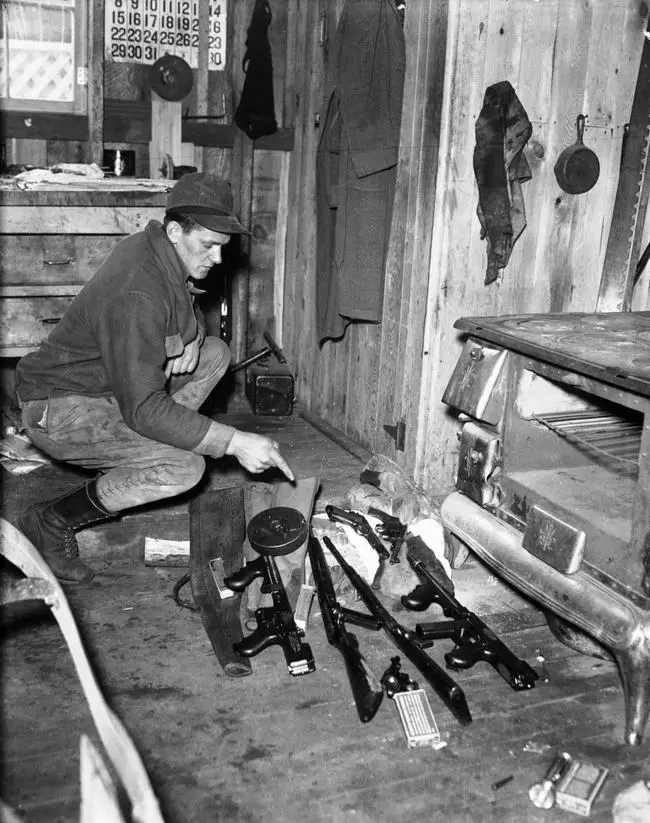 Max Organist looks at the guns left behind by John Dillinger and his gang on April 22, 1934 at the Little
Bohemia Resort in Manitowish Waters, Wisconsin. FBI agents had surrounded the lodge were Dillinger
and his gang were staying, but the outlaws were able to escape along the shore of the nearby lake.
(Chicago Tribune historical photo)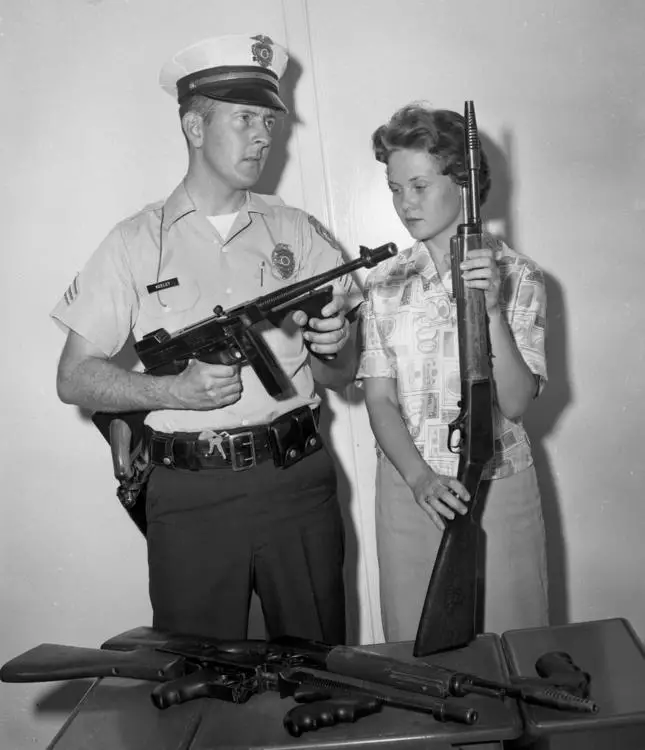 In this 1961 photo, Tucson Police Sgt. Tom Keeley holds a Colt Thompson submachine gun and secretary
Linda Bradfield holds a Winchester Model 1907, with other guns confiscated from the John Dillinger gang
during Dillinger's capture in Tucson, Ariz., in 1934.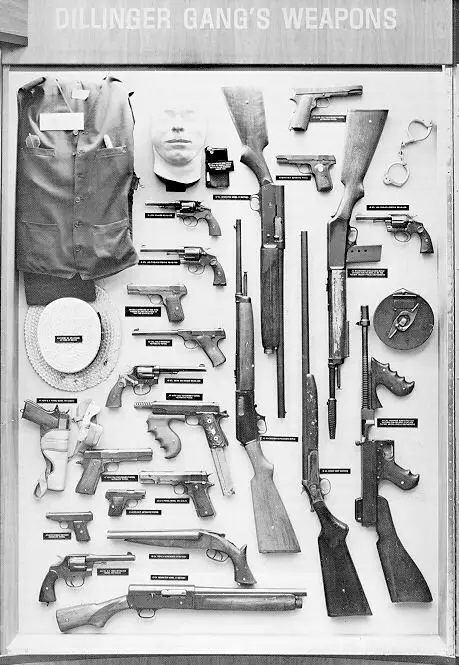 This photograph was taken at FBI headquarters in Washington DC.. It shows the weapons that were
used by the Dillinger Gang. Note the modified Colt government model M1911A1 pistol in caliber .38
Super in the lower left portion of the photograph. It has been modified to use a Colt Thompson
vertical foregrip, extended box magazine, and fired fully automatic.
(This photograph is courtesy of Mike Stannard)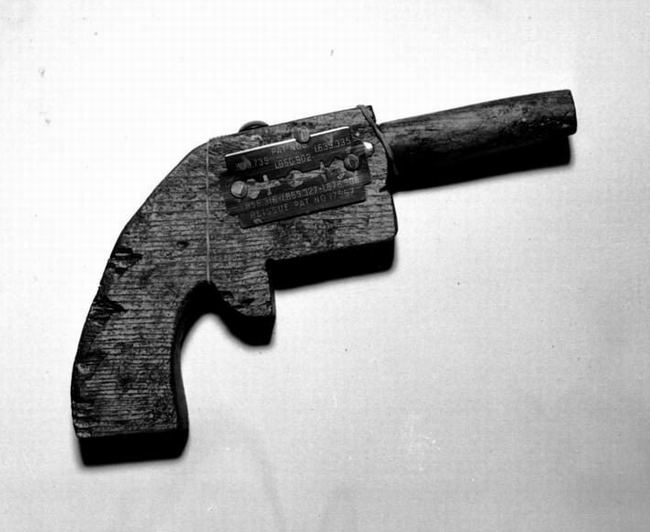 John Dillinger escaped from the county jail at Crown Point, Indiana, with only a toy gun on March 3, 1934.
Dillinger threatened deputy sheriffs with a wooden gun and then locked up more than a dozen guards
before fleeing in the sheriff's own car. Dillinger was in jail awaiting trial for killing police officer William
O'Malley, 43, during a bank robbery in East Chicago, Indiana on Jan. 15, 1934. His trail date had been
set for March 12, 1934.
(Chicago Tribune historical photo)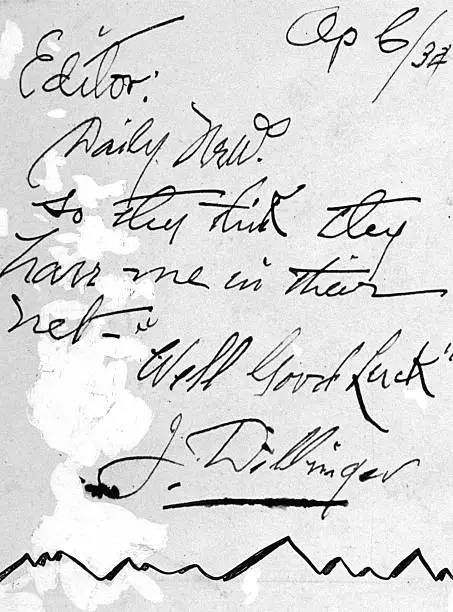 Letter sent to the Daily News by John Dillinger.
(Photo by NY Daily News Archive)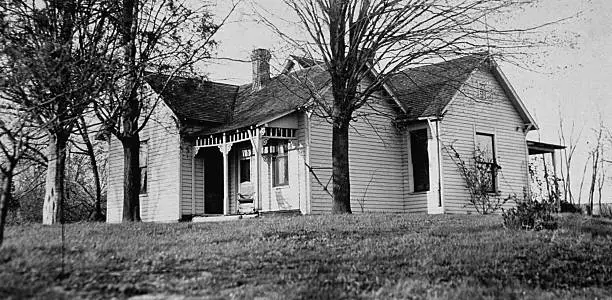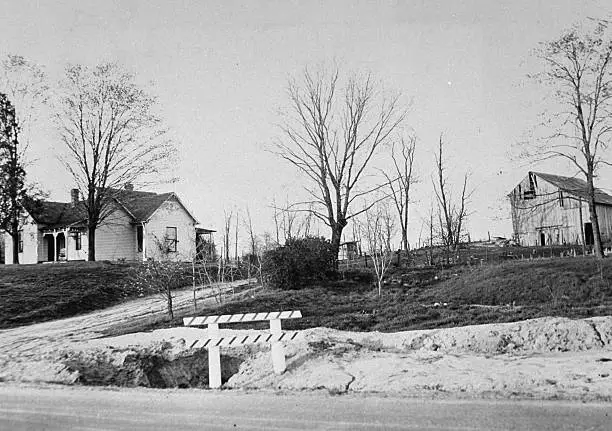 John Dillinger home, near Mooresville, Indiana.
(Photo by Walter Ranzini/NY Daily News Archive)