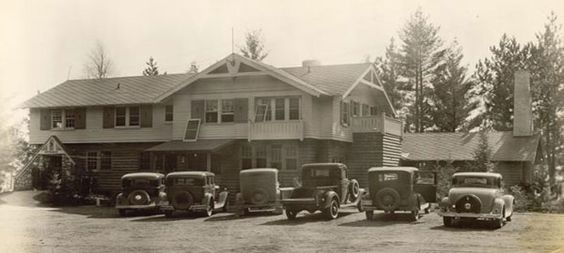 Little Bohemia lodge in Wisconsin, where the infamous shoot out between the gang
of John Dillinger and the FBI happened.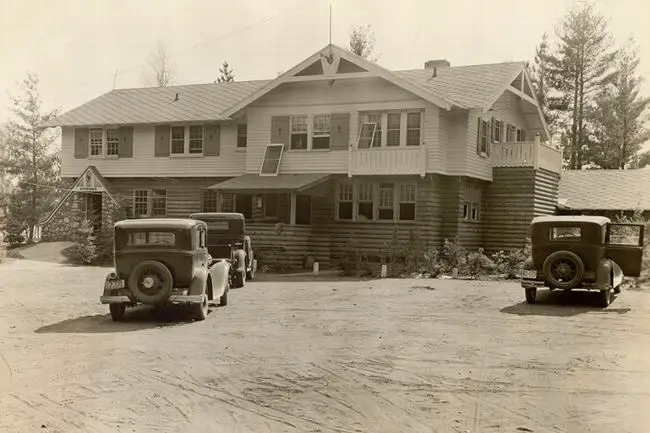 Little Bohemia Lodge as it looked at the time of the FBI raid.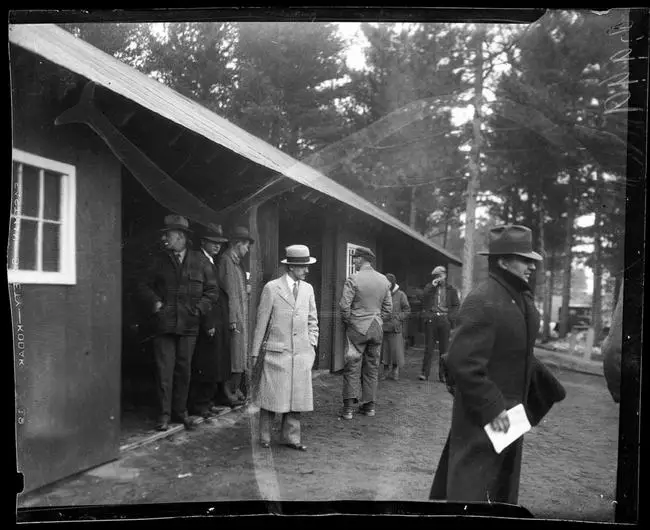 Government men at the Little Bohemia Resort in Manitowish Waters, Wisconsin, where a gun battle with
John Dillinger and his gang took place on April 22, 1934. Leading the group of G-men were federal agents
Melvin Purvis and Hugh Clegg. FBI agents had surrounded the lodge, but Dillinger and his gang were able
to escape along the shore of the nearby lake.
(Chicago Tribune historical photo)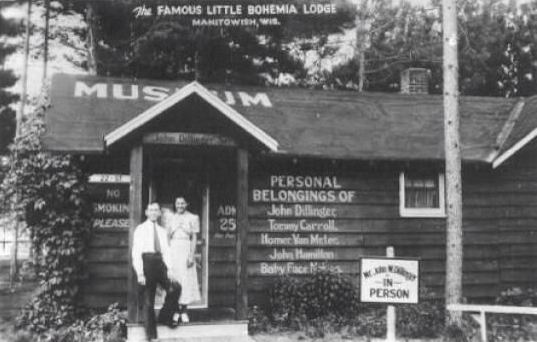 John Dillinger Sr outside of the Little Bohemia to talk about his son in the museum.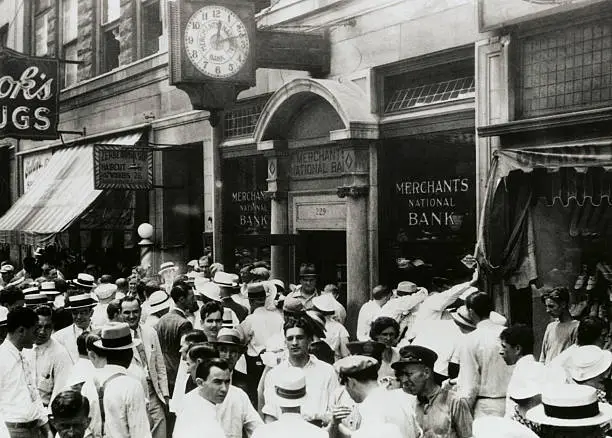 (Original Caption) Southbend, Indiana: Crowds mill around the merchants National Bank after it was
raided by a gang of five holdup men led by John Dillinger America's arch desperado. The men
opened up with machine guns and killed a policeman who was in charge of traffic.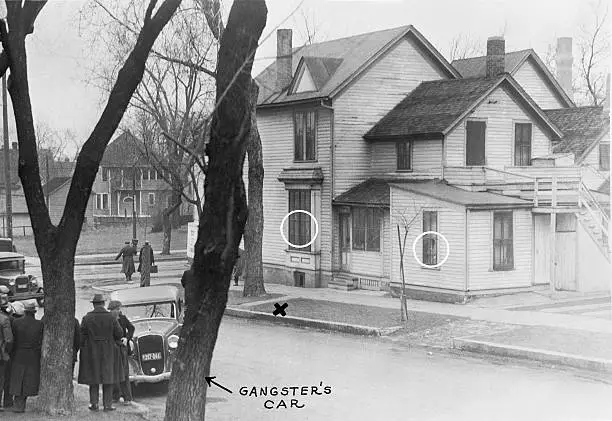 (Original Caption) April 6, 1934 - St. Paul, Minnesota: The scene of the shooting in St. Paul, Minnesota,
of Eugene Green, companion of Dillinger who had escaped a few days earlier with the desperado by
firing at police and federal agents with machine guns. Green and a woman drove up to this house on
Rondo Street, St. Paul, and as he left the car Federal agents fired at him from the windows marked
by circles. He dropped with bullets in his head and body at the spot marked X.
The woman was captured in the auto at the left.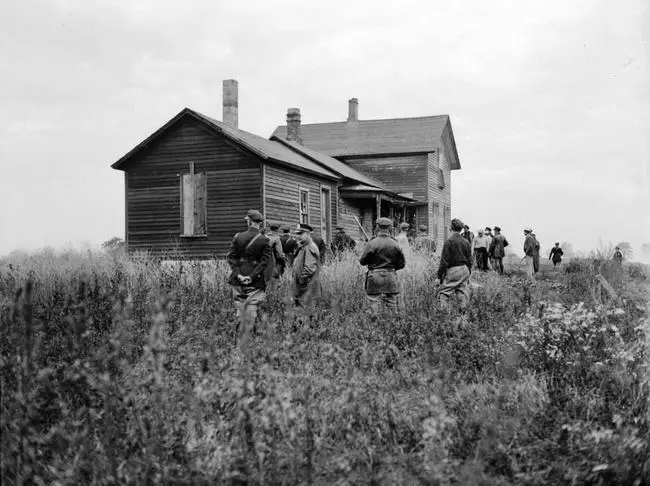 Indiana state police surround the house where two of the convicts were supposed to have been from the
Michigan City prison break, circa Oct. 1933. On Sept. 26, 1933, ten convicts, lead by John 'Red' Hamilton,
broke out of the Indiana State Prison in Michigan City, Indiana, using guns smuggled to them by John
Dillinger. In the coming days after the prison break, the Chicago Tribune reported over "500 vigilantes,
police and deputy sherriffs" searched the farming districts near Michigan City for the felons. Dillinger,
who was in a jail cell in Lima, Ohio, engineered the escape of the ten convicts, who became known as
Dillinger's gang. Less than a month after they escaped from Michigan City, several of Dillinger's gang
broke him out of the jail in Lima, Ohio.
(Chicago Tribune historical photo)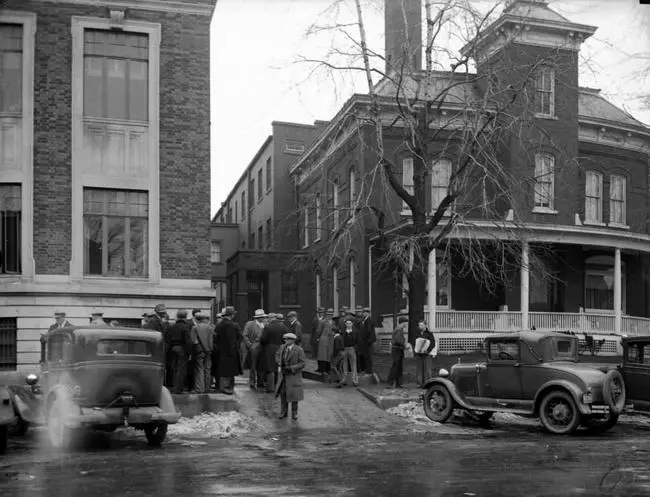 The Crown Point, Indiana, Jail house, right, and County Courthouse, left, after John Dillinger escaped with only
a toy gun on March 3, 1934. Dillinger threatened deputy sheriffs with a wooden gun and then locked up more
than a dozen guards before fleeing in the sheriff's own car.
(Chicago Tribune historical photo)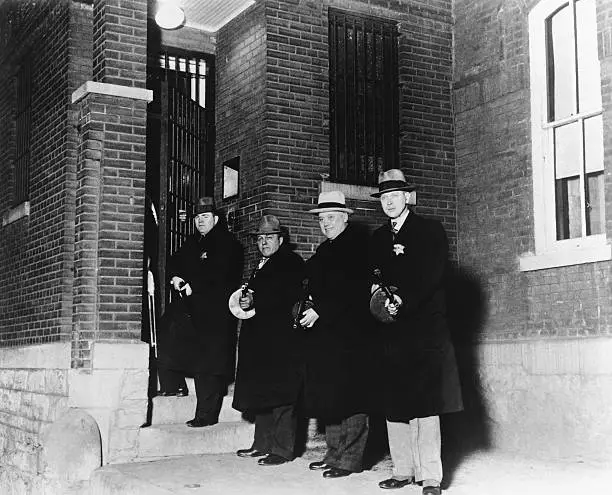 Police officers guarding John Dillinger in Jail.
(Photo by George Rinhart/Corbis)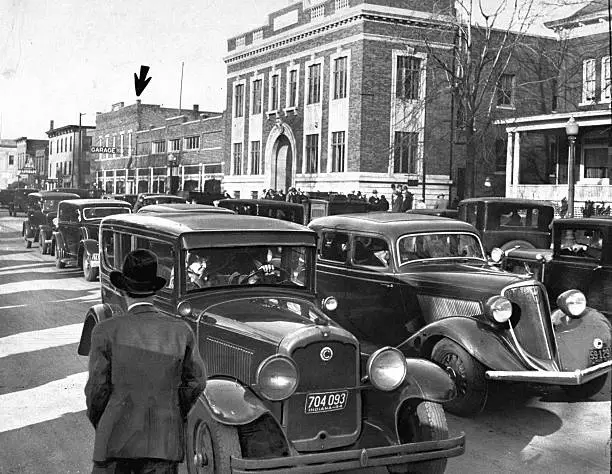 Garage where John Dillinger stole sheriff's car for his get away.
(Photo by NY Daily News Archive via Getty Images)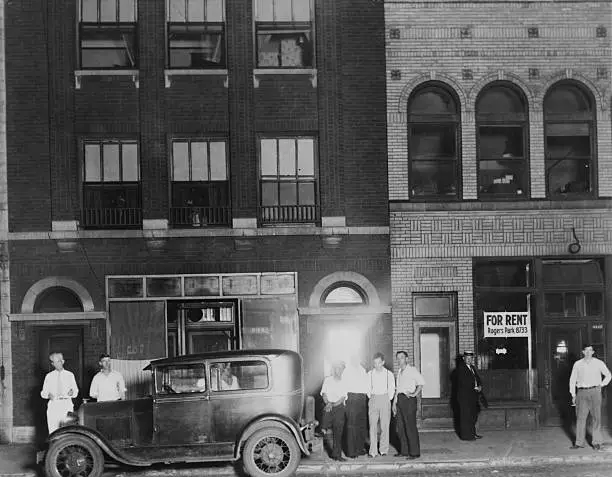 The house in Chicago where American bank robber John Dillinger lived in the weeks preceding his
death, 1934. It was from here that he made his final trip to the Biograph Theater on 22nd July,
where he was shot and killed by federal agents.
(Photo by FPG/Hulton Archive/Getty Images)