The Death of Yusef Hawkins
Yusef Hawkins (also spelled as Yusuf Hawkins, March 19, 1973 – August 23, 1989) was a 16-year-old African American youth who was shot to death on August 23, 1989 in Bensonhurst, a heavily Italian American working-class neighborhood in the New York City borough of Brooklyn. Hawkins and three friends were attacked by a crowd of 10 to 30 Italian minority youths, with at least seven of them wielding baseball bats. One, armed with a handgun, shot Hawkins twice in the chest, killing him.
Hawkins had gone to Bensonhurst that night with his three friends to inquire about a used 1982 Pontiac automobile that was for sale. The group's attackers had been lying in wait for a black or hispanic gang that a neighborhood girl threatened was coming to assault them, in response to an argument she had with Mondello earlier that day. Police later said Hawkins was not involved with the girl.
Hawkins' killing was the third killing of a black man by mobs in New York City during the 1980s; the other two victims being Willie Turks who was killed on June 22, 1982 in Brooklyn and Michael Griffith who was killed in Queens on December 20, 1986. The incident uncorked a torrent of racial tension in and around New York City in the ensuing days and weeks, culminating in a protest march through the neighborhood led by the Reverend Al Sharpton.
Trials
The two men who led the mob that beat and chased Hawkins were tried separately. Joseph Fama, the man who fired the shots that killed Hawkins, was convicted of second-degree murder on May 17, 1990. The other main defendant in the case, Keith Mondello was acquitted on May 18, 1990 on murder and manslaughter charges, but convicted of 12 lesser charges including riot, menacing, discrimination, unlawful imprisonment and criminal possession of a weapon. The acquittal of Mondello on these serious charges led to further protest marches through Bensonhurst led by Al Sharpton.
Sentencing
On June 11, 1990, sentences were handed down in the Hawkins case. 19-year-old Fama received a sentence of 32 years to life in prison. Mondello, also 19, received a sentence of 5 to 16 years in prison.
Other defendants
Other members of the gang that chased and beat Hawkins were tried as well. John Vento was convicted of unlawful imprisonment and received a sentence of 2 to 8 years in August, 1990 and was released in 1998. A fourth man, Joseph Serrano, was convicted on the charge of unlawfully possessing a weapon and sentenced to 300 hours of community service on January 11, 1991. The acquittal of Vento on a murder charge, and the light sentence handed out to Serrano sparked more protests by the African-American community in Bensonhurst. Before that march was set to begin, on January 12, 1991 Al Sharpton was stabbed and seriously wounded by Michael Riccardi in a Bensonhurst schoolyard. Sharpton later recovered from his wounds.
Release of Mondello
After serving eight years in Attica Correctional Facility, Keith Mondello was released on June 2, 1998, to the dismay of the Hawkins family. On January 22, 1999, Mondello and Hawkins' father, Moses Stewart, met in a NY1 television studio, where Mondello apologized for his role in the killing. Stewart died at the age of 48 in 2003. Fama is not eligible for parole until 2022, when he will be just over 50 years old.
Memorials
Spike Lee's film Jungle Fever is dedicated to the memory of Hawkins, and Hawkins' photograph appears at the beginning of the film.

A faded mural painted soon after Hawkins' death is still visible on the side of a building on Verona Place in Bedford-Stuyvesant. It was repainted in August 2011 by street artist Gabriel Specter.

The song "Snacks and Candy" by the band Miracle Legion was written about this event.

The song "Slipping into Darkness" by Queen Mother Rage was dedicated, in conclusion, to Hawkins

The song "Treat 'em Right" by Chubb Rock has the following reference in the first verse: "In your hearts and minds never forget Yusef Hawkins". (VML, 01Jul11)

Tupac Amaru Shakur wrote a poem about Yusuf's death, "For Mrs. Hawkins". He also mentions him in the song "Tearz Of A Clown" in the fourth verse: "Has anybody here seen Yusef Hawkins? I thought I seen him talking with Malcolm walking. Where? Over the rainbow? Nah, over the trap, another murdered brother now where's the pay back?".

The film Blind Faith was dedicated to the memory of Hawkins
Wikipedia.org
---
The Death of Yusuf Hawkins, 20 Years Later
By Sewell Chan - The New York Times
August 21, 2009
Twenty years ago this month, a black teenager, Yusuf K. Hawkins, was shot to death after being taunted by a mob of bat-wielding white youths in Bensonhurst, Brooklyn. The racially motivated killing horrified New Yorkers, galvanized civil rights leaders and helped undermine Mayor Edward I. Koch's bid for a fourth term. Weeks after the killing, the mayor was defeated in the Democratic primary by David N. Dinkins, who went on to become the city's first (and so far only) African-American mayor.
For Diane Hawkins, the victim's mother, the tragedy's effects are far more personal. "My scar will never heal until the day I die," Ms. Hawkins said in a phone interview this week. "I'm going to take it to my grave." During the telephone interview from the office of the Rev. Al Sharpton, Ms. Hawkins received a call from Gov. David A. Paterson, the state's first black governor, who, as a state senator representing Harlem, took part in protests concerning Mr. Hawkins's death. (They put the interviewer on hold to speak with the governor.)
The facts of the case have long since entered the annals of city history. On the evening of Aug. 23, 1989, Mr. Hawkins, 16, and three friends had ventured into the conservative, heavily Italian neighborhood to look at a used Pontiac and were set upon by a crowd of angry white youths, some of whom wrongly believed that Mr. Hawkins was dating a white girl in the neighborhood.
The tragedy, racially polarized from the start, exploded into the national consciousness when 300 black demonstrators who marched through the neighborhood three days after Mr. Hawkins's death were confronted by jeering whites who chanted "Niggers go home," screamed obscenities and held up watermelons as a gesture of ridicule. Undeterred, Mr. Sharpton and other public figures led numerous protests in Bensonhurst and other parts of the city, demanding justice.
Eight youths faced charges stemming from the killing, but the attention centered on Joseph Fama, 18, and Keith Mondello, 19, who were said to have been the leaders of the mob.
The murder trial of Mr. Fama and Mr. Mondello opened in April 1990. The following month, Mr. Fama was convicted of second-degree murder by acting with depraved indifference, though a majority of jurors said they could not vote to convict him of intentional murder because they could not be certain he had fired the fatal shots.
Mr. Fama was sentenced to 32 years to life in prison. Now 38, he is held at the Clinton Correctional Facility, a maximum security prison in Dannemora, N.Y. He will be eligible for parole in April 2022.
A separate jury acquitted Mr. Mondello of murder but convicted him of rioting, unlawful imprisonment, menacing, discrimination and criminal possession of a weapon. He was sentenced to 5⅓ to 16 years in prison.
John S. Vento was acquitted of murder, but was convicted of rioting and sentenced to 2 2/3 to 8 years.
Pasquale Raucci was convicted of three counts of unlawful imprisonment, but these felony convictions were dropped by the judge, who sentenced him to probation and community service for possession of a bat as a weapon. Joseph Serrano was sentenced to community service, also for possession of a bat.
Three remaining men — James Patino, Charles Stressler and Steven Curreri — were acquitted of all charges.
"I believe more people should have been locked up and put behind bars," Ms. Hawkins said in the interview this week. Mr. Sharpton added, "It was a mob that killed him, and only two went to jail."
The trials did not bring an end to the racial turmoil that the slaying represented.
On Jan. 12, 1991, Mr. Sharpton was stabbed in the chest with a steak knife as he prepared for a march to recall the killing. Mr. Sharpton later described the episode as a turning point. "I made up my mind right there that if I was to die, I was fine with it," he said in a memoir, "Al on America" (Kensington, 2003). "That's when I realized I was willing to die for justice." (In 2003, the city agreed to pay $200,000 to settle a lawsuit by Mr. Sharpton, who maintained that that the city had failed to protect him.)
In December 1991, the United States Department of Justice announced that it would not pursue federal civil rights charges in the Hawkins case, given that the state has "vigorously pursued" criminal prosecutions.
In 1993, Mr. Mondello's sentence was reduced to 4 to 12 years. He was paroled from prison in 1998, after serving eight years. He apologized to Mr. Hawkins's family in a letter and in a meeting with Mr. Hawkins's father, Moses J. Stewart.
In 1999, to mark the 10th anniversary of Mr. Hawkins's death, his father spoke in Harlem, saying, in a tearful address: "He died for something I did. I'm the one who gave him his color. He was born black because of me." Mr. Stewart and Mr. Sharpton laid a wreath at the site of the killing. (Mr. Stewart died in 2003.)
This year, the marking of the anniversary will be more muted. At 1:30 p.m. on Sunday, Mr. Sharpton plans to lead a vigil in Evergreen Cemetery, where Mr. Hawkins is buried, starting at the cemetery entrance at Bushwick Avenue and Conway Street in East New York, Brooklyn.
In the interview this week, Mr. Sharpton said the killing had an indelible impact on city politics.
"Coming out of Yusuf, we had a black mayor," he said. "Now we have a black president, a black attorney general, a black governor. But institutionally we still have, as the president has said, structural inequality in education, in health care, in policing."
---
The Bensonhurst Case; Weary Jury Wasn't Convinced That Fama Was the Gunman
By Robert D. McFadden - The New York Times
May 18, 1990
Nine of the jurors who convicted Joseph Fama of murder declared last night that they were convinced he was part of the white mob that killed Yusuf K. Hawkins on a steamy night in Bensonhurst last August. But they said there was not enough evidence to show that the defendant fired the fatal shots.
The panel said it had thus concluded that Mr. Fama was not guilty of intentional murder, but that he was nevertheless guilty of murder by acting with depraved indifference, a charge which carries the same penalty of 25 years to life in prison.
''To act with the mob is depraved indifference,'' Tanya Bailey, the jury foreman, told a score of reporters at a news conference an hour after the verdict was read in State Supreme Court in Brooklyn. Three jurors chose not to attend the briefing.
No Racial Divisions
The jurors recalled more than 10 days of emotional and at times wrenching deliberations that went a week between votes, spoke of a sense of family that grew among them and were adamant that there were no racial divisions on the panel, which included six whites, three blacks, two Hispanics and one Indian.
They also spoke of the deep sympathies they felt for the families of both the victim and the defendant.
''It's difficult for any parent to see their son go to jail,'' said Ms. Bailey, a professor at New York City Technical College. ''It's difficult to send a young person to jail. And there's also a young man who's dead, who will never breathe the air, see the trees, have a wife, do any of the things we all enjoy doing.''
Asked about the credibility of major witnesses at the trial, the jurors said they had not believed the testimony of two convicted criminals who told of jailhouse confessions by Mr. Fama.
And they said they disagreed over the credibility of Franklin Tighe, the only witness who testified that he saw Mr. Fama shoot Mr. Hawkins. Mr. Tighe, a Bensonhurst resident, has been treated for mental disorders for years. Ultimately, the jurors said, they had to discount Mr. Tighe's testimony.
'We Didn't Believe Him'
''Franklin Tighe was the only eyewitness and we didn't believe him,'' said Steven Berquist, a telephone company coin collector from the Boerum Hill section of Brooklyn.
''No one actually put the gun in Joey Fama's hand,'' said Marie DeStefano, a first-grade teacher from Canarsie. She said of the witnesses who told of jailhouse confessions: ''We totally discredited them.''
By yesterday morning, the jurors said, they had agreed to find Mr. Fama not guilty of intentional murder, but were still deadlocked, 11 to 1, on the second count of second-degree murder, that of acting with depraved indifference.
Mr. Berquist said he was the lone holdout against conviction on that charge. ''I was unsure of the law'' as it related to that charge, he recalled. But the judge in the case, Justice Thaddeus E. Owens, offered an analogy in response to a question by the jury, saying that if there was a mugging by a group, everyone who was present and a part of that group was guilty.
Acting in Concert
Earlier in the deliberations, Mr. Berquist said, the judge had offered another helpful analogy: Even though a cymbal player is only a small part of the orchestra, he is still acting in concert. And Mr. Berquist recalled that there was testimony that put Mr. Fama at the scene of the crime.
''We believe that Joey Fama went from 68th to 69th Street,'' where 40 youths surrounded Mr. Hawkins and three other black youths on the night of Aug. 23 and the shooting occurred, Mr. Berquist said. ''If he wasn't an active participant, he would have gone home.''
Archimedes Acevedo, a postal worker from the Bedford-Stuyvesant section, said of Mr. Fama: ''He was just part of the group, and he had knowledge of it.''
Relaxing around a table in a paneled courtroom down the corridor from the one where they heard the Bensonhurst case, the jurors spoke of emotionally draining days as they clashed over the evidence and the law, bringing their insights and experience into the process and striving not to let their feelings cloud their judgments.
'Just Very Emotional'
''We had a very difficult 11 days,'' said Ms. DeStefano, who had been sobbing as the jury entered with the verdict. ''I was just very emotional. But I went by the law. I had to leave my feelings out of it.''
The jurors recalled that the panel took a vote on the first day and found themselves badly divided. Four jurors, they said, had not made up their minds about anything, and the eight others were divided in ways they did not specify. A week went by before another vote was even attempted, they said.
Asked why the verdicts took 10 full days of deliberation and part of another, Ms. Bailey, the foreman, said: ''We examined every single aspect of the law, so we could make a right decision based on the law. We had differences of opinion on how we interpreted the law. That's what took so long.''
Ms. Bailey said that she thought Mr. Fama was the triggerman. ''I personally decided that he was. But there was not enough evidence according to the law to convict him of that.''
Michele Gardner, one of three black jurors, said race was not a problem among the jurors. ''We didn't have that problem at all,'' she said. ''We were family for 11 days.''
Another black juror, Debbie Cose, agreed. ''We put that aside when we walked into the jury room,'' she said, referring to any racial feeling.
'Decided to Be Supportive'
Ms. Bailey said, ''We decided to be supportive and be a family.''
Several jurors spoke of their feelings of sympathy for the families of the victim and the defendant. ''It was a very sad and depressing moment for both families,'' Mr. Acevedo said. ''That's why the decision was so hard.''
There were also words of praise for Justice Owens. ''I think he helped us,'' Ms. Bailey said. ''I felt his explanations clarified things.''
Throughout the deliberations, the jurors said, they had no sense of what was going on in the outside world. ''The court officers did such an excellent job that we had no idea what was going on,'' Mr. Berquist said.
---

The victim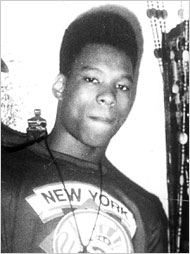 Yusef Hawkins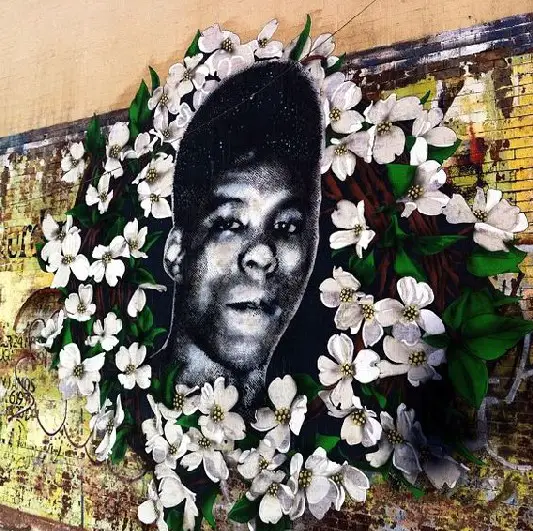 Mural of Yusef Hawkins in Bedford-Stuyvesant, Brooklyn; photo taken in 2012.