Peter Fell told police that he had killed the two women because they had laughed at him and one of them reminded him of his mother whom he hated.
He was tried at Winchester Crown Court and found guilty. In July 1984 he was sentenced to life imprisonment on each of the two counts of murder
His victims were Mrs Margaret Johnson who was 66 years old and Mrs Ann Lee who were both out for a walk when they were unfortunate enough to fall prey to Peter Fell on 10 May 1982.
He attacked them both with a knife and stabbed Mrs Ann Lee who was forty five years old five times, and Mrs Margaret Johnson was stabbed eleven times.
---
Peter Fell was sentenced to two life terms in 1984 after being found guilty by a 10-2 majority verdict of a double murder which had occurred in 1982. He was convicted on the strength of his own 'confession' and his supposed resemblance to a photo-fit picture of the killer. In December 2000 he was released on bail pending an appeal court hearing in March 2001 when his convictions were quashed.


---
Fantasy that became
17-year nightmare

Cloud over police as court quashes conviction of attention seeker jailed for killing two women out walking dogs

By Nick Hopkins, crime correspondent

Guardian.co.uk

March 6, 2001

Peter Fell was drunk, depressed and alone when he made a phone call that he would regret for the rest of his life. A fantasist and inveterate attention seeker, he dialled 999 and "confessed" to murdering two women who were walking their dogs on Hungry Hill, just outside Aldershot, Hampshire.

He gave the wrong date for the killings, burped and was mostly incoherent during a conversation that was hard for the police operator to take seriously.

Yet despite repeatedly insisting to detectives that he made up the whole story because he wanted "to be somebody", it was only yesterday - after 17 years in jail for double murder - that Mr Fell proved he was innocent.

He was freed by Lord Justice Waller at the court of appeal, who quashed his conviction, saying it was unsafe.

The decision left Mr Fell, now 40, relieved that his nightmare was finally over and Hampshire police stung by allegations that officers had put pressure on him to confess.

It also meant that the mystery of who stabbed Ann Lee and Margaret "Peggy" Johnson in mid-afternoon on May 10, 1982, has yet to be solved.

Their deaths horrified the country and led to a huge police investigation involving 100 officers.

Mrs Lee, 44, left her home in Highfield Gardens, Aldershot, with her labrador, Monty, to meet Mrs Johnson, 66, who lived in a nearby bungalow and owned a red setter called Tara.

The two women were about halfway round their regular walk on the common when they were attacked and stabbed repeatedly with a double-edged knife.

Blood

Mrs Lee, a mother of two, was discovered lying on the path at the top of a small hillock. Monty was pining by her side.

Mrs Johnson, a grandmother who had been married for 47 years, was 20 yards away slumped by a five-bar gate where she had run to escape. The lower rungs were covered in blood.

Although the murders had been committed in daylight and the bodies found close to an army base, there were no witnesses. Robbery and rape were ruled out as potential motives and no weapon was found.

There were two suspicious sightings on the day; a man wearing a camouflage jacket and a lorry driver - crying, with his head in his hands - seen close to the murder scene. The police dismissed both.

Mr Fell, however, had already tried to implicate himself. On the evening of the murder, he staggered out of a pub in Aldershot and called the police.

He told an officer he had met a man who had told him he was the killer. Mr Fell said the man lived at 10 York Road - his own address.

The police did nothing, so Mr Fell rang again the next day and offered the same information.

It was another two weeks before he was questioned and then he was ruled out as a suspect. Detectives concluded he could not have been on the common at the time of the murder, and in any event, there was no motive.

A year later, the police were no nearer to catching the killer and Mr Fell, a hospital porter, had moved to Bournemouth.

After another night of heavy drinking, he called the local police and said: "I know who did Bournemouth ... Aldershot double, double murderer on May 10, '78."

He gave his own name.

Several days later he was interviewed by the police for nearly 10 hours in seven sessions without a solicitor. To begin with, Mr Fell denied involvement.

"I have not murdered anyone," he told them. "Never have and never will, there's not a lot else I can say ... I know the phone calls and all that ... that's only because I wanted to be someone. I'm nobody."

During subsequent interviews, Mr Fell made a partial confession which he immediately retracted.

He'd said he'd met the two women and had struck one of them with a stick because she looked like his mother.

In the book Trial and Error, author David Jessell describes how officers were taped saying to Mr Fell "the sooner you see clear, my sunshine, the better", and "from the day you started to walk you lied."

Still protesting his innocence, Mr Fell was convicted of both murders in August, 1984, at the end of a 19-day trial at Winchester crown court.

Mr Fell's tendency to make things up was well-known to the police.

During a spell in the army as a cook, he twice lied about being attacked by civilians. He also claimed he was an army boxing champion - another fantasy.

He even tried to incriminate himself in the Yorkshire Ripper murders by phoning the police and giving them his name.

His disturbed childhood also made him prone to attention seeking. His parents split up when he was three, and two sets of foster parents had given him up, leaving him in the care of a children's home.

After considering his background and details of the confession, the criminal cases review commission referred the case back to the court of appeal in September, 1999.

Vulnerable

During the hearing, Patrick O'Connor, QC, accused the police of putting Mr Fell under pressure when he was in a particularly vulnerable state.

He also pointed to psychiatric evidence that showed Mr Fell was emotionally vulnerable and had a "suggestible" personality.

A psychologist, Gisli Gudjonsson, testified that he had had doubts about the reliability of Mr Fell's confession since 1988.

Following the quashing of the conviction, Mr Fell said he wanted to start afresh.

"If I dwell on it, it will just do me more harm, so I don't want to dwell on it. I'll just take one day at a time. I have always believed that one day I would be proved innocent," he said.

Asked why he confessed to the murders, he replied: "I used to say a lot of silly things but did not realise they would be used against me at the trial."

Mr Fell will probably be due a substantial sum in compensation. Hampshire police said yesterday it would review the murder case.

"We never give up on murders," said Detective Superintendent Des Thomas. "If any further evidence is forthcoming, we will take the appropriate action. The families of the victims will be informed of developments."

Jim Nicholl, Mr Fell's lawyer, said of his client: "He might be a crackpot, he might be crazy, he might be all those things, or probably was in 1982. But a murderer he was not and never has been. He is completely and totally innocent."
---
Man cleared of killings after 17 years in jail
By Ian Burrell, Home Affairs Correspondent
Independent.co.uk
March 6, 2001
A former hospital porter who has spent nearly all his adult life behind bars after confessing to the murders of two women was cleared by the Court of Appeal yesterday.
Peter Fell, 39, was described as a "serial confessor" who had been the victim of "oppressive" police interrogation.
The court cleared him of killing Ann Lee, 44, the wife of a retired Army major, and Margaret "Peggy" Johnson, 65, the wife of a banking director, who were repeatedly stabbed on Aldershot Common, Hampshire, while walking their dogs on a May afternoon in 1982. Mr Fell's solicitor, Jim Nichol, said: "He may be a crackpot, he may be crazy, he may be all these things – and probably was in 1982 – but a murderer he was not and never has been."
As he left court after the conviction was quashed, Mr Fell said: "I'm very happy and now just taking one step at a time. I don't want to dwell on it, but just to move on." Asked about the time he had spent in prison, he said: "I have just got to put it behind me and start afresh. If I dwell on it, it will just do me more harm."
Mr Fell, who was originally from Lancashire but had taken a job in a Bournemouth hospital, was jailed for life at Winchester Crown Court in August 1984 after a 19-day trial.
At the Court of Appeal hearing, Lord Justice Waller, Mr Justice Garland and Mr Justice Sachs were told Fell was seen five times by police in the months after the murders because he had brought suspicion on himself in a series of telephone calls. On the anniversary of the killings, renewed media publicity triggered further phone calls from Mr Fell while he was drunk and depressed.
A month later he was arrested and detained for three days without access to a lawyer. Eventually he admitted hitting the women with his fists. Police conceded that his account lacked any detail and did not tally with the known facts.
His confessions came immediately after officers had discussed with him the likely outcomes of his pleading guilty to murder or manslaughter.
Mr Fell spoke of "going crazy" and of being laughed at by the women – and even by the trees. Patrick O'Connor QC, for Mr Fell, said this bore the hallmarks of a vulnerable young man confessing to the police as a "compromise". The confession was obtained by "oppression, trick and inducement", he alleged.
The Crown conceded that his confessions were unreliable and that, on that basis alone, his convictions could not be upheld.
Mr Fell was released from prison on bail in December pending the outcome of the appeal. He is now waiting to hear the court's reasons for overturning the conviction, and said the question of a possible compensation claim was in the hands of his solicitors.
Mr Nichol, who has represented clients in other miscarriage of justice cases, including the men wrongly jailed for the murder of Carl Bridgwater, a newspaper delivery boy, at Yew Tree Farm near Stourbridge in 1978, said Mr Fell was "completely and totally innocent".
---
Peter Fell: My fate in God's hands
Thisislancashire.co.uk
December 2, 2000
Convicted killer Peter Fell spent his first day of freedom preparing for the final battle to clear his name and insisted: "My fate is in God's hands."
And the former soldier and photographic salesman from Great Harwood called on the Government to re-open the murder case which resulted in him spending 17 years behind bars so the real killer can be brought to justice.
Fell, whose mother Maureen is from Accrington, was just 23 when he was convicted of murdering Ann Lee, 44, the wife of a retired Army major, and Margaret "Peggy" Johnson, 65, the wife of a banking director on Aldershot Common.
He was given two life sentences at Winchester Crown Court on August 9 1984 but was yesterday freed on bail by the Court of Appeal in London after prosecution lawyers admitted the conviction was unsafe.
He is now preparing for a full appeal hearing in January.
Speaking from his bail hostel in London, Fell said: "I became a Christian while I was in prison. I am in the Lord's hands and it is up to Him what happens, where I go next and what I do, I am just going to take one day at a time.
"I am just grateful for the freedom, although it will take some time to adjust to normal life because I have been in prison for so long.
"I think the Government should re-open the investigation. A lot of the evidence in the case was medical, but I have got an alibi for the time of the offence, I was in the bank cashing a cheque. "This isn't the end of the road because there is still a way to go yet. But I have been released on bail which is good news because it gives me a real boost in confidence for the appeal hearing. All I have to do now is wait for a court date from the Appeal Court in London."
Fell has always maintained his innocence and his supporters have pointed to evidence of his attention-seeking behaviour as a reason for his involvement in the inquiry.
Hyndburn MP Greg Pope is calling on Home Secretary Jack Straw to order a Police Complaints Authority investigation into the way the case was investigated.
Fell has been ordered to stay at the bail hostel in London until after the outcome of the appeal hearing and he said he is unsure whether he will return to Lancashire in the long term.
His brother Paul, of Great Harwood today revealed that Fell was told of his impending release out of the blue.
He said: "They called him into a room, asked him to sit down and offered him a cup of coffee, then they said 'you are going to be going out next week.'
"I can't believe they would do something like this if he wasn't going to win the appeal."
Peter Fell: My only crime was being foolish
The crime for which Peter Fell was convicted shocked the nation. On a cold spring afternoon in May 1982, two housewives Anne Lee, 44, and Margaret Johnson, 66, were savagely murdered as they walked their dogs on Hungry Hill, Aldershot. They were both stabbed several times but the killings appeared motiveless.
Peter Fell now says his only crime was being foolish - he rang the police after the murders were publicised to say the murderer was called Pete and lived in York Road, Aldershot - his own address. He was interviewed and gave an account of his movements on that day, but was released without charge.
A year later with the murders still unsolved, the police received more calls from Fell - identifying himself as the killer. He was arrested and taken to Farnborough Police Station. He confessed after 72 hours questioning without a solicitor and his supporters claim the facts in it did not match with the actual events. The confession was later retracted.
His trial had lasted 19 days, and the jury of six men and six women deliberated for 25 hours and 30 minutes before reaching 10-2 majority verdicts of guilty for each murder. The court heard that Fell, who pleaded not guilty, had made 13 anonymous phone calls to police naming himself as the killer.
The defence had not called him to give evidence, but during the trial, the jury was told that he had made a partial confession to police admitting he had killed the women, although he denied remembering anything about stabbing them. Fell, who has also claimed that he tried to incriminate himself for the Yorkshire Ripper murders, and his supporters say these are many aspects of his case that make the conviction unsafe:
There was no forensic evidence

No murder weapon was found

He was not picked out at an identity parade

The police released him on bail for three months on the same day he made the confession

Detectives came close to charging a second man with the murders

His alibi that he was in a bank at the the time of the killings stands up

A woman who was attacked in a similar fashion a year before the two murders says the photofit of the double killer was the same man who attacked her. Fell was serving in Germany at the time she was attacked.

A second woman has come forward since the publicity given to Fell's case to say she saw a "crazy-looking" man near the murder scene just an hour before the killings who was definitely not Fell.
Fell has been described by psychiatrists as being a classic case attention seeker, who would lie and exaggerate to be noticed.
---
Murder 'fantasist' freed on bail
BBC News
December 1, 2000
A 39-year-old who has spent nearly 18 years in jail for a double murder has been freed on bail after doubts emerged about his conviction.
Judges at the Appeal Court in London were told by Peter Fell's lawyer that fresh evidence about his vulnerability would show his confessions to the crimes were false and his conviction unsafe.
Forensic psychologists believe Fell is a fantasist whose confession to the murders cannot be trusted. His solicitor James Nichol has also said new evidence proves Fell could not have been at the murder scene.
Fell was convicted of murdering Ann Lee, 44, the wife of a retired Army major, and her friend Margaret "Peggy" Johnson, 66, the wife of a banking director, while they were exercising their red setter and Labrador dogs on Aldershot Common on 10 May 1982.
Fell said: "I am very relieved and naturally happy. I have always believed that one day I would be proved innocent. I used to say a lot of silly things but did not realise that they would be used against me at the trial."
Fell, from Accrington, Lancashire, made 13 anonymous phone calls to police naming himself as the killer - the first came the day after the murders.
At first he was not believed, and shortly after the killings he moved to Bournemouth became a school groundsman and married his fiancée Ann. The couple had a baby, Sara, in 1983.
But a year later Fell contacted police again and was arrested. He was sentenced to two terms of life imprisonment at Winchester Crown Court on 9 August 1984.
'Dreadful crimes'
Fell, who pleaded not guilty, was not called by the defence to give evidence. During the trial, the jury was told that he had made a partial confession to police admitting the murders but saying he could not remember anything about stabbing the two women.
The 19-day trial ended when a jury reached a 10 to two majority verdict of guilty for each murder. Mr Justice Nolan told the former soldier that he had been convicted of "dreadful crimes".
While in prison Fell has become a practising Christian. He said his faith in God had helped him to cope with the ordeal of being wrongly imprisoned.
Mr Nichol has now said his client's partial confession was extracted after Fell had been held in solitary confinement for 72 hours, denied access to a solicitor, despite repeated requests, and refused food.
He added that the full extent of Fell's psychological condition had not been fully understood at the time of his conviction
Yorkshire Ripper
Fell, who came from an exceptionally deprived family background, was known to police as a fantasist and had even confessed to being the Yorkshire Ripper, said Mr Nichol.
Five psychiatrists and psychologists from both the defence and prosecution have now established that Fell was so vulnerable that no reliance whatsoever can be placed upon his admission to the police, his solicitor added.
"He has been in prison for 17 years too long. He is innocent and will be shown to be innocent because he could not have been at the crime scene at the time of the killings."
A full appeal is due to be held next month.
---
Convicted killer wins
leave to appeal
Lineone.net
September 30, 1999
A convicted killer imprisoned since 1984 for the murder of two women stabbed to death as they walked their dogs had his case referred to the Court of Appeal today.
Peter Fell, 38, was jailed for life for the murders of Ann Lee, 44, and Margaret Johnson, 65, at Winchester Crown Court.
The court was told how Fell, a hotel porter from Bournemouth, Dorset, had carried out the killings on Aldershot Common because one of the women looked like his mother.
The former soldier had made 13 anonymous telephone calls to police naming himself as the murderer after the killings on May 10, 1982 and confessed to police after his arrest.
Despite a complete lack of forensic evidence and no murder weapon, detectives built a strong case against Fell and he was imprisoned for life by Mr Justice Nolan.
Fell later withdrew his confessions and applied for leave to appeal against conviction, but this was refused by the Court of Appeal in 1985.
A further application was made to the Home Office in October 1991 and Fell's case was taken up by Justice, a legal human rights organisation.
Justice brought the case to the attention of the Criminal Cases Review Commission, an independent body who review possible miscarriages of criminal justice.
The commission has now referred the case to the Court of Appeal and a hearing is expected to take place in the spring of next year.
The grounds of the appeal were understood to be related to unreliable confessions from Fell and non-disclosure of information at the trial.
"We are really delighted that this case has been referred back to the Court of Appeal," said Justice spokeswoman Lib Peck.
---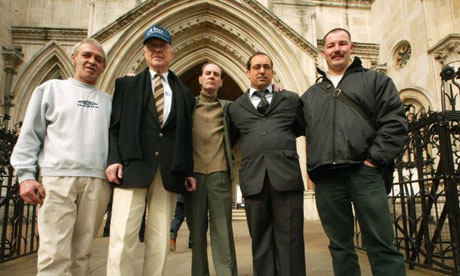 Peter Fell (first right) with other victims of miscarriages of justice in 2004. (From left) Paddy Hill, Terry Pinfold, Robert Brown, Michael O'Brien and Peter Fell.
(Photograph: Graham Turner)