This case is unique in the fact that it involved the fingerprinting of the entire adult, male population of Blackburn, Lancashire. It was 12.45 on 14 May 1948, nurse Humphreys was doing her rounds of Ward CH3, of Blackburn's Queen's Park Hospital. When she reached the cot of four-year-old June Ann Devaney she was horrified to find the child was missing.
Under the cot was a Winchester bottle and on the highly-polished floor were the impressions of stockinged, adult footprints. The police were called and a search was made of the building and grounds. The childs body was discovered about 300 feet away in the grounds, huddled against a wall. She had been raped and it looked as if the killer had beaten her head against the wall.
The bottle found under the bed had some clear fingerprints on it and examination of the footprints showed that they had been made by the socks of an adult. By 15th June 2,017 people had been processed and eliminated from the inquiry. It was at this point that the police decided that the only way they were going to catch this man would be to widen the search. it was decided to fingerprint the whole adult, male population of Blackburn.
Going from house to house and using the electoral register as a guide, the police slowly fingerprinted every male over the age of 16. This included people who had since left the area or had travelled abroad.
It was on 12th August that all the hard work finally paid off. It was fingerprint set number 46,253 and belonged to Peter Griffiths of Birley Street. He was a 22-year-old packer at a flour-mill. He was arrested the following night and soon admitted his guilt. He had once served in the Welsh Guards, was of low intelligence and beleived to be schizophrenic. On the fatal night he had been out drinking and had set out to 'get sobered up'. He made no mention about the rape and killing but said that he picked the girl out of the cot and she had put her arms around his neck.
Peter Griffiths was charged and tried at Lancaster Assizes. It took the jury only 23 minutes to return a verdict of guilty and he was hanged at Walton Gaol on 19th November 1948 by Albert Pierrepoint.
greggmanning.scstamps.co.uk
---
A brutal murder begins an unusual investigation
May 14, 1948
History.com
Three-year-old June Devaney, recovering from pneumonia at Queen's Park Hospital in Blackburn, England, is kidnapped from her bed. Nurses discovered her missing at 1:20 a.m. the next day, and police were immediately summoned to investigate. Two hours later, her body was found with multiple skull fractures. The medical examiner determined that Devaney had been raped and then swung headfirst into a wall.
Two significant clues were found in the children's ward that would prove helpful in catching the killer: footprints on the freshly cleaned floor and a water bottle that had been moved. Although there were several fingerprints on the bottle, police were able to account for all but one set. These prints also failed to match any of those in the police's database of known criminals.
Investigators fingerprinted over 2,000 people who had access to the hospital. Still, they couldn't find a match. Detective Inspector John Capstick then went even further: He decided that every man in the town of Blackburn, a city with more than 25,000 homes, would be fingerprinted.
A procedure such as this would be impossible in the United States where Fourth Amendment protections prevent searches without probable cause. But the plan went into effect in Blackburn on May 23, with police assurances that the collected prints would be destroyed afterward. Two months later, the police had collected over 40,000 sets of prints yet still had not turned up a match. Checking against every registry they could find, authorities determined that there were still a few men in town who hadn't provided their prints.
On August 11, police caught up with one of these men, Peter Griffiths. His footprints matched the ones found at the scene. When his fingerprints also came back a match, he confessed to the awful crime, blaming it on alcohol.
Griffiths was found guilty of murder and was executed on November 19, 1948.
---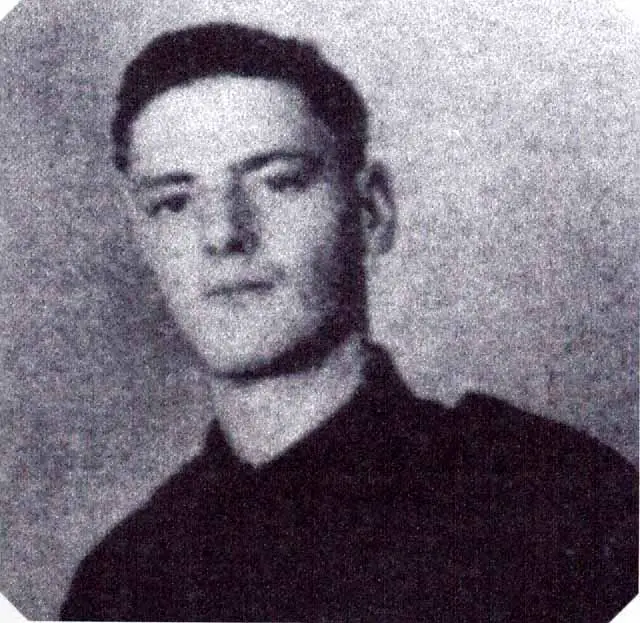 Peter Griffiths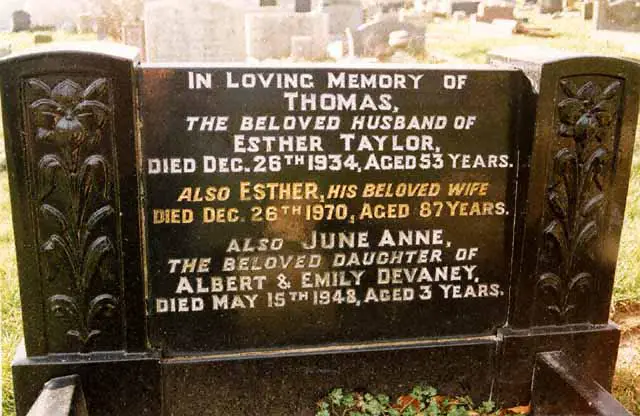 The grave of June Anne Devaney. This is a small black headstone in a far corner of the cemetery. She was murdered on the 15th May 1948. She was three years old and murdered in the grounds of Queen's Park Hospital. A 22-year old ex-Guardsman Peter Griffiths was caught after 46,000 males over the age of 16 were finger printed.