In 2005, Sayano Horimoto (堀本 紗也乃, Horimoto Sayano, 1993 - December 10, 2005) was murdered by a teacher, Yu Hagino (萩野 裕, Hagino Yū, born 1982), at her juku.
The 12-year old, a sixth grader at Shinmei Primary School, became uncomfortable around 23-year old Hagino, a teacher at a cram school in Uji, Kyoto Prefecture and student at Doshisha University. Sayano complained to her parents about the teacher when he became suggestive around her. On December 10, 2005, Hagino sent the other students outside. He then disconnected a security camera and stabbed Sayano Horimoto to death.
Yu Hagino was convicted of injuring a man before the murder. He went to a mental hospital in the autumn of 2003, but he became worse after that, taking Fluvoxamine.
Because his crime occurred when the murder of Airi Kinoshita made a panic in Japan, he was noted as a child killer by Japanese people. Hagino received an 18-year prison sentence for his crime on March 6, 2007. Prosecutors appealed, seeking a heavier penalty. However, the Osaka High Court revoked the original sentence and sentenced him to 15 years imprisonment on March 24, 2009.
---
Cram school teacher gets 18 years for slaying girl
The Japan Times
March 7, 2007
KYOTO (Kyodo) A part-time cram school teacher was sentenced to 18 years in prison Tuesday for fatally stabbing a 12-year-old female student in 2005 at the school in Uji, Kyoto Prefecture.
The shocking incident led the cram-school industry to review classroom safety and baselines for hiring teachers.
Yu Hagino, 24, stabbed Sayano Horimoto, a sixth-grader, with a kitchen knife in the neck and other parts of her body while they were alone in a cram school classroom on the morning of Dec. 10, 2005, the Kyoto District Court said.
"The cruelty of the crime is beyond description," especially since it happened in what should be considered a safe environment -- a student and teacher in a school, presiding Judge Makoto Himuro said.
Himuro dismissed the defense argument that Hagino was mentally incompetent at the time of the crime, holding him fully responsible for his actions, which the court concluded were premeditated.
The defendant had prepared the knife used and pulled the plug on a video monitor to avoid being interrupted by other students or teachers, the judge said.
The court, however, did not accept prosecutors' demand that Hagino get life imprisonment. The judge also noted that Hagino had surrendered by making an emergency call to police.
The victim's father, Tsunehide Horimoto, 43, told a news conference, "The sentence is too light."
After the defendant pleaded guilty, his mental competency became a major issue during the trial, but a psychiatric test cleared him.
During the proceedings, Hagino told the court that he was upset by a complaint about his teaching, filed against him by the victim's parents in May 2005. He claimed the episode led him to hallucinate that the girl had attacked him with a dagger.
The court ruled Himuro, who was fired after the slaying, was capable of separating illusion from reality.
---
Teacher admits killing girl, apologizes
The Yomiuri Shimbun
Feb. 21, 2006
A 23-year-old former part-time cram school teacher admitted during the first hearing of his trial at the Kyoto District Court on Monday that he stabbed a 12-year-old primary school girl to death at the cram school in December.
Yu Hagino, who was also a student of Doshisha University, said he regretted the crime. "I want to apologize to the girl and her parents from whom I took away the precious life of their child," he said. "I'll atone [for the crime] for the rest of my life."
Hagino's lawyer argued that Hagino has suffered from mental disorders, including hallucinations and delusions, and could not tell right from wrong at the time of the incident. The lawyer is likely to request in the next hearing at the earliest that Hagino undergo psychiatric tests.
Hagino is charged with murder and violation of the Firearms and Swords Control Law.
According to the indictment, Hagino killed Sayano Horimoto, a sixth-grader at Shinmei Primary School in Uji, Kyoto Prefecture, by stabbing her in the neck and other parts of the body at about 9 a.m. on Dec. 10 in a classroom at Kyoshin Co.'s Uji Shinmei cram school in the city.
At the hearing, prosecutors said Hagino had first approached the seated girl from behind and tried to hit her with a hammer, but failed. He then stabbed her in the neck, head and face with a knife more than 10 times. Hagino then pushed her to the floor and then stabbed her at least three more times in the neck.
Prosecutors said Hagino's relationship with the girl deteriorated after her parents complained about the way Hagino had treated Horimoto when she had an individual counseling session in May.
Hagino suspected that an anonymous complaint in a cram school questionnaire that said he was hard to understand came from Horimoto.
The prosecution insists Hagino began harboring hatred for Horimoto because he thought she was disrespectful.
The prosecution also said Hagino had a murderous intent after the cram school excluded him as an observer for student practical test on Dec. 1. Hagino premeditated the crime by wrapping his knives and a hammer in a towel so that they would not make a noise when he put them in a bag, according to the prosecution.
Hagino allegedly planned to commit the crime on Dec. 3, an examination day for sixth-graders, because there would be fewer teachers than usual at the school. He purchased two knives the day before, but did not commit the crime that day because Horimoto had already taken the test.
Hagino's defense lawyer, however, insisted that he had received psychiatric treatment and was taking an antidepressant before he committed the crime.
The lawyer also said that Hagino had hallucinations that the girl had attacked him with a sword and had taken over his body. Although Hagino drew up a detailed plan for the murder, he never thought how he could escape from the scene and destroy evidence, the lawyer said.
At a press conference after the hearing, the lawyer said Hagino has stopped having hallucinations, but was suffering from an altered mental state at the time of the incident and needs psychiatric tests.
---
Teacher held over Japan stabbing
BBC.co.uk
December 10, 2005
A teacher has been arrested in Japan and charged with stabbing a schoolgirl to death in an argument.
Sayano Horimoto, 12, was killed in a classroom on Saturday, becoming the third child to be murdered in Japan in the last three weeks.
Japan's justice minister has warned of a chain reaction of killings.
Serious crimes are rare in Japan but recent child murders have prompted parents to demand increased security in schools, our Tokyo correspondent says.
The shocking, inexplicable nature of the killings has prompted many Japanese to ask if something is wrong with the moral climate in their country, the BBC's Jonathan Head reports.
Recent killings
Yu Hagino, a 23-year-old teacher at a private school in the city of Uji in Kyoto prefecture, has been arrested on suspicion of killing the schoolgirl, police said.
"The suspect has said that he stabbed the student after getting into a verbal dispute," a police spokesman said.
Local media said the suspect had told police the girl had mocked him.
Police said the classroom's surveillance camera system had been disabled before the attack, which was carried out with a kitchen knife.
In two recent, unrelated incidents, the body of a seven-year-old child was discovered strangled and taped inside a box in a car park.
The body of another child of the same age was also discovered, stabbed and left in a forest.
A Peruvian man was arrested over the first killing.
Security measures
"This is truly sad," Japan's Justice Minister, Seiken Sugiura, told Kyodo news agency, in response to the latest murder.
"We need to prevent a chain reaction. I would like to carefully study the incident and think of steps that can be taken," he said.
According to our correspondent, the minister's warning appears unnecessarily alarmist, as there is no evidence that violent crimes involving children are rising in Japan and no link between the three latest murders.
But parents are calling for better security on the long walk that customarily takes many children to school.
School uniforms fitted with global positioning transmitters are being sold and some schools have fitted sensors in their gates that inform parents their offspring have arrived safely.
---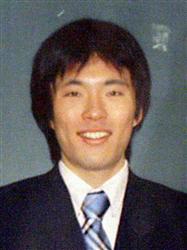 Yu Hagino, a 23-year-old teacher.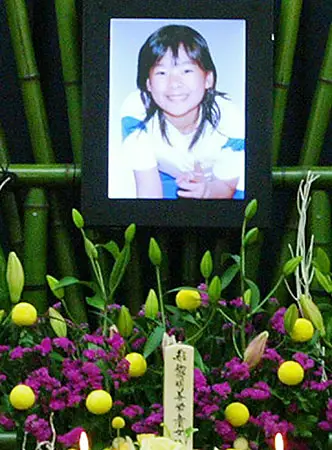 Sayano Horimoto, 12, a sixth grader at Shinmei Primary School.