The Copley Township shooting was a shooting spree conducted by Michael E. Hance, 51, in Copley Township, Summit County, Ohio on August 7, 2011. Seven people were shot dead before the gunman was shot and killed by the police.
Description
Using two handguns, including a Hi-Point .45 ACP, which he bought from a pawn shop five days before, and a .357 Magnum six-shot revolver he bought from the same location in 2005, Hance shot his girlfriend, Rebecca K. Dieter, 49, at 11 a.m. before shooting seven more people. Dieter is the only victim who survived.
Hance allegedly shot and killed Autumn Johnson, 16, and her grandparents, Russell Johnson, 67 and Gudrun Johnson, 64. Craig Dieter, 51 — Rebecca's brother — and Amelia Shambaugh, 16, were also killed. Hance then chased Bryan Johnson, 44 — the father of Autumn Johnson — northward, and shot him to death in a nearby driveway.
Hance then followed victim Craig Dieter's son, 11-year-old Scott Dieter, into a neighboring house where he was then shot and killed. As Hance was leaving the house, police surrounded him and issued some commands. He did not obey or go along with the commands, and opened fire on the officers. The police fired back and Hance was shot and killed.
---
Copley officer who killed shooting rampage suspect cleared of wrongdoing
By Garrett Downing - NewsNet5.com
September 21, 2011
COPLEY, Ohio - The Copley police officer who shot and killed a man who was on a shooting rampage through a neighborhood has been cleared by the Summit County Prosecutor.
Officer Ben Campbell killed 51-year-old Michael Hance after Hance went on a shooting spree that left seven people dead and wounded another.
Prosecutor Sherri Bevan Walsh concluded that Campbell did not violate any state or federal laws, and he had reason to believe Hance posed an immediate threat to himself and others, according to a release.
"The U.S. Supreme court has affirmed that police officers have a constitutional right to use deadly force when they think a suspect will cause serious physical harm to another person," Walsh said in a release. "Officer Campbell had a reasonable and justifiable belief that Hance would continue to shoot at people after Hance shot eight people and then refused to comply with police officers' verbal commands to drop his weapon and surrender."
Walsh also cleared Keith Lavery, a neighbor and retired police officer, who also shot at Hance.
The incident occurred in the area of Schocalog Road and Goodenough Avenue on Sunday, Aug. 7.
Those killed by Hance's shooting spree include:
-Russell Johnson, 67, neighbor
-Gudrun "Gerdie" Johnson, 64, neighbor
-Bryan Johnson, 44, the Johnson's son
-Autumn Johnson, 16, Bryan Johnson's daughter
-Amelia Shambaugh, 16, Autumn's friend
-Craig Dieter, 51, brother of Hance's girlfriend
-Scott Dieter, 11, son of Craig
Hance's girlfriend, Rebecca Dieter, was also shot and critically injured.
---
Copley gunman went to firing range days before deadly shooting rampage
Hance needed instruction on how to fire weapon
By Bob Jones - NewsNet5.com
August 19, 2011
COPLEY TOWNSHIP, Ohio - Copley Township police said the gunman, who killed seven people and also shot and injured his girlfriend, visited a Barberton firing range two or three days before he went on the deadly rampage.
Investigators said Michael Hance went to The Marksman on Barber Road either August 4 or August 5 and brought with him a .45 caliber handgun that he had purchased on August 2 from Sydmor's Jewelry in Barberton.
"(Hance) really didn't know how to use the weapon. He went to a firing range to practice, but really didn't know how to use it. He had to be instructed on how to use that weapon," Lt. Luke Marchmon said.
Workers at The Marksman declined to comment on Friday.
Hance did not act strangely while at the range and gave no indication that he was planning to harm anyone, police said.
Investigators also revealed a new timeline of the shootings, based on several witness interviews and 911 calls.
Lt. Marchmon said it appears Craig Dieter, 51, was shot and killed first, followed by Russell Johnson, 67, and his 64-year-old wife, Gudrun.
Next, Hance shot and killed the Johnson's granddaughter, Autumn Johnson, 16, and her friend Amelia Shambaugh, who was also 16.
Hance then chased and gunned down 44-year-old Bryan Johnson. After that, he shot his girlfriend, Rebecca Dieter, 49, once or twice in the back. She's the only survivor.
Finally, Hance killed Scott Dieter, 11, who was hiding in a neighbor's basement.
"Obviously, he was on a mission to destroy those two families," Marchmon said.
Police are still trying to figure out a motive.
They recently searched Rebecca Dieter's home and found several rambling notes written by Hance. In some of the notes, Hance seemed obsessed with cancer.
"In his own way, he was trying to research and to find methods to help cure cancer," Marchmon said.
However, the notes did not point to a clear motive and Hance did not write about hurting his girlfriend's family or the next door neighbors.
Investigators believe Hance had a delusional disorder, but was never treated.
Detectives have talked with his relatives, who had suggested to Hance that he get help for depression, but he refused and insisted he could rely on herbal remedies.
"Trying to get into his mind is just very, very difficult," Marchmon said.
Investigators tracked a couple of minor disagreements that Hance had with the Johnson family dating back at least one year.
In one instance, the family asked Hance to stop using a rototiller at midnight. In another incident, Hance apparently became angry when a child in the Johnson family was shooting a BB gun near the home where Hance was living with his girlfriend.
But nothing explains why Hance resorted to murder.
"Who does that because they have a dispute with a neighbor or they're upset with a neighbor?" Marchmon asked.
The key to getting possible answers may rest with Rebecca Dieter. She remains in Akron City Hospital and police have not been able to question her.
Hance was shot and killed by Copley Township police officer Ben Campbell. He remains on leave, which is standard procedure in a police-involved shooting.
The Summit County Sheriff's Department continues to investigate Campbell's use of deadly force.
Copley Township Police Chief Mike Mier said Campbell's actions probably saved other lives that day.
---
Copley shooter Michael Hance was eccentric, but also helpful to neighbors in Akron
By John Caniglia - The Plain Dealer
August 9, 2011
AKRON, Ohio -- Residents of Minota Avenue weren't likely to forget their neighbor Mike Hance even before Sunday.
The 51-year-old who hunted down and shot to death seven people and wounded his longtime girlfriend during a 10-minute rampage in Copley Township was eccentric in ways hard to ignore.
Some said he was just a quiet guy. Others called him an oddball.
"He was strange," said Ralph Petz, a neighbor who has lived across the street for years and was friendly with him.
Neighbors and people who knew Hance said he had compulsions that may have hinted at shades of mental illness.
He would place a kayak in the driveway and pretend to paddle. He would stock up on herbs and roots from a local health food store and make concoctions that would have him buzzing around. Once, he repeatedly dug up his small yard with a Rototiller only to leave it without planting grass.
After the shootings Sunday, neighbors saw a line of police cars pulled up to the gray, two-story Minota home owned by Hance's girlfriend Becky Dieter and shared by the couple for several years. After obtaining a search warrant, police broke a window on the side door.
A neighbor said officers seized at least one computer and some type of writing Hance had been working on.
Officers stayed until about 6 p.m. and left, boarding up the house behind them. The couple spent time in both the Akron and Copley Township homes.
Copley police at a news conference Monday were not clear on what sparked the shooting.
Dieter is at a local hospital. Police have been unable to speak with her.
In late May 2009, Akron police were called to the home on Minota for some sort of crisis intervention for a man with apparent mental health issues, but no report was made, police said.
Hance did not have a criminal record. His only other documented interaction with police occurred in 1997 in Akron, where he lived for years. He confronted an intoxicated neighbor who messed with his truck. He told police the man threatened him with a gun.
But some say he may have had mounting stress in his life. He had helped care for Dieter's ailing father, who had dementia. And he was unemployed after he lost his job when a copy store in Akron closed.
Dieter, his girlfriend of more than 20 years, mostly stayed at her parents' home on Goodenough Road in Copley Township, a house that she and Hance were supposed to be fixing up for sale, friends and neighbors there said. They said Hance had a tense relationship with next-door neighbors Russell and Gudrun "" Johnson, who didn't like the disrepair the Dieter's house was falling into or the odd hours of the night that Hance would be up working loudly on his truck.
The two homes were only separated by a gravel driveway.
Sandy Haught, another neighbor on Minota, said Hance told her that he didn't like living in Copley.
But he appeared to love Dieter.
Often, Haught said, they would see him follow her down the street in his robe as she drove off to work, blowing kisses to her.
Robin Hancock, who said she worked alongside Hance as a caregiver for Dieter's parents, the mother, Helen, who died in 2008, and father Wayne, who died the following year, said he was obsessive about his health and would frequent the Mustard Seed Market in Akron where he would stock up on health items. She said he would also carry around stacks of books and was ready to launch into a lecture on whatever current topic he was fixated on.
"He seemed to always be busy with something but never got anything done," Hancock said.
She said her quarrels with Hance and the mood he brought to the Dieter home caused her to quit as a caregiver several months before Wayne Dieter died in 2009. Hancock said she had worked for the family for more than three years.
Hance's parents both died in 2006 and their small estate was split evenly between Hance and a sister, who lives in Mogadore, according to the lawyer who handled the estate. She declined to talk to a reporter Monday.
Cliff Woodruff, who graduated with Hance from Norton High School in 1978 said he remembers his classmate as tall and quiet, but very sweet-natured.
Hance was even voted the "most courteous" guy at the school. The yearbook shows him opening the door for another student.
And shades of that helpful Mike Hance still seemed to exist on Minota.
Hance helped his fellow neighbors with cars stuck in the snow and dead engines.
Once he ran out in freezing weather wearing only a bathrobe to help Petz push his car out of a drift.
Hance was out often, mostly fixing pickups that he parked in the driveway and backyard.
Hance's next door neighbor, Daryl McCraney, said he was stunned by the shooting.
He said Hance often helped him with an engine in the middle of winter.
"He was just a regular old neighbor," McCraney said.
Petz said he saw Hance for the last time Thursday doing yard work. He said Hance appeared to have a faraway look on his face while he wore some type of a helmet to protect his face.
Woodruff said when word spread among graduates of Norton -- just a short hop from Copley -- that the killer was one of their classmates, nobody thought of Hance as the likely shooter.
"He was just one of those people, it might sound clich but he was just friendly," Woodruff said. "But something sure changed, I guess."
---
Police name suspect in Ohio shooting spree
By Leigh Remizowski - CNN.com
August 8, 2011
Police have identified Michael E. Hance, 51, as the suspect behind a shooting rampage in Ohio on Sunday in which a man gunned down seven people before police killed him.
Hance allegedly shot his girlfriend, Rebecca Dieter, 49, at the home they shared at about 11 a.m. before running through his Copley Township neighborhood and claiming six other victims, police said at a news conference on Monday.
"No words can adequately express the loss experienced by the families of the victims and the community at large," said Copley Township Police Chief Michael Mier. He described the community, which lies about seven miles west of Akron, as having a very low violent crime rate.
Dieter is the only victim who survived the shooting spree. She is currently at a local hospital after suffering multiple gunshot wounds, Mier said.
The spree continued at an adjacent house where Hance allegedly shot and killed Autumn Johnson, 16, and her grandparents, Russell Johnson, 67 and Gudrun Johnson, 64, according to detective Joe Krunich.
Craig Dieter, 51 -- Rebecca's brother -- and an unidentified 16-year-old were also killed at the second crime scene.
Krunich said Hance then chased Bryan Johnson, 44 -- the father of Autumn Johnson -- northward, where he was shot to death in a nearby driveway.
He then followed victim Craig Dieter's son, 11-year-old Scott Dieter, into a neighboring house where he was then shot and killed, Krunich said.
As Hance was leaving the house, police surrounded the shooter "and issued some commands," Mier said. "The suspect did not obey or go along with the commands, and the suspect was shot," he said.
Authorities said Hance used two handguns in the shootings.
"We have no idea what prompted this incident whatsoever," Krunich said.
Residents held a candlelight vigil Sunday evening, according to CNN affiliate WJW-TV.
One neighbor said residents were shocked and baffled by the shooting and would likely never get a full explanation.
"The killer's gone. We'll never know," the neighbor said.
---
Gunman among 8 dead in shooting rampage in Copley Township
By Mike Waterhouse - NewsNet5.com
August 7, 2011
COPLEY TOWNSHIP, Ohio - Police in Copley Township said a family argument sparked by an out-of-town guest's visit led to a shooting rampage that left a woman shot and eight others dead -- including the gunman -- in the northeast Ohio suburb Sunday morning.
The shooting spree started just before 11 a.m. Sunday at a house in the 2300 block of Goodenough Avenue. Copley Township is located just outside of Akron, Ohio and 40 miles south of Cleveland.
Copley Police Chief Michael Mier spelled out this chain of events in a news release sent out late Sunday night:
1) Gunman shoots girlfriend (it's believed several people were in the house at the time)
2) Gunman runs to adjacent house, confronts girlfriend's brother and then shoots the brother and four bystanders at the home
3) Gunman chases two more bystanders through some backyards, shooting one of them outside a house on Schocalog. This house is where two other people the gunman was chasing were hiding.
4) Gunman enters home and shoots one person and leaves home
5) Gunman shoots at police officer and another citizen -- and is shot and killed by the officer.
In all, police said there were four different crime scenes as a result of the shootings.
Mier said the gunman shot eight people, killing seven of them including an 11-year-old child. A woman who was survived is in the intensive care unit at Akron General Hospital.
Two of the victims were students at Copley-Fairlawn High School, the district's superintendent Brian Poe confirmed Monday. Grief counselors will be on hand at the Copley-Fairlawn High School in the auxiliary gym beginning at 11 a.m. The first day of school in the district is Aug. 25.
Investigators said the initial 911 calls were reports of a person running through the neighborhood firing a gun and "moving quickly about the area." Police said at one point during the calls, it became clear several people had been shot.
The citizen who was with the police officer when the gunman exited the last house was a former police officer who was helping the officer locate the shooter.
Neighbor Patricia Kirby told NewsChannel5 that her brother lived next door to the home, and after hearing shots he and his son ran to the house and pounded on the door unsuccessfully tried to rescue their neighbors inside. Neighbors said -- unconfirmed by police -- that a dispute over a home improvement project sparked the shooting spree.
---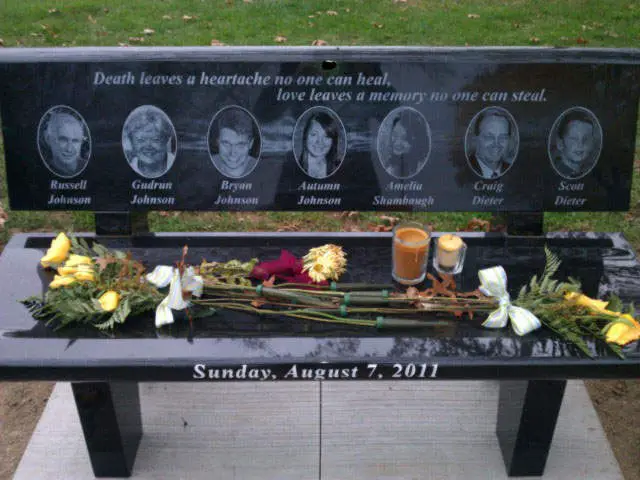 A bench honoring victims of the Copley shootings.