Armed with a machine gun, grenades and a samurai sword went on a rampage. Killed a woman and her boyfriend at their home in Wayne, then went to the Ridgewood post office where he killed two mail handlers as they arrived for work.
Surrendered after a 4 1/2-hour standoff during which he set off two small explosives.
---
A former postal worker commits mass murder
October 10, 1991
Former U.S. postal worker Joseph Harris shoots two former co-workers to death at the post office in Ridgewood, New Jersey. The night before, Harris had killed his former supervisor, Carol Ott, with a three-foot samurai sword, and shot her fiance, Cornelius Kasten, in their home. After a four-hour standoff with police at the post office, Harris was arrested. His violent outburst was one of several high-profile attacks by postal workers that resulted in the addition of the phrase "going postal" to the American lexicon.
Harris, who was born in prison and had a lifetime of psychiatric problems, was fired from his job in April 1990. Harboring a grudge against his ex-employer, he began to stockpile automatic weapons, grenades, and ninja swords. Two years later, he learned that he had lost as much as $10,000 by investing it with broker Roy Edwards. Dressed in a black ninja costume, Harris entered Edwards' Montville, New Jersey, home and handcuffed the family. After sexually assaulting Edwards' wife and two daughters, he shot Edwards to death. Since hundreds of investors had lost money while dealing with Edwards, police never even considered Harris a suspect in his death until after the mass slaying on October 10.
Arguing that he was insane, Harris' lawyers said that he had told psychiatrists that he was driven by the "ninja spirit" to commit the crimes. In 1992, Harris was convicted of both the Montville and Ridgewood attacks and was sent to death row. But in September 1996, two days before a New Jersey State Supreme Court battle to overturn its death-penalty law was to start, he died of natural causes.
From 1983 to 1993, there were 11 murderous rampages in U.S. post offices. On August 20, 1986, the worst of these incidents took place in Edmond, Oklahoma. Pat Sherrill, who was about to be fired, killed 14 mail workers, wounded another five, and then shot himself to death as the SWAT team arrived.
---
4 Slain in 2 New Jersey Attacks And Former Postal Clerk Is Held
By Robert Hanley - The New York Times
Friday, October 11, 1991
A former postal clerk, apparently seeking revenge for his dismissal, killed his former supervisor and her boyfriend and then invaded the post office here early today with a small arsenal and killed two mail handlers, the authorities said.
Before setting out from his Paterson apartment dressed in black military fatigues, black combat boots and a black silk Ninja-style hood, the man left a handwritten two-page letter there complaining about postal authorities and vowing revenge, officials said.
"It generally expresses his dissatisfaction with the Postal Service," the Passaic County Prosecutor, Ronald Fava, said of the note found in the home of 35-year-old Joseph M. Harris. "He felt he was treated unfairly. It basically indicated that these people are going to pay. He was doing this as an act of revenge."
The Ridgewood Police Chief, Frank C. Milliken, said, "The firing just brewed and churned and churned for 18 months." Note Refers to Slaughter
Without offering specifics, Mr. Fava said the note referred to the massacre at an Oklahoma post office in August 1986. In that case, an employee who was facing dismissal pulled guns from his mailbag, killing 14 people and injuring 6 others before killing himself.
Mr. Harris emerged from a basement locker at the post office building and surrendered to members of the Bergen County SWAT team shortly before 7 A.M. He was wearing a gas mask and bulletproof vest and armed with a 9-millimeter Uzi handgun, a .22-caliber machine gun with silencer, a samurai sword, three hand grenades and some homemade bombs.
"I think Mr. Harris came prepared to die," said Joel Trella, chief of the Bergen County Police Department. "He was armed quite heavily -- more heavily than I"ve ever seen in my career."
But he surrendered quietly after about a half hour of negotiations.
Among his victims was Carol Ott, a 30-year-old supervisor of mail clerks who work the overnight shift, sorting mail for carriers. She was stabbed to death in the home she shared with her boyfriend in Wayne, about 10 miles west of here.
Mr. Fava said the wounds were large and gaping, including a deep slash on her left shoulder consistent with a slash by a sword. Ms. Ott was clad only in a T-shirt when she was killed. Mr. Fava said there was no sign she had been sexually assaulted.
Besides Ms. Ott, the victims were her boyfriend, identified as Cornelius Kasten Jr., who was shot behind the right ear as he sat watching television in a basement recreation room, Mr. Fava said. The two mail handlers were Joseph M. VanderPaauw, 59, of Prospect Park, N.J., and Donald McNaught, 63, of Pompton Lakes, N.J.
Ms. Ott was Mr. Harris's immediate boss in his final months of his employment with the post office here and was instrumental in getting him discharged 18 months ago, officials said.
Two months before Mr. Harris's dismissal, Ms. Ott filed a report with the Ridgewood police department, accusing Mr. Harris of harassing her on the job. Chief Frank C. Milliken said today that Ms. Ott never specified the type of harassment although he said it was not of a sexual nature. She declined an invitation by the police department to file a formal criminal complaint against Mr. Harris.
Chief Milliken said Ms. Ott told officials she wanted to consult a lawyer before filing a formal charge. "She said, 'I don't want to do that,' and she never came back," he said.
Former co-workers today described Mr. Harris as a quiet, tense and often sullen, ill-tempered man who said little while working and did not respond well to authority and directions. None, however, could recall any particular incident that prompted Ms. Ott to go to the Ridgewood police.
But some remembered friction between the two.
"They were like oil and water -- they just didn't mix," said one ex-clerk who sorted mail on the overnight shift and asked to remain anonymous. "He just had something against her."
Several postal workers remembered that Mr. Harris had told Ms. Ott sometime in early 1990 that he was going to "get" her. But apparently the two had no further contact until Ms. Ott was slain last night.
"I asked her a couple of months ago if she was having any problems with him and she smiled and said no," said Philip Torchio, a letter carrier.
Shortly after Ms. Ott went to the Ridgewood police in February 1990, she started the procedure that led to Mr. Harris's dismissal, according to postal authorities. She asked that he submit to a "fitness for duty exam," a Postal Service procedure under which an employee is sent to a doctor to determine if he is able to work. The exam can involve both physical and psychological evaluations. 'No Further Contact'
Mr. Harris refused to take the test and was dismissed outright, said Thomas F. Johnson, chief inspector for the Postal Service in New Jersey.
"When he declined to go for the 'fitness for duty,' he was removed and there was no further contact with him," Mr. Johnson said at a news conference here.
Mr. Johnson said he was unaware of the particulars of the problems between Mr. Harris and Ms. Ott.
The Ridgewood Postmaster, Earl Alston, also signed the forms seeking the exam, officials said. He was unavailable for comment today. Postal workers who attended a private mid-morning briefing with the police said they were told that Mr. Alston was also a target of Mr. Harris today. 'Very, Very Quiet'
It was not immediately clear late today whether Mr. Harris had ever filed any grievances over his dismissal with the union representing postal clerks, the American Postal Workers Union, A.F.L.-C.I.O.
The police said today that they knew little of Mr. Harris's background. He has apparently been unemployed since his dismissal and living alone in a small second-floor apartment in a six-bedroom house on Derrom Avenue on the east side of Paterson.
The owner of the home, Carmen Johnson, who said she was Mr. Harris's half-sister, said he had lived in her house for about 14 years and was "very, very quiet."
He was born in Trenton in March 1956, and served in the Navy from 1974 to 1977, specializing in repair of mechanical and electrical equipment, officials said. Mr. Harris, who is 6 feet 2 inches tall and weighs 175 pounds, began working for the Postal Service in 1981 and spent most of his nine-year career as a clerk sorting mail on the overnight shift here, officials said. Little Contact With Family
In 1984, he was reprimanded by postal officials for harassing co-workers, law-enforcement officials said. They said they had no details of this incident. Mr. Johnson, the chief postal inspector, said he did not have the information about it.
Kim Ward, Mr. Harris's sister, said in an interview last night outside his house in Paterson , that he was the second oldest of 10 children.
After he was discharged from the Navy, Mrs. Ward said Mr. Harris had only sporadic contact with his family, including his mother, who also lives in Paterson. Mrs. Ward said that she has not spoken to him in several years.
Otto Harris, a 36-year-old cousin in Paterson, said: "He was always fascinated with martial arts. He was always fascinated with explosives. He always liked guns, but he never hurt anyone before."
He recalled seeing Mr. Harris late Wednesday night near his home, and said, "He seemed calm."
Before leaving his apartment, however, Mr. Harris rigged a homemade bomb of explosives and an ether-based can of auto-starting fluid to his front door, officials said.
He apparently first drove to Ms. Ott's beige split-level house.
At 2:15 A.M., Marcello Collado, a truck driver from Paterson, pulled up to the rear loading dock of the post office with a truck load of mail. Unlike on most nights, the bay doors were closed and the building was dark. He went to the basement of the building and encoutered a gunman wearing agas mask. A shot was fired, and Mr. Collado fled to the police station about half a mile away.
Sgt. Robert Kay and Officer Peter Tuchol were sent to the post office building about 2:20 A.M. They, too, came upon the masked gunman in the basement. He hurled an explosive device at them and they retreated and called for assistance.
Within minutes, the building was surrounded and officers began stopping mail handlers and sorting clerks as they arrived for work.
From about 3:15 until shortly after 6 A.M., police officials attempted to call Mr. Harris by telephone inside the building, officials said. But the calls were unanswered. The negotiators with the Bergen County SWAT team entered the building through a side door at 6:26 and emerged with Mr. Harris at about 6:50.
Until mid-afternoon, the police feared that both the post office and Ms. Ott's home in Wayne were booby-trapped. Both were cordoned off. But no explosives were found at either place.
At about 7 A.M., the police found the device Mr. Harris had rigged to his apartment door. They had gone to the home earlier, at about 3 A.M., but Mrs. Johnson, the owner, refused to give them the key to Mr. Harris's apartment without a search warrant.
"If I did what the police asked me to do and I gave them the key, we would all be dead now," Mrs. Johnson said this afternoon.
---
Joseph M. Harris
After mail clerk Joe Harris was fired from his job at the Ridgewood, New Jersey, post office he threatened with retaliation. Many feared that he would. While at work in the night shift, the chronically angry Harris made a habit of practicing his kung-fu kicks on the mail bags instead of doing his job.
One former co-worker remarked after his killing spree: "He was always walking around like some karate guy, chopping his hands in the air."
18 months after his dismissal, Joe made good on his promise to return. 9 october 1991, Joe first went to the home of his former supervisor armed for war. He packed an Uzi, a .22-caliber machine gun with silencer, several knives and hand grenades, a homemade pipe bomb, and a samurai sword.
His first victim was his supervisor's fiancee who he shot in the head execution style while watching TV. Then he headed upstairs and sliced his supervisors on her bed with his samurai sword.
Around 2 a.m. Joe arrived at his former post office and killed the two mail handlers on duty.
After a 4-hour standoff, he surrendered to the police SWAT team. At the time Joe was wearing a Ninja-styled hood over a gas mask, a bulletproof vest and black fatigues.
---
Ex-mail clerk a scary man, workers say agter killings
The Philadelphia Enquirer
October 12, 1991
Joseph M. Harris was a walking time bomb, according to those who know the man accused of killing his former boss and three other people in the latest rampage involving a Postal Service worker.
The former Ridgewood postal clerk, 35, wore Army fatigues, boots and a black beret, and owned a variety of guns - including an Uzi assault rifle and other automatic weapons.
---
Co-workers: Ex-clerk was a time bomb
The Charlotte Observer
October 12, 1991
The former postal clerk accused of killing his ex-boss and three other people was a walking time bomb, say those who know him.
At the post office where two victims died Thursday, the flag flew at half-staff Friday and a large white cardboard sign thanked patrons for their condolences but urged them not to question workers about the killings.
Joseph Harris, 35, was being held in the Bergen County Jail on $1 million bail.
---
Postal suspect spurned Union aid
The Commercial Appeal
October 12, 1991
A postal clerk dismissed from his job in Ridgewood refused an offer months ago to help him fight to keep it, a local union official said Friday.
"He said he would take care of things in his own way," said Thomas Duayne, president and shop steward of the Ridgewood local of the American Postal Workers Union.
Late Wednesday night, authorities have charged, Joseph M. Harris, 35, invaded the home of his former supervisor and killed her and her boyfriend in retaliation for the loss of his job.
---
Joseph M. Harris
Joseph M. Harris, a 35 year old Navy veteran had trouble sleeping on the night of October 9, 1991. Waking before midnight, he dressed in a bullet-proof vest, black military fatigues, combat boots, and a black silk ninja-style hood.
Writing a two page note, he referred to the Edmond, Oklahoma deaths and explained his own unfair treatment by the Postal Service. Carol Ott, a supervisor at the Ridgewood, New Jersey post office where Harris worked nights as a clerk, had had a personality conflict with him. Disregarding his twelve years of government service during which he had demonstrated no mental aberrations, she ordered him to take a "fitness for duty" psychological exam with a doctor chosen and paid by the Postal Service. Insulted, he refused to cooperate with the pseudo-psychological ruse and Ms. Ott instituted proceedings that resulted in Harris' dismissal in April 1990. The American Postal Workers Union, AFL-CIO, did not make a reasonable effort to have him reinstated.
Armed with a 9 millimeter Uzi machine gun, a .22 caliber handgun with silencer, three hand grenades, some homemade ether bombs, and a samurai sword, he booby trapped the front door of his apartment and drove to the suburban home of Ms. Ott. After forcing entry, he found her clad only in a T-shirt. Swinging his sword in a great arc, he deeply slashed her left shoulder and continued to thrust as she staggered backwards. Stepping over her lifeless, nearly nude body, he crept down the stairs and shot her live-in boyfriend, Cornelius Kasten, Junior, behind the right ear as he sat watching television in the basement.
At approximately 2 AM on the morning of October 10, Harris entered the rear of the Ridgewood post office where he shot and killed two mail handlers, Joseph VanderPaauw and Donald Mc Naught. Barricading himself in the basement, he shot at truck driver Marcello Collado who had become suspicious when he arrived at the back dock and found nobody to help him unload his truck. Collado escaped unscathed and drove to the nearest police station. At 2:20 AM Sergeant Robert Kay and Officer Peter Tuchol attempted to enter the post office but were forced to retreat and await assistance when Harris lobbed an explosive device at them.
The Bergen County SWAT team surrounded the building and attempted to telephone Harris. Refusing to answer, he kept the SWAT team at bay until 6:30 AM when he surrendered to a police negotiator. At 7 AM the police removed a bomb made from automotive starting fluid from Harris' apartment door and the not detailing his grievances was found inside.
---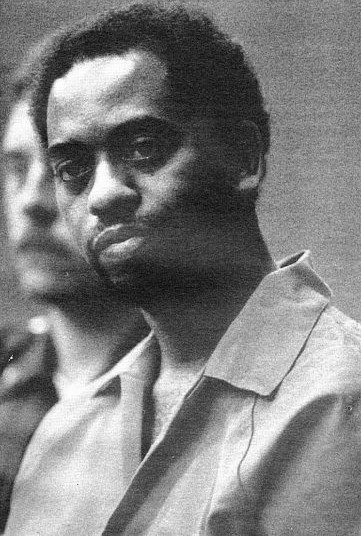 Joseph M. Harris