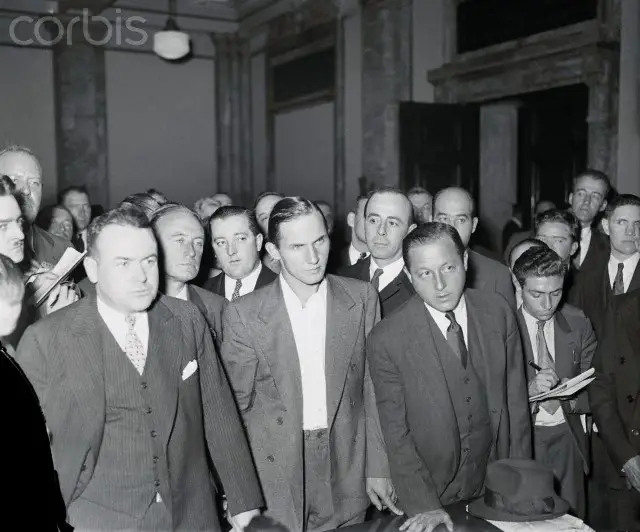 Bruno R. Hauptmann, charged with extortion in the Lindbergh case, is shown as he appeared
in Morrisania Court in the Bronx, N. Y., Sept. 24th, immediately before a Bronx County
Grande Jury received the case.
The surly, unemployed German carpenter, is still wearing the same grey suit he wore when
first taken into custody. His belt and shoe laces have been taken from him to prevent any
attempt at suicide. His tie also has been removed.
September 24, 1934.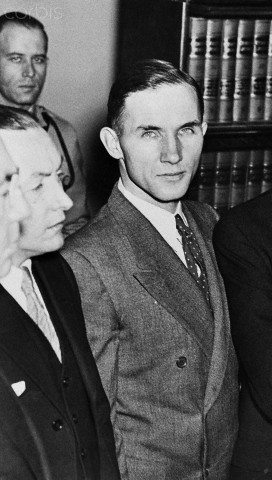 Bruno Richard Hauptmann at the Hunterdon County Courthouse during his trial.
January 4, 1935.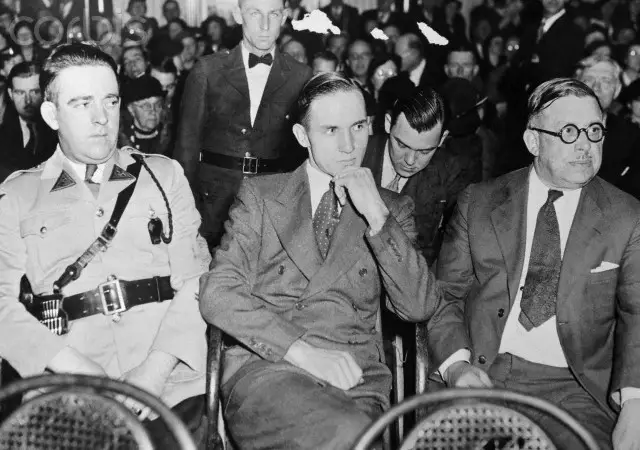 Bruno Richard Hauptmann, alleged kidnaper and murderer of the Lindbergh baby, at his trial.
January 18, 1935.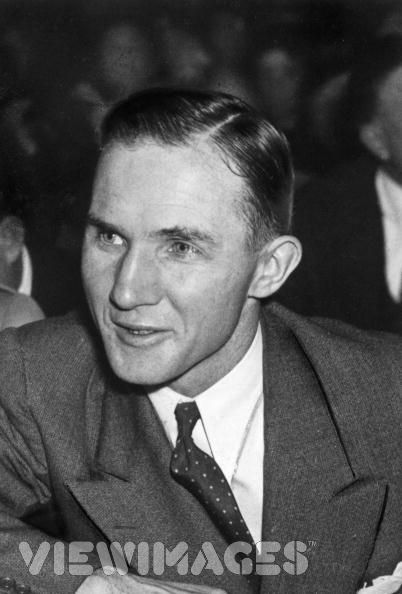 Headshot of Richard Hauptmann.
(Photo by Hulton Archive/Getty Images)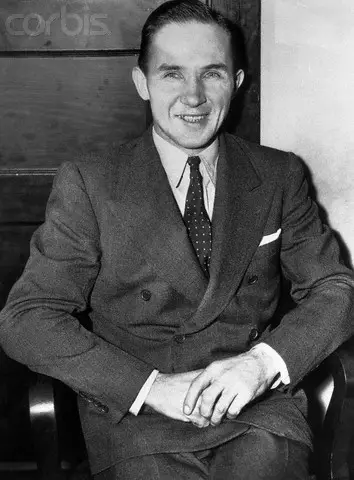 There have been many pictures of Bruno Hauptmann in a sullen mood, and few of them showing
a slight smile. This is the first picture to show the defendant flashing a full happy smile. It was
made at the last session of the week at Flemington. January 19, 1935.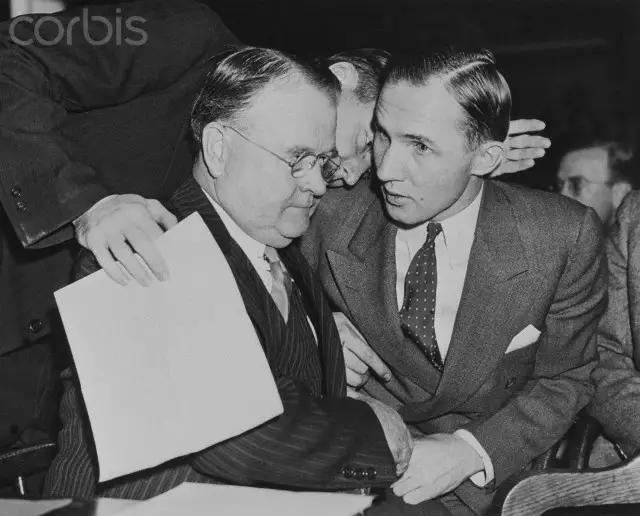 C. Lloyd Fisher, defense counsel, leans over to speak confidentially with Bruno Richard Hauptmann
(right) and Frederick A. Pope, also of the defense counsel, just before Hauptmann resumed the
witness stand in the Hunterdon County Court, Flemington, for redirect examination.
January 30, 1935.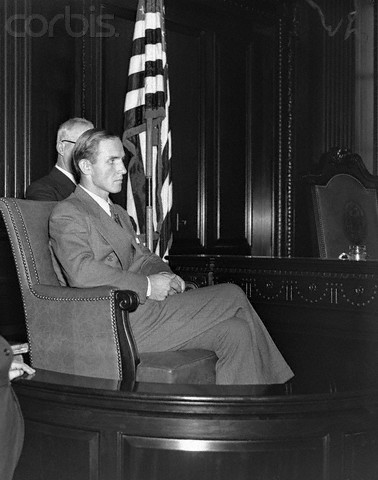 Bruno Richard Hauptmann, stolid German ex-machine gunner, takes the stand in his own defense
at his trial for extorting $50,000 from Colonel Charles A. Lindbergh following the kidnapping of
the Lindbergh baby. He testified that he was at the Frederickson Bakery between 6 and 7 o'clock
on the night of the kidnapping. January 30, 1935.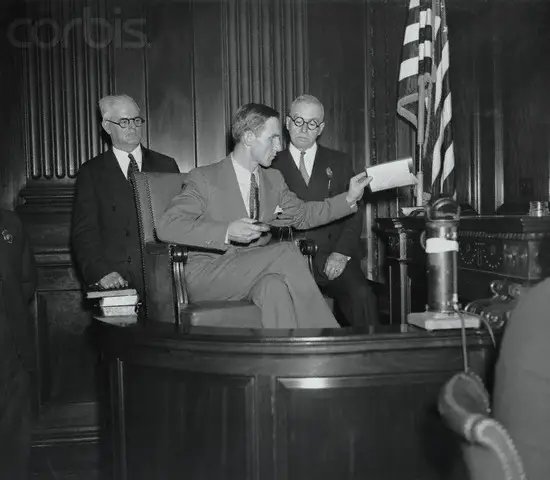 Close up showing Bruno Hauptmann on stand.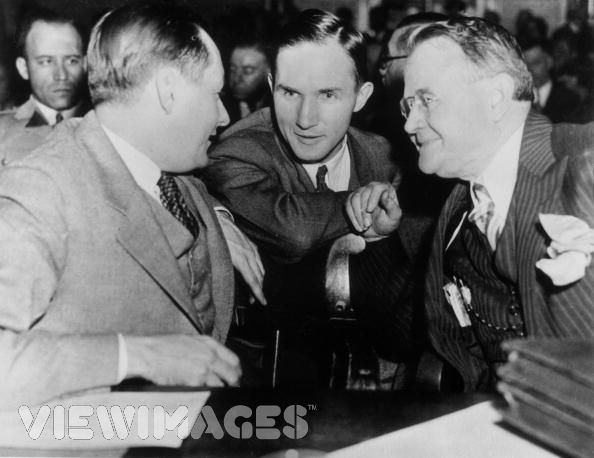 Bruno Richard Hauptmann confers with his lawyers, Lloyd Fisher and Frederick Pope, during his trial.
(Photo by Hulton Archive/Getty Images)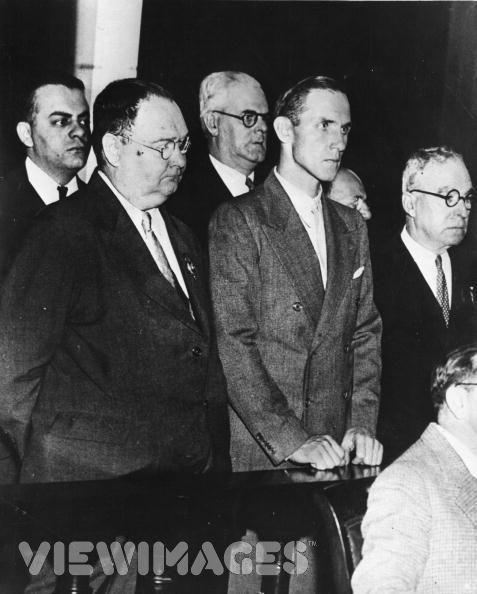 Bruno Richard Hauptmann (center) at the Bronx Court.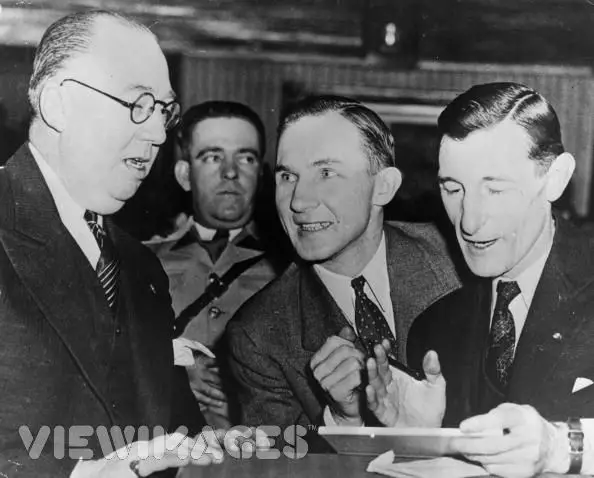 30th January 1935: Bruno Hauptmann (centre) with attorneys, E J Reilly and Egbert
Rooserans during his trial for the kidnapping of aviator Charles Lindbergh's baby.
(Photo by Keystone/Getty Images)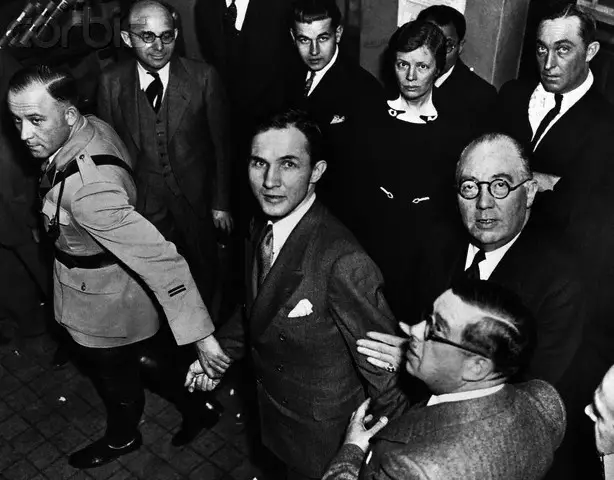 Gazing unflinchingly into the camera, Bruno Richard Hauptmann is shown being led from the Hunterdon
County Courthouse, Feb. 11th, following the morning session. Chief Defense Attorney Reilly is shown
holding the defendant's arm. Later that day, really delivered his summation speech to the jury.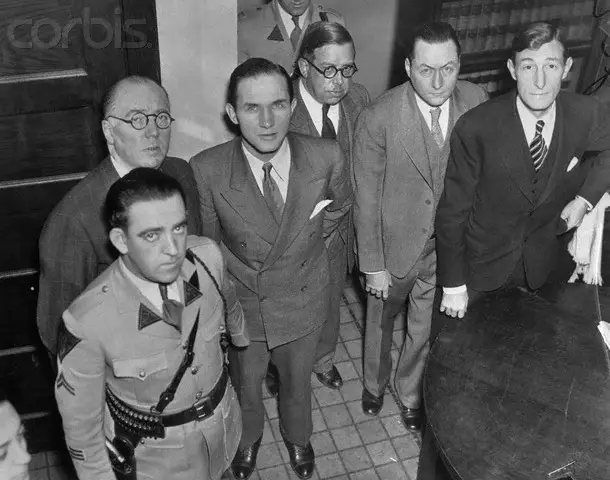 The defense group in Flemington Court...Left to right: A State Trooper; Chief Defense Counsel
Edward Reilly; Bruno Hauptmann; Deputy Hovey Low; Attorney C. Lloyd Fisher; and Egbert
Rosecrans, shown as they entered the courtroom this morning, February 13th, to hear
Judge Trenchard's charge to the jury.
February 13, 1935.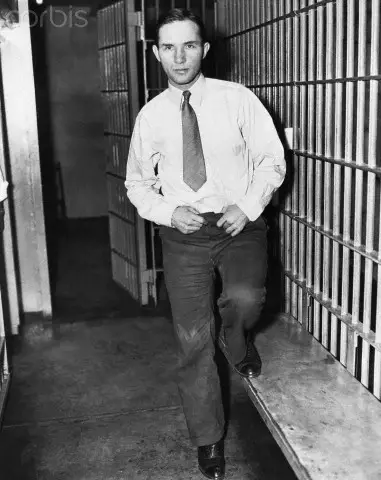 Convicted of the murder and kidnapping of Charles A. Lindbergh, Jr., sentenced to death, Bruno
Richard Hauptmann smiles for the cameramen as he poses in his cell in the Hunterdon County
Jail, the day following the jury's verdict. Note that his shoelaces have been taken from hi.
February 14, 1935.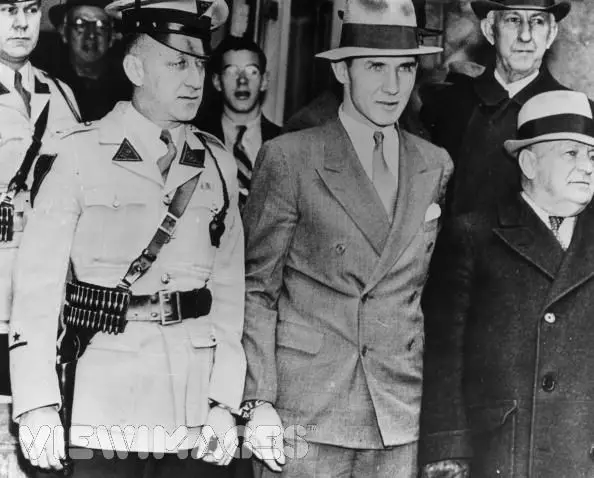 Sherriff Curtis with Bruno Hauptmann (centre), who is handcuffed to a state trooper as he is
taken from the Hunterdon County jail at Flemington to the State Prison at Trenton, New
Jersey where he is due to be executed in the electric chair for the kidnapping and murder
of aviator Charles Lindbergh's baby.
(Photo by Keystone/Getty Images)