Date of Birth: July 24, 1946
Defendant: Caucasian
Victim: Caucasian

On June 6, 1986, at approximately 3:00 p.m., Henry and Vernon Foote kidnapped Roy Estes from his Las Vegas apartment. The two men forced Estes into his truck and drove off with him. Estes, an elderly man, was partially paralyzed and used a walker.

Henry and Foote took Estes to a desert area approximately 40 miles north of Kingman, where they cut his throat and stabbed him in the heart.

After hiding Estes' body behind a bush, Henry and Foote drove back to Highway 93, where police officers stopped Henry, who was driving the wrong way on the highway. Henry gave the police a false name and was arrested for drunk driving.

On June 8, 1986, after learning Henry's true name and that Estes was missing, the police questioned Henry about Estes' whereabouts. Henry immediately blamed Foote for killing Estes and led police to the body.

In a separate trial, Foote was convicted of robbery and theft, but the jury could not reach a verdict on the murder charge. Foote later pled guilty to attempted first-degree murder.

PROCEEDINGS:

Presiding Judge: Steven F. Conn
Prosecutor: James J. Zack
Start of Trial: November 24, 1987
Verdict: December 9, 1987
Sentencing: March 16, 1988
Resentencing: February 23, 1995

Aggravating Circumstances:

Prior convictions punishable by life imprisonment
Prior convictions involving violence
Pecuniary gain

Mitigating Circumstances:

None sufficient to call for leniency

PUBLISHED OPINIONS

State v. Henry, 176 Ariz. 569, 863 P.2d 861 (1993).
State v. Henry, 189 Ariz. 452, 944 P.2d 57 (1997).

March 21, 2002
Warrant of Execution has been issued by the Arizona Supreme Court for the execution of Graham Saunders Henry ADC#067112 on May 8, 2002.

April 16, 2002
A STAY has been issued by the U.S. District Court in the May 8, 2002 scheduled execution of Graham Saunders Henry ADC#067112




---
Death row cases linger for decades
Havasu News-Herald
April 19, 2008
On June 6, 1986, Graham Saunders Henry and an accomplice kidnapped an elderly disabled man and killed him in a remote desert area north of Kingman. After his capture, Henry went on trial for the murder, and on March 16, 1988, he was sentenced to death.
More than 20 years later, his case continues to grind its way through the system, with new proceedings scheduled in federal court later this month.
"It's amazing, isn't it?" said Jace Zack, assistant county attorney for Mohave County. "None of the countys death penalty cases are anywhere close to finalization."
8 prisoners from Mohave County currently sit on death row in the state prison at Florence, where 86 men and 1 woman have been executed since 1910.
Yet whether they will ever receive the ultimate sanctionor will instead remain trapped in a Kafkaesque legal limbo of appeals, rule changes and reversals, with death always just beyond the horizonis questionable.
A recent ruling by the U.S. Supreme Court on the constitutionality of lethal injection appeared to clear the way for the execution of Jeffrey Landrigan, who was convicted of a brutal murder in Phoenix 2 decades ago. It would be Arizona's 1st execution since the execution of Robert Comer by lethal injection in 2007.
Comer's execution was itself Arizona's 1st in more than 7 years.
Yet one must travel even further backinto Arizona's Wild West pastto find the last recorded execution of a Mohave County prisoner.
That execution, which took place in 1928.at the state penitentiary in Florence, was likely a gruesome sighta rare quadruple hanging. The executed were 4 Chinese immigrants convicted of the murder of a fellow immigrant in Kingman, in 1926. The immigrantsallegedly assassins tied to Chinas feared Tong gangburst into Tom King's restaurant in Kingman, shot him dead, and were apprehended by authorities in Topock.
Fast-forward more than e80 years, and not a single Mohave County prisoner has since shared their fate.
It is not from lack of trying. Beginning with Henry's conviction and death sentence in 1988, seven other Mohave County prisoners have joined him on death row. Yet proceedings on all 8 continue, with no apparent end in sight.
"The worst effect is on the victims, who have to wait to see justice meted out," said Mohave County Attorney Matt Smith. "There is a great deal of frustration."
Zack laid the blame on capital defense lawyers. "New procedure laws were supposed to streamline the death penalty," he said. "However, defense attorneys are working overtime figuring out how to thwart justice in many cases."
Jim Belanger, president of Arizona Attorneys for Criminal Justice, and a capital defender himself, said the state and counties had no one to blame but themselves for the slow pace of executions. "In Arizona, you have a reversal rate and an error rate approaching 60 %," he said. "If you're going to have a death penalty, you've got to have an adequately funded and competent defense."
Death penalty opponents point to those on Arizonas death row who have ultimately been proven innocent as proof of major flaws in the administration of capital punishment in the state.
At least six death row inmates have been exonerated and released in Arizona since 1976. Most recently, in 2002 Ray Krone, a U.S. Postal Service mail carrier with no prior criminal record, was released from prison after having previously been sentenced to death. After 2 convictions and 10 years imprisonment, DNA evidence clearly pointed to
another killer, who was already in custody.
Arizona continues to wrestle with the cost of properly funding capital defenders.
"In a lot of the counties Mohave County among them the resources devoted to the defense of capital cases was historically inadequate," said Belanger. "Arizona has generally not met its obligation to adequately fund capital defenses."
Smith, however, said that his office mitigates the expense of capital defense which must be largely borne by county governments by only seeking the death penalty against the most heinous offenders. "It minimizes the cost to the county by seeking the death penalty in an appropriate case," Smith said. "Not every 1st-degree murder case is a death penalty case."
One estimate pegs the cost of simply defending a capital case at $250,000, but over the long life of some cases costs can spiral up into the millions of dollars.
The Graham Henry case, while now handled by the Arizona Attorney General's office, is still costing Mohave County money, 20 years after conviction and sentencing. "It still requires some of our resources," said Zack. "These things take years."

---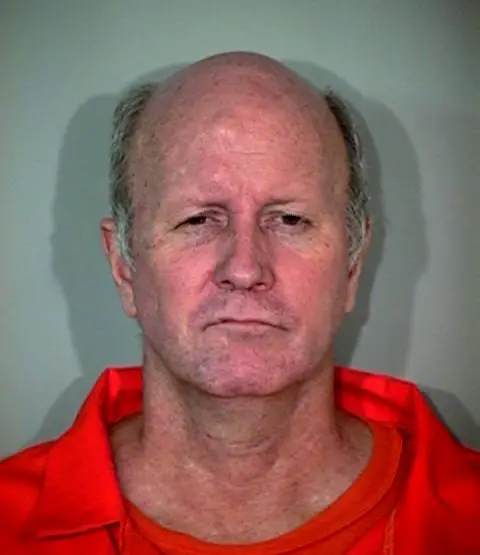 Graham Saunders Henry