Christopher Williamson remembered as a budding DJ

Christopher Williamson was trying to extricate himself from a music scene that gave him an outlet for his creative urges but also pulled him into a world of drugs. Friday night, the budding disc jockey went again, though, to a techno-music concert.
"This was going to be his last one," his mother, Sandra Williamson, said Christopher had told friends.
"He had promised to stay away from that whole thing because of the drugs," his mother said. "He just kind of wanted to turn his life around."
Williamson was 21 and had had a couple of tough years. Deacon 808, as he was known when he was spinning records, got into drugs as he immersed himself in Seattle's techno-music scene.
He was a deacon at the family church and each summer did missionary work with children of migrant workers either in Eastern Washington or in Mexico.
He dropped out of North Seattle Community College and lost his job at Fred Meyer.
"He got to the point where he just couldn't focus on anything," his mother said.
*****
Jason Travers remembered as gentle man, good listener

Friends and family of 32-year-old Jason Travers, one of the victims of the Capitol Hill massacre, remember him as a good listener and gentle man.
Travers had worked as a clerk at Madison Market, a food cooperative on Capitol Hill, since 1999. He was one of two people employed at the market who died Saturday morning.
"It's baffling and unbelievable," said Beau Ingraham, a friend and co-worker of Travers and another victim, Jeremy Martin. "We thought Jason was in a coma all day yesterday and we had hoped he'd pull out of it. We found out later Jason was killed while he was sleeping in a chair."
The co-op closed early Saturday after hearing the news of the men's deaths.
Travers was remembered for his gentle way of life: He was a vegan, a conscientious objector, a sometimes-Unitarian, according to his parents, who live in Albany, N. Y.
*****
Jeremy Martin known for his curiosity, hard work


What relatives and friends of Jeremy Martin know is that the 26-year-old was a talented musician, a successful wine salesman and an enterprising young man known for his creativity, curiosity and sense of humor.
What they can't fathom is why someone would shoot him and several other young people at a small rental house on Capitol Hill.
"He wanted to learn more than what was in front of his face or in his own backyard," said his stepmother, Dena Martin of Mount Vernon. "He's forthright and speaks his mind, but he's not a meddler."
As authorities Saturday withheld names of the victims of the early-morning shooting, relatives of Martin and a second victim, Christopher Williamson, 21, confirmed that they were among the dead.
"We don't know what happened — just that he attended a rave and an after-party ... and the gunman was present at the party and returned with a gun," Dena Martin said.
*****
Justin Schwartz remembered: "He was just a warm, energetic, fun-loving person"


When Justin Schwartz was 3 years old he wowed his extended Seattle family with his dancing at his uncle Steve's wedding.
Nearly 20 years later, his final night was spent dancing with friends at a Capitol Hill rave.
"He was happy, and he went down doing what was making him happy," said his uncle, Steve Schwartz.
Justin, known since high school as Sushi, had wandered in life a little in recent years. But when he found the city's techno music scene he quickly adopted it as his community — taking to it with the determination his family has always marveled at.
*****
Melissa Moore, 14, remembered as loving and generous


Melissa Moore was 14.
She was petite, maybe 116 pounds, a little shorter than her mother, but tough and strong-minded, her family said.
The girl from Milton, Pierce County, loved dancing and started coming to the city for rave parties with older friends about four months ago. She went by the rave name Chinadoll.
Today, Moore's family visited the scene of the massacre on Capitol Hill to place flowers and a photograph of their daughter.
"I just want her to be remembered as a sweet girl, and she didn't deserve any of this," her father, Kyle Moore said. "Nobody deserves to be shot like this. I mean he didn't just shoot her once, he shot her twice. A little girl."
Melissa Moore was loving and generous, Kyle Moore said, the kind to give away her bottom dollar or lend a coat to someone she'd just met.
*****
Suzanne Thorne, 15, who held Gandhi as her role model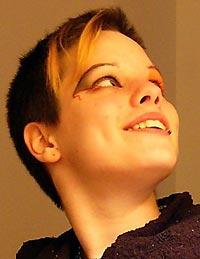 Nancie Thorne says she must focus on the peace and love that surrounded her daughter, Suzanne, not the violent moments inside the Capitol Hill house where the 15-year-old died.
"Her role model was Gandhi," Thorne said. "When things got tough, Suzanne would ask, 'What would Gandhi do?'."
Suzanne was a girl of inquisitiveness and dreams — a teen who loved studying about eco-systems, nature, animals and insects. She was moved by the writings of the Dalai Lama, and she was a pacifist who hoped to start a non-violent movement to end terrorism, Thorne said.
"And stop terrorists, like the one who killed her," Thorne said. "We have to take responsibility and bring peace to this world. There is too much anger for our small world."