Billy Ray Irick was convicted for the 1985 rape and murder of 7 year old Paula Dyer in Knoxville.
The State's proof was that Billy Ray Irick was a friend of the child's mother and step-father. He had lived with them for a time, often caring for the five (5) young children in the family while the parents were working.
At the time of the incident the parents were separated. The step-father and the defendant were living with the victim's step-father's mother. On the night of the occurrence the victim's mother left Mr. Irick with the children when she went to work. She was somewhat uneasy about this because Mr. Irick had been drinking, although he did not seem to be intoxicated. Mr. Irick was in a bad mood because he had been in an argument with the stepfather's mother earlier in the day. Mr. Irick did not want to keep the children since he planned to leave Knoxville for Virginia that night.
The victim's mother called her husband at the truck stop where he worked to tell him of her fears. He reassured her and said he would check on the children.
About midnight the victim's step-father received a telephone call from Mr. Irick telling him to come home, suggesting there was something wrong with the little girl, saying, "I can't wake her up." When the victim's step-father arrived at the house Mr. Irick was waiting at the door. The child was lying on the living room floor with blood between her legs. After ascertaining she still had a pulse, the victim's step-father wrapped her in a blanket and took her to Children's Hospital. Efforts to resuscitate her there failed and she was pronounced dead a short time later.
Physical examinations of her body at the hospital emergency room and during the autopsy were indicative of asphyxiation or suffocation. The cause of death was cardiopulmonary arrest from inadequate oxygen to the heart. There was an abrasion to her nose near one eye and lesions on her right chin consistent with teeth or fingernail marks. Blood was oozing from her vagina, which had suffered an extreme tear extending into the pelvic region. There were less severe lacerations around the opening of her rectumin which semen and pubic hair were found. These injuries were consistent with penetration of the vagina and anus by a penis.
After the victim was taken to the emergency room, Mr. Irick left the victim's home and was located by the police the next day hiding beneath a bridge. When apprehended, Mr. Irick stated: "I have been hiding under the bridge all day, and several police cars have gone by and I had thought about turning myself in." After his arrest, Mr. Irick gave a statement to the police, in which he admitted killing the victim.
---
Knox County man on death row now says he was framed
Billy Ray Irick confessed to killing; defense claims psychosis
KnoxNews.com
August 17, 2010
Billy Ray Irick, on death row for rape and murder, was in Knox County Criminal Court on Monday.
While his defense team insists he was psychotic when he raped and strangled a 7-year-old Knox County girl more than a quarter century ago, convicted killer Billy Ray Irick contends he was framed.
In the 2nd day of a last-ditch hearing to avoid execution for the April 1985 slaying of Paula Kay Dyer, a clinical psychologist who evaluated Irick this weekend revealed that Irick is now blaming Paula's stepfather for her death.
That contention comes despite his decades-old confession to the crime and his own defense team's recent push to show that Irick was in the midst of a psychotic break when he killed Paula and has no real memory of the actions for which he now faces execution Dec. 7.
Clinical psychologist Bruce Seidner testified Tuesday before Knox County Criminal Court Judge Richard Baumgartner that Irick is now denying responsibility for the rape and murder and instead is blaming then-stepfather Kenneth Jeffers.
"He felt the stepfather was somewhat involved in this," Seidner testified. "He feels like there was no objective motivation for him, but there was tremendous objective motivation for this stepfather."
Prior court hearings show that Irick had been living with Kenneth Jeffers' mother in the days before Paula's death but was kicked out when he grew violent. Jeffers then allowed Irick to stay at the home he shared with wife Kathy Jeffers and her children, including Paula.
On the night of Paula's death, Kathy Jeffers was headed to work but grew concerned about leaving Irick with her children because he was drinking and showing signs of anger at her in-laws over being kicked out of their home. Court records show she phoned Kenneth Jeffers and asked him to take over baby-sitting duties from Irick.
He dallied, however, insisting the children were fine in Irick's care. Soon after, Kenneth Jeffers received an urgent call from Irick that Paula was in peril, court records show. Jeffers returned to the home to discover Paula raped and strangled, according to appellate court records.
Irick confessed, and a year later was sentenced to death. Having lost all state and federal appeals, he is now trying to convince Baumgartner he is too psychotic to be executed.
Seidner testified Tuesday that Irick is fully aware of what he was convicted of and why he is on death row.
"He feels like (his current defense team) is doing everything they can, and he trusts they're working on his behalf," Seidner said.
Baumgartner said he would rule in more than five days. Whatever he opines, an appeal is expected, making it unlikely Irick will actually face execution this year.
---
Billy Ray Irick
A Case of Severe and Persistent Mental Illness
Billy Ray Irick is currently facing execution in Tennessee though he has suffered with severe and persistent mental illness since he was a small child. Billy was convicted and sentenced to death for the rape and murder of seven-year- old Paula Dyer in Knoxville in June 1985. He lived with Paula's family for two years as an "adopted" family member because he was a friend of the victim's father, Kenny Jeffers. Billy regularly babysat for the family's five children while their parents were at work and even saved the lives of two of the children from a fire that destroyed the family home.
Billy's court appointed trial attorneys originally filed a notice of an insanity defense, which they later withdrew. During the duration of the trial, the only mention of his long history of mental illness came during his sentencing hearing. Even with his extensive medical history, the only person who testified to his significant mental health issues at this hearing was a clinical social worker who worked with Billy between the ages of six and eight. During the guilt phase of the trial, the defense called no witnesses, and Billy did not testify. It was only years later that key witnesses were interviewed by Billy's new attorneys, confirming the abuse Billy suffered and his psychotic symptoms at the time of the crime.
Included in this list of new witnesses whose statements no jury ever heard was a neighbor who saw Billy's abuse firsthand, when at age 15, his father hit him in the head with a piece of lumber, knocking him to the ground. Investigators also found that no one had ever interviewed Paula's grandparents or aunt, with whom Billy had lived just weeks prior to Paula's death. While interviewing these very unsympathetic witnesses, attorneys learned that just days and weeks prior to the offense, Billy evidenced signs of insanity: trying to kill Kenny with a machete while he slept; chasing a young girl down a Knoxville street in broad daylight waving a machete and threatening to kill her because he didn't like her looks; talking to and taking instruction from "the devil"; hearing voices; expressing fear the police would break into his home and kill him with a chainsaw; and obeying the voice.
Because none of the information about Billy's psychotic symptoms just prior to the murder was ever investigated or presented at trial, the state's psychiatric expert, Dr. Clifton Tennison, who spent one hour evaluating Billy, testified at his trial that there was no evidence of mental illness that would have prevented Billy from knowing the wrongfulness of his conduct. Instead, Dr. Tennison concluded Billy had an anti-social personality disorder. The doctor testified that "many people with anti-social personality are in jail – or in prison right now…" However, according to the state's pre-sentence report, Billy had only a few misdemeanors on his record. Years later, when the case was on appeal, Dr. Tennison, after reviewing the new evidence describing Billy's behavior prior to the murder, stated in an affidavit, "I am concerned that in light of this new evidence, my previous evaluation and the resulting opinion were incomplete and therefore not accurate… It is my professional opinion to a reasonable degree of medical certainty that without further testing and evaluation, no confidence should be placed in Mr. Irick's 1985 evaluations of competency to stand trial and mental condition at the time of the alleged offense." Two other psychiatrists have recently performed evaluations of Billy and believe that he is presently functioning at the level of a seven to nine year old.
Billy Irick has a long and painful history of severe and persistent mental illness. Billy's mother herself suffered from a severe psychiatric disorder, and in May 1965, when Billy was six years old, a clinical psychologist concluded that he was "suffering from a severe neurotic anxiety reaction with a possibility of mild organic brain damage." The following year at age seven, Billy was hospitalized at Eastern State Medical Hospital in Knoxville and was treated with anti-psychotic medications. He would remain there for 10 months to be discharged to the Church of God home where he lived until he was a teenager.
During this time, he was rarely if ever visited by his family. On one occasion when he was 13, the Children's Home arranged a visit to his parents' home that went badly. Billy destroyed the television with an axe and used a razor to cut up his sister's pajamas while she slept in them. He returned to the Children's Home and soon broke into a young girl's dormitory, hovering over her as she awoke screaming. He was expelled from the home and sent back to Eastern State Hospital where it was discovered that he had been taken off his psychotropic drugs. He remained at the hospital until age 14 and was released to his parents. Billy joined the Army at age 17 but was discharged shortly thereafter. There is no indication that he ever received follow-up treatment or further examination until he was tested for competency to stand trial in 1985.
On the day of the murder, Billy was with Kenny Jeffers. Kenny and his wife, Kathy, had, recently separated and were living in separate homes. Kathy returned to her home between 3:30 and 4:00 p.m. where she saw her husband Kenny, Billy, and another friend. She took at nap around 5:00 p.m. and didn't wake up until 8:00 or 8:30 while Kenny and Billy watched the kids, including Paula. After putting the kids to bed around 9:00, Kathy saw Billy on the back porch talking to himself but couldn't understand what he was saying. After a shower, Kathy talked to Billy in the kitchen and learned that earlier that day, he had been chased from Kenny's home by Kenny's mother with a broom. After the incident, Billy had decided to go to Virginia and wanted to leave that night, but Kenny convinced him to stay and babysit. Kathy testified that, after the conversation, Billy went to the porch and brought back a quart of beer from which he was drinking. When Kathy was asked on direct during the trial if Billy was intoxicated at that point, she testified, "I noticed more his being mad than anything else," and further agreed that the petitioner spoke "coherently." However, it was later discovered by Billy's post conviction attorneys, that just one day after the murder, Kathy Jeffers told police a different version of events. She said that "Bill was drunk and talking crazy." His trial attorneys never saw this information.
Because Kathy did not have a phone, she left home around 10:00 p.m. that evening to call Kenny, asking him to come home and watch the children since Billy was drinking. When she left for work, the children were in bed, and Billy was sitting on the porch. She arrived at work around 10:30 p.m. and about an hour later, received a call from her husband saying that Billy could not wake up Paula. Paula would be taken to the hospital and pronounced dead from asphyxiation.
This case reflects a tragic spiral by a very ill person that resulted in the rape and death of a child. Had all the evidence been available at the trial clearly demonstrating the chronic and severe nature of Billy's illness, he would most likely not have been sent to death row. The U. S. Supreme Court determined in Ford v Wainwright (1986) that, "inflicting the death penalty upon a prisoner who is insane" violates the U.S. Constitution." Billy Irick is one of the 5-10% of individuals on death rows nationwide who are, in fact, suffering from severe and persistent mental illness. He was clearly very sick at the time of the crime and continues to be. It is incumbent upon us as a society not to execute those with severe mental illness but to treat them while protecting the public from the few who are violent.
TennesseeDeathPenalty.org
---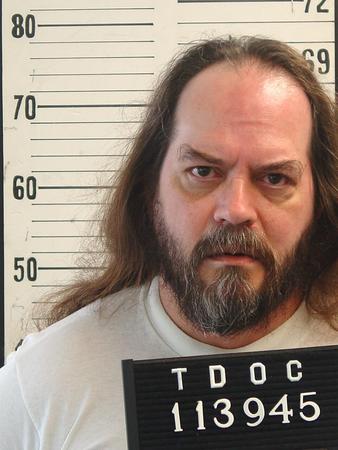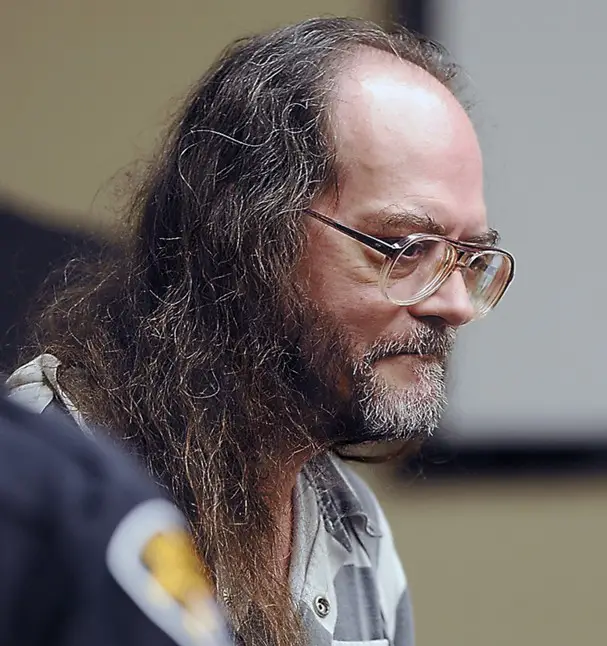 Billy Ray Irick
(Photo by Michael Patrick - KnoxNews.com)