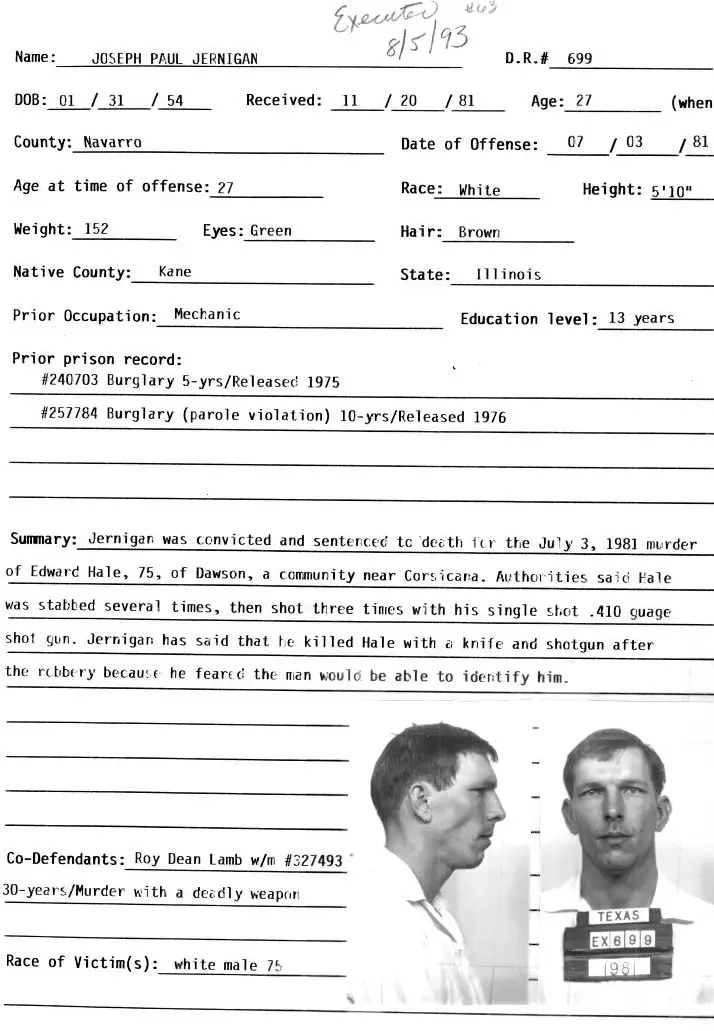 Joseph Paul Jernigan (January 31, 1954 – August 5, 1993) was a Texas murderer who was executed by lethal injection at 12:31 a.m.
In 1981, Jernigan was sentenced to death for stabbing and shooting 75-year-old Edward Hale, who discovered him stealing a microwave oven. Jernigan spent 12 years in prison before his final plea for clemency was denied. At the prompting of a prison chaplain, he agreed to donate his body for scientific research or medical use. His cadaver was sectioned and photographed for the Visible Human Project. He is the subject of an HBO documentary Virtual Corpse.
---
Final/Special Meal:
Two cheeseburgers, french fries, tossed salad with 1,000 island dressing and iced tea (refused last meal)
---
Joseph Paul Jernigan was executed on Aug. 5, 1993 for the 1981 murder of 75 year-old Edward Hale.
Jernigan and an accomplice were in the process of burglarizing Hale's house when he returned home. Apparently, the two left immediately, but Jernigan returned and murdered Hale in fear that Hale would be able to identify him as the thief. Jernigan repeatedly hit Hale in the face with an ashtray and attempted to stab him with a kitchen knife. When this failed, he grabbed a shotgun and shot Hale in the neck and chest. After the shooting, apparently Jernigan continued to burglarize the home, according to a document from the U. S. Court of Appeals.
A sheriff arrested Jernigan several days later after his wife, Vicki Jernigan, provided the sheriff's department with the information they needed to arrest him. After his arrest, Jernigan admitted to murdering Hale. Jernigan's accomplice, Roy Lamb, pleaded guilty as an accomplice and received a 30-year prison sentence. Lamb was paroled sometime in 1991.
After several attempts at appeals, Jernigan was executed by lethal injection, making him the 63rd inmate executed in Texas since the United States reinstated the death penalty. Afterward, his body was donated to science where he has become known as "The Visible Human." His corpse has been frozen, sliced into thousands of cross-sections, photographed, digitized and put on the Internet for the world to see. A man who took the life of another is now a teaching tool for the entire world, available on the Internet as the first 3-D cadaver.
---
The murderer's gift: The life and eternal cyberlife of Paul Jernigan
By David Rothman
The excerpt below is from my book NetWorld: What People Are Really Doing on the Internet, and What It Means to You, copyrighted in 1996 by me and published by Prima Publishing, a division of Random House.
Paul Jernigan was a tattooed ex-mechanic just under six feet tall and weighing 200 pounds. He had been a drug addict and a chronic drunk, but nearly all his organs still looked in textbook shape by the standards of gross anatomy--a stroke of luck that would later help him win a macabre competition. Jernigan had fatally stabbed and shot a seventy-five-year-old watchman after stealing a radio and a microwave oven. More than a decade had passed. So had his hopes for a successful appeal to the courts.
Lying on a gurney in a Texas deathhouse--his arms outstretched, as if in a crucifixion--Paul Jernigan just gawked upward as his brother watched. No last words came before the poison flowed into Jernigan's veins.
Jernigan gave himself to science. A not-so-loquacious sister told me this was to spare the family the cost of burial. "It was like, matter of fact," his last attorney said of the donation. "It was a gift. He wasn't going to laud himself, pat himself on the back. We didn't send an embossed announcement that 'Paul Jernigan has donated his body to science and this is his ticket to redemption.'"[1] A former cellmate offered his own twist Supposedly, Jernigan wanted his family to be able to sell his life story for a true-crime book. The donation just might make the planet care more about him in death than in life.
Within a year of the execution, in fact, I was reading clips about Paul Jernigan from the London Times, Jerusalem Post, New York Times, Washington Post, Los Angeles Times, and the Boston Globe. My favorite lead came out in a British paper called The Independent: "A killer was yesterday let loose on the Internet computer network." I wondered how he'd respond to flaming. The new Jernigan lived on as a digital atlas of the human body, a few steaklike cross sections of which I could dial up on the World Wide Web.
The Visible Human Project had come out of the National Library of Medicine in a Maryland suburb near Washington, D.C. It was one of the most spectacular examples of the Net's potential for spreading knowledge.
Researchers had cut Jernigan into four blocks, frozen him in a blue gel, ground him down millimeter by millimeter, digitally photographed the 1,878 cross sections that emerged, scanned these slices[2] into a computer, put them on magnetic tape, and then on the Internet Now the cadaver would be grist for medical educators and cancer researchers and perhaps even the designers of a Fantastic Voyage-style game. Players might explore the human body from the inside, just as Isaac Asimov's characters did in his novel. The government itself was spending $1.4 million on the project; expected commercial payoffs could reach the tens of millions and maybe more. Research and education, however, would be paramount here.
The Visible Human Project was but one of thousands of uses that academics and researchers had found for the Internet The Net was why many scientific luminaries were quick to slap the "fraud" label on efforts to create energy through cold fusion. Skeptics throughout the world could compare notes. If Paris couldn't replicate an experiment, then Boston would know within hours. Working in the other direction, fusion stalwarts had used the Internet to swap data and maintain the faith. Cyberspace was to knowledge what beehives are to honey.
Already the Net was teeming with thousands of mailing lists devoted to the most arcane disciplines, not just to the mainstream ones. Many scientists and other researchers envisioned the Net as a substitute for paper-style academic journals, subscriptions to some of which can cost as much as a Ford Escort. Stevan Harnad caught the imaginations of many academics with "A Subversive Proposal" for scholars to publish their finished works formally on the Net without offering them to academic publishers. He put out a vigilantly edited, psychology-related magazine with a circulation of tens of thousand on the Internet; he saw no reason for the Net just to be a repository/for pre-publication papers. In his opinion, academics could use such opportunities to enjoy greater bargaining power with existing publishers. Yet another glory of the Internet was that it served as a bridge between experts and nonexperts, as well as one between authorities in many academic disciplines. A dean of a law school, for example, could sign up for mailing lists on electronic serials to learn more about the technology that was fueling the drive for copyright reform.
*******
The doctor, a Scottish-accented man his his fifties or sixties, had collected a wall full of diplomas and plaques. Perhaps that's why he felt entitled to give only the sketchiest of explanations when he told a Midwestern friend of mine that she might need heart surgery to avoid a possible stroke. Karen (I've changed her name, along with a few identifying details) would be in the hospital just a day or so. But during this time a surgeon would insert a catheter up her groin and go on to kill off selected heart cells. With luck, the operation would end her atrial fibrillation. It had made her heart throb as quickly as 200 beats a minute on occasion and had sent her to the emergency room.
Karen pressed for details about the recommended operation. "Ma'am," Dr. S. said in a peremptory burr, "this is too technical."
It was Valentine's Day and Karen and her husband would rather have been thinking about hearts in that way alone. But she wanted to know all. "Ma'am, I'll draw you a picture," Dr. S. said a bit grudgingly. The doctor sketched a crude heart that might as well have been on a greeting card. Hastily drawn lines showed how electric impulses were traveling through Karen's heart with an extra path. The operation would cut off the surplus wiring, so to speak.
Well, this was a start. But Karen still felt ignorant, and it was her body into which the catheter would go. And so it is with many patients, not all, but many. Even good doctors don't always tell enough.
The Visible Human Project, however, would make it easier for Karen to learn more. Dr. S. could have shown Karen a computer image of an actual human heart and have pointed to the exact areas that the surgeon would kill off. Karen would have picked up a better appreciation of the complexities of the proposed operation. At the same time, Dr. S. could also have juggled around computer images to show the increased risk of clotting that would result if she failed to have the operation. Karen would have emerged better informed and more confident--or less, whatever the facts justified. Someday she might even be able to dial up on the Internet an animated, perfectly detailed series of pictures of the operation.
That was what the Visible Human Project would mean. What's more, patient education was just one of many uses; the right technology could revolutionize the training of doctors and advance medical research.
*******
As far back as the 1980s, such ideas intrigued Michael Ackerman, a Ph.D. in biomedical engineering who worked for the National Library of Medicine, part of the National Institutes of Health. He heard of a project at the University of Washington that was digitizing the human brain, al­though not the entire body. Researchers at other schools hoped to do the same with other organs. But they were less keen on collecting images and other data than on using the them, so why duplicate each other? Like the Internet itself; then, just one digitized corpse could help many researchers at once.
In North Carolina a marketing executive with a drug company was dreaming of a human atlas on a computer screen. Why should medical students have to make do with fold-out drawings in anatomy guides? Michael Du Toit, Vice President of marketing for Glaxo Inc., passed the idea on to a small company called Butler Communications, which checked out the technology. Glaxo had three goals. First, it wanted to create the basic images. Second, it wanted viewers to be able to wander through the body; ideally they could move the body for the best view, spin it, travel through it. And third, it wanted researchers to be able to give the lungs cancer; clog the arteries to the heart, and demonstrate the effects of drugs. But computers weren't ready. "The hype versus the deliverable," Robert Butler told me, "was miles and miles apart." To meet Glaxo's specs--to show the body by way of artistic recreations and virtual reality--might cost as much as $100 million.
Imagine the excitement that Du Toil and Butler must have felt on learning that academic and government researchers were finally coming up with the means for this to happen at a fraction of the expense. The Feds put out a request for proposals for the dissection job, and the crew at the University of Colorado made the final cut. Still unanswered was the question of whose corpse would end up on the Internet The contest judges allowed a bit more leeway than did the people choosing Miss America and Mr. Universe.
The ideal candidate for Visibility could be anywhere from maybe thirty to sixty years of age and be a bit thin or pudgy, albeit not exceedingly so. Height mustn't go too far beyond the norms for male and female. Above all, the innards of the body had to be photogenic from an anatomical perspective. That weeded out anyone worn down by cancer or similar disease, not to mention any victims of automobile accidents or knifings.
A little unfairly, this contest had geographical limits. Texas, Maryland, and Colorado were the states with subcontracts to provide the body. I could understand Maryland and Colorado, but Texas? I wondered if the reason would be the fondness of the people down there for capital punishment. No longer did bodies have to roast in electric chairs. Texas helpfully killed its murderers with lethal injections. So, in this competition, Paul Jernigan was a strong contender from the beginning.
Murder is an act of the will no matter how poor or Hitlerian our parents are, or what genes shape us and our brains. But if Fate sent anyone to the deathhouse gurney and to Visible Manhood, it was Paul Jernigan. He lived out an updated Dreiser novel.
His full legal name was Joseph Paul Jernigan, and he was born in Geneva, Illinois, on January 31, 1954, the youngest of Earl Jernigan's six children. The boy suffered from asthma and almost died of it He and his brothers and sisters typically owned just one pair of jeans each. Their mother eked it out in a chicken-processing plant, as a clerk at Montgomery Wards, and at other low-paying jobs, and they lived in public housing. She married a truck driver who, like Earl, was a strict disciplinarian toward the children. Later she suffered a stroke. Afflicted with a learning disorder, Paul flunked a grade at school and dropped out two years before graduating. He was a drunk and eventually was doing a pharmacy's worth of drugs, from Quaaludes to horse tranquilizers.
The Army trained Paul Jernigan as a mechanic, sent him to Germany, then tossed him out as unsalvage­able. Perhaps recognizing the cruel matrix that shaped Jernigan, it gave him a general discharge (a "no comment" in effect) rather than a dishonorable one. A shrink later found Jernigan to be a passive-aggressive man who was sometimes TNT-volatile. In the years after the military Jernigan kept a cooler of ice and beer in his automobile; a typical paycheck went for pot, cheeseburgers, and enough octane for himself and the car.
Paradoxically, though, friends trusted Paul Jernigan with their children. Jernigan was the perfect baby-sitter who enjoyed romping around with his charges. He married for a stretch and loved his stepchildren.
But he failed at marriage just as he had failed in school and in the Army.
Jernigan bungled at burglary, too. He was already a two-time loser in 1981 when he and a pal named Roy Lamb were driving down the road in Corsicana, Texas, a small, howdy-neighbor kind of town south of Dallas on Interstate 45. Emboldened by a night of booze and pot, the two decided to rob Edward Hale's house. They began stuffing their loot into a pillow case when Hale surprised them. Lamb ran out. Jernigan beat Hale over the head with an ashtray, hoping to kill off the witness. Hale stubbornly survived. Then Jernigan stubbed him with a rusty, dull-bladed meat knife, which just bent on Hale's chest. And so he took a shotgun and fired until the watchman was dead. Edward Hale did not die painlessly. After the murder, Jernigan went to Houston to try to straighten out his life. He was in a halfway house when arrested.
Some would say Jernigan needn't have wound up on the gurney; the law prevented the courts from accepting an accomplice's testimony. Mark Ticer, his last attorney, believes that Jernigan may have felt so contrite that he wanted to die. Ticer grew truly fond of his client In character, Jernigan would constantly inquire about the lawyer's two-year-old and remember birthdays.
Jernigan gave Ticer's wife, Cecily, some earrings made from gold bought with his military pension, and he crafted a wishing-well bucket for Ticer. Ticer was as trust­ing of the murderer as Jernigan's friends had been; he would have trusted him with his own young daughter. Even on death row Jernigan would write to the step­children from his failed marriage.
Smoking a hand-rolled cigarette and sipping a Pepsi, he would discuss legal strategy with Ticer until finally there wasn't quite so much to be strategic about.
"Paul," Ticer more or less said, "things are not going well. I guess I have to talk about your burial arrangements if they're going to execute you. I know your family doesn't have a lot of money." And it was there in the Ellis prison in Huntsville that Ticer learned of The Gift. Neither knew Jernigan would eventually become the Visible Man.
Mark Ticer tried for a stay of execution up to the last minute. Aware of Ticer's devotion to him, Jernigan asked his lawyer not to witness his last minutes. Death was almost instant Paul Jernigan died much more smoothly than he had lived.
The state anatomical board, a subcontractor of the University of Colorado, took it from there. Jernigan got one and a half gallons of 1 percent formalin. That was a light touch. Often cadavers are embalmed with ten gallons of a stronger preservative, and they sit and pickle for a year, so that when medical students cut them up, all the tissues are gray. But the idea here, in case Jernigan won the Visible Man honors, was to keep his tissue looking nice and bright like prime meat; the students would be able to enjoy a better, more realistic view.
Writing this chapter, I pondered the use of the state anatomical board as a cadaver procurer. Thank God the board was separate from the court system. Given the rage for businesslike government, I could just imagine some of the wilder politicians setting up an execution quota to work toward a balanced state budget. But the real reason for the use of Jernigan's corpse was more prosaic. Texas had one of the best cadaver-donation programs in the country, and of some 2,000 bodies that year, his just happened to show up at the right time and in the right condition.
A Learjet flew Jernigan from Texas to Colorado. Awaiting him were the masterminds of the dissection effort at the University of Colorado Health Sciences Center in Denver. Victor Spitzer specialized in radiology and cellu­lar and structural biology; David Whitlock was a professor of cellular and structural biology. The people working most on Jernigan would be the research assistants in the dissection room, which, day to day, was overseen by Tim Butzer, thirty, and his wife, Martha Pelster, a bright, curly-haired woman of twenty-five who would later apply for medical school. Helen Pelster, another assistant, was the sister of Martha Pelster.[3] The whole scenario--the family connection--begged for embellishment from Stephen King or Robin Cook.
I asked Martha Pelster if her work haunted her at night. "I kind of keep it on a pretty even level," she said. "I don't have too much trouble with it." She said Butzer felt the same.[4]
Had Jernigan inspired much after-hours talk with her husband?
"If there was a problem that needed to be worked out."
But did Pelster and Butzer reflect on the Visible Man's past in relation to what was happening now?
"Not too much. Getting emotionally involved with something like that--you don't want to discuss it. It isn't relevant to what we're doing."
Inquiring about the university's most famous cadaver, I learned that Jernigan had come with at least two tattoos on his chest area; they looked vaguely like dragons. His build and muscles were impressive. The lab had to modify some of the machinery to handle Jernigan. He showed up with just one testicle, which, I learned elsewhere, was the aftermath of painful surgery from his military days. I also heard that another operation had left him without an appendix. Students and researchers seeking to unravel the mysteries of appendixdom would just have to turn elsewhere. As a taxpayer, however, I didn't feel cheated. This was the States, not Bangladesh; did that many Americans die without any remnants of surgery? Jernigan's cadaver stood head and shoulders above a rival, a woman who was a chronic alcoholic with visible damage to her liver. In the hierarchy of the dissection room, livers must have counted more than appendixes.
Before the millimeter-by-millimeter grinding, the scientists treated Jernigan to magnetic resonance imaging (MRI, mixing radio waves and magnetic fields) and computer-aided tomography (CAT or CT, which is like topography except that it's on the innards of the human body). MRI picks up soft tissue. CAT scans are good for hard tissue, and for the differences between it and soft tissue. The researchers CT'ed Jernigan both before and after he was frozen, and these scans had to correspond with the alignment of the digitized photographs. Imagine the precision required here.
Preparing to slice the icy cadaver into four blocks for convenient grinding, the lab crew sharpened up on a less exalted cadaver. Vertebrae were a problem. "This saw would curve," Pelster said, "so you wouldn't have a perfect perpendicular flat cut. It would have a curve to it. So we took the cadaver back to the CT scanner and found the level where we could make a cut." In the end there were three cuts and four sections of Jernigan--head and torso, abdomen and pelvis just down to the thighs, the rest of the thighs and the knees, and just below the knees to the feet. The frozen pieces went into an aluminum mold, one at a time. And then the researchers poured a blue gel around them (the same blue you'll see on the edges of the cross sections if you dial them up on the World Wide Web). The result was four chunks of ice, each approximately 20 by 20 by 15 inches.
The grinding area was the next stop. Plexiglass enclosed it. That was a must. Pieces of cadaver would fly everywhere as science turned Paul Jernigan into dust with a spinning, carbide-tipped blade. "You'd think we'd have trouble sectioning bone," Pelster said, "but that's not been the case. Bone always cuts very clean. But sometimes we have a lot of trouble with the tendons. The tendons are such that they don't want to shear off cleanly, and so a lot of time we did hand scalpel work on each slice. So the slices might take ten minutes each instead of four minutes each." Actually the time varied. "Ninety slices were the most we cut on any one day, and we averaged sixty. Sometimes it was ten a day. It was about four months of sectioning."
"Were you worried about damaging the goods?" I asked.
"Definitely. We just did the best we could."
"Any near misses?"
"There were definitely a few. We never were to the point where we torpedoed the whole project. It would be more a possibility of losing a slice. We never came close to botching the whole thing. You look back and you see a little dot of ice here or there, things like that. You do the best you can. But I think it turned out well."
All along, of course, cameras and lights were clicking and flashing away. The slices went into a black-walled, reflection-proof chamber for photographing by one digital camera and two with film. A table held the cameras. It turned to give each a view of the cross sections from the same angle. The results went into a Macintosh Quadra 840AV with 128 megabytes of random access memory and 2 gigabytes of hard disk space. It was, in other words, many times more powerful and could store at least several times more than the average personal computer back then. As with the grinding, problems sometimes arose. "You think computers are so precise," Martha Pelster said, "but they're not. Things are always going wrong." Typically working with her and Tim were such people as the man who kept the grinding machine running, a camera expert, and a computer expert (Helen Pelster, Martha's sister), who would transfer the digitized Jernigan to tape and CD­ROM. Come the end of a hard day of photography, the lab crew collected everything and put it back in the freezer. "And then when we were finished doing this," Pelster said, "we had many bags of things that needed to go be cremated." The dust went to a contractor for incineration.
Digitized photos and CAT and MRI images from Jernigan went to National Library of Medicine in Maryland and to the Scientific Computing Division at the National Center for Atmospheric Research in Boulder, Colorado. The latter worked with a Cray Y-MP/8 supercomputer and Silicon Graphics workstations to study the results. A headline on the World Wide Web summed up the magnitude of the computational task: "The Visible Human Project: Can It Bring a Supercomputer to Its Knees?" A machine with the power of the Cray could take the 1,878 cross sections, stack them like slices of an upright bread loaf, and create electronic bones or hearts or brains that looked as if they had never been taken apart in the first place.
By fall 1994, Michael Ackerman at the National Library of Medicine was ready to tell the world about the electronic Jernigan and to have his images posted on the Net by way of the weather forecaster's facilities. "We hold this out as an example of the future of health care," Ackerman said. He predicted that the study of medicine would become increasingly visual. No one talked then of a murderer, and so the first stories on the wire services blandly mentioned an anonymous thirty-nine-year-old donor from Texas who had died of a drug overdose.
Learning that a digitized corpse would go on the Internet, not everyone greeted the news with unalloyed praise. Some reviled this as a waste of Net resources. Why not use CD-ROMs to distribute the information? To an extent I could see their arguments. The Library was releas­ing sixteen gigabytes of images at the start, and even someone with a deluxe Net connection could spend a week or so downloading it. Critics believed that this squandered bandwidth, that it was a bit like cruising down a narrow country road with an overgrown tour bus and fifty cars honking at it from behind. The strain on the Internet was far from that bad. But even by Net standards this was indeed a behemoth, and much more importantly, the bandwidth defenders worried about the precedent being set here. Sixteen gigabytes of images was equivalent to 8 billion pages of double-spaced typing. Individual e-mail messages commonly took up only a page or two.
Even so, the Visible Man had his friends out there in cyberspace. Anxious to beat rivals to the data, one com­pany kept its modems pumping away for a week until it had received all of Jernigan. It didn't want to wait weeks or months for tapes. Thanks to the Net, many people throughout the world could receive Jernigan at the same time. In the first few months of the release, more than 900 companies, schools, and people wrote Ackerman about licenses giving them permission to use the data in experiments and products. Some 100 actually followed through--everyone from pharmaceutical firms to a young artist who, accord­ing to Ackerman, assured him that she would make taste­ful use of the images.
Luckily from a bandwidth perspective, you didn't have to download all of Jernigan. Each slice was a mere seven megabytes in a spatial resolution of 2,048 by 1,216 pixels (several times sharper than that of a typical personal com­puter). A maker of software for ophthalmologists could pull down only the images dealing with the eye and related brain areas. Those aiming for the podiatry market could focus on the feet and ankles. What's more, even without a -license, ordinary Net users could dial up Jernigan Lite, so to speak, from the World Wide Web.
Coming over the Net eventually would be more than just the raw, unprocessed images. Refined versions--for example, animated Jernigans, rotating in 3-D, or even virtual reality versions--could go anywhere in the world. And when they did, researchers and students would be wanting their own pet views. CD-ROMs just didn't store enough data to anticipate all the possibilities. Typically they could hold maybe 650 megabytes of data. Even extended, the storage would offer a fraction of what could be available via high-speed connections to sites from Paris to Melbourne.
Jernigan, you might say, was more than just the material for a medical experiment. He was also a focus of a re­search project to develop special formats for libraries of visual information on the Net Eventually people would be able to download not just images but also the "objects" that made up the images.
"These objects will have knowledge in them," Michael Ackerman said, "so they know how they relate to each other and the rest of the scheme. Say you ask for the heart. What you get of course is the not a picture of the heart but the objects that made up the heart that your software has now rendered as the heart. If you point to something on the heart, it can open up because it's made up of these objects. And if you point to something on the margin of the heart and say "What is attached here?" that object on the margin knows what its nearest neighbor is even though it's not in the picture. And it knows to go back to the data­base and bring up what's attached to it."
Such an approach might even take advantage of Web­style technology to link together libraries at a number of locations. So you might smoothly travel from, say, a processed image of a blood vessel done up at School X to an animated image of a heart as tweaked by Company Y.
Those uses would increase the load on the Internet, of course. But ultimately the principle of the expanding pipeline might work to the benefit of all. That is, the heavier the traffic on the Net, the heftier the connections would be built. So in the end, everything would be cheaper--from image transmissions to sending one-page notes by electronic mail.
Several other cost-related questions arose beyond those of the expense of the network connections. I wondered how much patients would be charged to see a picture of the innards of Jernigan or a Visible Woman. Robert Butler doubted that his client, Glaxo, was ready to say. However, he left me with the impression that this proba­bly would not be pay per view. Glaxo had its own reasons for going ahead--for example, showing doctors the effects of its pharmaceuticals on the body. So, no, he said, this was not a plot to gouge the public with peep shows.
A related issue, arising from the involvement of drug companies, was the question of proprietary information. While the images were on the Internet for all to see, this project was not entirely in the spirit of the Net's openness. Butler, for example, might have feared that I was working for a rival corporation, and he waited several weeks to return my calls. I could understand his reasons. Still, I was startled to learn that Ackerman at the National Institutes of Health would not even release to me a list of the companies that had licensed the use of the images. Nor had NIH organized a newsgroup or a mailing list. Surely all the hundreds of licensees would have common problems, common opportunities, that they could discuss without imperiling each other's projects.
Yet another question went back to one of the main reasons given for the project. Could medical students really learn by hooking into the Net and dialing up the images from the Visible Man? David Dean should have been a complete booster of this endeavor. He was, after all, a Ph.D. who worked in medical imaging and taught anatomy at Case Western Reserve University. And yet he told me, "I feel you can't replicate the experience in the anatomy lab. Students will have no time for this stuff. They're totally overwhelmed. They can see the same structures again and again in different bodies."
At the University of North Carolina in Chapel Hill, Gerry Oxford, professor of physiology, said that seeing organs in three dimensions wasn't the same feeling them. "Physicians in training need a visceral appreciation of the fact that they will have responsibility for the human body." Even a believer in the project, Marc Nelson, assistant dean of medical education at the Stanford University School of Medicine in Palo Alto, worried that electronic anatomy could lessen contacts between students and teachers.[5]
Real bodies, however, cost universities $600 each--assuming they could get them in the first place. And students would not have eyeballs, hearts, hands, and livers to themselves.
Of all the boosters of the project, Martha Pelster may have been the most persuasive. She worked as a lab assistant, had cut up dozens of bodies, and now was headed to medical school. "When you look at this cadaver," Pelster said of the digitized Jernigan, "everything is still in its ori­entation. When you go in and dissect, you take a lot of stuff out. If you cut something wrong or cut through something and toss the object into the reject bin, you've lost it. But with this visible male, you can go back in again. You can see what happened before your lab partner went in there and messed up your cadaver. This cross-sectional anatomy is going to be the be-all and end-all. A book can't have this many cross sections, this good."
Just as important, no one in the project, from Ackerman to Pelster, was touting electronic cadavers as a complete substitute for the real ones that the medical students studied. The digitized versions would simply aug­ment the real cadavers, the ones that you couldn't reboot if you cut them the wrong way. In the new era, medical schools could even require students to put the human body together, not just take it apart.
Cadavers in cyberspace would offer yet another advantage: even schoolchildren could study them. People for the Ethical Treatment of Animals and some rock-n-roll musicians such as Pearl Jam were asking schools to "cut out dissection" and use computer imaging or model frogs. Thanks to the Visible Human Project, however, students someday would do better than just viewing pixels flashing across the screen. They would be able to tour the body of an actual human. Potential medical students, moreover, could get a head start Long before they reached the slicing rooms, they would be familiar with electronic cadavers and be able to make better use of the real ones. What's more, the digitized Jernigan could revolutionize training in laparoscopic surgery, where doctors inserted tubes in patients and operated with tiny instruments and TV-like monitors and cameras. The view on the video screen of a training computer could be true to life.
All this was not even to mention other applications--for example, computer-simulated crash tests to improve auto safety, efforts to study the range of wrist motion and reduce carpal tunnel syndrome in typists, or investigations of ways to protect athletes against injuries.
I asked Mark Ticer if Jernigan's family had ever thought of suing for any of the wealth that the project might create from medical products and the rest.
The answer pleased me in this litigious era. Ticer said that if anything the family would be offended that anyone raised the issue. That was the way Jernigan and his kin were. "There wasn't a condition attached to his gift," Ticer said.
Sharon Kuster, Jernigan's sister, said her brother would "probably be happy about it. I am."
"Now he can be remembered for all the good he did rather than all the evil," Ticer said. "I think he'd be quietly delighted." I picked up on the "quietly." Jernigan's invisibility, prior to his crimes, was not just because of his sta­tion or lack of station in life. That was his way. Many other inmates on death row gravitated toward microphones. Jernigan spumed them. The true-crime book, if one ever resulted, would never have come out while he was walking and breathing.
Shortly after I talked to Mark Ticer and Sharon Kuster, my friend Karen got the results of an intensive examination by a second doctor. It seemed that Karen would not be undergoing the heart surgery. But even now she couldn't tell for sure. What's more, if Karen received drugs instead, the medical benefits of the Visible Man might still help her someday; a major pharmaceutical company, after all, was hoping to use the digitized cadaver as a tool to explore and demonstrate the effects of its products.
My thoughts shifted back to Jernigan the human. Lying on the death gurney, awaiting the poison, would he have wanted to make The Gift if someone had rushed in and asked at the last minute, "Do you realize you'll be all over the Internet? That you"ll suffer the ultimate invasion of privacy? That strangers from here to Oslo will see your guts? I'd like to think that Jernigan would have nodded and the Learjet would still have flown the body up to Denver. For the sake of Karen, of other sick people, of those who just might live longer and better if their surgeons were slightly more skilled, or if they themselves could make the right decisions about their medical care-- for the sake of them all, I was not-so-quietly delighted that the invisible man was now visible.
NOTES
[1] Ronnie Crocker, "Executed killer lives as computer image," Houston Chronicle, December 18, 1994, Page A1.
[2] To be technical, these weren't true physical slices, just images taken of the remaining surface as researchers ground down Jernigan.
[3] The University of Colorado got a great package deal. Whiule I couldn't rate Helen Pelster according to her medical knowledge, she appeared to know her computer imaging cold.
[4] Not to confuse detachment with callousness. In Pelster's place--working with the cadaver day after day--I'd have coped the same way
[5] The Associated Press quoted Oxford and Nelson.
---
980 F.2d 292
Joseph Paul Jernigan, Petitioner-Appellant,
v.
James A. Collins, Director, Texas Department of Criminal Justice,
Institutional Division, Respondent-Appellee.
No. 92-1415
United States Court of Appeals, Fifth Circuit.
Dec. 15, 1992.
Rehearing Denied Jan. 20, 1993

Appeal from the United States District Court for the Northern District of Texas.
Before JOLLY, DAVIS, and SMITH, Circuit Judges.
E. GRADY JOLLY, Circuit Judge:
In 1981, a jury in Texas state court found Joseph Paul Jernigan guilty of the cold-blooded murder of Edward Hale and made the findings necessary to sentence Jernigan to death. Jernigan now seeks habeas corpus relief under 28 U.S.C. 2254. He contends that in the absence of certain errors by his counsel and the trial judge, he would not have received the death penalty. Finding no merit in his arguments, the district court granted summary judgment in favor of the respondent, James A. Collins, the director of the Texas Department of Criminal Justice. We believe that Jernigan is not entitled to habeas relief because he has not demonstrated that any errors on the part of his attorney or the trial judge prejudiced his trial. We, therefore, affirm the decision of the district court.
* On July 3, 1981, Joseph Paul Jernigan and an accomplice burglarized a home near the town of Dawson, Texas. While they were there, the owner, Edward Hale, returned. Jernigan attacked Hale, hitting him repeatedly in the face with an ashtray and attempting unsuccessfully to stab him with a kitchen knife. Jernigan then grabbed a nearby shotgun and shot Hale in the chest and neck. After the shooting, Jernigan continued to burglarize the house.
The sheriff arrested Jernigan several days later based on information his wife, Vicki Jernigan, provided. A few days after his arrest, Jernigan confessed to the murder of Hale.
On November 4, 1981, a jury convicted Jernigan of capital murder. The jury made the findings required by Texas law for the imposition of the death penalty, and the state trial court accordingly sentenced Jernigan to death.
On direct appeal, the Texas Court of Criminal Appeals affirmed the conviction and sentence. See Jernigan v. State, 661 S.W.2d 936, 943 (Tex.Crim.App.1983) (en banc). The court held that Jernigan's confession was legally obtained, the jury was properly selected and instructed, there were no errors in the joinder of portions of the indictment, and the prosecutors' closing argument did not deny Jernigan a fair trial. The United States Supreme Court denied a petition for writ of certiorari.
In March of 1984, Jernigan sought collateral review in the Texas state courts. After an evidentiary hearing, the state trial court found, inter alia, that Jernigan's attorneys effectively assisted him at trial and adequately prepared for the sentencing phase of his trial. Accordingly, the state trial court denied Jernigan's habeas petition. The Texas Court of Criminal Appeals also denied him relief.
At the time he petitioned the state court for habeas relief, Jernigan also petitioned the United States District Court, for the Northern District of Texas, for a writ of habeas corpus. Jernigan filed the petition on the docket of Judge Porter, who entered a stay of execution on March 16, 1984. Jernigan contended he was entitled to the writ on eighteen grounds. The respondent, James A. Collins, director of the Texas Department of Criminal Justice, moved for summary judgment and both sides filed briefs with the court. After hearing oral argument, the district court adopted the findings of the state court and granted summary judgment in favor of Collins. Jernigan appeals.
II
* Jernigan argues that the Texas statutory scheme did not allow the jury to consider his mitigating evidence. Jernigan's death sentence was based on the jury's affirmative responses to the following two questions:
1) Was the conduct of the defendant that caused the death of the deceased committed deliberately and with the reasonable expectation that the death of the deceased would result?
2) Is there a probability that the defendant would commit criminal acts of violence that would constitute a continuing threat to society?
Relying on our holding in Graham v. Collins, 950 F.2d 1009 (5th Cir.1992) (en banc), the district court held that the Texas capital sentencing statute permitted the jury to fully consider the mitigating evidence that Jernigan offered. In Graham, the Fifth Circuit held "that Penry does not invalidate the Texas statutory scheme, and that Jurek continues to apply, in instances where no major mitigating thrust of the evidence is substantially beyond the scope of all the special issues." Graham, 950 F.2d at 1027. Jernigan is now arguing that the Fifth Circuit reached the wrong decision in Graham. He relies--we must say, rather weakly--on the fact that Graham was a close decision, and that the Supreme Court has granted the writ of certiorari in Graham, casting doubt on our decision in Graham.
It must be no surprise that we think that Graham and Penry are harmonic. In Penry v. Lynaugh, 492 U.S. 302, 109 S.Ct. 2934, 106 L.Ed.2d 256 (1989), the state of Texas convicted the defendant of murder and sentenced him to death. In the sentencing stage of his trial, the defendant presented mitigating evidence indicating that he was mildly retarded and that his parents had abused him while he was growing up.
The Supreme Court held that the Texas special issues, without a special instruction, did not allow the jury to give effect to the defendant's mitigating evidence, and, hence, the jury's answers to the special issues did not reflect a "reasoned moral response" to the defendant's mitigating evidence. Penry, 492 U.S. at 322, 109 S.Ct. at 2949.
In Graham, we reevaluated the Texas statutory scheme in the light of the Supreme Court's decision in Penry. The defendant's mitigating evidence in that case was his youth and his difficult childhood. The Fifth Circuit held that the Texas statutory scheme allowed the jury fully to consider the defendant's mitigating evidence. See also Cordova v. Collins, 953 F.2d 167 (5th Cir.1992).
In the instant case, Jernigan's brother-in-law and his sister-in-law both gave mitigating evidence at the sentence phase of Jernigan's trial. Both of them testified basically that Jernigan was a kind, gentle person who deserves a second chance. Jernigan's brother-in-law testified that Jernigan had rededicated his life to God.
Despite counsel's able arguments, we think that the Texas Special Issues allowed the jury to consider Jernigan's mitigating evidence. First, Graham is the prevailing law in this circuit. Second, irrespective of the continuing viability of Graham, the jury was easily able to give effect to Jernigan's mitigating evidence when it answered special issue number two, which relates to whether Jernigan represents a continuing threat to society. Jernigan's evidence that he is kind and gentle suggests that he is not a continuing threat to society. Unfortunately for Jernigan, the jury found otherwise.
B
We now turn to Jernigan's ineffective assistance of counsel claim. Jernigan argues that the district court used the wrong standard when it concluded that his attorneys provided him with effective assistance at trial. Jernigan contends that the district court erred when it presumed that the state court's factual findings were correct. Jernigan further contends that the district court erred when it granted summary judgment in favor of Collins because the affidavits of Ms. Tullos Kozlowski and Lynn Malone, relating to his future dangerousness, created a genuine issue of material fact.
(1)
We begin with Jernigan's allegation that the district court used the wrong standard when it evaluated his claim that his attorneys did not provide effective assistance of counsel. In the district court, Jernigan alleged that his trial counsel were ineffective in twelve different respects. Noting that Jernigan did not plead the claims with the requisite specificity, the district court dismissed seven of Jernigan's twelve ineffective assistance claims. The district court considered Jernigan's five remaining claims individually before rejecting them.
Contrary to Jernigan's argument, the district court correctly applied the two-part standard for evaluating ineffective assistance of counsel claims that the Supreme Court established in Strickland v. Washington, 466 U.S. 668, 687, 104 S.Ct. 2052, 2064, 80 L.Ed.2d 674 (1984). Under Strickland, the defendant must first demonstrate that "his counsel's performance was deficient." For his counsel's performance to be deficient, the defendant must show that his attorney's errors were "so serious that his counsel was not functioning as the 'counsel' " the Sixth Amendment guarantees the defendant. Id. Second, the defendant must also show that his counsel's performance prejudiced him and lead to a trial "whose result is unreliable." Id. The petitioner has the burden of proof on this claim. He must demonstrate, by a preponderance of the evidence, that his counsel was ineffective. Martin v. Maggio, 711 F.2d 1273, 1279 (5th Cir.1983).
(2)
Moving on to the substance of Jernigan's ineffective assistance of counsel claim, Jernigan complains that his attorneys failed to prepare for the punishment phase of his trial. He contends that his attorneys failed to investigate his background and interview his family members. In the state court habeas corpus hearing, the court found that Jernigan's attorneys did investigate his background and prepare for the punishment phase of his trial.
The district court presumed that the state court's factual findings were correct and granted summary judgment in favor of the respondent, Collins. Jernigan contends that the district court should not have adopted the state court's factual findings. Consequently, Jernigan argues that he is entitled to a federal hearing to evaluate his ineffective assistance of counsel claim.
Jernigan's argument fails for two reasons. First, Jernigan bears the burden of proving there is a need for a federal evidentiary hearing to evaluate his claim. To meet that burden, Jernigan must demonstrate that his "allegations, if proved, would establish the right to habeas relief." Streetman v. Lynaugh, 812 F.2d 950, 956 (5th Cir.1987), quoting Townsend v. Sain, 372 U.S. 293, 307, 83 S.Ct. 745, 754, 9 L.Ed.2d 770 (1963). Jernigan has failed to meet this burden. As noted above, under Strickland, in order to make out an ineffective assistance of counsel claim, the defendant must demonstrate, inter alia, that his counsel's performance prejudiced him and led to a trial "whose result is unreliable." Strickland, 466 U.S. at 687, 104 S.Ct. at 2064.
According to Jernigan, if his attorneys had investigated his background and interviewed his family members, they would have discovered mitigating evidence that would have convinced the jury not to give him the death penalty. The record does not support this contention.
Jernigan's family members testified in the state court habeas hearing, and their testimony does not add substantially to what was said by those who testified at trial. Jernigan's lead attorney, Jimmy Morris, testified that he made a strategic decision not to call more members of his family because, in his experience, juries do not respond well to that kind of evidence. Thus, Jernigan has not established prejudice and, hence, we must reject his ineffective assistance of counsel claim.
Jernigan's ineffective assistance of counsel claim also fails because federal law generally requires the district court to presume that the state court correctly found the facts in its habeas corpus hearing. 28 U.S.C. 2254; King v. Collins, 945 F.2d 867, 868 (5th Cir.1991). Thus, unless Jernigan demonstrates that his case falls within one of the exceptions to this rule, the district court was fully justified when it accepted the factual findings of the state court.
Jernigan argues that the district court should have disregarded the state court's findings for the following three reasons. First, the state court hearing was not full and fair. Second, the state court hearing did not adequately develop the material facts. Third, the record does not adequately support the findings of the state court. 28 U.S.C. 2254(d)(3, 6, 8).
We begin with Jernigan's contention that the state court hearing was not full and fair. This argument is frivolous. Jernigan was a party to the proceeding, and he was represented by counsel. Furthermore, the court afforded him every opportunity to be heard. Accordingly, the state court provided a full and fair hearing. See King, 945 F.2d at 868; Sumner v. Mata, 449 U.S. 539, 546-547, 101 S.Ct. 764, 769, 66 L.Ed.2d 722 (1981).
Next, we consider Jernigan's contention that the parties did not adequately develop the material facts in the state court proceeding. We will only excuse a federal habeas corpus petitioner's failure to develop material facts and mandate a federal evidentiary hearing under two circumstances: First, the petitioner can show cause for his failure to develop the facts in the state court proceeding and actual prejudice resulting from that failure; and second, when the petitioner can show that a fundamental miscarriage of justice would result from the failure to hold a federal evidentiary hearing. Keeney v. Tamayo-Reyes, --- U.S. ----, ----, 112 S.Ct. 1715, 1721, 118 L.Ed.2d 318 (1992).
Jernigan can neither show cause for his failure to present evidence, nor can he demonstrate that the failure to hold a federal evidentiary hearing has resulted in a fundamental miscarriage of justice. To show cause, Jernigan must demonstrate that "some objective factor external to the defense impeded counsel's efforts" to develop the evidence. McCleskey v. Zant, 499 U.S. ----, ----, 111 S.Ct. 1454, 1470, 113 L.Ed.2d 517 (1991). No external concerns or events prevented Jernigan from calling his witnesses, and we have already concluded that the state court afforded him a full and fair hearing. Similarly, Jernigan cannot show that the absence of a federal evidentiary hearing has resulted in a fundamental miscarriage of justice.
To show a fundamental miscarriage of justice, Jernigan would have to demonstrate "by clear and convincing evidence that but for a constitutional error, no reasonable juror would have found [him] eligible for the death penalty." Sawyer v. Whitley, --- U.S. ----, ----, 112 S.Ct. 2514, 2517, 120 L.Ed.2d 269 (1992). As noted above, Jernigan's new mitigating evidence is cumulative of what he presented at trial, and it certainly does not show that a reasonable jury would not have given him the death penalty. Thus, we must reject Jernigan's argument that he deserves a federal hearing because the facts were not adequately developed in the state hearing.
We now turn to Jernigan's allegation that the record does not support the state court's findings. In particular, Jernigan complains about findings of fact numbers seventeen and nineteen:
17) The family members' testimony presented by Applicant at this hearing would not have helped Applicant in any way in the trial and would not have changed the outcome of the trial.
19) The attorneys for Applicant did make an investigation into Applicant's background for the purpose of securing witnesses to testify in mitigation of punishment and they called all of the witnesses that they believed would help the Applicant, and the attorneys for the Applicant strategically determined that the people named by Applicant in his petition for writ of habeas corpus would be more than helpful to Applicant's case.
We find unconvincing Jernigan's argument that the record does not support these findings. Jernigan's argument is based on the affidavit of Ms. Tullos Kozlowski, one of his trial attorneys. Kozlowski, who did not testify at the hearing, now claims that she did little or nothing to prepare for trial. She specifically asserts that she did not speak to Jernigan's family members or otherwise prepare for the sentencing phase of the trial.
Despite Kozlowski's current allegations, we believe that the record supports the state court's findings. Kozlowski seems to have exaggerated her role in the trial. It was her first murder trial, and in the sentencing phase of the trial, she only cross-examined one witness. Mr. Morris, the lead attorney, had already participated in over a hundred murder trials and is now a judge on the Texas court of criminal appeals.
At the state habeas corpus hearing, he testified that he prepared for the sentencing phase of the trial, and that he made a tactical decision not to call Jernigan's family members because, in his experience, juries do not respond well to this kind of evidence. Furthermore, as we have already noted, testimony by several more of Jernigan's family members would not have added substantially to the evidence before the jury. Thus, from our review of the testimony of Jernigan's family members and the testimony of Morris, we conclude that the state court's findings are fully supported.
C
Finally, we consider Jernigan's contention that the testimony of three attorneys at the sentencing phase prejudiced his trial. The three attorneys were: 1) Mr. Lynn Malone, a district attorney in another court, 2) Mr. Walden, an assistant attorney general for the state of Texas, and 3) Mr. Nicholson, a former judge. They all testified during the punishment phase of the trial that Jernigan was likely to commit violent criminal acts in the future. These attorneys were not professional experts in human behavior, and only one of them had any personal knowledge about the defendant. Jernigan argues that this evidence was unreliable and its admission violated his rights under the Fifth, Sixth, and Eighth Amendments.
We review state evidentiary rulings merely to determine whether the trial judge's error was so extreme that it constituted a denial of fundamental fairness. Evans v. Thigpen, 809 F.2d 239, 242 (5th Cir.1987). Thus, the erroneous admission of prejudicial testimony justifies habeas corpus relief only when it played a "crucial, critical [and] highly significant" role in the trial. Andrade v. McCotter, 805 F.2d 1190, 1193 (5th Cir.1986). Because our review is limited to errors of constitutional dimension, federal courts do not review the mere admissibility of evidence under state law. Peters v. Whitley, 942 F.2d 937, 940 (5th Cir.1991).
Collins argues that the testimony of the attorneys was admissible under state law, and hence, admission of the evidence was not an error reaching constitutional dimension. The Texas courts have held that the lay opinion of a prosecutor is relevant and admissible evidence in a capital case on the issue of the defendant's future dangerousness. Esquivel v. State, 595 S.W.2d 516, 527-528 (Tex.Crim.App.1980); Simmons v. State, 594 S.W.2d 760, 763 (Tex.Crim.App.1980); Burns v. State, 556 S.W.2d 270, 280 (Tex.Crim.App.1977).
In Burns, a district attorney testified during the sentencing stage of a murder trial that "once they have committed one offense they are a menace to society and continue to do so," and that in his opinion, the defendant would commit violent criminal acts in the future. Id. The situation in Burns is analogous to the instant case. Thus, the precedents make clear that the evidence of the three attorneys was admissible under Texas law.
Even if the evidence was not admissible in Texas, Jernigan has not demonstrated that the evidentiary error, if any, made his trial fundamentally unfair. He had every opportunity to cross-examine the attorneys and to call his own witnesses to rebut their testimony. Relying on Malone's affidavit, Jernigan argues that the attorneys' testimony was full of misrepresentations. Malone's affidavit, however, does not indicate that he misrepresented the truth when he testified. Instead, he says in his affidavit that he now believes that the judge should not have permitted the jury to consider his testimony because he was not qualified to testify.
Moreover, the testimony of the three attorneys played a small role in the trial. The state presented evidence that Jernigan had been involved in numerous other crimes including several other violent burglaries. The state also presented evidence concerning Jernigan's behavior while in custody that indicated he was a violent person. Finally, seven law enforcement officers testified that Jernigan was reputed to be a violent, dishonest person. Considered in the light of all the other evidence, the testimony of the three attorneys was not a critical, highly significant part of the trial and, thus, does not, in any event, justify habeas corpus relief.
III
For all of the foregoing reasons, we AFFIRM the decision of the district court.
AFFIRMED.
*****
Jernigan also contends that the state court was biased against him. He argues that the state court's factual findings and one of its statements demonstrate bias. Jernigan failed to raise this argument before the district court, and, hence, he waived it. Lincecum v. Collins, 958 F.2d 1271, 1280-1281 (5th Cir.1992). In addition, this argument is totally without merit. Jernigan argues that the lack of support for the state court's findings in the record proves bias. This argument assumes that the record does not support the state court's findings. Yet, that is the very proposition the argument is intended to prove. Thus, Jernigan's argument is circular and, hence, frivolous