Jeffrey Baldwin (20 January 1997 - 30 November 2002) was a Canadian child whose death from septic shock after years of mistreatment by his grandparents, Elva Bottineau and Norman Kidman, led to significant changes in policy by children's aid societies in the granting of custody of children to relatives.
Life
Baldwin was born in Doctor's Hospital in Toronto, the son of Yvonne Kidman and Richard Baldwin. On 28 April 1998, he and his older sister were taken by the Catholic Children's Aid Society after allegations of abuse were levelled against their parents. They were given into the custody of their maternal grandparents, Elva Bottineau and Norman Kidman.
In 2000, a worker with the Catholic Children's Aid Society noticed a bruise under Baldwin's eye, but this was dismissed as an accident and no action was taken.
According to later court testimony, Baldwin and his sister were kept in a locked room at night with furnace vents shut, and when released were forced to eat with their hands from a mat on the floor. James Mills, the boyfriend of Baldwin's aunt who also lived in the house, declared that Baldwin's grandmother did not love him or his sister, and that they were purely a "dollars and cents" matter, as his grandparents received social assistance for their care.
On the evening of 30 November 2002, his grandmother called 911 to report that he was not breathing. Upon arrival, emergency workers noticed that his body was "covered in sores, bruises and abrasions". His weight at death was slightly less than his weight at his first birthday, almost five years earlier.
Court case
On 19 March 2003, his grandparents were arrested and charged with first-degree murder for their role in his death. The trial heard they had kept Jeffrey locked in a bedroom, where he lived in his own feces, and left him to drink from a toilet. The judge was told that the pair used the children as a source of income, collecting government support cheques while offering little in return.
On 7 April 2006 they were convicted of second-degree murder by Justice David Watt in Ontario Superior Court. Sentencing was delivered on 9 June 2006. Bottineau was sentenced to 22 years in prison (Until 2023) and Kidman 20 years (Until 2021), before they respectively become eligible for parole.
Wikipedia.org
---
Appeals dismissed for couple convicted in Toronto boy's 2002 starvation death
Alexandra Posadzki - The Canadian Press
TheStar.com
March 3, 2011
Two appeals in the horrific case of a five-year-old boy who starved to death in his grandparents' home were dismissed Thursday by Ontario's highest court.
Elva Bottineau and Norman Kidman of Toronto had asked the Court of Appeal for Ontario to overturn their second-degree murder convictions in the 2002 death of Jeffrey Baldwin.
Bottineau and Kidman were convicted in 2006 and sentenced to life in prison with no parole for 22 and 20 years, respectively.
Jeffrey weighed only 21 pounds and was covered in sores when he died in November 2002 from complications due to chronic starvation.
Bottineau's lawyer conceded in court Wednesday that the facts of the case were "shocking." But James Stribopoulos argued Bottineau's conviction should be overturned because the trial judge "swept away evidence of Bottineau's highly incapacitated mental state."
Bottineau's IQ of 69 — borderline mental retardation — prevented her from understanding that malnutrition was likely to kill the boy, Stribopoulos said.
Justice David Doherty, one of the three judges who heard the appeal, said the trial judge had taken Bottineau's low intellect into account when sentencing her to life in prison.
"He finds that she's of limited intellect, but she's also a lying, manipulative person," Doherty said Thursday.
The judges also dismissed arguments that Kidman played no part in Jeffrey's abuse.
"He's there every day, his room is next to the dungeon that these kids were being tortured in," Doherty said Wednesday.
"There's all kinds of evidence that he knocked this kid around."
Kidman was Bottineau's longtime common-law partner. The pair were designated as legal guardians for Jeffrey and his sister, who had suffered abuse at the hands of their birth parents.
Bottineau and Kidman used the children as a source of income, collecting government support cheques in their names while they confined them to a dark, unheated room that reeked of urine and feces.
Although Jeffrey and his sister lived in squalor, the rest of the house was normal, including the living quarters of other children in the home.
Richard Litkowski, the lawyer for Kidman, had asked court to quash Kidman's murder conviction and instead send him to prison for manslaughter.
Litkowski had argued that Bottineau was the one who set the rules of the house and fed and disciplined the children, while Kidman spent most of his days at work and had little direct contact with the kids.
Kidman's passivity was morally reprehensible, but it did not make him a murderer, Litkowski told court.
The judges' ruling upheld the Crown's argument that the pair had raised the same issues at trial and there is no reason to interfere with that judge's decision.
Written reasons for the Appeal Court decision will be issued at a later date.
---
Couple guilty of 2nd-degree murder in grandson's death
CBC.ca
April 9, 2006
A Toronto couple was found guilty of second-degree murder Friday in the death of their five-year-old grandson, who basically starved to death in 2002 after being abused for much of his life.
The verdict in the case of young Jeffrey Baldwin was made public by Justice David Watt, who read his 500-page decision to a packed courtroom.
The grandparents, Norman Kidman, 53, and Elva Bottineau, 54, had pleaded not guilty to first-degree murder. The boy, who had been placed in their care as a foster child, died of septic shock – a reaction to a severe infection
The couple will return to court Wednesday to set a date for their sentencing. Under Canadian law, the couple were sentenced automatically to life in prison. But the judge has the discretion to increase the parole ineligibility from the minimum of 10 years to a maximum of 25 years.
Shortly after the decision was announced in Ontario Superior Court, Dr. Barry McLellan, the province's chief coroner, announced that an inquest would be held.
The inquest will include "the Toronto Catholic Children's Aid Society's involvement in Jeffrey's placement and the role that agency, and others, had in monitoring his well-being prior to his death," McLellan said in a release.
Boy, 5, a shadow of kids his age
The court was told Jeffrey was kept in a locked room and forced to sleep in his own excrement. When he died just shy of his sixth birthday, he weighed less than a healthy one-year-old.
James Mills, a boyfriend of Jeffrey's aunt and one of six adults – including Kidman and Bottineau – who lived in the same subsidized east-end Toronto house, testified that he was at home playing video games the night Jeffrey died.
Mills said he had trouble sleeping that night, and heard Jeffrey crying in his bedroom around 2 a.m.
There was an inconclusive discussion among some of the adults about taking him to the hospital but no action was taken.
"Then after that it was dead quiet," Mills said.
Mills testified that Jeffrey was "treated like a dog" and would have been "better off at the humane society."
According to Mills, Jeffrey was not an ordinary child being looked after and even loved by foster parents. Rather, he was a "dollars and cents" matter for his grandmother, who also cared for Jeffrey's sister.
"The kids were her only source of income. She didn't want to lose that and would do everything in her power not to."
When emergency crews found Jeffrey's body, it was covered with sores and abrasions.
Jeffrey's death prompts changes
When the horrifying details of Jeffrey's treatment and death became public at the trial, the Catholic Children's Aid Society said a terrible mistake had been made, and, in the future, any relative wanting to take custody of a child would be thoroughly investigated.
Since then, the coroner's office, the provincial government, children's aid societies across the province, and family-court judges have also taken action.
The province has introduced legislation to make house visits and criminal background checks mandatory before relatives can take custody of children.
---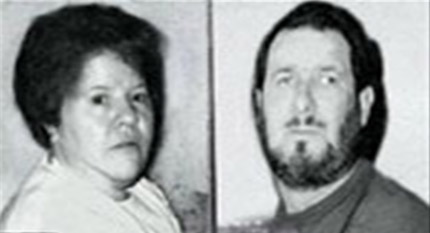 Elva Bottineau and Norman Kidman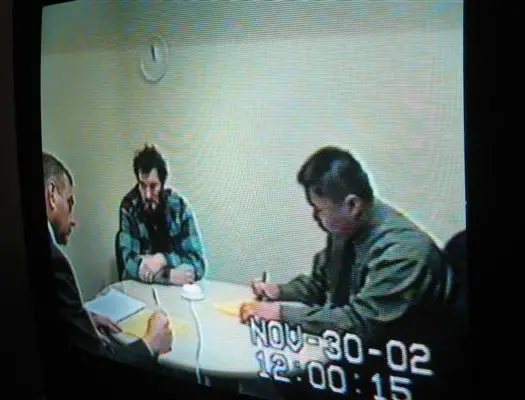 Norman Kidman, speaking to police on November 30, 2002, a few hours after his five-year-old emaciated grandson was found dead at their east-end Toronto home.
The victim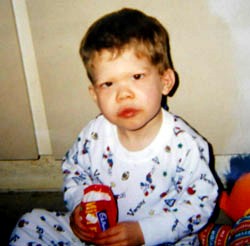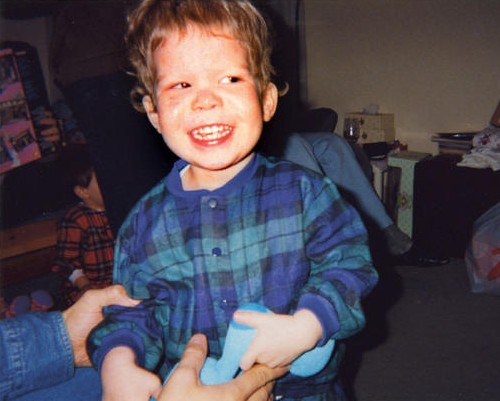 Jeffrey Baldwin, 5, weighed only 21 pounds and was covered in sores when he died in November 2002 from complications due to chronic starvation.