KUBSCH, WAYNE D. #94
OFF DEATH ROW SINCE 03-14-03
DOB: 10-31-67
DOC: #108000 White Male
St. Joseph County Superior Court
Judge Jerome Frese
Prosecutor: Scott Duerring, Joel Williams
Defense: James Korpal, Neil Wiseman
Date of Murder: September 18, 1998
Victim(s): Beth Kubsch W/F 31 (wife); Rick Milewski W/M/35 (Beth's ex-husband); Aaron Milewski W/M/10 (Son of Beth and Rick)
Method of Murder: Stabbing, Shooting with a handgun.
Summary: September 18, 1998 was the 31st birthday of the defendantís wife Elizabeth Kubsch. It was also the day she was found dead by her 13 year old son under the stairs in the basement of the home she shared with the defendant.
She had been stabbed numerous times, and was hogtied with duct tape. Also discovered in the basement were the bodies of Elizabethís former husband, Rick Milewski, and their 10 year old son from that marraige, Aaron Milewski. Aaron had been stabbed 21 times and shot once in the mouth. Rick had been stabbed in the heart and shot twice in the head.
Kubsch claimed to have worked all day, then went straight to pick up his other son in Michigan. However, cell phone records put him in the vicinity of the murder at the time of the murders.
Duct tape from Elizabeth was matched to a wrapper in his vehicle. A receipt that was received by Elizabeth two hours before the murder was also found in his vehicle. He was overheard bragging about the murders at a local restaurant. He was over $400,000 in debt and 2 months before the murders had taken out a life insurance policy on the life of Elizabeth for $575,000.
Conviction: Murder (3 counts)
Sentencing: August 28, 2000 (Death Sentence)
Aggravating Circumstances: b(12) Victim less than 12 years old; b(8) 3 Murders
Mitigating Circumstances: No significant prior criminal record; Poor and deprived childhood; Dysfunctional family; Has young children who need his support.
---
Wayne D. Kubsch
Date of birth: 10/31/1967
White Male
Mishawaka, Ind.
Convicted: June 15, 2000
Murder of: Beth Kubsch, his wife, her ex-husband Rick Milewski, and their son Aaron Milewski, 10.
Murder occured: Sept. 18, 1998, in the Kubsch home in Mishawaka. Beth Kubsch's 12-year-old son, Anthony Early, found the victims when he arrived home from a school dance; all three had been stabbed and shot.
Sentenced: Aug. 28, 2000
Sentencing Court: St. Joseph Superior Court
Sentencing Judge: Jerome Frese
Conviction reversed: Mar. 14, 2003
Special judge William Albright appointed: Jan. 9, 2004
Found guilty of three counts of murder after being retried: March 2005
Sentenced to death: Apr. 18, 2005
---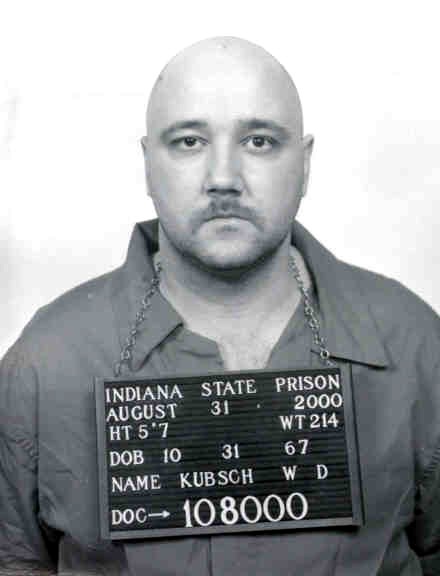 Wayne D. Kubsch