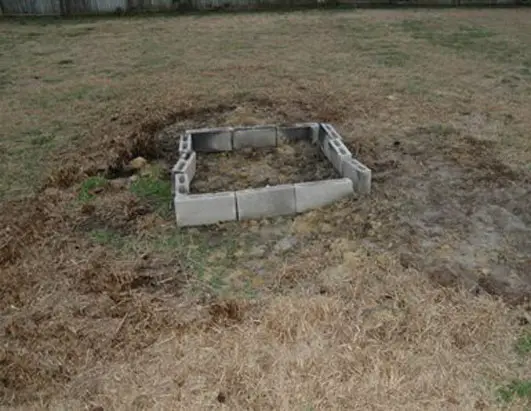 Authorities in North Carolina have released photos showing the interior and exterior of the home of Cpl. Cesar Laurean, fugitive suspect in the murder of fellow Marine Lance Cpl. Maria Lauterbach. Laurean, who remains on the run, had been accused by Lauterbach of raping her at the Camp Lejeune military base. One image features a manmade fire pit in Laurean's yard before investigators began excavating. They would soon unearth "charred human remains of an adult and a fetus," according to the sheriff's office, which belonged to Lauterbach and her unborn child.
(Onslow County Sheriff's Office)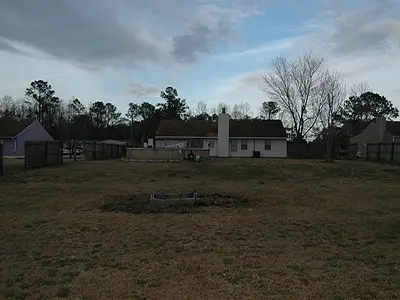 Cops say Laurean buried Maria's body 50 feet behind his house.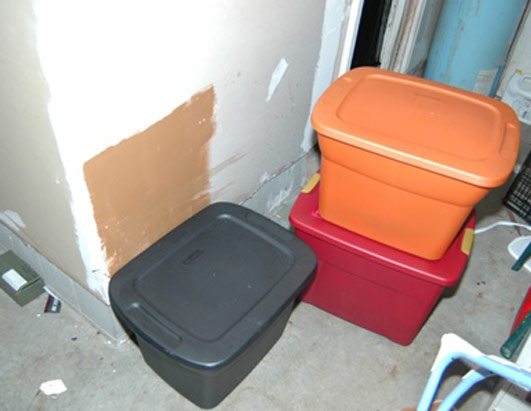 Another image shows the inside of Laurean's garage, where police say they believe Lauterbach was murdered. Police say the photo is evidence that Laurean attempted to cover up the crime scene, painting part of a wall that had been splattered with blood. Authorities last week said that a witness had come forward with a possible murder weapon but would not confirm a report that the weapon used was a crowbar.
(Onslow County Sheriff's Office)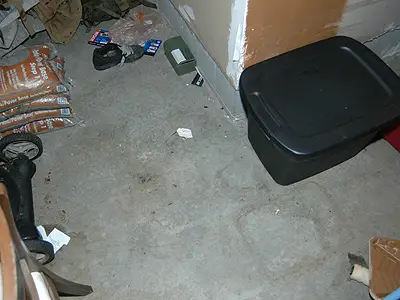 Cops believe Laurean killed Maria in the garage of his home, then cleaned up the mess. You can see what cops believe are remnants of blood stains on the floor.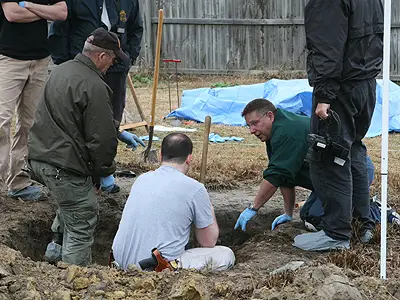 Cops worked diligently to unearth the body of Maria and her unborn baby.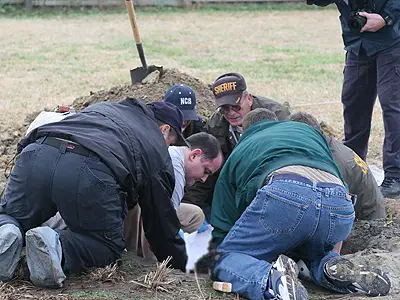 The body of Maria and her unborn baby were sent to the Medical Examiner for identification.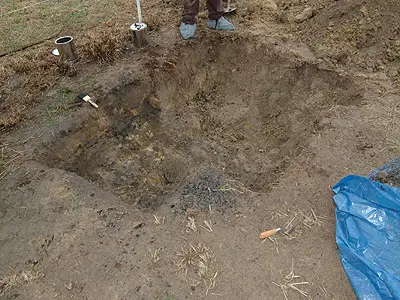 Cops say Maria's charred remains were buried 14-16 inches deep into the ground.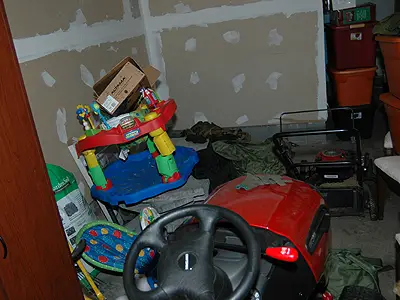 Cops believe Laurean murdered Maria in his garage.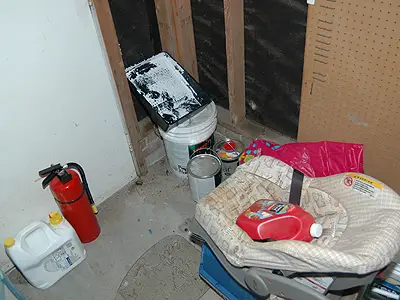 Cops believe Laurean purchased paint supplies to cover up his alleged crime.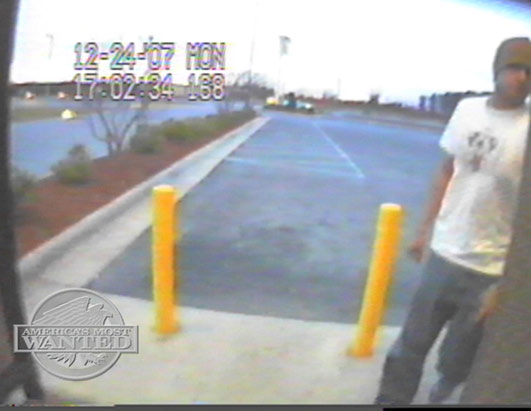 Authorities released a series of images that fill in some of the gaps between Lauterbach's disappearance on Dec. 14 and recovery of her body Jan. 11. One showed Laurean using Lauterbach's ATM card in Jacksonville, N.C., Dec. 24. Laurean was also captured on surveillance video buying a wheelbarrow, paint and concrete blocks during trips to a home improvement store Dec. 16 and Dec. 24. The items are consistent with an attempt to cover up a crime scene, Onslow County authorities say.
(Americas Most Wanted/AP Photo)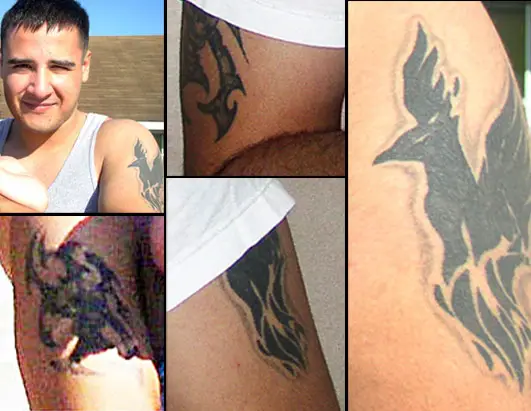 The FBI, which is overseeing the manhunt for Laurean, also released recent images of the fugitive. The photos show a tattoo of a phoenix rising from the ashes on the upper part of Laurean's left arm, and what appears to be a human skull layered over another image on the upper part of his right arm.
(FBI)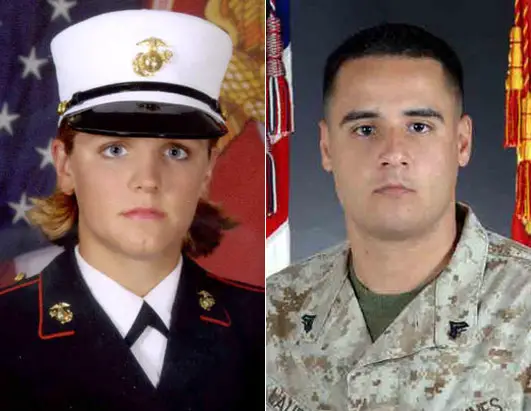 Lauterbach, 20, was more than eight months pregnant when she vanished in December from the Camp Lejeune military base. More than a month later, the manhunt continues for Laurean, Lauterbach's 21-year-old superior officer whom she had accused of rape. Laurean is wanted in the death of Lauterbach and her unborn child. (AP Photo)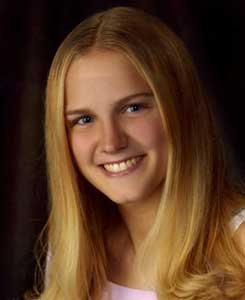 Police say Maria was set to testify against Laurean in court. Laurean is accused of sexually assaulting her.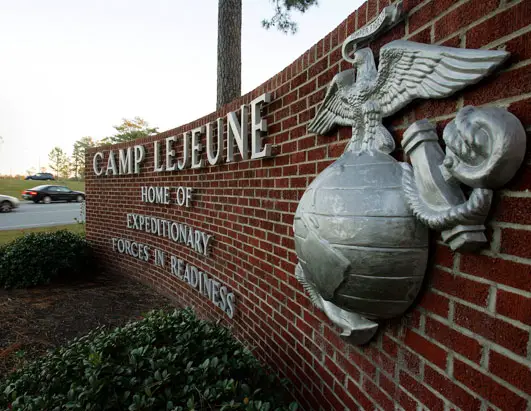 Lauterbach worked under Laurean as a personnel clerk at Camp Lejeune. Military officials there had been investigating reports by Lauterbach that Laurean had sexually assaulted her twice last year. The female Marine said she believed Laurean was her unborn baby's father but later recanted that statement. Military officials twice issued protective orders that kept the two Marines separated by 1,000 feet. Laurean was never taken into custody because he was not considered a flight risk, and Lauterbach did not consider him a threat, Marine officials said.
(Gerry Broome/AP Photo)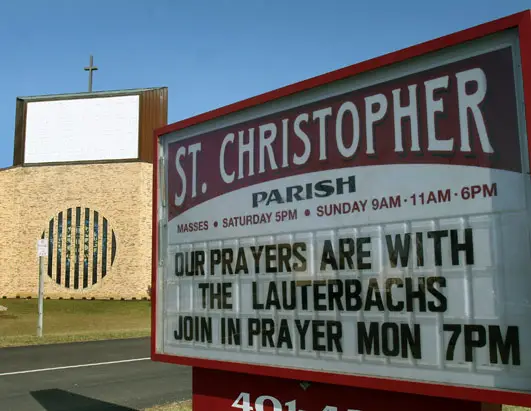 The charred remains of Maria Lauterbach, who was memorialized in her home state of Ohio, were discovered Jan. 11 buried in a fire pit in Laurean's backyard. The state medical examiner would later determine that Lauterbach died Dec. 15, a day after she was last seen. She had been killed by a blow to the head, the autopsy found. Her family first reported her missing Dec. 18 in Ohio. North Carolina authorities were notified the next day. The Marines already knew that Lauterbach was missing.
(Skip Peterson/AP Photo)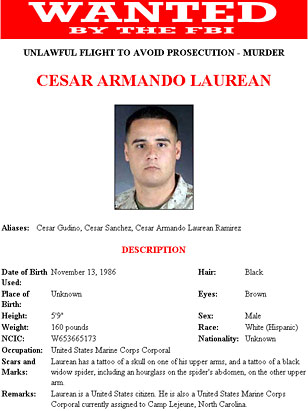 A murder arrest warrant was issued for Laurean. But Laurean fled the area early in the morning the day Lauterbach's body was found. His wife, former Marine Christine Laurean, told authorities her husband left behind notes claiming that Lauterbach had slit her own throat and that he buried her body out of fear. Laurean vaulted to the top of the FBI's Most Wanted list.
(FBI)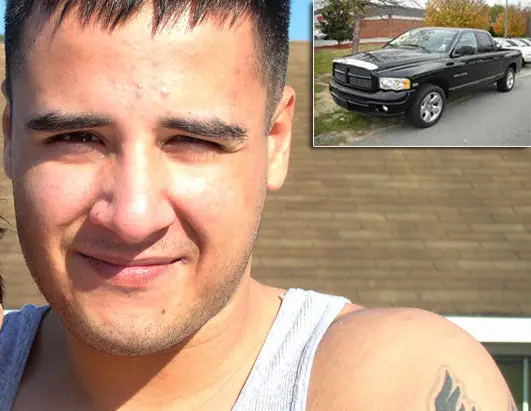 On Tuesday, Jan. 15, authorities recovered Laurean's abandoned pickup truck in the parking lot of a North Carolina motel about 135 miles from his Jacksonville home. Authorities could not confirm reports of sightings of Laurean riding a Texas-bound bus in Shreveport, La. The FBI announced that he may be heading to Mexico. Laurean had reportedly told fellow Marines that he would flee to Mexico, where he was born, if the military found him guilty of raping Lauterbach.
(Onslow County, N.C. Sheriff's office/AP Photo)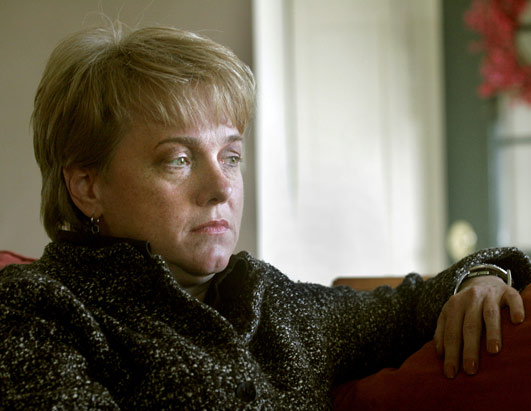 Mary Lauterbach, Maria's adoptive mother, has told authorities that her daughter has been known to lie about certain things in the past, statements she repeated on "Good Morning America" earlier this month. The mother feared that this history would raise questions about her daughter's credibility in the military's rape probe. Mary Lauterbach was criticized for the comments she made about her daughter, but she stood by them in an interview published Sunday, Jan. 20, in her hometown's Dayton Daily News. Maria Lauterbach had left behind a note for her roommate on Dec. 14 in which she wrote, "I could not take this Marine Corps life anymore."
(Lisa Powell, Dayton Daily News/AP Photo)