Kentucky 6-year-old tried for murder
By Andrea Tortora - The Cincinnati Enquirer
Sunday, March 05, 2000
Amid the steep hills of an eastern Kentucky coal-mining town, two young boys argued over a piece of scrap iron.
They had planned to sell the metal to a junk dealer for some pocket change. It was months before the stock market crash of 1929, yet the town of Paintsville was struggling.
The working-class residents earned their livings pulling coal out of the valleys that later would bring forth such famous country music singers as Crystal Gayle and Loretta Lynn, who grew up there.
But on May 18, 1929, Carl Newton Mahan, 6, and Cecil Van Hoose, 8, had a fight.
Cecil took the scrap of iron away from Carl, slapping him in the face. According to articles in The Cincinnati Enquirer back then, Carl ran away from Cecil, went home, and climbed up on a chair. He took down his father's 12-gauge shotgun, which was kept above the door.
Carl went back outside and shouted to Cecil, "I'm going to shoot you!" Then he squeezed the trigger.
Carl became the youngest murder defendant in Kentucky, probably in the country.
What happened next in many ways resembles what happened last Tuesday in Michigan, where another child shot and killed a playmate.
In Mount Morris Township, in eastern Michigan, a first-grade boy shot his classmate, a 6-year-old girl.
The children apparently had fought on the playground the day before. The girl, Kayla Rolland, had yelled at the boy for spitting on his desk.
The boy brought to school a gun from a relative's home. The boy, whom authorities won't identify, shot and killed Kayla. Then he put the gun in his desk and went to the principal's office.
The events of the 1929 shooting in Paintsville provide a glimpse into what may be in store for the Michigan case.
The same questions arise: Were the shooters murderers? Did they know what they were doing? Can they be held accountable for their tragic actions? If so, then how does society mete out punishment to a first-grader?
In 1929 Paintsville, the answers seemed to come fast.
Less than a week after Carl shot his friend, the skinny 6-year-old with the cowlick was on trial for murder.
The boy told the court how he came to kill his friend. Then, through the rest of the daylong trial, he lay on the defense counsel's table and sometimes slept.
After fewer than 30 minutes of deliberations, a jury convicted Carl of the lesser charge of manslaughter. The Johnson County judge sentenced him to 15 years in reform school.
The boy was released to his parents on $500 bail.
A public outcry and legal appeals followed. Some thought manslaughter wasn't enough. Others thought it was too much.
Finally, a Circuit Court judge set aside the conviction and issued a "writ of prohibition" that prevented Carl from being sent to reform school. The writ said the county judge had exceeded his authority by allowing Carl to be tried criminally before a jury. Normally, juvenile cases were decided by the county judge.
Newspapers of the time ran portrait-like photos of young Carl, looking boyish in a suit and tie. One paper labeled him a "convict" with an exclamation point. Another showed him in a tender embrace on his mother's lap.
People across the country sent to Carl's family letters of consolation and amazement at the sentence.
Kentucky's attorney general was asked to make a final decision. A month after Carl was sentenced, the attorney general announced that his review of the case was complete. He took no action, allowing the boy to remain with his parents.
In the 71 years since the Paintsville case, states have created extensive and complex juvenile crime codes. Psychologists have created an industry out of studying child criminals.
Still, child experts and psychologists disagree about whether the 6-year-old shooter is a killer or a victim.
They recognize the impact that emotional and physical distress can have on a child's actions. But the concept of criminal responsibility has changed since the 1920s, said Robert Lilly, a sociology professor at Northern Kentucky University.
"The idea of holding someone else responsible for criminal behavior was not very well developed 71 years ago," Mr. Lilly said. "Children were viewed much more as adults then."
So if a child did it, the child was responsible. Parents would not be held liable for a child's actions in the America of 1929.
That philosophy is in stark contrast to the social climate of 2000.
"We have a very narrow, rational, technical logic now that you can be held responsible even if you didn't intend to do it," Mr. Lilly said. "That's why people cop a plea."
In the Michigan shooting, prosecutors are calling the 6-year-old shooter a victim of circumstance and of a failed social system. The semiautomatic weapon he took to school had been left in his temporary home by friends of the boy's uncle. Police also found another stolen weapon and cocaine in the home.
Police have charged 19-year-old Jamelle James with involuntary manslaughter in Kayla Rolland's death. Police accuse Mr. James of waving the loaded pistol in front of the boy days before the shooting and leaving the loaded gun in his bedroom.
The boy will not be charged. Instead, prosecutors say, the child needs to be loved.
"At 6, children understand right from wrong but they are very dependent on the adults around them to teach them the right behavior," said Dr. James Brush, a Cincinnati child psychologist.
It is common law in the United States that children under 7 are not held accountable for crimes. Between the ages of 6 and 8, experts say, there are critical changes in the way children think.
As children get older, they understand the concept of rules. They develop a sense of fair play. They understand the consequences of their actions, Dr. Brush said.
"A set of rules gets written on them inside, like the Ten Commandments on stone," he said.
A child's environment plays a large part in creating that deeper understanding, and teaching them to control actions to make something happen, rather than reacting to what goes on around them, said Eddy Regnier, a child psychologist in Sarasota, Fla.
Dr. Regnier worked with 15-year-old T.J. Solomon, who shot and injured six students at his Conyers, Ga., high school last spring.
"Children ages 6 and 7, the kinds that grow up in middle-class homes, who are sheltered and protected, certainly don't have a clue about the meaning of death," Dr. Regnier said.
In the end, that's what Kentucky officials decided about Carl Mahan. They reviewed the 1929 case and let Carl remain a free person, growing up outside the confines of reform school.
Information about Carl's later life is sparse. He moved to Jefferson County, and he died at the age of 35, in 1958.
The boy in Michigan will remain free, too. He was not charged.
Michigan officials decided the 6-year-old did not understand what he did.
But his family will not stay intact.
The child's father is in jail on unrelated charges. His mother was evicted from her home. The 6-year-old, his brother and his sister are in the custody of a maternal aunt.
---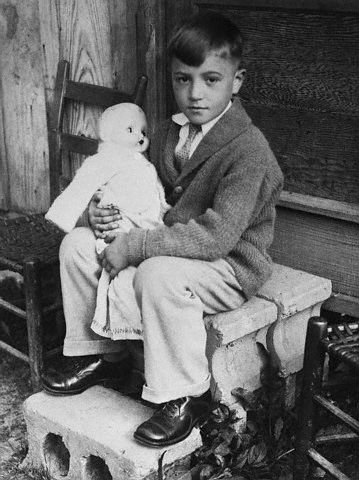 Carl Newton Mahan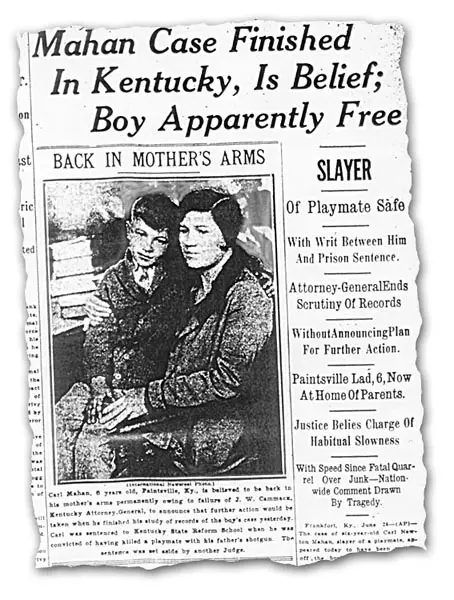 The Carl Mahan appeal was the big story on The Enquirer's front page on June 27, 1929.