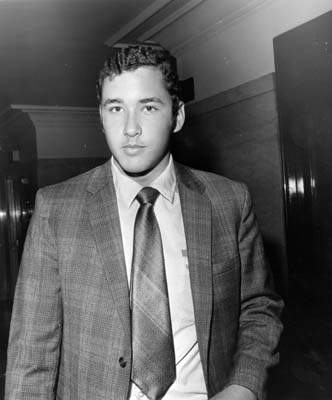 Tate neighbor Jim Asin, 16, who testified at the August 19, 1970 hearing that he called the police
to report the slayings there when housekeeper Winifred Chapman ran to his house after
seeing the bodies on the morning of August 9, 1969.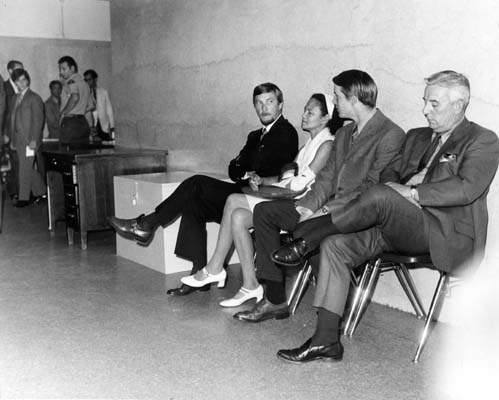 Witnesses at the Sharon Tate murder hearing on July 24, 1970, are (left to right) Paul Tate, Sharon's
father; Mrs. Winifred Chapman, the housekeeper who discovered the bodies; Steve Garretson,
houseboy at the Tate residence; and Wilfred Parent, father of murder victim Steve Parent.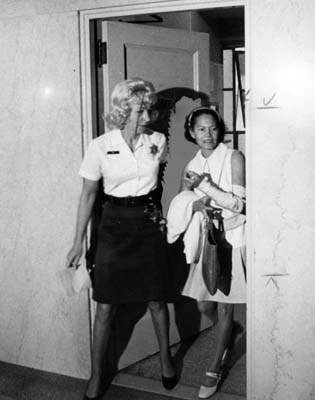 Tate residence maid Winifred Chapman, right, with jail matron on July 26, 1970.
A witness in the trial, she testified to finding the bodies.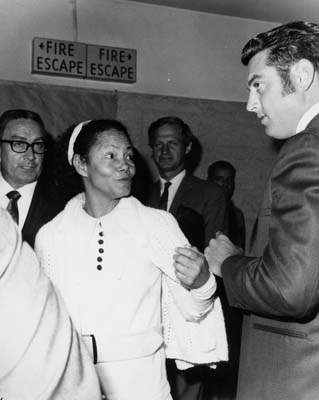 Winifred Chapman, who discovered the bodies at the Tate residence, on July 24, 1970 at court.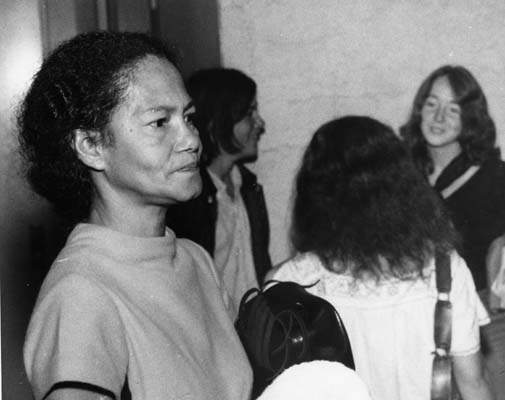 Winifred Chapman, housekeeper at the Tate residence, on August 20, 1970 at court.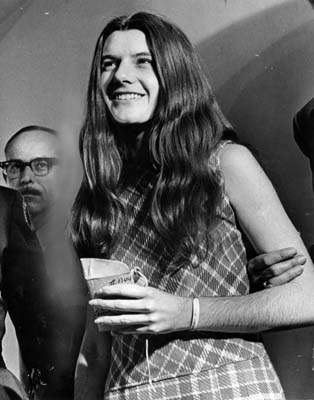 Charles Manson follower Patricia Krenwinkel on her way to court March 17, 1970.
The 22-year-old Tate murder case suspect challenged the judge.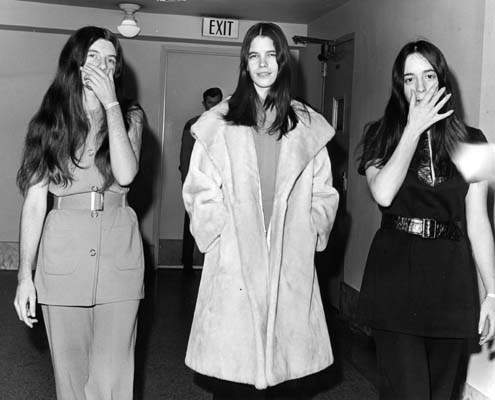 At the Hall of Justice, from left, Patricia Krenwinkel, Leslie Van Houten, and Susan Atkins on their
way to court on the morning of December 29, 1970, as the Tate/La Bianca trial continues.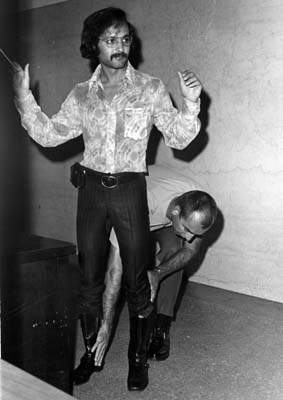 Actor Sal Mineo is searched by sheriff's deputy August 3, 1970, outside the courtroom
where the Tate murder trial is in progress. He was a spectator.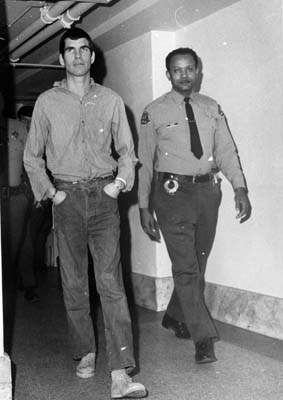 Shown here following court appearance [in 1970?]. Watson was 23 yrs. old, tall, powerfully built,
a one-time high school football and track star from Farmersville, Texas. Once a top student, he
became a mindless robot who slavishly followed Manson's orders. He shot Steven Parent, beat
Voytek Frykowski to death with a revolver, stabbed Abigail Folger repeatedly and killed her, and
murdered Leno LaBianca by stabbing him repeatedly with a knife. After the murders he had gone
home to Collin County, Texas where his influential relatives managed to fight off extradition for
some time. He was finally returned to California where he was placed on trial for murder.
Currently he is serving a life sentence.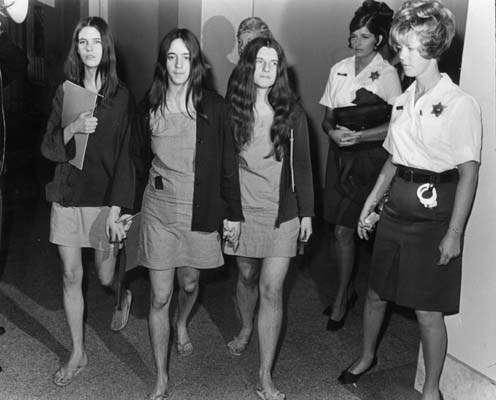 From left, Leslie Van Houten, Susan Atkins, and Patricia Krenwinkel on the way to court.