The Tian Mingjian incident was an act of spree killing that occurred on September 20, 1994 in Beijing, China, when a People's Liberation Army officer First Lieutenant Tian Mingjian (Chinese: 田明建) killed and injured several people at his military base in Tongxian County and afterwards drove towards Jianguomen, where he continued his shooting spree and indiscriminately fired at people in the streets. Dozens were killed or wounded, including an Iranian diplomat and his son who was driving nearby, before Lt. Tian was finally shot dead by a police sniper.
Being reprimanded after a quarrel with superiors, because his wife was forced to have an abortion and died, Lt. Tian, 31, armed himself with a type 81 assault rifle and began shooting, killing five soldiers and officers, including the Communist Party political commissar of the camp, and injured at least ten more, before he fled the military base in Tongxian County.
While his fellow soldiers were ordered to change into civilian clothing, in order not to disturb the public when searching for the deserter, Tian hijacked a jeep and headed towards Beijing. Arriving in Tiananmen Square at 7:20 am, he jumped out, started shooting people at random and riddled a passing bus with bullets.
17 people were killed, among them Iranian diplomat Yousef Mohammadi Pishknari and his son. Dozens were injured on his trail towards Jianguomen, while police desperately tried to apprehend him. Eventually Lt. Tian was besieged at Yabao Road and heavy police fire forced him to flee into a dead end, where he was killed by a sniper.
---
Police Identify Gunman As Member Of Chinese Army
September 21, 1994
By Charlene L. Fu - The Seattle Times
BEIJING - The gunman who killed nine people and wounded 40 in a shooting rampage on a major Beijing thoroughfare was an army first lieutenant, police said today.
The gunman, identified as Tian Mingjian, had been disciplined for beating another soldier, the official Xinhua news agency said, quoting a senior police officer.
Yesterday's shooting rampage was shocking in a country where the incidence of violent crime is small compared with that of the United States'. It began in the Beijing suburb of Tongxian, where the gunman commandeered a vehicle and headed toward the center of Beijing, said the Hong Kong China News Agency, regarded as a mouthpiece for the Chinese government.
The report said police blocked the gunman's route as he neared the Second Ring Road, a major thoroughfare near an apartment compound for foreign diplomats and journalists. He then abandoned the vehicle and ran down the ring road, firing an automatic rifle.
After a 20-minute gun battle, police killed the gunman, the report said.
Among those killed was an Iranian diplomat.
Iran said today it would send a team of investigators to investigate the shootings.
---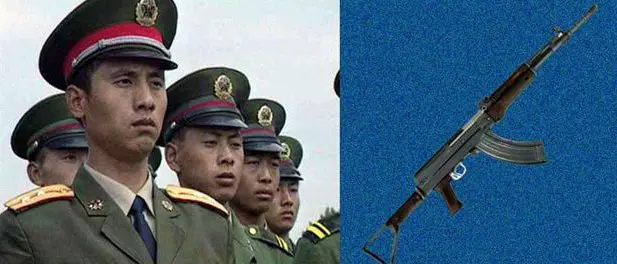 People's Liberation Army officer First Lieutenant Tian Mingjian