Robert Francis Mone (born 1948) is a Scottish convicted murderer and spree killer.
Mone was born in Dundee and grew up with his parents and two sisters. He claims to have had a dysfunctional home life and traumatic childhood. In 1964, he was expelled from St John's RC High School. He then joined the Gordon Highlanders and served with them in West Germany. He returned to Dundee with depression and began to drink heavily.
On 1 November 1967, armed with a shotgun, Mone entered a girls' needlework class at St John's School. He subjected the 14- and 15-year-old pupils and their pregnant teacher, Nanette Hanson, to a 1½-hour ordeal, before shooting Hanson dead, raping one girl, and sexually assaulting another.
Mone, whose motive was apparently revenge for being expelled from the school three years prior, was found to be insane and sent to the State Hospital for Scotland and Northern Ireland in Carstairs.
In 1976, Mone broke out of Carstairs Hospital with fellow inmate and lover Thomas McCulloch, murdering another inmate and a male nurse in the process and also killing a police officer before being recaptured.
Wikipedia.org
---
Mone The Monster: Timeline
DailyRecord.co.uk
November 1, 2007
1948 - Robert Francis Mone born. Grows up with parents and two sisters in Dundee. Claims he had a dysfunctional home life and traumatic childhood.
1964 - Mone is expelled from St John's RC Secondary by the Marist Brothers.
1966 - Mone joins the Army and serves with the Gordon Highlanders in Germany.
1967 - Teacher Nanette Hanson moves to Dundee from Yorkshire and starts working at St John's. Mone sent home from Germany by the Army and posted to Yorkshire. Becomes depressed.
November 1967 - Mone carries out his vicous attack at his old school and Nanette is killed.
January 1968 - Mone found to be severely schizophrenic and not fit to plead at trial. Declared insane, he is sent to Carstairs.
1970 - Mone's soon-to-be partner in crime and gay lover Thomas McCulloch shoots a hotel chef at Erskine Bridge. Branded "an incurable psychopath", he too is sent to Carstairs where he meets Mone.
November 1976 - Mone and McCulloch break out of Carstairs and embark on killing spree.
February 1977 - Mone and McCulloch admit murder. Lord Dunpark makes legal history at the High Court in Glasgow by handing down Scotland's first "natural life" sentences to the pair.
June 1977 - Mone is moved to Perth Prison, while McCulloch is sent to Peterhead.
October 1977 - Mone complains to his dad in a letter that he has been held in solitary confinement for 10 months. Says he will take his case to the European Commission on Human Rights.
January 1979 - Mone's father Christopher "Sonny" Mone murders three women. He boasted he wanted to be more famous than his son and McCulloch. Sonny sentenced to life.
May 1981 - Robert Mone stages rooftop jail protest.
1983 - Mone senior knifed to death in Craiginches jail in Aberdeen.
December 1992 - Mone complains he has become a "stateinduced junkie" due to sleeping tablets and being in jail so long.
February 1995 - Mone gets another six months added to his life sentence for attacking fellow prisoner Joe Connor with boiling water.
May 2002 - Mone uses human rights law to get his sentence cut to 25 years. Changes his name to James Smith to prepare for release.
2005 - McCulloch uses human rights law to be moved to a lower-security wing of Edinburgh's Saughton prison.
December 2006 - Mone given the green light by the parole board to begin the process that could see him freed in 2009.
July 2007 - Mone sparks outrage when he is allowed out for a day trip to Crieff, Perthshire.
September 2007 - It emerges Mone will soon be sent to an open prison - Noranside, near Forfar - as he prepares for release.
---
Anger as axe killer Robert Mone is given 'cushiest' job in prison
MONE butchered three people during a breakout from Carstairs believes the job will stand him in good stead for early parole
DailyRecord.co.uk
October 17, 2012
AXE murderer Robert Mone has been given the easiest and best-paid job in jail.
The four-time killer is working as a privileged "passman", cleaning bosses' offices and scrubbing toilets in Glenochil prison's Abercrombie Hall.
Mone shot a young teacher dead in a school siege in Dundee, then butchered three more innocent victims with gay lover Thomas McCulloch in a bloody breakout from the state mental hospital at Carstairs.
But despite his horrific record, he believes his new jail job will help set him on the path to freedom.
A prison source said: "He thinks that just because he's got himself a good job in here – and the fact he's tight with some of the screws – it will go down well with the parole board and he'll be released.
"He's deluded. Someone like Mone should never be released."
Mone's fellow-cons at Glenochil are furious he has been made a passman, a job with a weekly wage of £13.
One said: "It's a privileged number. You're effectively a trustee and it pays better than any other job inside.
"Mone is one of the most hated prisoners in Scotland, yet he's landed the most cushy job ahead of more deserving inmates. He only got the job by sucking up to the screws. He's pathetic."
Mone held a class of terrified girls and their teacher, Nanette Hanson, hostage at St John's RC High School in Dundee in 1967.
He sexually abused several of the girls before Nanette, 26, persuaded him to let the pupils go. He rewarded her courage by ordering her to turn around and shooting her in the back at close range.
Mone was found insane and sent to Carstairs, where he escaped with McCulloch in an orgy of violence in 1976. Armed with knives and an axe, they killed nurse Neil McLellan, 46, patient Iain Simpson, 40, and PC George Taylor, 27, and left two workmen terribly injured.
This time, Mone was convicted of murder and he and McCulloch were jailed without limit of time.
But they used European human rights law to win the right to apply for parole after 30 years. McCulloch now gets regular home leave from Castle Huntly open jail.
The prison service said: "We cannot comment on individual prisoners."
---
Tribute To Teacher Killed By Monster Mone
FORTY years have passed since crazed killer Robert Mone blasted teacher Nanette Hanson to death in her own classroom
By James Moncur - DailyRecord.co.uk
November 2, 2007
FORTY years have passed since crazed killer Robert Mone blasted teacher Nanette Hanson to death in her own classroom.
But the people of Dundee, and the pupils of St John's RC High School, have never forgotten the courage she showed as she tried to protect her pupils from the madman.
And yesterday, on the anniversary of the tragedy, a poignant tribute to Nanette appeared in front of the school where Mone callously snuffed out her 26-year-old life.
A bouquet of 12 red roses, bunched around a single white rose. The white flower to represent Nanette, and a red bloom for each of the terrified girls she did all she could to comfort as Mone held them hostage in their needlework class.
The card with the flowers read: "In fond and grateful memory of Nanette Hanson. She gave her life so that her pupils could live."
The bouquet was laid just hours after Nanette's pupils spoke publicly for the first time about the horror Mone put them through during the siege. The girls, now in their mid-50s, told their stories to the Daily Record in a bid to make sure Mone is never let out of jail.
The monster, who butchered three innocent people in 1976 when he and another killer broke out of Carstairs state mental hospital, is now "training for freedom" and could be out within 18 months.
The former pupils all begged the authorities to make sure Mone dies behind bars. And they all paid tribute to Nanette for her selfless bravery on the day of the siege.
Diane Martin said: "All the time, she was trying to calm him down and get him to release us. She never stopped trying to protect us."
Elizabeth Clark added: "We heard Nan pleading with him to let us go and to keep her as a hostage instead.
"She was the bravest person I have ever met. We owe our lives to her for keeping so calm."
Another former pupil, Anne D'Arcy, recalled the moment when she found out that Mone had killed Nanette.
She said: "We saw a teacher crying with her head in her hands at the hospital and found out that Nan was dead. I was devastated. She was brave that day."
Nanette was teaching her pupils how to sew skirts when Mone burst into their needlework class on November 1, 1967.
The happy, kind-hearted young woman was the most popular teacher at St John's.
She had been married for only six months and had just told her excited pupils that she was expecting her first child.
Soldier Mone, 19, wanted revenge on the school that had expelled him three years before.
HE dressed in his Gordon Highlanders uniform, armed himself with a shotgun, stuffed his pockets with cartridges and stalked into the school.
Mone picked Nanette's class at random. He forced the pupils to barricade the door, then began amusing himself by tormenting and sexually abusing the children.
He raped one girl in front of Nanette and sexually abused another after putting his gun to her head and pulling the trigger. The weapon jammed.
Nanette refused to give in to the terror she must have felt. Instead, she quietly pleaded with Mone to release the girls and keep her hostage in their place.
She spoke gently and quietly to Mone, doing all she could to calm his insane rage.
After 90 horrendous minutes, Mone agreed to free the girls.
He was persuaded to show mercy by Nanette and an acquaintance of his, 18-year-old nurseMarion Young, who bravely went into the classroom to talk to him.
But as the girls ran down the stairs to safety, Mone kept Nanette behind.
And after telling her to turn round because he didn't have the courage to look her in the face as he killed her, he shot her in the back at point-blank range.
The headmaster of the Marist Brothers school, Brother Bede, said after the tragedy: "Nanette is a heroine, a martyr who died for these children. It was due to her courage that a worse tragedy didn't follow."
Nanette's parents, George and Mary Hall, travelled to Dundee from their home in Yorkshire to claim their daughter's body.
Nearly 300 people packed the church in Ben Rhydding, Yorkshire, for Nanette's funeral. Brother Bede and four of his staff attended the service, as did Marion Young.
The Bishop of Bradford, the Right Rev Michael Parker, told the mourners: "It is a grievous tragedy that is responsible for bringing us together this afternoon.
"It was in this church that Nanette married only a short time ago and here now lies her wounded body."
More than 100 wreaths were left outside the church.
Nanette's husband Guy left a tribute with the message: "In loving memory and with thanks for seven months of happiness and everlasting love.
"From a loving husband and friend. Dear Nanette."
The girls who survived the siege also sent flowers. Their message said simply: "Sincere sympathy."
Mone was never convicted of Nanette's murder. He was found insane and unfit to plead and sent to Carstairs.
Nine years later, he and fellow-inmate Thomas McCulloch escaped from the hospital and went on their bloody rampage.
This time, Mone was convicted of murder.
He remains in jail - for now - and his victims are praying that the authorities remember Nanette and keep him there.
'lt was in this church that Nanette married only a short time ago and now here lies her wounded body'.
---
Anger at double killer's day out
BBC.co.uk
July 12, 2007
An MSP has called for a "major review" of the release of violent prisoners after a notorious killer was allowed out of jail for a day.
Robert Mone, 58, spent Wednesday window shopping in Crieff as part of a programme to prepare him for freedom.
He was locked up permanently in 1977 for killing a policeman during a break-out from Carstairs State hospital that left two others dead.
Mone was sent there in 1967 for shooting dead a teacher in Dundee.
He was declared insane after he killed pregnant Nanette Hanson in her classroom during a siege at St John's RC Secondary School.
Rehabilitation course
In 1976, he and fellow inmate Robert McCulloch escaped from the top security hospital and murdered three people.
Mone killed PC George Taylor with an axe while McCulloch killed a male nurse and a patient.
At the time, the pair were described as the most dangerous men in Scotland.
For his part in the killings, Mone was deemed a risk to national security and jailed for life.
In 2002 he was ordered to serve a minimum of 25 years when a judge reviewed the sentence under new laws prompted by the European Convention on Human Rights (ECHR).
Prison chiefs are preparing Mone for release from HMP Shotts, where he was transferred two years ago.
He has undergone a rehabilitation course, and was allowed out on special escorted leave in Crieff on Wednesday.
Conservative MSP for Mid Scotland and Fife Liz Smith lives close to the Perthshire town.
She told the BBC Scotland news website: "I was appalled when I heard this story. I think the public has got every right to be concerned about this."
Ms Smith also called for a "major review" of the way European human right rules permit the release of violent prisoners in Scotland.
She said: "The fact of the matter remains that he was a notorious killer with a very serious background and I worry about the prospect of that kind of person wandering around our streets without proper supervision.
"I think that is a matter of great public concern and it is issues like this that bring question marks over some aspects of the Scottish justice system."
A spokesman for the Scottish Prison Service refused to comment on individual cases, but said all prisoners are subject to a risk assessment before they are released.
---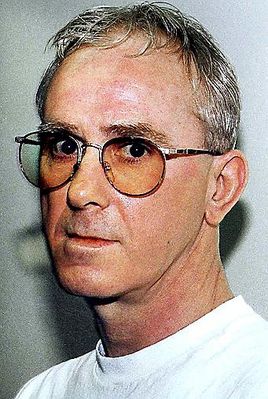 Robert Francis Mone