Background:
Kenneth Lee Myers, 47, killed four women and then took his own life between July 2 and July 3.
The victims:
-- Angela Myers, the 25-year-old wife of Myers, of Wagener
-- Tabatha T. Brown, the twin sister of Angela Myers
-- Vicky May Hook Brown, the 50-year-old mother of Angela Myers and Tabatha Brown
-- Esther Baldwin, the 47-year-old ex-girlfriend of Ken Myers, of Wagener
Sequence of events:
-- Myers arrived at his wife's family's home on Daytona Road before 6 p.m. July 2 and fatally shot his wife, her twin sister and their mother.
-- Tabatha T. Brown's 7-year-old daughter witnessed the murder of her mother and fled with her 1-year-old sibling to a neighbor's home nearly four miles away to call for help. The girl identified the gunman as Ken Myers and described his vehicle to police. The bodies were found by officers at 6 p.m.
-- After fleeing the Daytona Road address, Myers traveled to Baldwin's home on Big Branch Road and fatally shot her.
-- Deputies responded to a wellness check at Baldwin's home around 1 a.m. and discovered her body.
-- Myers was seen driving Baldwin's vehicle and was chased back to the Daytona Road home. Deputies opened fire on Myers after he tried to hit them with Baldwin's vehicle. Myers then took his own life.
Suicide note and hit list:
News of a "hit list" surfaced from a Baldwin family member who said she was told by an officer that Myers had a list of about seven people he intended to kill. Aiken County investigators later said a Wagener officer had been told by Myers that he would "hurt certain people if he snapped."
A suicide note written by Myers was found by the Baldwin family in the vehicle he was driving at the time of his death. The vehicle had been searched by the South Carolina Law Enforcement Division. The Aiken County Sheriff's Office has said the note's existence cannot be confirmed, but investigators have contacted the family and asked them to turn it in. SLED would not comment because of the ongoing investigation.
The Augusta Chronicle
---
Experts offer rationale behind killing sprees
By Bianca Cain - The Augusta Chronicle
Saturday, July 9, 2011
It's hard to make sense of senseless murder.
When people such as Kenneth Lee Myers go on a rampage and kill several others at home, work or school, some offer the explanation that they "snapped." But experts who try to understand what drives spree killings in the hopes of preventing them say there's no such thing.
"Lots of times you hear in the media that a person 'just snaps,' but when you have time to examine the facts you find that generally isn't the case," said Roger Depue, the founder of The Academy Group, a forensic behavioral consulting firm in Virginia. "You find the person was harboring some anger and ill feelings or a perception that the victims were doing something and deserved to die."
Depue, a retired chief of behavioral sciences in the FBI, pointed to this as the possible reasoning behind Myers' killing spree in Wagener, which left four women dead.
Police say Myers fatally shot his wife, Angela Myers, 25; her twin sister, Tabatha T. Brown; and their 50-year-old mother, Vicky May Hook Brown, at their Wagener home July 2. He then killed ex-girlfriend Esther Baldwin, 47, at her home. He took his own life after a police chase.
Before he acted, Myers talked about snapping, Aiken County sheriff's investigators said. He told a Wagener police officer he "would hurt certain people if he snapped." The officer considered it venting and apparently did nothing. He recounted the conversation after Myers and his victims were dead.
"When a person is harboring evil thoughts or intense emotions they will seep out," Depue said, referring to it as "leakage."
"The person will either intentionally make a statement like that or will leak his desire," he said.
He pointed to a 1984 massacre at a San Ysidro, Calif., McDonald's as an example.
"When (James Huberty) left home with his weapons he said, 'I'm going to hunt humans,'" Depue said. "Had his wife picked up the phone and called 911 ... she might have saved a lot of lives."
Domestic abuse and violence are often warning signs of someone harboring even more violent thoughts, Depue said.
In the Wagener case, those close to Bald­win described Myers as "controlling" and "abusive." He kept her isolated and refused to let her wear makeup or keep a job, they said.
Greg Loughlin, the executive director of the Georgia Com­mis­sion on Family Violence, saw Bald­win's murder as Myers' way of being "controlling until the end."
It remains unclear whether Angela Myers was also a victim of domestic violence at the hands of her husband. Based on the circumstances, it's highly probable, Loughlin said.
"When we look at fatality reviews, I haven't seen a single case where the person who was killed wasn't taking steps to separate," he said.
Why Myers returned to an ex's home is not easy to answer.
"What that tells me is that this is a person who is filled with rage and he doesn't want to leave this Earth until he has taken out everyone who he blames," said Peggy Walker, the chairwoman of the Georgia Commission on Family Violence.
As in Myers' case, the suspect often has few arrests or convictions, even though police have responded numerous times. Loughlin attributes that to the "invisible gun" pointed at the victim's head.
Loughlin advises that those in abusive relationships find a domestic violence advocate to help create a plan before trying to leave.
A history of neglect, being reared in an abusive environment, alcohol and drug problems, and mental illness are all factors common to abusers.
Since the Wagener slayings, three more killing sprees have made national news.
On Thursday night, a Michigan man killed seven people before killing himself.
His victims included two ex-girlfriends and five members of their families, including his 12-year-old daughter.
On Thursday in Wyoming, a man was charged with killing his three sons and his brother and wounding his wife. He was taken into custody after a standoff.
Early Friday, a Canton, Ga., man killed his girlfriend, their 4-year-old and himself, police suspect.
"They almost always have some sort of plan or something they want to accomplish," Depue said of spree killers. "They're holding somebody or something responsible for their state of affairs."
In about 50 percent of spree killing cases, suicide is an end result, according to Depue.
---
South Carolina Killer Claimed Militia Training
By Bill Morlin - Splcenter.org
July 7, 2011
A man who went on a killing rampage in South Carolina over the July 4th weekend expressed antigovernment survivalist views and claimed to have trained with a militia in Michigan, his former best friend says.
Kenneth Lee Myers, 46, killed his wife and three other women with a 20-gauge shotgun Saturday near Wagener, S.C., then tried to run over three police officers before finally killing himself with the same gun.
Myers, a self-employed glazier, talked frequently about the "militia training'' he received in Michigan before moving to South Carolina about a decade ago, his former best friend, Kenneth McLeoud, told Hatewatch.
"He didn't give me a lot of specifics and it was kind of sketchy, but he said he'd undergone this supposed militia training up in Michigan," McLeoud said. "I thought he was just trying to beef himself up … talking crap, but apparently not."
Aiken County Sheriff's Capt. Troy Elwell confirmed that his office was looking into Myers' alleged militia ties. "We located several various weapons, no explosives, and no evidence of any hidden survival materials were located," Elwell said.
Myers fatally shot his 25-year-old wife, Angela Myers; her twin sister, Tabatha T. Brown; and their 50-year-old mother, Vicky May Hook Brown; about four miles from Wagener. He also fatally shot his ex-girlfriend, Esther Baldwin, at another location about four miles from the first murder scene.
As police responded, Myers steered his pickup at three officers. The officers, who weren't injured, were able to fire gunshots at the fleeing vehicle. After a brief chase, Myers drove back to the scene of the triple murders and killed himself with the same shotgun he used earlier, as the deputies arrived, Elwell said.
Myers, who reportedly was having financial and marital difficulties, had two daughters with another ex-wife, who McLeoud said apparently still lives in Michigan.
McLeoud said Myers was heavily armed and frequently acted erratically. "He was paranoid-acting, thought the end was coming and the government was out to get him.
"He'd quote the Bible forward and back, and had talked about becoming a minister at one point. But then out of the blue, he'd act irate. He'd get real loud and vocal and angry."
Myers' collection of firearms included SKS and AK-47 military-style assault rifles. He also had other rifles, including a 30.06 and a .303, along with at least two shotguns, two 9 mm handguns, a .22-caliber revolver and a .38-caliber snub-nose pistol. His rifles were equipped with night-vision scopes, and he had night-vision goggles and a Kevlar bullet-proof vest, McLeoud said. He bolted an older Kevlar vest to the inside of his truck for extra protection.
"He'd always carry that snub-nose in his pocket,'' McLeoud said.
McLeoud said he didn't know whether Myers had made new friends in the militia movement in South Carolina but knew of his interest in becoming a Mason.
Myers subscribed to the views and philosophy of the John Birch Society and regularly read its publication New American. "He once offered me a copy, but I wasn't particularly interested."
McLeoud said he went on several kayaking trips with Myers on the North Edisto River and Black River near Columbia, S.C. On at least four of those trips, Myers took along waterproof, military ammunition cans stocked with survivalist supplies, including antibiotics.
"He'd bury them along the river bank or string them up with ropes in trees that would be used for deer stands,'' McLeoud said. "He'd tell me, 'This is how you prepare for things if the shit hits the fan.'''
McLeoud recounted several incidents in which he was threatened by Myers.
On a kayaking trip a few years ago, Myers, who was driving, pulled a 9 mm pistol and pointed it at McLeoud's head. McLeoud pushed his friend's hand away and eventually grabbed the gun, causing Myers to scream, "It's loaded! It's loaded!" McLeoud recalled.
Then, in October 2009, as he returned home from work, McLeoud said he was summoned by Myers. McLeoud went to a camper trailer on his neighbor's property, where Myers had donned a head flashlight and was holding one of several cats he owned. The cat had a puncture wound, and Myers blamed McLeoud and his family.
"He grabbed me, threw me against the wall, and then out the door of the camper, throwing my glass of tea at me,'' McLeoud said. "He then pulled his snub-nose .38 from his pocket and said if I ever stepped back over here, I'll kill you and your family."
When his wife heard the commotion and responded, McLeoud said she also was threatened by Myers. McLeoud said he and his wife called the sheriff's office, but when deputies arrived, Myers apparently had fled into the nearby woods and couldn't be located. McLeoud said he was frightened and scared when deputies asked him if he wanted to press charges. Shortly after that incident, he and his family moved elsewhere and ended all contact with Myers.
---
Myers' victims were on hit list
Friends of last casualty say man intended to kill 7 people, not just 4
By Carole Hawkins - The Augusta Chronicle
Monday, July 4, 2011
Kenneth Myers set out to kill seven people Saturday but was stopped before he got to the last three, a relative said Monday.
Dinah Baldwin, of North Augusta, a sister-in-law of Esther Baldwin -- Myers' former girlfriend and his fourth and final victim -- said police told the family that Myers had a written "hit list."
"One of the policemen told us down there (at Esther Baldwin's house) about it. The people who were killed and Chris (Myers' son) and two more were on it," Dinah Baldwin said.
She didn't know the last two names but "we were told it was two drug dealers that had sold Angela (Myers' wife) meth," she said.
On Monday, two days after Esther Baldwin was killed, Dinah Baldwin and other relatives wondered aloud why police didn't go to her house as soon as they knew Myers was a suspect in a triple homicide.
"Why didn't they check on her?" Dinah Baldwin said. "They'd been called to that house before. They knew that there had been problems there. When we confronted the SLED (South Carolina Law Enforcement Division) officers, they didn't even know anything about her."
Baldwin, 47, was found dead from a gunshot wound to the neck about 1 a.m. Sunday inside her home near Wagener just hours after Ken Myers apparently killed his wife, Angela M. Myers, 25; her twin sister, Tabitha T. Brown; and their mother, Vicki May Hook Brown, 50.
Police later spotted Myers in Baldwin's stolen truck and chased him to his wife's house on Daytona Road, where he shot himself.
All five were killed with 20-gauge shotgun slugs, according to Aiken County Coroner Tim Carlton.
Relatives say Esther Baldwin was terrified of her ex-boyfriend.
The relationship of 7 1/2 years was good in the beginning but soon became controlling. Myers made Esther quit her job, Dinah Baldwin said. He wouldn't let her out of the house. He wouldn't let her cut her hair or wear makeup. He threatened her life and once held a gun to the head of her daughter, Adreann.
A year and a half ago, Myers left Esther for Angela, who became his wife, but he continued to make harassing phone calls to Esther. He stole her truck for the first time in November. After that Baldwin slept on the tile floor near her front doorway, hoping and praying he wouldn't come back.
"It really scared her. It scared her more than anything," said Adreann Attaway, Esther's daughter. "She had a chain and a lock at the end of her drive. He had to cut the chain to get the truck out of there. After that she tried everything she could do to get the bills paid off so she could move."
Esther called the police several times, Attaway said, but Myers was never charged.
Dinah Baldwin was watching the 11 p.m. news Saturday when she heard of a triple murder in Wagener.
"I just raised my eyes and there he was, a picture of him," Dinah Baldwin said. "I called Esther; she didn't answer and that wasn't like her."
Dinah Baldwin woke her husband. They called Attaway and another sister and drove to Esther's home. The family also made several phone calls to the police, but said that when they arrived at her house, there was no sign that anyone had checked on her.
"Her TV was on. One light was on and her truck was gone," Dinah Baldwin said. "We sat there a few minutes, because we thought Aiken County was coming and they never showed up."
The family went into Wagener and found SLED agents, who went to the house and found Esther's body.
The family doesn't know why Myers might have killed the four victims, but the history of disturbing behavior was long.
"Ken, I think, was involved in drugs pretty bad," Dinah Baldwin said. "Esther was financing everything. Everything they bought was in her name because his credit was really bad."
Esther, the baby in a close family of seven siblings, was a bubbly, happy person who had begun to love life again after being free of Myers, Dinah Baldwin said. She hoped to pay off all her debts soon and move away from him.
"We tried to get her to move to North Augusta," Dinah Baldwin said. "We just didn't get her here quick enough."
There were still no answers Monday from law enforcement about what might have touched off Myers' killing spree.
Wagener police officer Michael Rushton -- who was among the officers trying to capture Myers on Saturday -- told The Aiken Standard for Sunday's edition that he had known Myers for eight years and that he appeared to be a loving father to two grown children. He said Myers had told him that the bad economy had cut into his auto glass repair business and that he had been having relationship troubles with his wife.
"At one point in time, whenever he tried to evade us, I saw his face for a brief second, and you could tell he was a different person," Rushton said. "He had gotten to the point where he thought he had nothing else to lose. He figured he was done for, I'm assuming, and I really hate that he had done what he had done."
---
Gunman kills his wife, her twin, mother-in-law... and his ex before turning gun on himself
DailyMail.co.uk
July 4, 2011
A gunman is believed to have gone on a shooting rampage that led to the murders of his wife, her twin sister, his mother-in-law and his ex-wife.
Kenneth Myers, who was rumbled by police having allegedly gunned down the four women in Wagener, about 40 miles east of Augusta, Georgia, turned the gun on himself after a car chase.
The 46-year-old was driving his dead ex-wife's vehicle when deputies gave chase yesterday morning - they believe he was trying to escape to Alabama, according to Aiken County Sheriff's Captain Charles Barranco.
Police officers aimed several shots at Myers as he attempted to ram their cruisers before the chase ended back at the home where deputies found three people fatally shot at around 6pm on Saturday.
Myers then apparently pulled the trigger again and killed himself.
Tim Carlton, Aiken County Coroner, identified the dead as Myers's wife, 25-year-old Angela Myers, her twin sister, Tabitha Brown, their mother, 50-year-old Vicki Brown, and Myers's ex-wife, 47-year-old Esther Baldwin.
All four victims were killed from single gunshot wounds.
Police officers were gathering information from a handful of other people who they thought could be potentially targeted by Myers, when they found him and he fled.
On Saturday and last night detectives worked around the clock to piece together why Myers - who friends insisted was not aggressive - went on his alleged killing rampage.
Mr Barranco said: 'It's hard to say at this point in the investigation why those people were killed.
'We need to try to find some answers.'
Investigators uncovered some threats Myers made to people in the past, but people who have been interviewed hitherto said they did not believe he would be violent, the Sheriff's Captain said.
And neighbour Robin Halsey said that only days before the deaths Myers had been discussing how he was looking after a 'little stray dog'.
'He was talking about how he was going to catch it and take it home and try to save its life, and he was saying, "I don't see how people can just throw a stray dog out on the street,'' she told WRDW.
The first three bodies were discovered in a secluded, rural home near Wagener.
And deputies going to check on another person living nearby discovered Mrs Baldwin's body about seven hours later.
---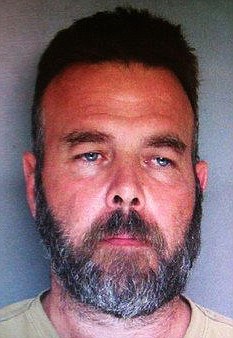 Kenneth Lee Myers