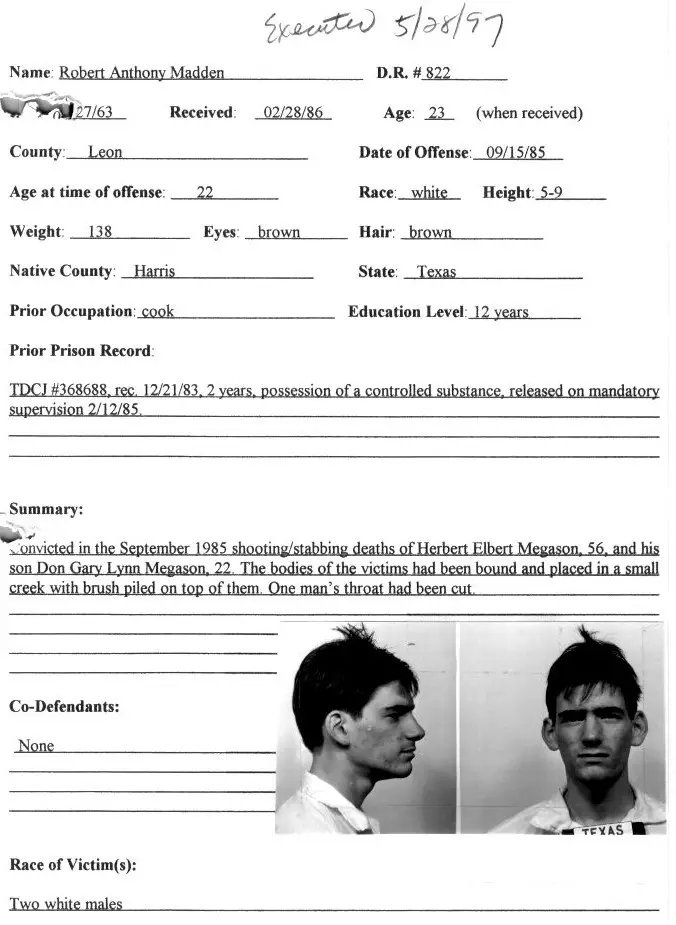 Date of Execution:
May 28, 1997
Offender:
Robert Madden #822
Last Statement:
Yes sir, I do. Well, here we are. I apologize for your loss and your pain, but I didn't kill those people.
Hopefully we will all learn something about ourselves and about each other and we will learn enough to stop the cycle of hate and vengeance and come to value what is really going on in this world.
We can't look back.
I forgive everyone for this process, which seems to be wrong. We all end up doing experiences which we create.
That is all I have to say about that.
(There were some unintelligible sentences.)


Robert Anthony Madden
Founder of a drug rehabilitation center, Bob Bearden thought one of his most loyal patients was fully recovered until that same patient went back to his old ways only months after the completing his program.
Robert Madden, born Sept. 9, 1963, spent years in and out of the trouble with the law. Beginning at the age of 15, Madden attended two different drug treatment centers, spent years in prison and time on parole.
Sent by the state, Madden, 22, was now at the third treatment center. Bearden became Madden's counselor. "He was kind of like a scared animal," Bearden said. "He was a disturbed person."
No weapons were allowed at the center; however, Madden carried a hunting knife. "He always had a knife," Bearden said. "Just like Davy Crocket." Madden used the knife to skin animals he caught. "He was quite a loner; however, Madden never committed any crimes at Christian Farms," Bearden said.
Completely trusting what he thought to be Madden's full recovery, Bearden hired him at his printing company in Killeen, Texas in August of 1985.
On Sept. 12 of that year, Madden stole the company car, drove to Marquez, Texas and left the vehicle in a dry creek bed on the lease, due to a flat tire.
Around Sept. 15, Madden encountered Herbert Elvin Megason, 56, and son Gary Lynn Megason, 21, at their weekend home. Prior to killing the Megasons, Madden robbed a near-by home. The elder Megason suffered two gunshot-chest wounds. The youngest Megason died from a cut to the throat and had numerous gun and knife wounds. Both bodies were bound, put in a creek, and covered with logs and brush.
Madden then took the elder Megason's pick-up truck, guns, and credit cards. Officer Gerry Rosier, then deputy sheriff, said that during Madden's retreat to New Mexico, he used Megason's Exxon and Texaco cards many times. Madden signed his own name to the receipts and later told police he did so because he did not want to be charged with forgery. "This became the most substantial evidence to convict Madden," David Barron, assistant district attorney at the time, said. After tracking the receipts, Madden was arrested in Angel Fire, New Mexico on Oct. 7, 1985.
Madden showed police where and how the incident occurred on Oct. 14, 1985. However, because the confession was not written, nor recorded, the evidence would not be permissible in court.
Madden was indicted on Oct. 18, 1985. Court-appointed defense attorney William F. Carter tried to plea bargain. "Basically the grounds were because it would cost the city, county, state, whatever, too much money," said Pamela Megason-Calhoun, daughter and sister of victims. "It's a small town."
Madden was convicted. "We felt pretty confident the whole way. We were more concerned whether or not Madden would be sentenced to death because there had not been a capital murder case since the '30s in Leon County," Megason-Calhoun said.
During the trial, Madden was very passive. "He was attentive. He smiled a lot, which seemed to be inappropriate," district attorney Latham Boone said. Incidentally, Madden's uncle preached a sermon on mercy at Boone's church after the conviction.
Madden was sentenced to death on Feb. 26, 1986. After the trial, Madden spoke to Barron. "Madden said, Thank you David and shook my hand," Barron said. "Robert's mind was pretty messed up from a long history of drugs." With only one stay of execution, Madden went through seven years of appeals.
On May 28, 1997, thirty-three-year-old Madden asked that his last meal be provided to a homeless person, but was denied by state officials. "I apologize for your loss and your pain, but I didn't kill those people," Madden said during his last statement.
Sixteen minutes after leaving the holding cell, Madden was pronounced dead at 6:42 p.m. in Huntsville, Texas.
---
18 F.3d 304
Robert MADDEN, Petitioner-Appellant,
v.
James A. COLLINS, Director, Texas Department of Criminal
Justice, Institutional Division, Respondent-Appellee.
No. 92-8575.
United States Court of Appeals,
Fifth Circuit.
March 29, 1994.
Rehearing Denied April 28, 1994.
II
ANALYSIS
A. Standard of Review
B. Penry Claim
1. Personality Disorder
3. Troubled Childhood
4. Prosecutor's Statements
C. Madden's Failure to Testify
D. Jury Instructions
III
CONCLUSION