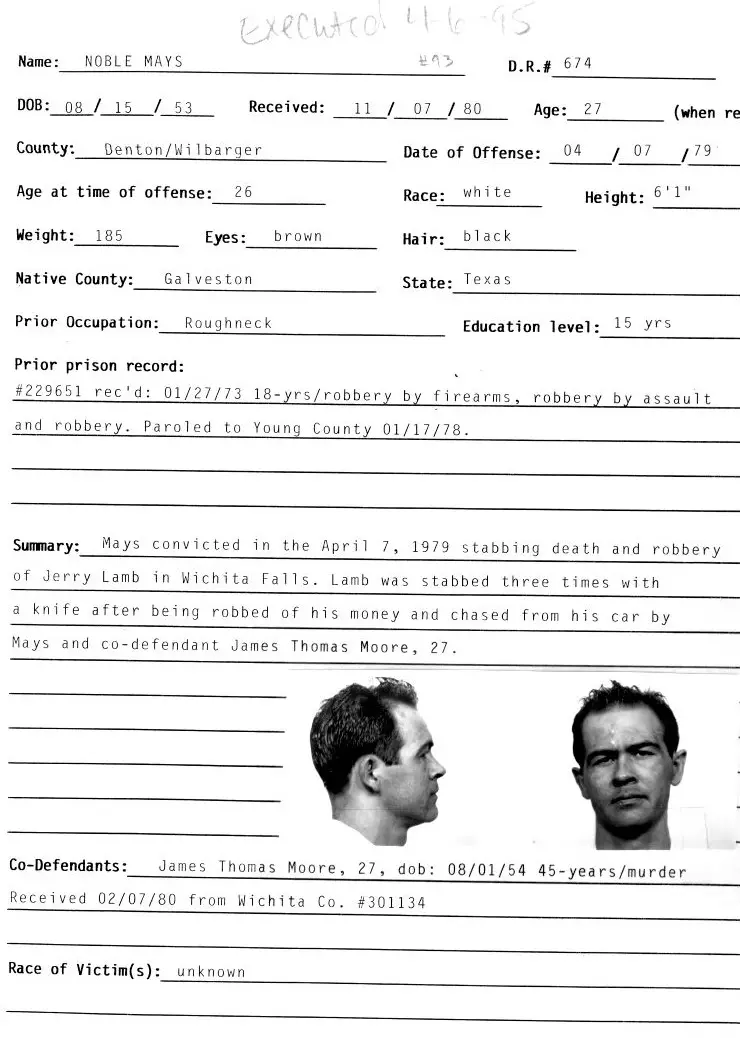 Noble Mays had been convicted once for burglary and once for assault, which was the result of a bar fight. He grew up in a poor broken home with little to no education. He worked outdoors, doing physical labor, working in mines for several roofing companies, and somewhat followed in his father's footsteps as an oilfield worker.
When Mays was six years old, he was thrown from a pick-up truck that his father was driving and suffered a severe head injury, from which he would never recover. Some thought he might be mentally retarded, but he was never diagnosed.
On April 7, 1979, Mays and a convicted felon by the name of James Moore were hanging around a Wichita Falls Recreational Park when they saw a car heading their way. With a scheme in mind, they flagged down the car, claiming to the driver they were having car trouble. Willing to lend a helping hand, Jerry Lamb invited the two into his car. Once they were inside, they held Lamb up by knife-point demanding any money that he had. As Lamb panicked and tried to escape, he was run down by his own Lincoln Continental and stabbed four times in the neck and chest by Mays. The two criminals fled with $27.
Two days later, Mays was arrested in his home outside of Wichita Falls. Moore testified against Mays and received a 45-year murder sentence, which he is still serving. Mays was sentenced to death.
"I remember reading in the papers that Mays would not give up," said Sheppard Air Force Lt. Sam Johnson, " People would always talk about how he could afford the lawyer fees to keep him alive so long."
Mays and attorney David Taubenfeld did just that – kept Mays alive. Mays, who maintained his innocence, went to trial four times. The first was declared a mistrial in its early stages. The next two, which resulted in convictions, were reversed on appeal. Mays won three stays of execution. All appeals argued that he was mentally incapacitated at the time of the crime. They even attempted the insanity defense because of the head injury he received when he was a child.
"He contends two things," said Taubenfeld, "that he did not commit the act and also, that at the time the act occurred, that he was suffering from the effects of a seizure of these two brain effects."
Then, Mays had a surprising change of heart. He offered to end his appeals and allow his execution if the state paid his wife and stepdaughter $10,000. He still claimed to be innocent of the murder, but was willing to face the death penalty to help his family. The condemned killer said his wife, a former secretary and waitress, has been unable to work due to a back injury.
As soon as district judge Temple Driver received Mays' offer, he set Mays' execution date.
On April 6, 1995, Mays made no final statement. After he was administered the lethal injection, he took three deep breaths, uttered a low gasp and was pronounced dead.