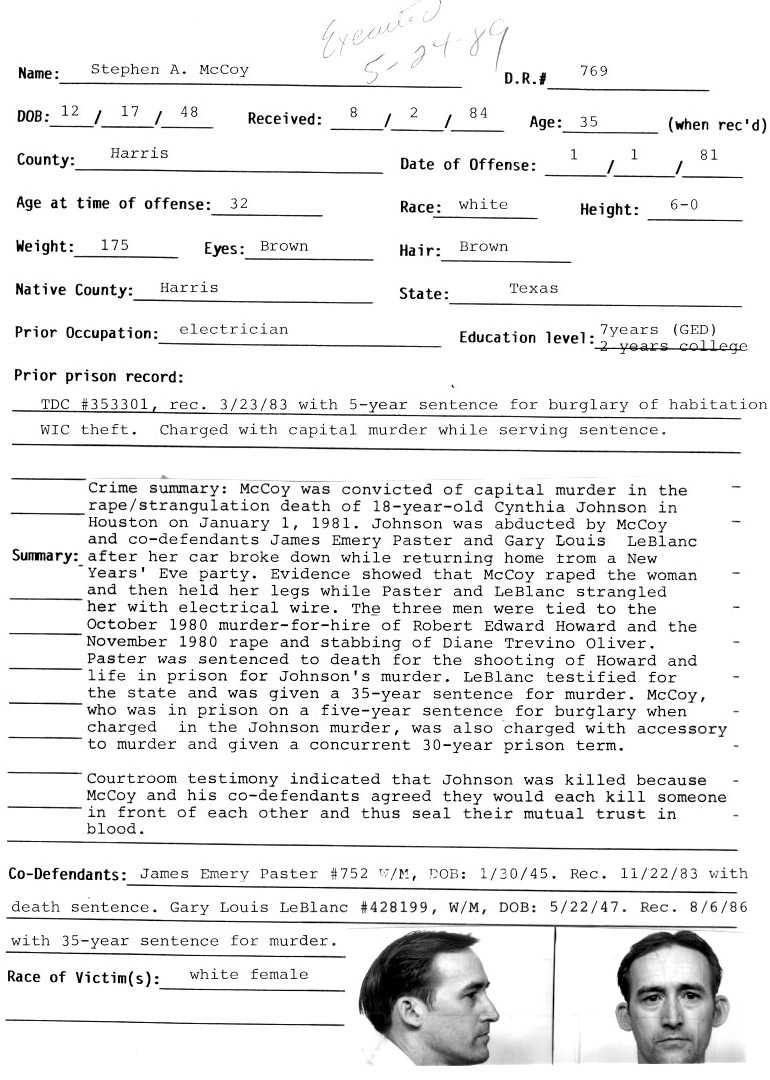 Last Statement:
This offender declined to make a last statement.


Stephen A. McCoy
Age: 40 (32)
Executed: May 24, 1989
Education level: Some college
To fulfill a blood oath to one another, McCoy and two other men abducted, raped and killed Cynthia Darlene Johnson, 18, a stranded motorist on the Gulf Freeway on Jan. 1, 1981.
One co-defendant, James Emery Paster, received a life term but was executed for another murder. The other testified against his confederates in exchange for a 35-year sentence.
---
The facts
(James Emery Paster v. Texas)
In October, 1980, Paster and two accomplices, Stephen McCoy and Gary LeBlanc, agreed to kill Robert Edward Howard at the suggestion of Howard's ex-wife and her current husband. Paster sought and was promised $1,000 for the slaying. On October 25, Paster, McCoy and LeBlanc were told that Howard would be at the Legal Tender Club. They went to the parking lot, slit Howard's truck tire and waited for him to leave the club. When Howard noticed the flat tire, he opened his hood to get the jack. Paster approached from Howard's rear and shot him in the back of the head.
According to evidence introduced at the punishment phase of Paster's trial, he suggested that the men should seek out two other people to murder. Gary LeBlanc testified: "[Paster] said that we was all in it together and somebody was going to have to do another killing. All of us were going to have to do another killing.... He said that was [so] nobody can testify against somebody else."
In mid-November, 1980, the trio forced Diana Trevino Oliver into their car, took her to a field, raped her, and then McCoy stabbed her to death. On December 31, 1980, the trio found Cynthia Johnson stranded on the side of the road. They took her to a warehouse, raped her, and after LeBlanc unsuccessfully attempted to strangle her, Paster strangled her to death and drove a nail up her nose.
---
Texas Murderer Is Executed
The New York Times
May 24, 1989
A 40-year-old Houston electrician was executed by injection early today for the 1981 slaying of a woman who was abducted and raped after her car broke down on a freeway.
Stephen McCoy, whose final appeal was rejected by the United States Supreme Court late Tuesday, was executed at 12:25 A.M. at the Walls Unit of the State Department of Corrections here. He gave no final statement. The nation's highest court denied him a stay by a 5-to-4 vote without comment.
Mr. McCoy was the 31st Texas convict and the 110th in the nation executed since the Supreme Court ruling in 1976 that allowed states to resume capital punishment.
Mr. McCoy was convicted in the slaying of Cynthia Johnson, 18 years old, who was abducted as she was returning home from a New Year's Eve party on Jan. 1, 1981.
According to trial testimony, Mr. McCoy and two other men abducted the woman. Mr. McCoy raped her, then held her legs down while James Paster and Gary LeBlanc strangled her with an electrical cord.
''The death penalty was made for people like Stephen Albert McCoy to protect society from people like him and from people like James Paster,'' said the prosecutor, George Lambright. ''It was the cold-bloodedness of the acts.''
Mr. McCoy insisted he was in another room when the woman was slain.
''I knew what was going on,'' he said in an interview from death row. ''I just couldn't do anything about it.''
Mr. Paster, awaiting death for another slaying, received a life sentence for the killing. Last month, he was caught with another death row inmate in an unsuccessful escape attempt.
Mr. LeBlanc, who testified for the state, received a 35-year prison sentence.