Viva Leroy Nash (September 10, 1915 – February 12, 2010) was the oldest American on death row at the time of his death in February 2010. Born in Salt Lake City, Utah, Nash spent much of his life in and out of prison for crimes including transporting stolen vehicles, robbery, and attempted murder.
He was first imprisoned in 1930 at 15 years old for armed robbery.
In 1947 at 32 years old, he was sentenced to prison again, where he served 25 years, for shooting a Connecticut police officer.
In 1977 he was sentenced to life for having murdered postal carrier David J. Woodhurst, but escaped from a prison work crew in 1982 where soon after he went into a coin shop in Phoenix, Arizona, and shot an employee dead.
He was sentenced to death in 1983.
His attorneys claimed that senility had rendered him not legally competent to be executed, describing him as a "doddering old man, who can't hear, can't see, can't walk, and is very, very loony".
Nash died of natural causes on February 12, 2010, at the age of 94. At the time of his death, he was the oldest American on death row.
---
Viva Leroy Nash

Date of Birth: September 10, 1915
Defendant: Caucasian
Victim: Caucasian

While serving two consecutive life sentences for murder and robbery in Utah, Nash escaped.

Three weeks later on November 3, 1982, he entered a coin shop in north Phoenix, demanded money from an employee, Gregory West, and then shot Mr. West three times with a .357 Colt trooper.

Another employee was in the line of fire but was not hit. As Nash fled, the proprietor of a nearby shop pointed a gun at him and told him to stop. Nash grabbed the weapon and the two men struggled over it. Police officers soon arrived and arrested Nash.

PROCEEDINGS

Presiding Judge: Rufus Coulter
Prosecutor: Gregg Thurston
Start of Trial: May 25, 1983 (submission)
Verdict: May 25, 1983
Sentencing: June 27, 1983

Aggravating Circumstances:

Prior conviction involving violence
Grave risk of death to others
Pecuniary gain

Mitigating Circumstances:

None

PUBLISHED OPINIONS

State v. Nash, 143 Ariz. 392, 694 P.2d 222 (1985).


---
SEX: M RACE: W TYPE: N MOTIVE: CE
MO: Killed holdup victims
DISPOSITION: Two terms of five years to life for murder/robbery in Utah, 1978 (escaped 1982); condemned in Ariz., 1983.
Michael Newton - An Encyclopedia of Modern Serial Killers - Hunting Humans
---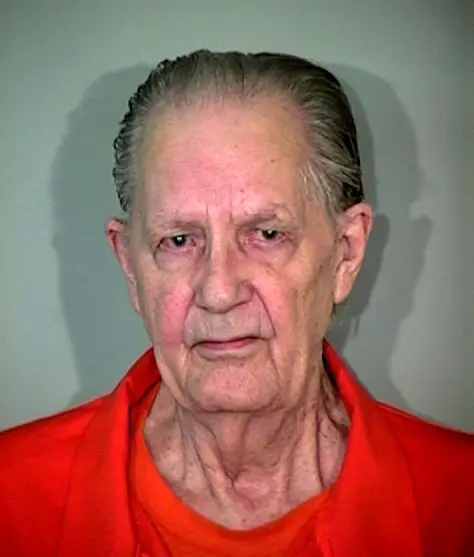 Viva Leroy Nash