Alvin Howard Neelley, Jr. (1953-2005) and Judith Ann Adams Neelley (1964-) are an American couple responsible for two torture murders. They each were convicted of the kidnappings and murders of Lisa Ann Millican and Janice Chatman. Judy Neelley was sentenced to death by the state of Alabama in 1983, but her sentence was later commuted to life imprisonment in 1999. She is serving her sentence at the Julia Tutwiler Prison for Women in Wetumpka, Alabama. Alvin Neelley was serving a life sentence at the Bostick State Prison in Hardwick, Georgia at the time of his death in 2005.
Early lives
Alvin Neelley
Alvin Howard Neelley, Jr. was born in Georgia in 1953, where he was a car thief during his teenage years. He met his second wife Judith Ann Adams when he was 26 years old and she was 15. Alvin divorced his first wife shortly before eloping in 1980.
Judith Ann Neelley
Judith Ann Adams was born in Murfreesboro, Tennessee in 1964. Her father, an alcoholic, died when she was nine. After meeting Alvin Neelley, she began her life of crime, committing armed robbery across the country for which she was later caught. She gave birth to twins while incarcerated at Rome's Youth Development Center.
Youth Development Center Crimes
On September 11, 1982, a Youth Development Center employee, Ken Dooley's home was shot through four times. The following day, fellow employee Linda Adair's home was firebombed with a Molotov cocktail. Phone calls were made to the victims following the attacks by a female who claimed to have been sexually abused at the Youth Development Center, but neither victim could identify the caller's voice.
Lisa Ann Millican
Lisa Ann Millican, a 13 year-old girl from Cedartown, Georgia was abducted by Alvin and Judith Neelley from the Riverbend Mall in Rome, Georgia on September 25, 1982. She was taken to a Murfreesboro, Tennessee motel where the Neelleys held her captive. During her captivity, Lisa was molested by both Neelleys, and Judith injected her with Drano. On the 28th, Lisa was shot in the head by Judith and her body was thrown in the Little River Canyon in Fort Payne, Alabama. Judith even called police to report Lisa's body.
Janice Chatman and John Hancock
Janice Chatman and John Hancock were a young engaged couple from Rome, Georgia. On October 4, 1982, they were abducted by Judith Neelley. John Hancock is shot while Janice Chatman was abducted and brought back to the Neelleys' motel room, where she was tortured and murdered. John Hancock, however, did not die, and was able to point to Alvin and Judith Neelley as his assailants.
Arrest and Trial
Judith Neelley was arrested on October 9, 1982, and Alvin was taken into custody a few days later. Judith was deduced as being the perpetrator in the YDC employee attacks.
To avoid the death penalty, Alvin Neelley pled guilty to murder and aggravated assault in Georgia. He was not tried for the Lisa Millican murder.
Judith Neelley's trial began on March 7, 1983. Before her trial however, she gave birth to a third child behind bars. After a six-week trial, Judith was convicted of the torture murder of Lisa Ann Millican. Despite a jury's recommendation to sentence Judith to life in prison, judge Randall Cole sentenced the 18 year-old mother of three to death in Alabama's electric chair.
Following her first conviction, Judith pled guilty to Janice Chatman's murder.
Aftermath
Alvin Neelley was incarcerated at the Bostick State Prison from 1983 until his death in November 2005.
Judith Neelley became the youngest woman sentenced to death in the United States. She was on Alabama's Death Row at the Julia Tutwiler Prison for Women.
Judith appealed for a new trial, but it was denied in March 1987. In 1989, the United States Supreme Court affirmed her death sentence. On January 15, 1999, Judith Neelley was days from her execution date when Alabama's then-governor Fob James granted her clemency, commuting her death sentence to life in prison. The decision was met with controversy, but James cited how Judith's jury wanted to sentence her to life in prison, but the judge sentenced her to death. Judith will be eligible for parole in January 2014.
In the Media
On February 28, 2008, the Neelleys' case was profiled on the Investigation Discovery program Most Evil. On a scale developed by forensic psychiatrist Michael Stone, Judith was ranked as a category 22 killer, the "most evil" level deemed for serial torture murderers.
On October 23, 2008, Alvin and Judith Neelley were featured on Wicked Attraction in the episode "Hearts of Darkness".
Judith was featured on Deadly Women in 2011.
Wikipedia.org
---
Judith Ann Neelley: Death Row at 18
by Marlee MacLeod
Foreword
True Crime devotees will find this story familiar even though they've probably never come across it in their vast and voracious reading. In the last few years, our attention has been drawn to woman's capacity for evil, most spectacularly by the sordid case of Karla Homolka and her husband and partner in deviance, Paul Bernardo. But Karla Homolka wasn't the first of her kind. A full decade before she and Bernardo undertook their well-documented spree of torture and murder, Alvin and Judith Ann Neelley were having a little spree of their own. The similarities between the two cases are striking: both couples chose teenage victims; both worked as teams in abduction and sexual assault, and when found out, they immediately turned against each other. Both cases resulted in horribly sordid "he said/she said" trials.
"So why," you may ask, "haven't we heard about this?" Why, indeed. Judy Neelley was sentenced to death in Alabama's electric chair in 1983 and, at age 18, was the youngest woman ever to be so sentenced. The murder for which she was tried and convicted was protracted and cruel. But Judy was a poor, common girl from the Deep South, a product of both a troubled home and the juvenile justice system. So was the victim for whose murder she was convicted, 13-year-old Lisa Ann Millican. Lisa was killed in DeKalb County, Alabama, a rural, mountainous area whose county seat of Fort Payne, where the trial was held, had a population of only 12,000 or so.
Unlike Homolka and Bernardo, the Neelleys didn't videotape their assaults; such convenient, space-age toys as camcorders were not widely available in 1982. No crew from Court TV covered the trial, as the network didn't exist at the time. The Neelley trial was local news, mainly, good for a lot of gossip in Fort Payne and some coverage in the bigger Alabama papers.

A Short, Sad Life
Had the location of Lisa Millican's body not been brought to the attention of DeKalb County authorities, she may have remained undiscovered for years. It was an eighty-foot drop from the precipice to the floor of Little River Canyon, where Lisa's body had landed. The area was densely wooded and often used as a garbage dump by locals.
Lisa was last seen in Rome, Georgia and the search for her was focused there, some thirty-five miles away. In fact, the Rome police and a Rome radio station had each received a phone call revealing the location of the body and the Rome Police had been to the area indicated in the calls but had found nothing.
On the evening of September 29, 1982 a call came into the DeKalb County Sheriff's Office in Fort Payne. The then-unidentified caller (Judy Neelley herself, who had also made the calls to Rome) gave detailed directions to the location to "a young girl's body."
That night, by the beam of a flashlight, Deputy James Mays and other lawmen from around the county found Lisa Millican. She had been shot, and lay crumpled over a fallen tree. She was brought out of the canyon by rope the following day and investigators found three used syringes among the debris into which she had fallen. Hanging from a branch between the precipice and the canyon floor they found a pair of women's blue jeans that appeared blood stained.
Because the crime scene contained lots of garbage from previous visitors, authorities weren't certain these items were relevant to their case, but delivered them to the Alabama Department of Forensic Science in Huntsville in hopes of a lead.
Though Lisa was found in DeKalb County, investigators quickly decided that since she had disappeared from Rome, the case should be worked from there. The police in Rome had been investigating Lisa's disappearance for several days, ever since she had gone missing from the Riverbend Mall on September 25. Lisa had been part of a group of girls from the Ethel Harpst Home in Cedartown, Georgia, who had gone on a supervised outing to the mall.
The Harpst Home was a facility for troubled girls and it was initially hoped that Lisa had simply run away. She had a history of such behavior. But as days passed and Lisa didn't return to any of her usual haunts hope faded, and while it was tragic, it didn't come as a shock that she was found dead.
The case was assigned to Detective Kenneth Kines, who quickly found that Lisa's short life had been filled with shady characters and ne'er-do-wells. She was from Lafayette, Georgia and had been removed from her parents' home, as had her three siblings, following allegations of sexual abuse. She had been placed in and removed from four different foster homes and had spent 30 days at the Open Door Home (another youth facility, this one in Rome) before she had landed at the Harpst Home. She was sexually precocious, and unpopular with the other girls in the various facilities where she found herself. She had once kicked another girl in the stomach hard enough to induce a miscarriage.
Kines conducted numerous interviews with Lisa's family and acquaintances and emerged with a vivid picture of a sad, short life, but nothing that moved his investigation forward. Unpopular as she was, she hadn't any enemies with the motivation or wherewithal to do her in. Her family had neglected and abused her, but Kines knew they weren't her killers. His best leads, he knew, were the phone calls revealing the location of Lisa's body.

Nightrider & Lady Sundown
The call to the Rome Police Department had been taped, and while playing it for Mike Jones of the Walker County Department of Family and Children Services (which had handled Lisa's case in Lafayette), Kines got an important bit of information. "Y'all looking for Lisa Ann Millican on run from the Harpst Home?" the caller had said. Jones latched onto the term "on run" immediately. That wasn't the way most people referred to runaways, he told Kines. "On run" was an insider's expression, common among denizens of the juvenile justice system. The caller, Jones surmised, probably had a juvenile record.
A more dramatic scene took place when Kines played the tape for 13-year-old Debbie Smith, a local girl who had been approached and offered a ride by a woman in a brown car on October 4. As the tape played, John Hancock, who had been abducted with Janice Kay Chatman on October 4, passed by the room. He stopped short when he heard the voice. "That's the damn woman that shot me!" he exclaimed.
Initially, John Hancock's story had seemed too bizarre to believe. He told police he and Janice Chatman had been out walking on the evening of October 4 and had accepted a ride from a woman in a brown Dodge. The woman said she was lonely and wanted to talk, and during the ride she made contact on a CB radio with a man with the handle of Nightrider.
The woman identified herself to him as Lady Sundown, and they eventually converged on a dirt road north of Rome. Nightrider drove a red car and had two children with him, and Hancock was instructed to switch cars and ride with him, leaving Chatman in the car with Lady Sundown. Hancock felt uneasy now, but not overtly threatened. Both cars resumed their course north, eventually meandering into Alabama and back. When they stopped again Hancock was instructed to walk down the road away from the cars. Lady Sundown shot him in the back, he said, and he had lain beside the road for a while until he was sure it was safe for him to find help. They had disappeared with Chatman and he hadn't seen her since.
It wasn't until he'd identified the voice on Kines's tape as the voice of Lady Sundown that investigators believed Hancock's strange story. Now, though, they trusted him. He identified the types of cars Nightrider and Lady Sundown had driven, and while that didn't crack the Millican case, to Kines it seemed a step in the right direction.

A Solid Suspect
All the talk of anonymous telephone tipsters had piqued the interest of others in Rome's law enforcement community. Bill Whitner of the Floyd County Sheriff's Department told Kines his agency was investigating a case with its own insistent female caller, though his case involved a firebombing and a shooting.
Two employees of Rome's Youth Development Center, Linda Adair and Ken Dooley, had had incidents at their homes on successive nights. Someone shot into Dooley's house on September 11 and a Molotov cocktail was tossed into Adair's driveway on September 12.
No one was injured, though while the police were investigating the scene at Adair's home. She received a phone call from an anonymous female who referred to the shooting at Dooley's house and the firebombing and claimed, "You both will die before the night's over." A second call came into the sheriff's office awhile later. "For the abuse I took," the caller said, "they are both going to die."
As Kines listened to Whitner's account, he made a connection. The Youth Development Center was a juvenile facility. Mike Jones of Walker County DFACS had told him the caller on the Millican tape probably had a juvenile record. Now he had something to pursue. Remembering that Hancock had said his abductors' cars bore out-of-state license plates, Kines asked juvenile officer Elaine Snow for a list of all the girls who'd been placed in the YDC from out of state. She gave him a list of 25 names.
Days of intense winnowing left him with only one name: Judith Ann Neelley. He assembled pictures for a photo lineup, and while John Hancock said the woman in Neelley's photo resembled the woman who shot him, he couldn't be certain. Debbie Smith, however, recognized Neelley immediately and gave Kines the positive ID he needed. He started searching for Neelley in earnest.
He didn't have to search long. On October 9, Judy Neelley had been arrested at a motel in Murfreesboro, Tennessee, for passing bad checks. Her husband Alvin was arrested a few days later. On October 14, Kines got the word that his suspects were in custody. His satisfaction, though, was tempered with sadness. Janice Chatman had not been with the Neelleys when they were arrested. Kines was certain she was dead.

A Scary Lady
Lawmen from Rome and DeKalb County hurried to Murfreesboro. If they expected their suspects to be guarded and evasive with their answers, they were mightily surprised. Alvin Neelley, though he asked for and got a lawyer, waived his right to remain silent and gave a lengthy, detailed statement that implicated Judy as the criminal mastermind and sexual deviant of the pair. Politely, almost obsequiously, he explained that it was she who had planned and carried out the firebombing and the shooting and it was she who had killed both Millican and Chatman. "She's a dangerous person," Alvin said, and he feared her. He obligingly drew a map indicating the location of Chatman's body and swore that Judy had compelled his participation in any sexual abuse of Millican and Chatman.
While Kines questioned Alvin, Judy was being interviewed down the hall. She repeatedly stated that she didn't need a lawyer and answered any and all questions calmly and in detail. She admitted to the firebombing at Linda Adair's and the shooting at Ken Dooley's, saying Adair had forced her to have sex with Dooley at the YDC and that she had been part of a prostitution ring operating out of the facility (these allegations proved untrue). Then, chillingly, she told of the abductions of Millican and Chatman and what they had endured in the days before their deaths. She would continue her confession and add even more details after she was transported to Fort Payne and formally charged with Millican's murder.
Judy had noticed Lisa Millican because "she looked like Joanie Cunningham, "a character from TV's "Happy Days." They were in a video arcade in the Riverbend Mall in Rome and Judy had struck up a conversation. Lisa had gone with her willingly, she said, because she didn't want to return to the Harpst Home. That night, they had driven around for hours with Judy's children in the backseat, finally checking into a motel. The next few days followed a similar pattern, she said, with aimless driving during the day, and nights spent in motels where Lisa slept on the floor, handcuffed to the bed frame. Judy had been afraid, she said, that upon her release Lisa would tell authorities where she'd been, implicating Judy, and that she (Lisa) would be placed back in the YDC. It was much better for her to die than for either of those things to happen.
Judy drove Lisa to Rocky Glade, a secluded area in DeKalb County at the edge of Little River Canyon. As the children slept in the car, Judy walked Lisa over to a tree and told her to lie down. "I told her I was going to give her a shot to put her to sleep so I could leave and she wouldn't know where I was going," Judy told authorities. She then injected Liquid Drano into the left side of Lisa's neck. She had heard that this was a quick, undetectable way to kill, but it didn't seem to be working. She administered another injection to the other side of Lisa's neck, this time of Liquid Plumr. Lisa was still conscious. More injections followed, to each of Lisa's arms and each of her buttocks. Judy waited half an hour. Lisa was in pain but still conscious, so Judy had her step to the edge of the canyon and turn away. Lisa begged to be taken back to the Harpst Home, and as she faced the expanse of the canyon, pleading for her life, Judy shot her in the back. Lisa fell backwards instead of into the canyon so Judy had to push her over the edge, getting blood on her jeans in the process. Judy changed her jeans, then threw the bloody pair and the syringes into the canyon. She drove away toward Fort Payne, her children still asleep in the backseat.
As Judy confessed, authorities went looking for Janice Chatman. Her body was found where Alvin said it would be, off a back road in rural Chattooga County, Georgia. Meanwhile, a warrant had been executed at the Murfreesboro home of Barbara Adams, Judy's mother. The Neelleys had been staying there prior to their arrests and the evidence of their crimes was abundant throughout the house. Among other items, the police recovered handcuffs, two CB radios and several guns and knives.

The Defense
Bob French had his work cut out for him. He had not wanted to serve as Judy's court-appointed defense and, after their first meeting, he came away disliking her intensely. Still, he would do his best. As Judy was under twenty-one, he began by seeking youthful offender status for her. Judge Randall Cole denied his motion. French then asked that psychological tests be administered to determine Judy's fitness for trial. The tests were done in January 1983 and Judy was found quite fit for trial, with superior intelligence and no tendency toward delusion or suicide.
The trial was scheduled to begin March 7, 1983. In the meantime French set about making Judy more presentable. She had come into custody decidedly unkempt and pregnant with her third child, and French knew he needed to get her cleaned up before she went in front of the jury. Her baby, a boy, was born while she waited for her court date. She had dental work done by Dr. Stephen Brewer, and French bought her several outfits at Black's Department Store, the nicest ladies' clothing store in the county, so she'd have something to wear during the trial. Though prosecutor Richard Igou noticed French was preparing Judy for her court appearance, he hadn't a clue as to what her defense would be until the first day of the trial.
It was evident from the sort of questions French asked prospective jurors that he was going to try and portray Judy as a victim -- the victim of Alvin Neelley, under whose irresistible control she had been during the crime. French's questions centered on men's sensitivity to women's emotional pain, and their roles as heads of households. Jury selection went rapidly, and within two days, the seven women and five men chosen were ready to hear evidence.
Any doubt as to French's approach was erased during his opening statement. "I will tell you," he said, "that every move, every act, every thought carrying out the perpetration of this heinous event was planned, calculated, instituted by Alvin Neelley." He told the jury Judy's story, beginning with her troubled childhood and adolescence. She had fallen for Alvin at age fifteen and had left home to be with him, and within a year, he said, Alvin was beating her savagely. Judy catered to Alvin's every whim, bathing him, feeding him, and eventually becoming "brainwashed if anyone was ever brainwashed." She was, French said, "Alvin Neelley's slave."

The Prosecution
Among the first witnesses called by the prosecution were two young women and a teenage girl who had been, apparently, Judy's prospective victims. Debbie Smith (for whom Kenneth Kines had been playing the tape of Judy's voice when John Hancock recognized it as belonging to the woman who shot him) identified Judy as the woman who had tried to pick her up as she (Smith) walked home from school on October 4, 1982. Suzanne Clonts identified Judy as the woman who had approached her and asked if she was alone at Aladdin's Castle in Rome's Riverbend Mall on September 25, the day Lisa Millican disappeared. Diane Bobo identified Judy as the woman who had tried to get her to go for a ride on the afternoon of October 3. None of these witnesses saw Alvin in the vicinity when she was approached, and none thought Judy appeared beaten or abused.
The next witness, John Hancock, told the story of his abduction just as he had told it before, and Igou tried to emphasize the fact that it was Judy who had done the abducting and who had eventually shot him. French, though, got Hancock to admit that although Judy had seemed in control, it was actually Alvin who had given her directions throughout the abduction. Alvin initiated the contact on the CB. Alvin had decided where they would drive and where they would meet, and when Judy seemed to dawdle before shooting Hancock, Alvin had yelled for her to hurry. "He was in charge of that evening's transactions?" French asked, and Hancock quietly answered, "Yes, sir." French had scored a few points in Judy's favor with the jury, but with a few questions during redirect Igou quickly reestablished her role as instigator and director of the situation. "Did she seem like she was upset or nervous?" he asked Hancock. "No, sir," Hancock answered. "Who was ordering you around?" Igou continued. "She was." And finally, "Who shot you, John?" Hancock's answer was short but powerful: "She did."
The first defense witness French called was Jo Ann Browning, Alvin Neelley's first wife. She had been married to Alvin for three years in the mid-seventies and was mother to three of his children. Browning testified that he had beaten her throughout her marriage, even when she was pregnant, and that he had drugged and tried to rape her teenage sister. She said that she had tried to leave several times but that Alvin had threatened their children. She only escaped him because he had suddenly become interested in Judy. Igou damaged her credibility, though, by establishing that she was definitely a bigamist (she had married Chauncey William Browning long before she and Alvin were divorced) and probably a liar as well. Though she claimed to have been beaten around 800 times Browning had never suffered a broken bone, and though she'd been pregnant for twenty-seven months of her three-year marriage, none of her children was damaged by the beatings, and all three pregnancies concluded normally. She left the witness stand angry and in tears.
The following afternoon, French called Judy to the stand. Immediately her appearance and demeanor clashed with his portrayal of her as a victim. She had cleaned up nicely, was no longer pregnant, and at 5'10" she cut a rather imposing figure.
She bantered and laughed easily at the defense table, and had one mannerism that was so alarming French felt a need to explain it to the jury. "When you're afraid or nervous," he asked her, "how do you handle that fear or nervousness?" "I smile a lot," she answered. She was smiling even as she said it, and she continued to smile as French lead her through questions about her childhood and her early relationship with Alvin. They had met when Judy was fifteen, and he had been an ardent and romantic suitor. She left her unstable home willingly.
But Alvin's sexual advances were always crude and selfish and increasingly violent, she said, and from the start she performed as his servant. She claimed she bathed him and dried him and combed his hair, and when he had jobs at convenience stores, it was she who would do the stocking and sweeping and mopping. She cooked for him and tied his shoes, she said, and when she did any of her tasks wrong, he beat her. He taught her robbery and forgery. He was insanely jealous, even though Judy said she'd always been faithful to him. The stories about the abuse she'd supposedly received at the YDC were of Alvin's making, not hers. They had never happened. Judy went into excruciating detail about various beatings and rapes, and her role as victim was gradually becoming more believable.
On the last of Judy's four days of testimony, French began asking questions about Lisa Millican's abduction and murder. Alvin wanted a virgin, Judy said, so she had procured him one. She delivered Lisa to him for his use, and at his instruction took part in the beatings. She witnessed Alvin's many sexual assaults on Lisa, as did her children, who were with them the whole time. Alvin had chosen the spot for Lisa's death, and had been at Judy's side issuing orders the whole time. After he was sure she was dead, Judy said, he masturbated. He had ordered her to make the calls to the Rome and Fort Payne police, and she had done everything he said because she was afraid of him. She admitted to the abduction and murder of Janice Chatman, imputing these to her fear of Alvin as well. She had picked up another girl in Murfreesboro for Alvin's use, but just then she was arrested.
Richard Igou didn't believe any of Judy's testimony. He had seen her when she was first brought to Fort Payne, and then she had been hard and cold. Though it was incredible that someone only eighteen years old could be so indifferent and depraved, Igou thought Judy definitely was. He quickly tried to counter French's methodically established defense. Judy claimed to have been beaten countless times but had only suffered two broken fingers and a slightly chipped tooth. And she had been acting on her own, she admitted, during the shooting of Janice Chatman.
The first shot had been on Alvin's orders, but the other two were because Chatman was screaming and Judy was afraid someone would hear. "He didn't tell you to shoot her two more times in the chest just to shut her up, did he?" Igou asked. "No, sir," Judy answered. Igou then produced a series of photographs featuring Alvin and Judy posing merrily with various guns and family members. In each, Judy was smiling, not meekly, but apparently quite happily. Alvin had arranged all the pictures, Judy said, and had ordered her to smile like that.
Finally, Igou took Judy through the events that took place at the edge of Little River Canyon the previous September. For every "why" there was an answer of "because Al told me to." Judy claimed the only things she did on her own were eat and go to the bathroom, that absolutely everything else about her life had been dictated by her husband.
French's redirect was aimed at convincing the jury of that claim. He showed a few more pictures intended to prove that Judy had been beaten, and he showed the jury a drawing she had done at the Macon YDC. The sketch was of a hand reaching out through bars, and Judy said it represented her life with Alvin.
Igou called Dr. Alexander Salillas of the Alabama Department of Mental Health as a rebuttal witness, and he testified that Judy had known the difference between right and wrong at the time of her crime, that she had made a conscious decision to kill Lisa. French tried to get Salillas to say that, according to the established clinical definition, Judy had been brainwashed, but Salillas would say no such thing. Throughout a convoluted and strenuous line of questioning, he maintained that Judy retained her free will. His testimony did grave damage to Judy's defense, most remarkably when French asked him if the bruises Judy had in one of the pictures were consistent with a beating with a baseball bat. "Not necessarily," he said. "A pinch would give you the same result." French was flummoxed. "In your opinion," he asked incredulously, "this could be caused by twisting skin or pinching?" "Certainly," Salillas answered. He was the last witness to be called.
French's closing argument took two hours. It was sweeping and, at times, bizarre. He made reference to the Bible and the Chinese principle of yin and yang, pleading with the jury to live their Christian witness and allow their "feminine side," their "love side" to shine through. He compared Alvin with the character of Svengali from George du Maurier's Trilby. He spoke of snakes and insects and birds and, unbelievably, the female multi-orgasmic response. He read some of Alvin's letters to Judy. Periodically he would meander back to his point: "Don't you hold Judy Neelley to a standard of some healthy, robust female whose husband may slap her around now and then.....," he ordered the jury. "You hold her to the standard of a woman that's beaten every day of her life, not enough to kill her, just enough to hurt, just enough to bust her head, just enough to leave teeth marks on her skin."
The prosecution's closing argument was direct, and much shorter than that of the defense. Judy Neelley had not suffered the abuse she claimed, Igou said. There were no scars from the attacks. If there had been, the defense certainly would have pointed them out. Igou reminded the jury that Dr. Salillas had stated unequivocally that Judy had not been brainwashed. Debbie Smith, Diane Bobo, Suzanne Clonts, and John Hancock had all been asked if they'd noticed any marks or bruises on Judy. None had. Judy planned, carried out, and enjoyed her crimes, Igou said. "Alvin didn't have the nerve, but she did.....That was Judy Neelley, not Svengali." The end of his argument centered on Lisa, on her final moments at the edge of the canyon. What had happened to her there, he said, was "evil...and I don't think I've ever used that term before in a criminal case....but if it ever applied to a situation, it applies here."

The Sentence
Judge Randall Cole charged the jury at 4:30 pm on March 21. By 10:45 the next morning, they had returned a verdict. Judith Ann Neelley was found guilty of murder and abduction. That afternoon, the prosecution and defense delivered arguments in front of the jury in the sentencing hearing. Late that night, the jury delivered its recommendation to Judge Cole. By a 10-2 vote, they recommended that Judy be sentenced to life in prison. In Alabama, however, a jury's recommendation in a capital case is not the final word on the matter. It serves only to inform the judge of the jury's opinion, the final decision lying with the judge himself. After a brief sentencing hearing on April 18, 1983, Judge Cole sentenced Judy to die in Alabama's electric chair. She was eighteen years old.
Anxious to avoid another death sentence, Judy pled guilty to kidnapping in the Chatman/Hancock case and agreed to testify against Alvin. Alvin, afraid of Judy's testimony, pled guilty to kidnapping with bodily harm and intent to murder. He was sentenced to two life terms.
In August of 1984, a woman told police in Murfreesboro that she had been abducted a couple of years back and that she had recently come across a picture of her abductor in the newspaper. The picture was of Judy Neelley. The woman went by the street name of Casey, and she was that final victim Judy had picked up just before her arrest. In her account, Casey said Judy bragged about her various crimes, saying she had killed a girl in Chattanooga, among others, and that she had newspaper clippings documenting all this. She talked all night and never once appeared afraid. She said she liked to see the look on people's faces when she pulled a gun. In the morning the police came to arrest Judy for bad checks and Alvin held Casey at gunpoint in the bathroom until they were gone. Then he let her go.

Conclusion
Over the years, Judy's case wound its way through the appeal process. While America debated about whether Karla Faye Tucker should be executed in Texas, Judy quietly moved closer to her own execution. The Supreme Court denied her final appeal in late 1998, and it seemed that presently she would be the first woman executed in Alabama in more than forty years. But the Tucker case had struck a nerve with some Christian Fundamentalists. Tucker claimed she had undergone a jailhouse conversion to Christianity and said she was born again. For that reason and because she was a woman, some Fundamentalists said, she should not be executed.
Judy claimed the same sort of conversion, and it was her good fortune that Alabama's governor was just such a Fundamentalist. Fob James had made a reputation for himself during his second term by vehemently defending the rights of an Etowah County judge to display the Ten Commandments prominently in his courtroom, threatening to call in the National Guard. He had just lost his bid for reelection to Lieutenant Governor Don Siegelman and would be leaving office very soon.
On January 15, 1999, he commuted Judith Ann Neelley's sentence to life in prison without the possibility of parole. He gave no explanation for his decision. Three days later, Siegelman succeeded him. Within a month, Alabama Attorney General Bill Pryor pointed out that, while the governor of Alabama has power to commute, he has no authority to regulate parole.
Judith Ann Neelley will be eligible for parole in fifteen years.

Bibliography
Cook, Thomas. Early Graves. New York: Dutton Books, 1990
Manuel, Marlon. "Election 98: Governors: Southern States." The Atlanta Journal and Constitution, November 11, 1998.
Smith, Gina. "Alabama Governor Commutes Sentence of Georgia Girl's Killer." The Atlanta Journal and Constitution, January 16, 1999.
"Law and Order." The Atlanta Journal and Constitution, February 26, 1999.
CrimeLibrary.com
---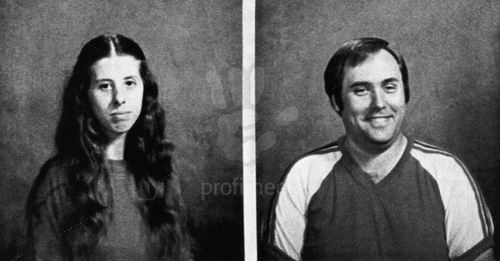 Judith Ann Adams and her husband Alvin Neelley.