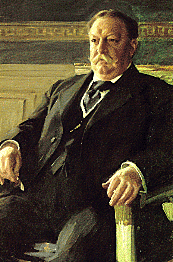 William Howard Taft: Twenty-Seventh
President of the United States
In the summer of 1920, Panzram broke into a house located at 113 Whitney Avenue, New Haven, Connecticut, USA. Inside a spacious den, Panzram found a large amount of jewelry, bonds and a .45 caliber automatic handgun. The name on the bonds was William H. Taft, the same man who he thought sentenced him to three years at Leavenworth in 1907.
At that time, Taft had been the secretary of war. In 1920, he was the former president of the United States (1909-1913) and current professor of law at Yale University in New Haven. Panzram later wrote that "out of this robbery I got about $3,000 in cash and kept some of the stuff including the .45 Colt automatic. With that money I bought a yacht, the Akista." He registered the boat under the name John O'Leary, the alias he used while he was living in the New York area.