Parent guilty of manslaughter
By Luke Hendry - Intelligencer.ca
July 3, 2012
Catharine Oliver thought Pierre Parent was worth saving.
The Belleville residents met at an Alcoholics Anonymous meeting in the spring of 2009. They became friends and Oliver agreed to sponsor Parent, whom the court heard was also addicted to crack cocaine.
She gave him moral support, let him live with her briefly and gave him about $30,000.
Then he killed her, left her body on her livingroom floor — and stole from her again. And again. And again.
Their doomed relationship and Parent's "downward spiral" of addiction were described in detail Tuesday in Belleville's Ontario Superior Court of Justice.
Parent, who is tall, heavyset and clean-shaven with very short black hair, arrived wearing a blue and white checkered shirt with baggy green pants.
He pleaded not guilty to a charge of second-degree murder, but guilty to the lesser charge of manslaughter. A theft charge was withdrawn; he had earlier been convicted of fraud for using Oliver's credit card.
Parent later rose again to address Justice Richard Byers, calling Oliver "my surrogate mother."
"I admit full responsibility for her tragic death," a composed Parent said in a clear, even tone.
After his plea, Hastings County assistant Crown attorney Jodi Whyte outlined the case.
She said Oliver's diary made it clear "she was infatuated with Parent and that he was aware of this and used this to his advantage."
On July 16, one day before she died, Oliver bought Parent groceries only to find him going through her purse, Whyte said. They struggled before he escaped with $60.
"I will never give him money again — I swear it — THE END," Oliver wrote in her diary that night, Whyte said. It was Oliver's final entry.
The assistant Crown said Parent returned at 1:17 a.m. July 17. Neighbours heard a scream as there was another struggle and, on July 20, concerned friends found Oliver's body in her home.
Dr. Christopher Milroy, a forensic pathologist, testified at the preliminary hearing that Oliver had three broken ribs and other injuries. Whyte said Milroy found those injuries could have been consistent with falling.
She also said Milroy ruled Oliver may have died either from having her head pushed into the carpet, obstructing her airway, from her chest being compressed, or a combination of the two. But the cause of death was listed as "unknown."
The defence claimed she died of natural causes resulting from the scuffle.
Within half an hour, Whyte said, Parent bought $300 worth of crack. He later stole three rings and a fur coat to be sold for drug money, planted fake notes at her house and bought more items with Oliver's credit card.
Defence lawyer Patrick Hurley said he took issue with "nearly every fact" presented by Whyte and there was no guarantee Parent would've been found guilty at trial.
"There is no murder weapon, no confession," he said. "There are no wounds; there are scrapes and abrasions.
"There is a prospect of rehabilitation," added Hurley.
Byers said both lawyers made valid points and that the plea was significant.
"There is no suggestion that at any point in the days that followed that he woke up and said, 'My God, what have I done?'" he said of Parent.
Instead, he said, Parent used Oliver's money and tried to cover his tracks.
Byers thanked both Hurley and Whyte, calling them "my best lawyers" and others would have pushed the case into a trial. He also praised Belleville Police Sgt. Peter Goulah, who investigated with Det. Const. Jill McAuley.
"If he never has to do another case, he can rest assured that was a good one," the veteran judge said.
Turning to stare at Parent, Byers leaned forward intently.
"I am reminded that this woman saw something in you worth saving," Byers said. "She might have been foolish, but she wasn't stupid."
"I still hold out hope that almost anyone can be rehabilitated," said Byers, adding he didn't think Parent went to Oliver's home intending to kill her.
Parent, still seated, bowed his head almost between his knees and later wiped his eyes with his handcuffed hands.
Whyte had asked for a sentence of 14 years in prison; Hurley lobbied for nine to 10.
Byers sentenced Parent to 11 years. He granted credit for pretrial custody at a rate of 1.5 times the time served, meaning Parent will serve nine years and two months. He'll be banned from possessing weapons for life and his DNA recorded in the national criminal databank.
Hurley and Whyte said the sentence was fair.
Oliver's friend, who would give her name only as Dianne D., also called it fair but "not good."
"I believe in forgiveness," she said. She said Oliver, who is survived by a sister, two stepchildren and a nephew, was "an extremely intelligent woman — kind, thoughtful, scrappy."
Whyte said she'd spoken to Oliver's friends last week.
"They are shocked and frightened that this could happen at the hands of a friend inside her own home," Whyte said.
Byers expressed a similar concern.
"You hate to say, 'Don't ever get involved in a good cause because you might get hurt.' But there's a reason why the police say, 'Don't stop to pick up hitchhikers,' because every so often the hitchhiker does something horrible,'" he said.
"Old people need to be careful about becoming a victim."
---
In his own words: a killer's remorse
Intelligencer.ca
July 4, 2012
EDITOR'S NOTE — Belleville-based Ontario Court Justice Richard Byers, in delivering his sentence Tuesday for Pierre Parent, 42, asked that the transcript of Parent's testimony about his spiral into drugs and how it ruined his life be provided to The Intelligencer. Parent pleaded guilty to manslaughter in the 2010 death of Edgehill Road woman Catharine Oliver, 87, his Alcoholics Anonymous sponsor. After credit for pretrial custody he'll serve more than nine years of an 11-year sentence. Below is the transcript of Justice Byers' invitation to Parent to address the court and Parent's testimony from Tuesday's court proceedings:
THE COURT (Byers): Now your turn, sir.
MR. PARENT: Thank you, Your Honour, I don't want this to sound any less heartfelt because I've written a lot of stuff down, over the last 15 months I've had a lot of time to think. I've just got a couple points and I'd like to....
THE COURT: Feel free to read it because…
MR. PARENT: Thank you, Your Honour.
THE COURT: …you are not familiar, at least I assume, with public speaking, particularly when you are the accused. I want to make sure you get every point to me that you want to get.
MR. PARENT: Thank you for the opportunity, I appreciate that. I do appreciate the opportunity to be able to address the Court here today on record. I've had 14, 15 months to think about all my actions, just from this situation and from my past actions as well. I appreciate the efforts that Belleville Police put into this, I understand the resources and the time that were spent in this investigation, what Mr. Goulah went through in the investigation, and I meant them no disrespect whatsoever. I wish to express my deepest regrets and sympathies to Ms. Oliver's family and friends. I admit full responsibility for her tragic death. The relationship between Ms. Oliver and I, although tainted by me was one of the best things to have happened to me. She was a friend, she was a surrogate mother, and my sponsor in the fellowship of Alcoholics Anonymous. I learned a lot from her, valuable lessons that still apply to my life today. Throughout my adult life, drug addiction has been an ever present and negative factor to my existence. My behaviours and actions were seriously effected by this. Addiction was involved in every one of my wrongdoings in my life, it consumed me, and held me hostage. I had an ugly, expensive, and insatiable addiction to feed, but in the end, I know that the blame and the responsibility for everything fully rests on me. I led a selfish, self-centred, and self-seeking existence. I was dishonest, I stole, cheated, and manipulated. My actions are responsible for Ms. Oliver's death. I am responsible. Now each and every day I live with overwhelming shame, guilt, and remorse over this, and over my other past wrongdoings. I never thought it could come to this. I always knew right from wrong. I was raised properly by two loving and caring parents. I had a good education, and every opportunity to succeed at life, but I became a drug addict. I discovered that addiction is a progressive and continuing disease, everything and everyone I touched was affected by this disease. I understand that incarceration in the Federal Correctional system is next for me. I am terrified, this is the first time in jail. Just to touch on jail a little bit, as he mentioned I was incarcerated in 23 ½ hour super protective custody. Because of the allegations against me I was assaulted on several occasions, several occasions, that's why I'm in super protective custody. And there are drugs available no matter where in the jail, I refused to stay away from them, I did not waste my time in jail. That package of my courses and all that, sounds somewhat irrelevant to many people, but I've heard from forces or sources in the jail, from the Chaplain, from the guards, from correctors of these lessons that no one in the history of Quinte (Detention Centre) has done as much as I done with those courses. That'll prove that. Every one of those courses are between four and six hours each, and I've got over 150 completed courses. I did not waste my time a single day in there and I plan to continue this. I intend to continue disciplining myself to the pursuit of positive change and recovery. I never want to go back to my old ways, and I know I've said this over and over, and you know, I have no way to prove this, but I know I never want to go back to my old ways, I never thought it would come to this. There's no excuse for what I did. I fully plan to pursue my educational studies, to continue maturing in Christianity and sobriety. I've already been doing my best to practise these principles in all my affairs, I have also begun to undertake steps to make amends for some of my past wrongs through written correspondences. I believe I still have a chance at life, Your Honour ... Ms. Oliver will never get a chance to see the man I could have and should have always been, I hope my parents have that opportunity before they pass away. Please take all that into consideration.
THE COURT: Thank you, sir.
---
Man Charged with Second Degree Murder
April 9, 2011
Belleville, Ontario - On 20 July, 2010 at 10:04 a.m. police attended at a residence on Edgehill Road in response to a report of a sudden death. At that time Belleville Police found Catharine Oliver (88 years) deceased in her residence. All deaths are treated as suspicious in nature until the investigation is completed.
A complex investigation ensued by members of Belleville Police Service Criminal Investigation Division.
As a result of this investigation, on 8 April, 2011, Belleville Police Service arrested one male and one female. Both the male and the female were known to the victim.
Pierre Michael Parent (40 years) of Belleville, has been charged with one count of Second Degree murder, one count of Theft over $5000.00 and one count of Possession of Property Obtained by Crime over $5000.00. Parent will appear in Weekend and Statutory Holiday Court on 11 April, 2011, for a bail hearing.
Judy Carol DeJong (43 years) of Belleville has been charged with one count of Theft over $5000.00 and one count of Possession of Property Obtained by Crime over $5000.00. DeJong will appear in Weekend and Statutory Holiday Court on 11 April, 2011 for a bail hearing.
Police.belleville.on.ca
---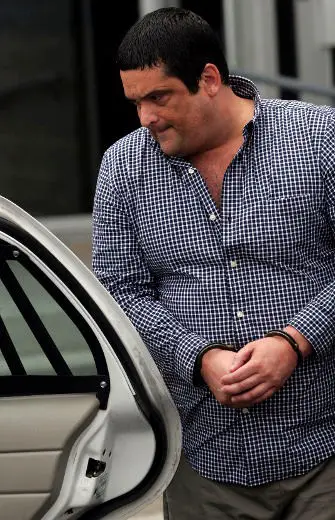 Pierre Parent heads for a Belleville Police cruiser Tuesday, July 3, 2012 outside the Ontario Superior Court of Justice in Belleville, Ont.
He pleaded guilty to manslaughter in the 2010 death of Belleville's Catharine Oliver, 87, his Alcoholics Anonymous sponsor, benefactor and former landlord.
Justice Richard Byers sentenced Parent to 11 years in prison, but with credit for pretrial custody he'll spend nine years and two months behind bars.